After beating the Milwaukee Bucks and Miami Heat back-to-back, the Utah Jazz are now 22-5 and they've won 18 of their last 19 games. Add reigning MVP Giannis Antetokounmpo to the long list of people they have impressed, as he had nothing but praise for the Jazz after they defeated his Bucks.
"[They're] the best team in the West," Antetokounmpo said. "It just looks fun. Like when I watch them play, it looks fun, it looks easy. It looks simple. For sure, they look like us last year, and man, when you're at that point and you're playing with that confidence, you're hard to beat, for sure."
The Jazz are very well-rounded team. They had four players score 20+ points against the Bucks: Rudy Gobert and Joe Ingles each had 27 points, while Donovan Mitchell poured in 26 (plus eight assists and six rebounds) and Jordan Clarkson contributed 25 off the bench. And in their victory over the Heat, five players scored in double-figures.
Now, let's revisit that awkward moment between Shaquille O'Neal and Mitchell from the Jan. 21 episode of "Inside the NBA."
During the post-game interview on TNT, Shaq told Mitchell: "I said tonight that you are one of my favorite players, but you don't have what it takes to get to the next level. I said it on purpose, and I wanted you to hear it. What do you have to say about that?"
For context, Mitchell had just finished lighting up the scoreboard, dropping an efficient 36 points to lead Utah to their seventh-straight win. It was a very unexpected statement (to say the least) and the entire basketball world took a collective gasp.
"Alright..." Mitchell simply replied. "That's it?" Shaq asked. After a long, awkward pause and an attempt to shrug off the odd, untimely comment, Mitchell added: "That's it. That's it. Shaq, I've been hearing that since my rookie year. I'm just going to get better and do what I do."
Shaq's comments were met with a great deal of criticism. Why would the NBA legend stoop to that level and try to publicly embarrass Mitchell? Was he trying to tear him down? Is Shaq an undeniable hater?
Some wondered if Shaq was attempting to motivate Mitchell. Was this some kind of 4D-chess, Zen-Master, Jedi-mind-trick move to light a fire under Mitchell and the entire Jazz team? Did he actually have good intentions, but the exchange was poorly executed? Maybe.
Regardless, Mitchell and the Jazz have been proving Shaq wrong and making him eat his words.
Mitchell, 24, is averaging a career-high 24.2 points, 5.1 assists and 4.3 rebounds per game. Not only is his team sitting atop the Western Conference, they have the best record in the league. There have even been some whispers throughout the NBA that Mitchell should at least be mentioned on the list of MVP candidates.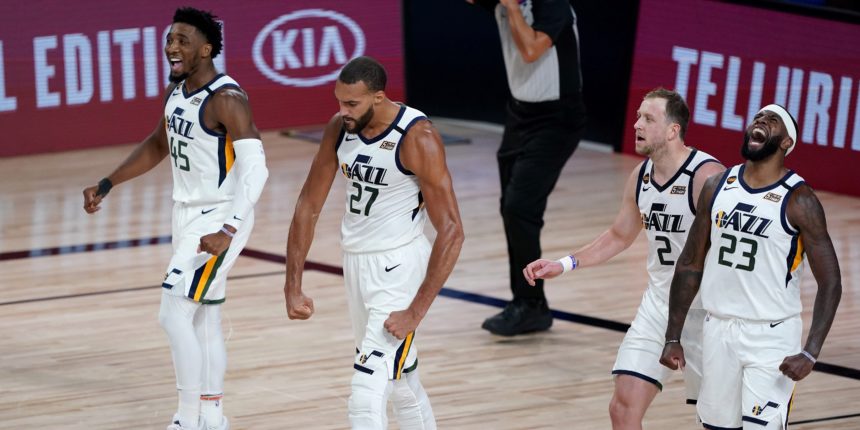 However, the Jazz are far from a one-man show. This is a balanced offensive attack, with six players scoring in double-figures: Mitchell (24.2), Clarkson (17.4), Mike Conley (16.5), Bojan Bogdanovic (15.8), Gobert (14.0) and Ingles (11.3). Utah boasts historic three-point shooting, as they are making 16.7 three-pointers per game and shooting 39.5% percent from deep. This kind of efficiency is unprecedented; not even the Splash-Brothers-led Warriors or James-Harden-led Rockets shot the ball this well! Also, their terrific chemistry and impressive commitment to ball movement have been on display this season.
On the other end, the Jazz have the NBA's second-best defense, allowing just 104.5 points per 100 possessions. This team is committed to stifling opposing offenses and it helps that they have the NBA's premier defender locking down the paint. Gobert is a two-time Defensive Player of the Year and the Jazz's anchor who sets the tone with his defense-first mentality.
Put this all together and you have a team that can dominate on both ends of the court, and that's exactly what they've done on most nights. At 22-5, this is the Jazz's best start in franchise history. Not bad for a team that Shaq said didn't have what it takes to win the championship.
Interestingly, during the Jazz's recent win over the Boston Celtics, Shaq took credit for Mitchell's play (although his numbers are almost identical to where they were prior to his public criticism).
"I never hate, I just try to give constructive criticism," Shaq said. "My whole career I've been a leader and motivate my players a certain way. So, you're welcome Utah."
Perhaps people would've reacted differently to this exchange with Mitchell if this was the first time Shaq had done something of this nature, but he has developed quite a list of priors when it comes to hating. He has consistently taken shots at JaVale McGee, he's constantly bashing Dwight Howard, and he has repeatedly criticized Gobert ever since the big man signed his $200-million deal.
Recently, Howard was on my show, "The Rematch," and I asked him about Shaq's critiques. Why is Shaq always going after him? Is there some beef between them?
"I have no clue! It's crazy," Howard said. "When I first got to the [Lakers], me and JaVale was like, 'Yo, did you do something to Shaq?' And he was like, 'Bro, I don't know, man! Like, he's always talking about us!' And I'm like, 'Yeah, man, he is! It's crazy!' Then, I was like, 'Man, let's jump him,' and then we just laughed. (laughs) But I realize that you can't please everybody… The way you deal with that is kill him with kindness instead of going back and forth with him and saying things.
"I still think he's probably the most dominant player to ever play the game. But if I had anything negative to say about him, I won't ever say that in the public eye or say it where people can hear it because I don't think it's necessary. He has family, has kids and people who love him, and I just wasn't brought up that way. So, I respect him for all the work he's done. I wish we could play each other again, so I could end this beef. (laughs) But I have a lot of love for him and the things he's done for the sport. And the way to beat him is to continue to play at a high level and not allow anything that's negative to get to my ears, and just stay focused."
During BasketballNews.com's recent NBA Watch Party live-stream, NBA All-Star Kenyon Martin shared how he would've reacted if he were in Mitchell's position and Shaq made the same comment to him.
"I would've had a rebuttal and they would've had to go to commercial," Martin said. "I would've told Shaq exactly what he can do… Yeah, it would've been bad. Like, straight up: I just played my ass off out here and you got [something negative to say]? You don't know the work I put in. You don't know what I'm doing to enhance my game or make my team better. That's the problem, these dudes just be on TV [saying anything]... I don't need you to motivate me, Shaq. I can motivate myself. He basically told him he ain't getting it done."
Shaq may very well believe that he was "motivating" Mitchell by challenging him on live TV in front of the entire basketball world and telling him publicly that he didn't think he was good enough to lead the Jazz to a championship and then awkwardly asking for his reaction. But in reality, he could've "motivated" him in a much different way. He could've pulled him to the side as an OG who's held in high regard and respected throughout the league and challenged him behind closed doors instead of attempting to publicly embarrass him and crush his spirits on the NBA's biggest platform ("Inside the NBA").
Best-case scenario? The Big Aristotle's strategy was to give the Jazz a villain or someone to hate, who they could then focus on proving wrong. But that may be giving Shaq too much credit. He may have simply transformed into the grumpy, old, get-off-my-lawn former player who gets his kicks by bashing younger players. We all hope it's not the latter. An apology to Donovan Mitchell and an admission that he was wrong would definitely help show that he isn't in that category.
Everyone is wrong sometimes; it takes a big man to actually admit when that's the case.