Several days before the NBA's free-agency period got underway, BasketballNews.com's Etan Thomas sat down with 8-time All-Star and NBA champion Dwight Howard for a wide-ranging interview on his podcast "The Rematch."
Dwight talked about winning his first championship, his redemption season, his second stint with the Los Angeles Lakers, Shaquille O'Neal's criticism, married life and much more. You can watch the interview above or read a transcript below.
Thanks for taking the time to come on "The Rematch" on BasketballNews.com. You still on a championship high? Whenever I see you on IG, you have this big smile! How you feeling?!
Dwight Howard: "Yes, sir! I feel amazing, man. I feel so grateful and blessed just to be in the league for 16 years and to play the game that I love and also have a chance to actually win a championship. Every day has been like a dream; this doesn't seem like it happened. I'm just trying to soak everything in right now and just enjoy this time, and I'm just so thankful."
I'm happy for you! When I was watching the NBA Finals, I noticed that you looked so happy -- even when you were on the court, even when you were on the bench. This was a redemption season for you. Is that how it felt from the beginning?
Howard: "Yes. Actually, it started in the summer of 2019 after I had just finished having back surgery. Me and my family and my wife's family were sitting at home and I was telling everybody, '2020 is going to be a really awesome year and I feel like we're going to win a championship.' I just had that feeling all year of, 'Hey, we're going to win; this is going to be the year. This is going to be the year.' And every day on the court, I was just so thankful. It didn't matter if I scored, it didn't matter if I played 35-40 minutes. The only thing that mattered was actually holding up that trophy. Sometimes, you have to give up everything in order to win."
People always refer to your first stint with the Lakers and compare the two. What was the difference between your first stint in LA and this second stint there?
Howard: "Well, see the first stint in LA, I had just come off a back surgery and also came off tearing my labrum, and also one of my ribs had popped [out]. So, there were a lot of things going on that I never even mentioned, and I just tried to play through it. I would say it just wasn't the right time, the first stint. The first stint, I just think everybody wasn't healthy and we had a lot of issues. But this year, it was just everybody together. We talked before the season and I remember the first talk I had with the team and the GM and I told him it didn't matter if I played big minutes or anything, or even if I started, that it didn't even matter. I was going to do whatever I had to do to help this team win and I was dedicated from the beginning of the season to the end and I was going to do anything. Whether that be on the bench being the loudest cheerleader or on the floor being the best screen-setter, whatever it took I was willing to do it."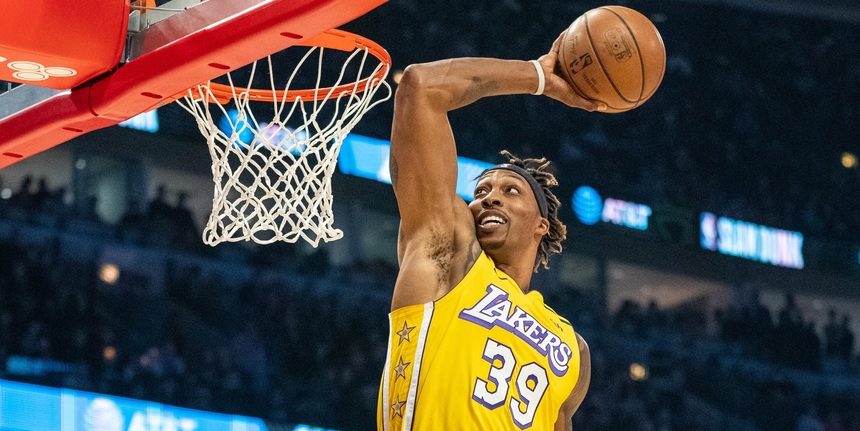 After the season, I wrote an article for BasketballNews.com praising you and JaVale McGee for how well you handled your fluctuating minutes. That set a good example for younger players. Was that a concerted effort or was that something that just naturally happened?
Howard: "I think it was both. I think in the beginning of the season, it just naturally happened because the talk that we had before we started playing. Me and him and Rondo and AD had a really good conversation. And like I said earlier, I just told them that I would do whatever it takes to win and if I don't play, I'm going to be the loudest person on the bench, I'm going to be cheering for everybody that's on the court. Just bring that energy -- that energy is contagious -- and I think that it really transferred over for us when we got into the bubble, where there were no fans, so it was very important for us to stay locked in.
"It was hard [going] from a player that has played 48 minutes a game, being the one to get all the points and rebounds and stuff like that… to being a role player. I think it's very tough for a lot of people to do that, but sacrifice is everything. If you're willing to give yourself up or give up something to get something, then you always win. And that was myself and JaVale's motto, just give everything up. No matter what happens, just go play as hard as you can. And every time he got a dunk or a three or whatever he did, I was the first one jumping up and down and being excited because it's just like he's an extension of me. It just felt good seeing both of us succeed this year and actually winning the championship."
I got big-man bias, but I'm not a fan of teams playing small-ball. When you were playing against Houston and the Rockets went small, I was like, "Ah, come on…"
Howard: "I was so mad. I was so mad! But I said, 'You know what? I'm going to stay ready. If I don't play this series, every day that we don't have a game -- and even on game days -- I'm going to go harder in the gym. I'm going to wake up earlier, I'm going to run, I'm going to go lift weights.' I was getting it through my head that I'm going to be in the best shape so when I do get an opportunity to play, I'll be ready."
The next series against Denver, I really think you were the key. Your physicality threw Nikola Jokic off. That was apparent, especially in Game 1. He was out of sorts and he got quick fouls and then he was trying to go to the refs. I thought you were a key factor in that series.
Howard: "Well, the crazy part about it is that we were all staying in the same hotel. For me, I just felt like it was mental warfare and I wanted to get in his head in any way possible. So, their meal room was actually across the hallway from our meal room. So, we saw them every day and I would go in there and I would speak to everybody. And every time I saw the Joker, I would be like, 'You ready for the game tonight? You ready for tonight?'"
Oh, so it started early.
Howard: "Yeah. I was just trying to get in his head because I think he's a really good player and sometimes the battle is won off the court. That was the biggest thing; I just wanted to get in his head. I knew he was a key for them to win the championship and he got them there. So, my thing was to be physical with him. Get in his head and push him around a little bit. Then actually after Game 2, we were [watching] film and Coach said, 'Alright, you did a lot, you're already in his head. Now, you don't have to say anything to him.' So, after that the second game, I didn't even talk no more, I just was quiet, and he was already done for. Every time I stood up on the bench, he was looking over there; every time he got ready to go into the game, I would run to the scorer's table just to tell him, 'Hey, every time you get in, I'm right here with you.' And it worked out great for our team and also myself. It was very tough because that was a different role for me, so I'm glad I had the opportunity to learn from that and it worked out well."
When I met you, we were doing Clifford Ray's big-man camp and you were, like, 19 years old. If you could go back in time and talk to 19-year-old Dwight, what are the main things you'd tell him to look out for and what advice would you give him?
Howard: "I would just say, 'Stay locked in." I think that's the biggest thing, staying focused. It's easy to get to the top and lose focus because you got everybody telling you how great you are. And I just would tell myself, 'Don't get comfortable, stay locked in, stay focused on the mission,' and, 'Enjoy it. Enjoy the moments.' I think when I was young, I was so focused on the next thing, the next moment, how to get to this plateau and do this and that instead of saying, 'You know what? I'm going to stay in this moment.' A lot of the things that have happened in my career, I can't remember most of them because I was looking in the future instead of being present. And that was one thing that got me through this year, just always staying in the moment -- not worrying about what happened on the play before or what was going to happen next week. I just stayed locked in on the moment."
What is your biggest regret? I think as we get older, we look back at our younger self and things we could have done a little bit differently. What is your biggest regret in your career?
Howard: "Oh, that's a great question. I would say my biggest regret would be to not allow my emotions to get the best of me. When it comes to teams and situations with teams, me not liking a certain situation and just getting up and leaving. I think for me, it's just keeping my emotions intact. But everything happens for a reason and I'm a person that doesn't really live with regrets. There are things I wish I could have done better [where I] could have made wiser decisions, but everything has led up to this moment right here, which has been the best moment of my life. So, I don't want to take anything away from that, because staying somewhere on another team or doing things a different way would have probably never got me a championship ring, so I'm very happy with how everything has fallen back in order. And it started with myself. I had to change everything about who I was entirely, and it just made me a better person and a better player. And I also know that I still have all the skills to be who I was in the past, but also knowing that I could do whatever a team needs to win and that's what made me the person and player that I am today."
At the start of your career, social media hadn't really blown up yet. It used to be easier to ignore certain things before social media. Now, that stuff is everywhere, so how do you ignore those things? What advice would you give to younger players in this social-media era? I noticed that when certain things are said and your name is trending, you don't address it.
Howard: "That's true. I realized that people's opinions, they don't really matter. What matters is what are you doing with your life? What are you doing in your personal life? They talked about Jesus! That made me realize that the best thing you could do is stay locked in and stay in the moment, and it's very tough. I've seen a lot of things on the internet and I'm like, 'Man, I really want to just go live and just put all those rumors and stuff to rest.' But at the same time, there's no need. This is the life that I've chosen as far as going to the NBA, so I know that people are going to have an opinion on my life and the things that I do on and off the court. You just have to stay mentally strong. It's very tough to do that, but you got to stay mentally strong. I look at guys like Jay Z, Puff and all those guys, they don't respond to what people say about them. They always take the high road because they're on a mission, they're trying to get somewhere. And if you want to try and get somewhere and you're looking to the left or to the right, trying to listen to what everybody is saying, you're going to miss your mark. And I don't want to miss mine."
It seems kind of one-sided, but it feels like Shaq has a thing with you and JaVale. I don't know what it is. You guys don't say anything about him, so why is he always saying something about you guys? Is there some beef there that we don't know about?
Howard: "I have no clue! It's crazy. When I first got to the team, me and JaVale was like, 'Yo, did you do something to Shaq?' And he was like, 'Bro, I don't know, man! Like, he's always talking about us!' And I'm like, 'Yeah, man, he is! It's crazy!' Then, I was like, 'Man, let's jump him,' and then we just laughed. (laughs) But I realized that you can't please everybody. Everybody's not going to be happy with you or what you're doing with your life. The way you deal with that is kill him with kindness instead of going back and forth with him and saying things. Just staying locked in.
"Growing up watching Shaq, I was happy because he was a big man, he was killing everybody, and I still think he's probably the most dominant player to ever play the game. But if I had anything negative to say about him, I won't ever say that in the public eye or say it where people can hear it because I don't think it's necessary. He has family, has kids and people who love him, and I just wasn't brought up that way. So, I respect him for all the work he's done. I wish we could play each other again, so I could end this beef (laughs). But I have a lot of love for him and the things he's done for the sport. And the way to beat him is to continue to play at a high level and not allow anything that's negative to get to my ears, and just stay focused."
That's a great philosophy. I was thinking back to your Superman thing. Did that kind of rub him the wrong way? Did he want Superman just for himself?
Howard: "I got the Superman [idea] and it totally came from another source. It wasn't even Shaq. It came from one day I was at practice and I jumped over Bo Outlaw and dunked the ball, and everybody was like, 'Man, you really like Superman!' And I used to always do the Soulja Boy dance at home and at practice. Once we got to the dunk contest, my cousin said, 'Hey man, you should put on a cape for the dunk contest because you be flying in the air!' So I put on the cape and a Superman outfit and that's where everything came from. It had nothing to do with Shaq or trying to be like him or anything like that. It was more so just because I love to dance and I jumped over somebody and I did a Superman dunk, that was it."
Switching gears a bit, earlier this year, I wrote another article for BasketballNews.com saying that Stephen A. Smith and Charles Barkley and a lot of commentators owed you, Kyrie Irving and Avery Bradley an apology since they criticized you guys for suggesting that, with police brutality and social unrest and everything going on, maybe basketball wasn't the No. 1 priority. They lambasted you. But then during the bubble, after Jacob Blake was shot multiple times and the players went on strike, they were singing their praises! Stephen A. was like, "They're using their platform so courageously." I was like, "Wait a minute! You were just saying the exact opposite!" Did they every address it with y'all?
Howard: "None of them did. Nobody said anything. And it's crazy because it's not like we didn't want to play, right? But we're looking at everything that has been happening in our society and we're like, 'Man, we got to do something about this.' We have the biggest voices out of any athletes and our thing was, hey, let's get the athletes together from the WNBA, NBA, football players, baseball [players], artists, everybody that has a platform and let's all try to get together and change this because the one thing that's missing is unity. We've never been on the same page. We never been one unit as a nation. We say United States of America, but are we really united? We wanted to start that whole front of, 'Hey, we're going to be on the same page; we want to be united.' And everybody killed us for it, and it was very upsetting. I was getting a lot of crazy messages from people, and just hearing people talk about us. I'm like, 'Dang… Like, all we trying to do is see us all together.' I've been in the league for so long and I've seen so many incidents happen. Back when Trayvon Martin died and [now] George Floyd and just all the people who have passed away from police brutality, and our mindset was that something had to change. We've worn t-shirts, we've taken pictures and we've done all the things that look good on camera, but now it's time to get out there and really make some change.
"The one thing I wish we would've really did was get together with the women from the WNBA because they're powerful. A lot of things that they've done and said have really motivated a lot of us and I think at this time, we all need to have great women and leadership because they're not afraid. They're not afraid to say things and they're not afraid to do things, and they're the backbone of everything. So, we were extremely hurt by the things that people said, but all in all, I think winning the championship brought some kind of togetherness. It still hasn't changed a lot of things globally, but I know a lot of people felt like this championship that the Lakers won this year was for everybody and I felt the same way. And there's still more work to be done."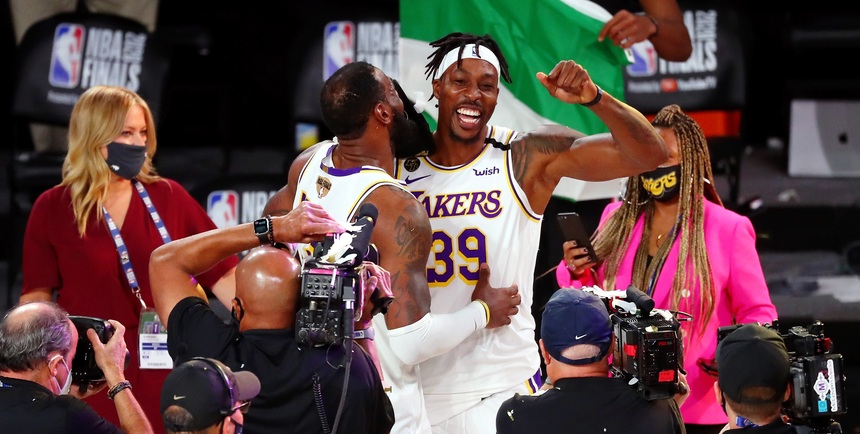 In an article I wrote for The Guardian, I talked about how the opposition is rooting for LeBron James to fail because they disagree with the message and I haven't seen that on this level since Muhammad Ali. Did you guys feel that as well?
Howard: "We did. Every day. Everything we saw, it was like so many people going [against] LeBron and saying crazy things and I'm like, 'Man, nobody can have an opinion in our society anymore! Or want to change something, something that they feel strongly about.' And it's just upsetting when all we want is change, and then all of us realized while we're in the bubble that the change that we really wanted started with us. We want the world to change, but we can't change the world. I tell people all the time, 'You can't change the ocean, but you can change the direction that you sail in the ocean.' That's the approach we need to take. We can't change everybody's opinion, but people will follow us if we're going down the right path."
Take me through what happened in the bubble because there were different reports and people getting facts wrong and all of that. When everybody went on strike, the Lakers and Clippers were reportedly two of the teams that didn't want to come back and resume the playoffs. You wanted to continue striking. Walk me through that process and what happened.
Howard: "We were ready to leave. We were ready to go. Our team and the Clippers, we were ready to go because like I said, we tried all the other things. We knelt during the national anthem and we talked about it and it's like, this is still happening and nobody is hearing us. Our team had a meeting and the consensus was: We out. Let's get together, let's go [home] and let's get on the front lines. I would say by the end of that night, everybody was like, 'Yo, we need y'all to play. We need everybody to come back because…'"
You say everybody, but who specifically was saying that?
Howard: "Just the other teams. [Barack] Obama had called LeBron and told him what impact that we would have by playing and winning. We made a big statement. I think once we sat out, everybody started to sit. And we said, 'We got to do something. I think we got everybody's attention.' And that was the biggest thing. 'People are watching, they're watching us now and now it's about giving the right example.' And I think the message that we got across [to] the NBA and all the fans and people around the world is, 'These guys aren't playing. They really want to see change and they're willing to do whatever it takes to see change.' I was very happy about that. But we were probably 45 minutes away from packing our bags and everybody leaving the bubble. So, it was it was a very close call."
When the Board of Governors came to meet with you guys, what was that conversation like? How did they say they were going to help?
Howard: "The conversation that we had was more so about what can they do to help us, if they're willing to go the extra mile and to get people to vote and do stuff like that. That's what the conversation started out as. I, for one, felt like just getting everybody to vote wasn't enough for what is going on in our society. We need more change than just voting, but one thing that they did mention to us was how they felt like they needed to be more of a united front with all of us and that was key, because usually you see it's the owners and the players, and they're never together. This is the first time I've seen most of them -- the Board of Governors -- and they were on the same page as us. They're willing to do whatever it takes to cause change in our society. So, I was very happy about that and we had a very long conversation with the Board of Governors and that's why now, you see the [Social Justice] Coalition that we have for the NBA and how we plan on basically using our voices and the owners to go in our cities and cause change in each and every one of our cities."
When Mark Cuban was on my podcast, I challenged him and the other governors to use their power in their specific city to affect change. They are billionaires with a lot of influence and connections, so I want them to do a lot more than just say "Black Lives Matter" and tell us that they're with us.
Howard: "I definitely agree. I think that they should actually do more than what has been done. I think not only do they have a great voice, they have the resources. And that's something that we need. The people in the communities need those resources to elevate our communities. It's very tough for us to do it; people look at the players to be the ones to make the difference and, yes, we have the voice and we have the platform, but we need that backing from the owners like Mark Cuban and Jeanie Buss. We need the owners to actually be the ones to take a stand with us and make the change because they have the resources and they have the connections and stuff. Maybe we can't get into some of those doors [but they can] or even if we get in those doors, you need people to help knock down those walls, so we can actually start moving."
Right. And they seem open to working with you, from what I'm hearing. You just got to keep pushing them, right?
Howard: "They seem open to it. Being open to it and actually working is two different things though. So, I'm glad that they're open to helping us, but they need to actually get down in the trenches with us, be on the front line and help cause change because we're in a new place in our society and we really need each other. All of us are experiencing something that we've never experienced before in this pandemic and it's been really hard on a lot of families. And right now, the biggest thing is unity. It doesn't matter what color, what race, or what religion that you are, right now unity is the most beneficial thing."
Talk to me about the conversations that were going on inside the bubble -- not only among your own teammates, but with players from other teams as well.
Howard: "Oh yeah. I've been in the league for 16 years and this is the first time all of us have come together and had a conversation. That says a lot, because I haven't seen it. I recall sitting down in front of the hotel with Joakim Noah. Me and him have known each other since we were 15 and the conversation that I had with him was how all of us have to really put down our egos and our pride and come together. This is the perfect time. We never had this opportunity where we were all in one location playing basketball; we've always been separated in our own cities doing our own thing, but now we're isolated for three months. What can we do together to cause change?
"It started with having those conversations. So, we all actually built some real good friendships just based off being in the bubble, which is very key, because there wasn't a lot to do in the bubble. We were really just stuck in our hotel. We couldn't use any of the amenities at Disney World, so the best thing we could do was talk. So, we spent a lot of time talking not just to players but the referees too. Which, for me, [at first] it was like, 'Man, I don't want to talk to no referees! They've been giving me bad calls my whole life!' (laughs) But we had a great opportunity to talk with the refs. Not only the refs, but the the people who work for the NBA that we never really get a chance to see. We had a chance to see these people for the first time and we all actually had a great conversation. And I think coming out of the bubble, everybody has this like this new kind of love and appreciation for everybody that was in the bubble because it was very tough for all of us to be away from our families and friends and our loved ones for so long, especially with a pandemic going on."
Speaking of the bubble, what are they going to do for the 2020-21 season?
Howard: "I hope it's not the bubble…"
But they haven't said what it's going to be, right?
Howard: "They haven't. It would be very hard to play without fans again. That was probably the hardest part for all of us to just play with nobody in the stands. And I, for one, hope that we don't have to deal with another bubble. It was very tough."
But the COVID-19 numbers are going up everywhere right now, so I don't know how they're going to bring back fans. I don't know; I haven't heard any kind of plan yet.
Howard: "Play outside! Open the arenas up, almost like at a football game! Just not having fans is so hard because in the games, it's so quiet; you can hear everything. You can hear people's feet move on the court, you can hear all the conversations behind the scorer's table right there, you can hear the cameras around the arena snapping pictures and rolling. [These are] things that you could never hear playing with fans, so it was kind of like a whole new experience for all of us. You really had to bring your own energy. If you didn't bring energy, it was dead; it was lights out for you."
I just worry because as far as the COVID-19 concerns, I want everybody to be safe. That's why I'm wondering: What's the plan? What kind of protocols will be in place? I look at the NFL and there seem to be a lot of cases.
Howard: "It's just so hard to not have these fans. Fans give you kind of like a certain energy when you are playing in front of them. Like, 'Man, all these people came to see us play basketball! This is a great feeling. I'm going to go out there and put on a show!' It's just hard to really play without fans. But our health and the health of our families and the health of people around the United States and in the world is more important right now."
I would like to see you and the whole team return to the Lakers and run it back again. Do you want to return to Los Angeles?
[Editor's note: Howard signed a one-year, vet-minimum deal with the Philadelphia 76ers.]
Howard: "I would love to; I would love to come back and play. I think the season that we had this year was kind of like a test for us all. We were trying to learn each other, trying to figure everything out and, in the process, we won a championship. So, I would love for all of us to come back. And I would love to come back and play for the Lakers again. And hopefully this year, they give me a contract.
Yeah, one that's guaranteed!
Howard: "Yeah, that's the biggest thing. I don't want to play for free anymore. This year was like, 'OK, I'll do whatever.' But this year, I think that I've earned the right to have an opinion on a contract for myself, so that's the biggest thing. But I would definitely love to come back and play for the Lakers, the best fans in the world. It's been amazing. My wife plays for the Sparks, so it'd be great for both of us to still be in the same city and play [in Los Angeles]."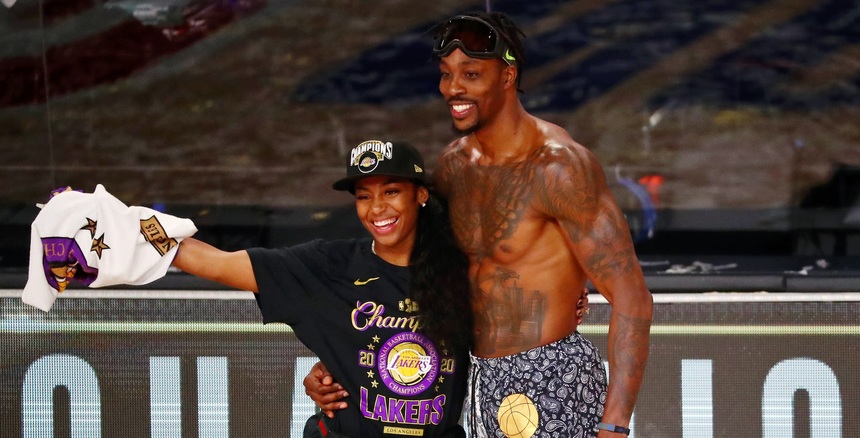 Since you brought it up, how is married life?
Howard: "You know what? I love it. I actually love it. It's new for me and I had never had a situation like that. But I'm very happy and I think it's really just brought me more peace, more happiness. But also, it changed my life. When you have a really great woman behind you and on your side, it just seems to make everything better. So, I'm very grateful for her and how she's just been my rock and my foundation.
It seems like you both have fun together.
Howard: "All the time. We're like twins! It's just crazy. Like, we definitely enjoy each other's company. She pushes me to be a greater person and I just try to push her to reach new heights, and she's doing such an amazing job. I'm just trying to be there for her in every way that I can."
And ya'll work out together too?
Howard: "We work out together, eat together, cook together, play together. We try to do as many things as we can together and it's really good. I've enjoyed it."
That's good. Having a wife is a blessing. It's a great thing and I can definitely attest to that.
Howard: "Women are winning right now. Why not have a great woman by your side? They want to lead you in the right direction! I tell people all the time: The man might be the head of the household, but the head can't turn without the neck. And my wife, I listen to her voice and the things that she's saying and the directions that we want to move in, and she's just been awesome and I'm very thankful for her."
That's great. Well, look, I'm proud of you and everything you're doing. I love the redemption story, being able to answer critics and prove them wrong. I'm sure you heard it when you came to the Lakers, but people were like, "Alright, this might be his final chance. He might never play in the NBA again if this doesn't work out." I know you heard that.
Howard: "Every day. I miss all the battles that we had too."
Oh, we had some great battles.
Howard: "Yeah, it made me a better player and a better person, so I'm very grateful for those moments."
The thing is neither of us would shy away from contact.
Howard: "At all. That kind of helped me the further I went on in my career, just having those battles like that because it taught me something; it taught me to never give up on myself no matter who my opponents are, no matter how strong they are, no matter how tough they are, just stay mentally strong. And you are a big reason for that, so thank you so much!"