Donovan Mitchell of the Utah Jazz will be going up against the Milwaukee Bucks tonight in a game that the national networks will be ignoring, which is puzzling because marquee matchups don't get much better than this.
Instead, we will get Peilcans-Mavericks and Grizzzlies-Lakers on ESPN, because those seemed like the two best games of the night back when the first half of the NBA schedule was released.
And as a result, Mitchell will again toil in relative anonymity as he tries to surpass 30 points for the fourth time in six games this month and as Utah goes for its 17th win in 18 games.
If the Jazz keep this up, they are going to become the NBA's "it" team – just like the Bucks were at this time a year ago. But they are not there yet, and Mitchell is on the board at 100-1 in the Most Valuable Player race at almost every sportsbook in the legalized U.S. sports gambling market.
Why?
"Nobody has bet him except in drops and drabs," said Johnny Avello, the head oddsmaker at DraftKings Sportsbook. "If someone wants to bet him at 100-1, there he is. But he is going to have to sustain what he has been doing, and is that going to continue?"
DK has 12 players listed with lower odds, led by LeBron James at 5-2 and followed by Joel Embiid at 4-1. Both of those players have been having phenomenal seasons and are the alpha dogs for teams at the top of their conferences, and they have been drawing a lion's share of the wagers because they play in huge markets and have large fan bases.
That is not the case for Utah, which gets things done using a committee of three-point shooters with Rudy Gobert anchoring the middle. Mitchell's stats are very solid but not spectacular, but if the Jazz run the table in their next five games (Milwaukee, Miami, Philadelphia and then two straight on the road against the Clippers) he will not be on the board at 100-1.
Those 100-1 odds are also on the board at FanDuel, PointsBet and BetMGM, while William Hill has him at 80-1.
"As a percentage of total handle on the market, we're holding 0.3% of handle on Donovan Mitchell for MVP (compare that to say LeBron who we are holding 30% of total handle on)," FanDuel spokesman Kevin Hennessey said.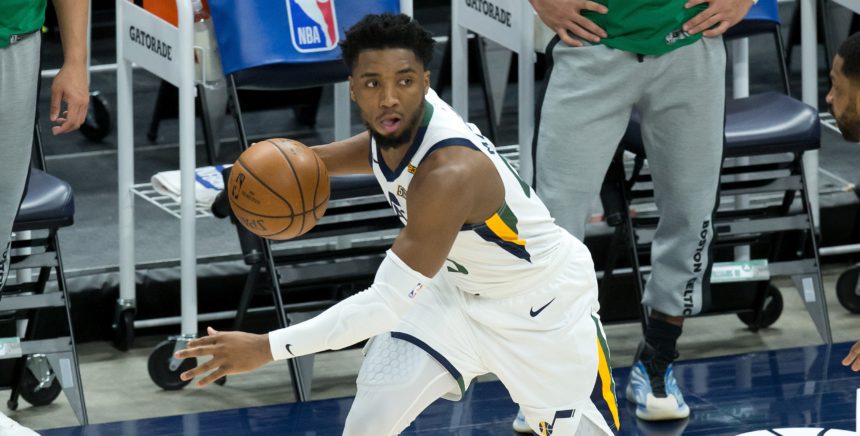 Mitchell is having an excellent year, but his numbers are almost identical to last season. Mitchell is also a bit cursed by the team nature of Utah's great play, and while he's the offensive leader of the team, he doesn't need to shoulder a level of responsibility compared to some of the other top players in the MVP conversation.
"The Jazz look terrific and could very well be the No. 1 seed in the West this season, but it's more of a rounded team effort than other top-tier candidates who have their teams up [at] the top almost seemingly on their own," Hennessey added.
Indeed, Mitchell is 15th in the league in scoring (24.0 points per game), just ahead of James Harden (23.8) and just behind Paul George (24.4) – both of whom have shorter odds.
FanDuel Sportsbook and PointsBet.com have 13 players listed ahead of him, BetMGM.com has 14 players listed ahead of Mitchell.
"Mitchell has not attracted much attention from bettors to win the NBA MVP. Despite Utah having the best record in the league, the Jazz's superstar is +10000 to win MVP," said Jason Scott, VP of Trading at BetMGM.
William Hill has just eight individuals listed ahead of Mitchell. They lowered his odds from 80-1 to 40-1 overnight Thursday for reasons that were not immediately known. (The company's communications director position is unfilled).
The Jazz's success has been the subject of humor from the TNT crew that has been broadcasting on Tuesday and Thursday nights and also will be broadcasting the All-Star game, and rest assured that Mitchell will be one of the 12 players selected to the West team. (He is currently fourth among Western Conference guards, according to the second All-Star voting returns released on Thursday).