The James Harden situation got even more interesting Monday, with Rockets coach Stephen Silas describing it as a "holdout," as nobody was quite sure what to make of a COVID-19 protocol violation mixed together with a Lil Baby birthday bash and the social-media frenzy surrounding the entire affair.
A late-afternoon look at what was trending on Twitter revealed that Harden was the subject that everyone wanted to chime in on. It was either absurd or abhorrent, depending on one's point of view.
And when Rockets coach Stephen Silas went on a Zoom call with the media and said he did not know whether Harden was even in Houston, everyone had a full-blown NBA-themed diversion from the usual madness that has defined the year 2020.
"This is a setback," Silas acknowledged. "I have no clarity about the message honestly. I take it at face value that he's not here, and what the reasoning is on him. He is the one who can explain why or why not he's here. So for me to make inferences and think about the possibilities isn't real to me.
"What's real is he's not here, but that's on him to tell whoever why he's not here," Silas said.
Harden was photographed (not wearing a mask) over the weekend at the birthday bash in Atlanta, where he reportedly lavished the 26-year-old rapper with a Prada bag stuffed with $100,000 in hundred dollar bills, along with a designer watch valued at $200,000. Lil Baby posted a video of the gift bag to Instagram, and TMZ reported that the rapper and the Rockets star vacationed together recently in Turks and Caicos.
From a basketball perspective, the "holdout" upped the ante in the relationship between the Rockets and their best player, who apparently wants to be traded following an offseason overhaul in Houston that included the recent trade of Russell Westbrook to Washington for John Wall and was preceded by the resignation of coach Mike D'Antoni shortly after the Rockets were defeated by the Lakers 4-1 in the second round, then the departure of general manager and team architect Daryl Morey.
Harden reportedly would prefer a trade to the Brooklyn Nets, but new general manager Rafael Stone's bargaining power in trade talks is being weakened by Harden's situation. Harden will earn a max salary of $41.25 million this season and is under contract for one more year plus a player option worth $47.36 million in 2022-23. The 31-year-old, eight-time All-Star averaged an NBA-leading 34.3 points per game last season.
Given his talent level, a majority of the league's 29 other teams would be lying if they said they weren't even a little interested.
Harden's mother, Monja Willis, put up a post on Instagram in response to a Rockets fan's inquiry about Harden's status. Her post seemed to confirm that Harden wants to be traded.
"He is doing what is best for his career. Please pay attention and understand. He has worked hard every time he suited up for his job, giving 210 percent. He asked for a chance to get a ring, that's it. Anyone in their right mind in this (business) would want that," she posted.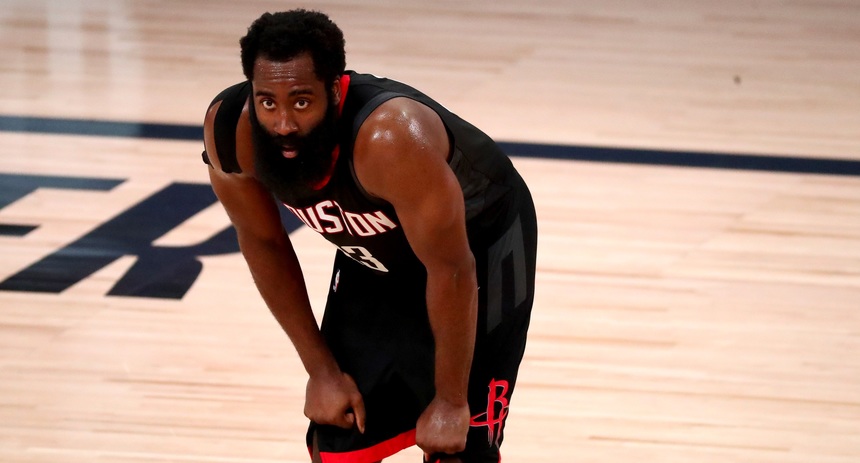 Silas's use of the word "holdout" changed the semantics of the situation just as Harden was being criticized on television and social media not only for missing camp, but for attending the party without honoring mask-wearing and social-distancing guidelines. The league's COVID-19 protocols require players to quarantine except for essential activities and team-sanctioned workouts.
"I've been in situations before where it was a holdout, and we just kind of handled each individual situation on its own merit and individually," Silas said. "As far as any sort of punishment, we haven't even crossed that bridge yet."
It is rare but not unheard of for professional athletes to miss training camp in an effort to gain leverage, but in the NBA, those types of instances have usually involved financial aspects rather than a desire to be traded. Danny Ferry spent a year playing in Europe in order to get the Clippers to trade him after they had drafted him, and two more recent training camp holdouts involved incoming rookies Juwan Howard and Glenn Robinson looking to increase the size of their first contracts before the league instituted a rookie-salary scale.
More common has been a player letting it be known through media reports (often via anonymous sources) that he wanted to be dealt, as was the case with Anthony Davis and the New Orleans Pelicans two seasons ago as the 2018 trade deadline neared. Davis eventually got his wish and was dealt to the Lakers, but the deal did not go down until the offseason.
A season earlier, Kawhi Leonard stayed away from the San Antonio Spurs for nearly an entire season before they eventually dealt him to the Toronto Raptors. If that example stands as a case study, Harden's holdout could be a lengthy one that detracts attention from several other interesting team storylines around the league with the start of the season just 15 days away.
The Harden case also is distinct because it is happening as the NBA prepares for the difficult task of attempting to play a 72-game season during a global pandemic and without the safety and security that existed over the summer in the bubble outside Orlando, where the NBA resumed its 2019-20 season and conducted its entire postseason.
Caught in the middle publicly is Silas, who credited Harden's advocacy with helping him get hired as Houston's head coach. Behind the scenes, Stone is having to sort through offers that are coming in from other teams, and any proposed deal must meet the approval of Rockets owner Tilman Fertitta.
"There is no timetable as far as I know, and it is a setback," Silas said of the holdout and its effect on the team. P.J. Tucker and Eric Gordon avoided discussing the issue Monday, and no other Houston players were made available in the Zoom media availability.
Clearly, this story isn't going away for as long as Harden stays away.
Video of Harden tossing money into the air at what appeared to be a strip club circulated on social media, though it was difficult to ascertain when the video was made.
Regardless, the bottom line is that it's appearing more and more likely that Harden may be wearing a different uniform the next time anyone sees The Beard ballin'.