Trade season is finally here! With the moratorium being officially lifted at noon this past Monday, teams are officially allowed to swap players and picks. We had our first agreement on Sunday, with the Los Angeles Lakers and Oklahoma City Thunder agreeing to a deal around Sixth Man of the Year candidate Dennis Schroder. We've seen even bigger deals go down, headlined by the Bucks landing Jrue Holiday and Bogdan Bogdanovic in a late-night shopping spree.
There was a minor swap early Monday between the Detroit Pistons and Brooklyn Nets that won't get a ton of attention. The Pistons sent guard Bruce Brown to the Nets for forward Dzanan Musa and a 2021 second-round pick.
There were predictably sarcastic quips in the comments of the #WojBomb.
"League shattering."
"The league will never be the same."
"No need for the [James] Harden trade. Nets got their guy."
Sure, this wasn't the biggest transaction on the planet. Musa appeared in 40 games last year, while averaging a shade under five points per contest; Brown was able to expand himself a bit for a Pistons team stuck in the proverbial mud. But as the Miami Heat showed last year, you can't build a contender -- a preseason favorite or relative surprise -- without winning moves on the margins. The Nets' acquisition of Brown can be an example of just that.
What Brown Brings on Defense

Brown's calling card comes on the non-glamour side of the ball. At 6-foot-4 with a 6-foot-9 wingspan, Brown has the size and length to swallow up smaller guards, while also punching above his weight in a pinch.
He mirrors well in isolation, allowing him to cut off easy driving lanes and contest pull-up attempts. You can see it here against Devin Booker: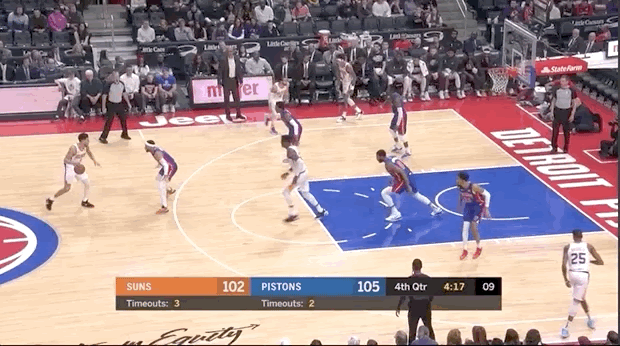 And here against the smaller, shiftier CJ McCollum: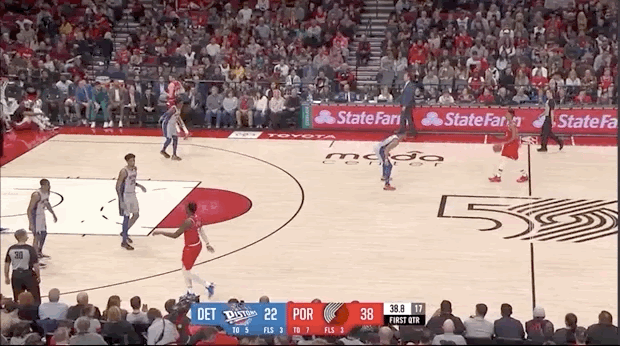 Brown is still growing as a pick-and-roll defender. Effort isn't an issue; he fights relatively hard over screens, and can really get into the body of defenders when he takes good angles.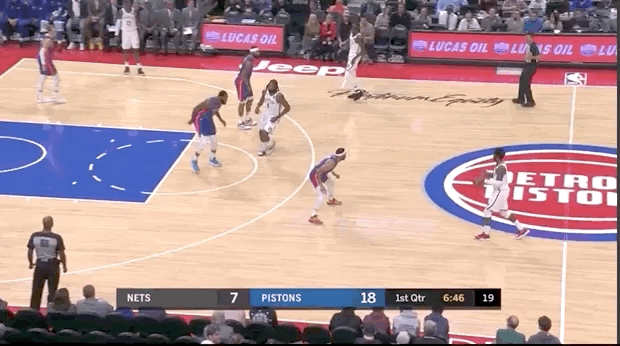 Brown isn't the quickest guard, though. He can get a little lost against speedsters. Like most young guards in the league, navigating screen angles and staying attached can be pretty difficult for him. He profiles more like a guy that can defend 2s and 3s a little better than 1s right now. It does help that he plays much bigger than he is. When he is caught behind the play, he can comfortably switch onto bigger players and make them work for looks.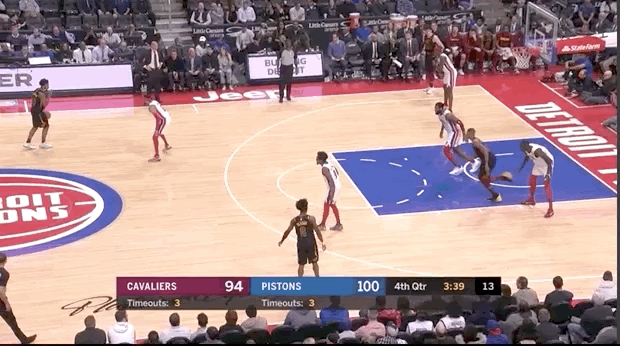 Here, Brown attempts to ICE this pick-and-roll, sending Darius Garland down the sideline. Garland counters by snaking around the screen to force the switch, though he bobbles the handle. Brown finds himself matched up with Tristain Thompson -- not Hakeem Olajuwon, but a strong dude that can toss in a jump hook from time-to-time. Thompson isn't able to gain any real traction before the help arrives, and Brown further complicates matters by swiping at the ball without fouling, then finishing the possession with a strong contest.
Brown was the Pistons' best defender last season, an important distinction, but one that shouldn't be used to inflate his value. He's a good, not great defender at this stage. He is a rather versatile weapon with visible room for improvement. He fills a role now and won't cost much to do so.
What Brown Brings on Offense

The silver lining for young players on bad teams is that, if they're intriguing enough to their organization, they have room to stretch themselves in ways that aren't possible on better teams. As it relates to Brown, his experimenting at point guard was a mixed bag, but one that bodes well for his development moving forward.
Brown can actually do stuff with the ball in his hands. He's patient in the pick-and-roll, mostly using his penchant for contact to generate paint touches and force rotations. But there is also craft present, a necessary ability for secondary creation upside.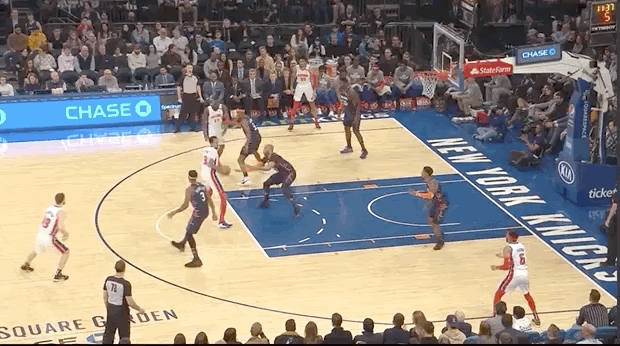 Elfrid Payton attempts to ICE the potential ball screen. Brown swims through and attacks baseline, drawing the rotation from Taj Gibson, which then calls for Julius Randle to pick up John Henson on the roll. With Randle picking up Henson, that leaves RJ Barrett to split the difference -- play between the wing and the corner -- on the weak side. Barrett slides over to take away the corner pass. Brown reads all of that and flips a jump-pass to Tony Snell for an open triple.
Brown can make passes like that, or he can fit in dimes to the big. What he's missing is the ability to convert these opportunities for himself. Per Synergy, Brown made just 39 percent of his shots out of pick-and-roll last season. His pull-up jumper is non-existent at this stage, and he isn't particularly finishing against set defenses at this stage.
Him having enough juice to operate as a connector is good enough in lineups that feature any of Kyrie Irving, Kevin Durant, Spencer Dinwiddie, or Caris LeVert -- with the obvious caveat that the latter two are even on the roster when the season starts.
With better ball-handlers available, Brown will likely settle into a primary spot-up role. He's an iffy shooter overall, but did knock down a shade under 42 percent of his corner threes last year.
The 3-and-D archetype is a valuable one, especially alongside stars. If the jumper stabilizes, Brown will be a pretty important role player for the Nets this season. Combine that with his budding ball skills, and the Nets could have a real steal on their hands.
They'll have to pay him next offseason, but turning Musa and a second-round pick into a two-way talent entering the prime of his career is a bet you make every time.