This year's NBA Draft was always going to be a fun one. There was no clear-cut superstar prospect in the class, which led to a lot of uncertainty at the top. There was plenty of noise that virtually every team in the top five was looking into trading their pick, though ultimately none of those rumors came to fruition.
Still, we had plenty of movement in terms of trades, and we got the usual brand of surprise swings (hi, Jalen Smith to the Phoenix Suns at No. 10) and somewhat inexplicable slides from players that will outperform their draft slot (more on that shortly).
Is it too early to dub teams winners and losers of a draft that we won't have a real handle on for half a decade?
Yes.
Will that stop me from doing so?
Absolutely not.
Without further ado, here are some of the winners and losers from last night's action:
Winner: Philadelphia 76ers
Have yourself a night, Daryl Morey.
It's hard to argue that any team addressed their needs in the manner that the Sixers were able to. They land Tyrese Maxey, one of the best guard defenders in the draft with some on-ball chops. He had an underwhelming shooting season during his lone stint at Kentucky, but his lower-level sample -- AAU, high school, etc -- leaves room for optimism that his Kentucky year was the outlier, and that he should settle in as a plus-shooter in the future.
It doesn't stop there, of course.
Isaiah Joe was a steal at No. 49, even more so considering the Sixers basically told anyone who would listen (and even those who wouldn't) that they planned on taking Joe at some point. Joe is one of the best shooters in the class, so his role on a team with Joel Embiid and Ben Simmons couldn't be more obvious.
The big move was turning Josh Richardson -- a talented defender and jack-of-all-trades offensive piece that has been miscast into a somewhat heavy creation role for two consecutive seasons -- and the pick that became Tyler Bey into Seth Curry, one of the league's most lethal shooters and an underrated pick-and-roll initiator. The dribble-handoff sets that JJ Redick and Embiid infuriated defenses with should be replicated easily with Curry, with even more on-ball creation available.
The Sixers are dangerous - on paper, at least - and there's still time for them to make moves this offseason.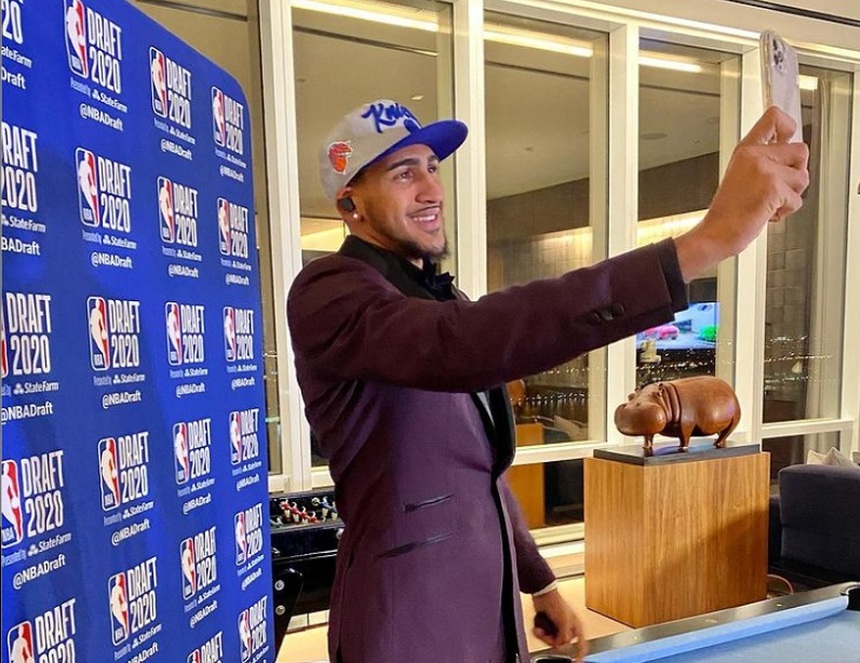 Loser: New York Knicks
It's fun to crack jokes at the Knicks' expense. I do it, and you probably do too. Your favorite tweeter probably does it. It's low-hanging fruit, but an apple a day keeps the doctor away. You know the vibes.
And as much as I would like to give the Knicks a little leeway with their draft, I just can't get there with the Obi Toppin pick. There are ways to talk yourself into it. He's an absurd pick-and-roll finisher, decent enough shooter, and has shown hints of short-roll passing ability. Mitchell Robinson is one of the best rim protectors in the sport; surely he can cover for some of Toppin's defensive shortcomings, no?
Well … I kinda lean no.
Toppin is an incredible offensive talent. Most of his skills should translate. But to be a pick-and-roll menace, you need someone to feed you the ball; at the very least, you have to have someone that can draw attention so somebody else can feed you the ball. The Knicks don't really have that. RJ Barrett has a ways to go as a lead ball-handler, and teams are going to duck under his picks until he proves he can shoot anyway.
I don't really see any upside with Toppin defensively. He doesn't have the length to play small-ball 5; his hip movement is awful (to be kind), which limits how well he moves laterally. What exactly is the hope there, playing almost exclusively ICE defense (hi, Thibs) and hoping he can funnel drivers to Robinson, who famously doesn't have issues with fouls whatsoever?
Can you feel the sarcasm?
I like the addition of Immanuel Quickley, a solid shooter with some defensive upside. But the Knicks desperately need to get someone that can set up their offense. Free agency is going to be huge for them. Address that need, and their draft selections will look a little better. For now, though, it's hard to be a fan.
Winner: Tyrese Haliburton
Haliburton not going in the top five isn't a surprise. His lack of scoring aggression and physical strength made his statistical profile a little less impressive than it looks on the surface. There are real questions about him being a lead guard or a top-end on-ball defender because of those limitations. Landing on a team with an actual point guard would be huge for Haliburton, because it would allow him to slot in as a secondary creator and defend wings, unlocking his strength as an off-ball/team defender.
Enter the Sacramento Kings, who have their franchise point guard in De'Aaron Fox.
Fox can get to the rim whenever he wants. Haliburton is a reliable spot-up threat, and has the passing chops to beat an already-bent defense as a close-out attacker or someone that can navigate a secondary pick-and-roll. The Kings still have work to do on the perimeter; it doesn't appear Buddy Hield wants to be there, and there's no telling where Bogdan Bogdanovic is going to end up at this point (if the sign-and-trade with the Milwaukee Bucks is, in fact, dead). But for Haliburton, it's hard to think of a much better on-court fit among teams in the lottery.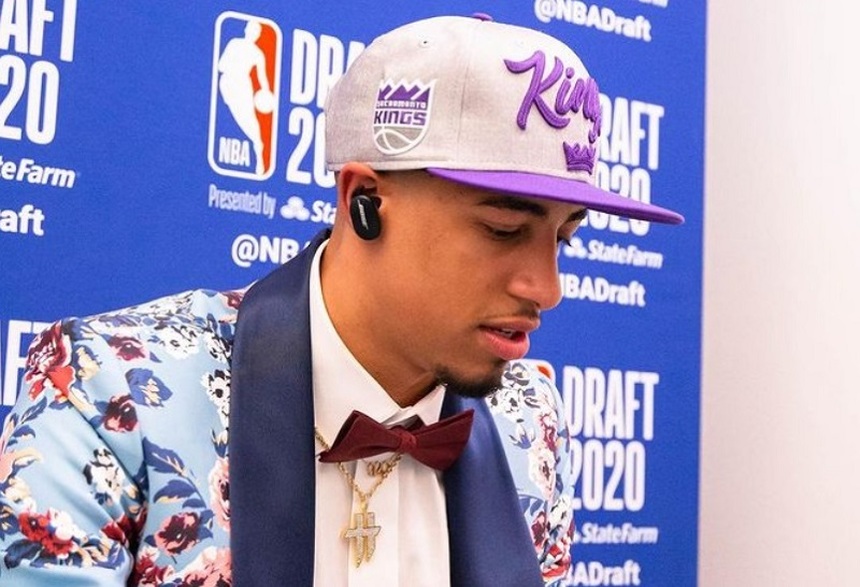 Loser: Patrick Williams
Williams going No. 4 to Chicago was the first surprise of the draft. He was a late riser in the process, with his age (the youngest guy in the draft), physical tools and versatility on both ends providing plenty of intrigue to evaluators. The Bulls taking a swing is very good for Williams' bank account, but I'm not sure if I love the basketball fit.
The frontcourt is a bit jumbled with Wendell Carter Jr., Lauri Markkanen, and vets like Otto Porter Jr. and Thaddeus Young that will have a claim to minutes at the 4 as long as they're on the roster. Williams doesn't quite have the ball skills or defenses-have-to-account-for-you shooting ability to survive at the 3. There also isn't a true tablesetter to get Williams easy looks; Zach LaVine and Coby White are talented scorers, but they aren't the kind of gravitational forces to make life easier on their frontcourt partners.
Winner: San Antonio Spurs
The Spurs did pretty darn well for themselves, landing Devin Vassell at No. 11, then snagging Tre Jones at No. 41.
Vassell can slot in now as a genuine 3-and-D piece, though he's shown enough flashes at Florida State with the ball in his hands to believe he could grow into a more complete player. Jones is a tremendous decision maker and point-of-attack defender. How you feel about his jumper - improving but still a tad underwhelming - will shape how you feel about his long-term prospects, but he adds point guard depth to a team that has to make some decisions pretty soon.
Patty Mills' name has been swirling in trade rumors over the past couple of weeks. Bryn Forbes is set to hit free agency. Derrick White is going to be up for a payday pretty soon, and the extension of Dejounte Murray just kicked in. If the Spurs decide to make some changes, there will be room for Jones to provide value in Year 1.
Loser: Lonzo Ball's future at point guard
If acquiring Eric Bledsoe and George Hill as part of the Jrue Holiday package wasn't enough to seal Lonzo's fate as a lead ball handler, drafting Kira Lewis Jr. at No. 13 was surely the last blow. During BasketballNews.com's NBA Draft Show, our Matt Babcock said that the Pelicans view Lewis Jr. as their point guard of the future and that the team will likely trade Ball.
Lewis Jr. is an absolute speed demon with complementary passing and off-the-bounce shooting chops. The common De'Aaron Fox comparison falls apart because they use their speed to win in different ways - Lewis Jr. with his shot, Fox with his rim finishing - but Lewis Jr. has the profile of a half-court creator that Lonzo just doesn't.
I'm not sure what Lonzo's future in New Orleans is, but he'll definitely be off the ball more if he stays. That should be good for him, should he accept it. He's at his best as a connector in the half-court, making the first swing in a swing-swing sequence, or capping off possessions with catch-and-shoot opportunities. If he still fancies himself as an actual point guard, it wouldn't shock me to see him push for greener pastures elsewhere via trade, or once he hits restricted free agency next summer.
Winner: Draft Twitter
And by Draft Twitter, I mean the Memphis Grizzlies for apparently being secret members of Draft Twitter.
Their 2019 draft saw them land the electric Ja Morant, then nab Brandon Clarke late in the first (HOW DID THIS HAPPEN). Morant would of course go on to win Rookie of the Year, while Clarke had a strong case for being the second-most productive rookie in the league last season. Clarke's slide was infuriating to watch during last year's draft. He was arguably the best non-Zion player in college basketball that year, showcasing elite movement skills, vertical pop, intermediate and paint touch, and IQ on both ends of the floor. But because of his age and wingspan, teams talked themselves out of him. Memphis swooped in and the rest was history.
Desmond Bane and especially Xavier Tillman fit the bill as upperclassmen with NBA-ready games that had no business sliding to the 30s in terms of their skill level. They went a step further after the draft, adding the super talented but oft-injured Killian Tillie.
The Grizzlies now have Morant, Jaren Jackson Jr., Clarke, Tillman, Bane, Tillie, John Konchar (post-draft addition), Jontay Porter, and other funky guys like Justise Winslow and DeAnthony Melton on their roster or books. They are very, very high on my League Pass list this year and moving forward.
Loser: LaVar Ball
I mostly like the LaMelo Ball pick for Charlotte. He has arguably the highest ceiling in this year's class, a virtuosic passer at 6'8 (!!!!) who can and will fling shots from anywhere on the court. The Hornets need star talent and a star personality; Ball can provide both.
It was also pretty clear that LaMelo's father, LaVar, was, uh, less than enthused about ending up in Charlotte. I'm not sure he's unfolded his arms yet. As someone that basically lives in the area, I think the Hornets have a pretty underrated and devout fanbase. They'll take to the Ball Family if the family takes to them. One trip to Cook Out should boost morale for everyone.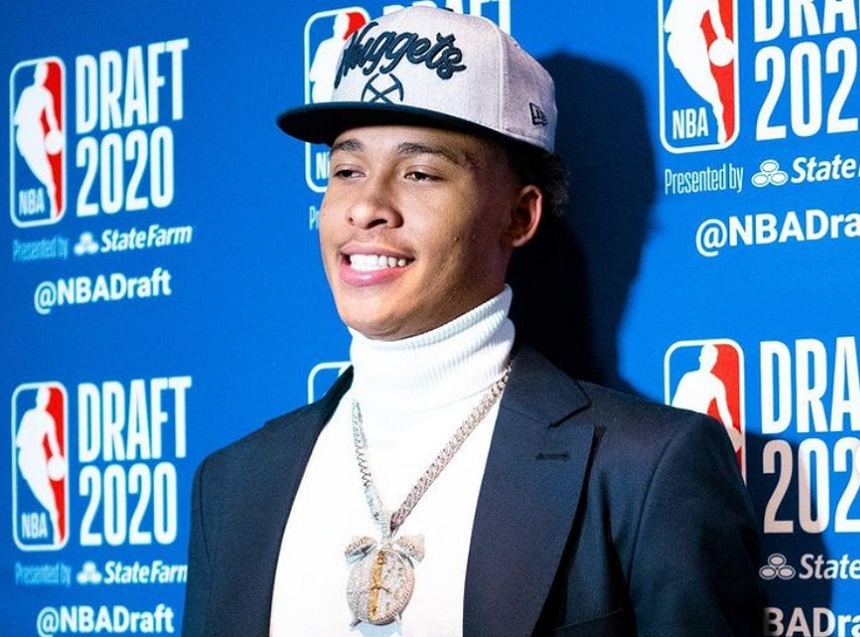 STRAY THOUGHTS
I love that the entirety of the Precious Achiuwa-to-Miami analysis was some variation of "this is a Heat pick."

Provided he stays healthy, Josh Richardson will probably have the best season of his career next year. He's never been surrounded by this level of playmaking and shooting, and should slot in rather easily as Dallas' best perimeter defender.

Malachi Flynn to Toronto is a fun selection, with a smidge of writing on the wall about the Fred VanVleet free agency. Let's say the writing is in pencil; the Raptors are still the favorites to bring him back.

Simply can't believe Grant Riller almost went undrafted. The College of Charleston guard will head a couple hours north to Charlotte, finally giving them a guard who CAN GET TO THE FREAKING BASKET

I was honestly surprised the Thunder didn't cash in some of their chips to move up for LaMelo, but landing Aleksej Pokusevski (Poku!) is still quite the upside swing. There's no telling how bad the Thunder will be next season, if at all, but they're set up nicely for the Cade Cunningham Sweepstakes next year.

Seriously, how the heck did Xavier Tillman not go Round 1?

RJ Hampton to Denver is one of my favorite on-court pairings in the draft. Hampton being coached by Mike Malone is something I'm a little uneasy about. I wonder how much leeway he'll get to make some mistakes and grow. If he's afforded a little freedom, the rim pressure he can provide in lineups alongside Jamal Murray could be pretty darn valuable.