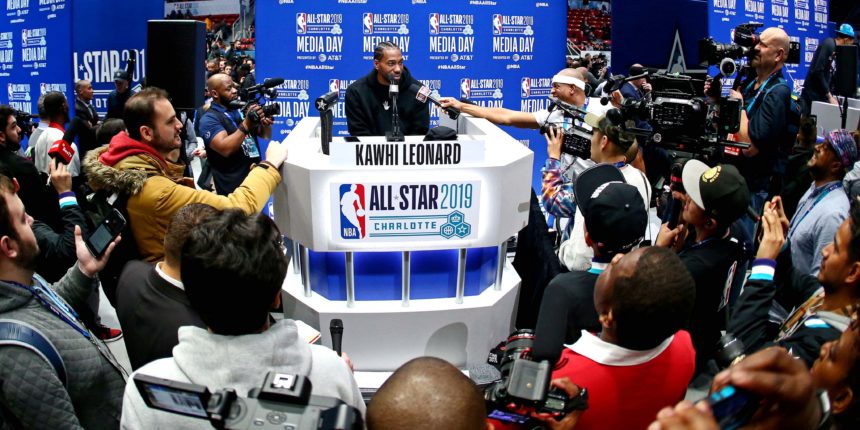 Many NBA players don't trust the media today, and I can't blame them
Since I decided to take my talents into the media world, I have a newfound appreciation for the craft. But one of the questions I get asked most often is whether my attitude toward the media has changed at all because of it, and it certainly has. Truth be told, most NBA players don't trust many members of the media, and I can't blame them.
Back in 2007, I'd just landed in Boston, and with the roster that was assembled over there, expectations were really high. One day after practice, Doc Rivers called a team meeting and singled me out. I was the only player on the squad who had won a championship.
Doc knew that I knew what it felt like being under the microscope, and he asked me to share some of my insight about distractions and about what it takes to win.
In Miami, we had Dwyane Wade, Shaquille O'Neal, Gary Payton and Alonzo Mourning, and we were coached by Pat Riley. Anywhere any of us went, people were trying to ask us questions and stick microphones in our faces. Shaq had a well-publicized feud with Kobe Bryant, and D-Wade was coming into his own as a young superstar. There was a lot to talk about.
So in Boston, basically, my message to the team was to be careful about what you say, because for the most part, drama is what sells. That's not unique to sports, but it sure applies in that world.
Think about it: When you open up a newspaper or turn on the news at night, so much of what is talked about is about negativity and drama. The unfortunate reality is that the NBA media has become so much about that too. Some people think that it's worse today than ever before. Today, most of the conversations and stories are less about the game and more about free agency, contracts, trades or people getting fired.
As a whole, we just seem to spend much less time talking about and loving the game than we do talking about the dramatic storylines that the game creates.
So that was my message to those guys in Boston when Doc kind of put me on the spot. That's what I said. Part of that perspective came from an experience I had as a young second-year player in Denver. There, I found myself in the middle of a huge controversy because a reporter twisted my words and misrepresented my message.
Lesson learned.
I was drafted by Denver in 1999, and Dan Issel was my first coach. Coach Issel had worked for Denver for a while and was the coach of the 1994 Nuggets squad that became the first eighth-seeded team to beat the No. 1 seed in the first round. Nobody talks about it, but that team actually took Utah to seven games in the second round before losing, so they overachieved for sure.
At this time, I was a young player coming into the league, trying to establish myself and figuring out how to stick. I had some good vets in my corner and developed some relationships that I cherish to this day, but I learned the hard way to be careful not only about what I said, but how I said it.
Sometimes, things can be misinterpreted, and truth be told, some guys in the media would rather take something you said and put a controversial twist to it than to double-check with you to make sure you meant what you said.
In some ways, it's like they're out to get you.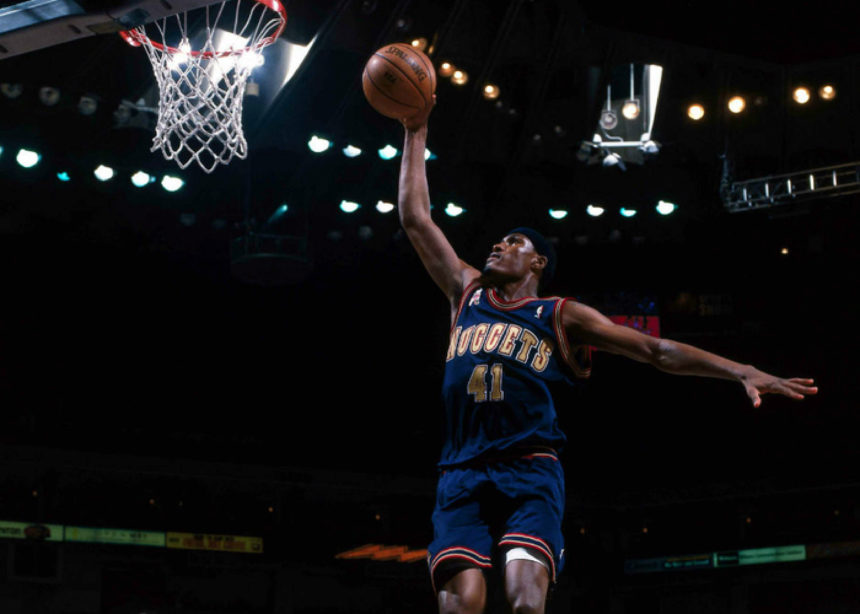 So, the Nuggets made the playoffs in 1994 (where they scored the upset over Seattle) and then in 1995. They missed the playoffs the next four years, and then, I was drafted. Coach Issel came back to the bench that same year. We missed the playoffs my rookie year, so the franchise was trying to get back there as soon as we could.
We had some proud veterans and guys who were competitors on the team, and those kind of guys don't really have the patience for rebuilding. As an older veteran, if you spend a few years on a non-playoff team, the next thing you know, you might be out of the league.
My second year in the league was the 2000-01 season, and we started 10-8, but we went out east on a road trip and lost all four games. Nobody was happy.
Suddenly, we were 10-12 and, coincidentally, were going back home to play the Miami Heat.
Typically, after a long road trip, a coach would give the players a day off, even if they had a bad trip. At the end of the day, guys need time to regroup, rest and collect their thoughts, but Coach Issel had other ideas.
Coach made some comments in the media that were critical of some of our vets, and it rubbed some guys the wrong way. But bigger than that was the fact that, as a team, we were fatigued.
Today, we're so much smarter about sports science and helping athletes take care of their bodies. The league has reduced back-to-back games, for example. When I was in the league, we often had to play four games in five nights, and during the lockout season, every team had at least one situation where they had to play three games in three nights.
In Denver that season, we played 16 games in November, which means on average, we played more than one game every two nights. We played three games the first four nights of the season and the trend continued. We were exhausted by the time we left for our first long Eastern road trip of the season, and to make matters even worse, we were playing all four games in five nights. We had a back-to-back in Miami and Orlando, a day off, then another back-to-back in New York and Boston.
So when Coach Issel scheduled practice the day after we returned to Denver, some of the veterans on the team suggested that we take a stand and tell coach we needed some rest — we weren't going to be able to break the losing streak if we were too tired to perform come game time.
Now, we're going back 20 years, so I can't directly quote what I said to the reporter who asked a few questions before our first game back after the road trip. But I know for sure that, in context, I never said that we, as the players, were going to boycott that first game and refused to play. I never meant to suggest that we, as the players, were turning our backs on Coach Issel.
First of all, I'd never do that, and second, I was a second-year player! Who was I to be the voice of the team?
Regardless, that's exactly what was written in the paper that will remain nameless.
Next thing I know, I'm the center of attention. All over the mainstream news across the country, people were talking about the Nuggets players and how we're planning to boycott games and all kind of crazy stuff. And to make matters even worse, I'm the one that everyone is looking to with their questions, because I was the "money quote" in the story that ended up becoming a national headline.
Obviously, our veteran players had my back and spoke to the media themselves and clarified the team's position, but I'll tell you, as a second-year player, that was a lesson learned.
Now, to be fair, I'll say that — especially back in those days — a lot of us players didn't really have the same kind of education and savvy when it came to how to approach certain questions and how to choose our words wisely. What was worse back then, too, was the fact that there was no social media and no way for players to control their own messaging and get their own words out.
In a way, we had to rely on the media to get our thoughts and messages out to fans, and that just wasn't ideal, because we didn't necessarily have the same goals as those who were spreading our message.
So in a nutshell, I'd say that's the answer to the question. A lot of players (and coaches, too) don't like speaking in public because we feel that a lot of news organizations are more concerned with making headlines than reporting accurate facts.
At least today, with social media and the internet, teams can control their own messages, and players can, too. But for a lot of players, me included back in my day, there was a distrust for reporters that still exists today.
That was the experience I shared with Doc and my Celtics teammates, and I carried that entire experience in Denver with me for the rest of my career. I wasn't treated fairly, and I think reporters who I interacted with at each of my other stops — including in Boston, New Orleans and Indiana — paid some of the price for that.
It's ironic now that I work in the media, but having been on both sides of the equation, I think I'm smarter for it.
When I look back on my time in Boston, as I've written before, I wish it could've lasted longer. But I have some fond memories, and even more so, a hilarious observation.
It's not easy entering an NBA season as the favorite to win it all. James Posey wrote this piece for @basketbllnews about the pressure and challenges that come with championship expectations. He details his experience on the 2008 Celtics and 2016 Cavs: https://t.co/GV0uemEpfK

— Alex Kennedy (@AlexKennedyNBA) December 24, 2020
On the 2008 team, we didn't really trust reporters or any of the media, to be honest. We didn't really care too much for making headlines or getting any attention. We just wanted to come together, focus and play the game at a high level.
But when you look back at the roster, so many of us went on to work for media companies.
Big Kendrick Perkins is doing his thing at ESPN, and he's become one of their biggest basketball voices. Paul Pierce did some great work there for a while too.
I think everyone who watches TNT remembers that Kevin Garnett had "Area 21" on Inside the NBA, and Glen "Big Baby" Davis was a regular on his segment.
Brian Scalabrine is doing color commentary for the Celtics, and even Scot Pollard has found a home in front of the camera. He's done everything from sports television work to radio play-by-play. He was even a contestant on Survivor a few years ago.
And me? I'm enjoying life at an assistant coach on Tina Thompson's staff at the University of Virginia. But I'm obviously enjoying working in the media, as well.
Funny how life can sometimes come full circle. I'm enjoying the view from this side of the fence, but when current and former players express negative attitudes toward the media and reporters, I can certainly understand why.
Maybe I can be a part of the solution, because one thing is for sure: I can understand why today's players feel the way they feel. I lived through a helluva experience in Denver.