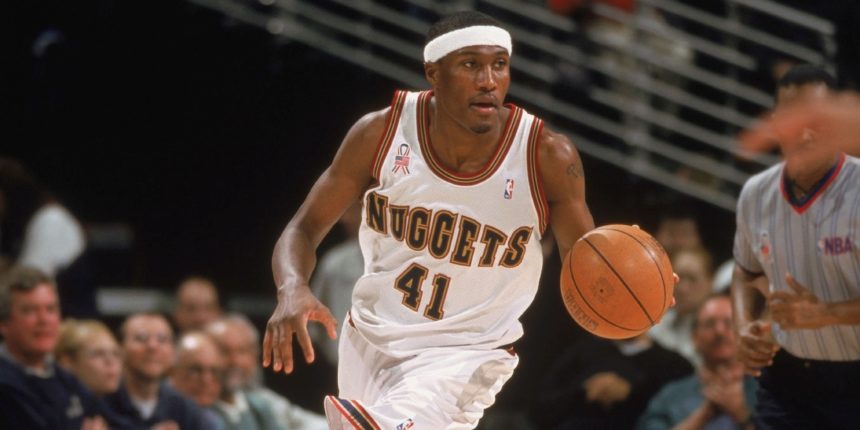 The night my life changed: Reflecting on my 1999 NBA Draft selection
June 30, 1999… "With the first pick in the 1999 NBA Draft, the Chicago Bulls select Elton Brand!"
There are some things you just never forget, and for anyone who's fortunate enough to be drafted by an NBA team, the memories last a lifetime. I definitely have my share.
So yeah, Tyrone Hill and I had a couple connections, but none stronger than our alma mater.
He played four years at Xavier from 1986-1990, and during my three years there (1996-1999), he'd come back and play with us over the summer. He was truly a big brother to the program. At some point before the draft, after some of us had put our name in the hat, he came through with a bunch of dress suits he wanted to donate to us. I picked the olive-green one.
Back then, my swag wasn't that refined, so I never thought about getting a tailor-made suit or having that one altered or anything like that. I rocked it just like that. When I tried it on, it seemed like it fit good enough, so that was that.
Again, some details you just never forget.
I appreciated the gesture from T-Hill, especially because — aside from the Xavier connection — we had two other things in common: we shared an agent, and we were both from Ohio. I was born in Cleveland, he's from Cincinnati.
And then, on that night in 1999, we had another thing in common: we were both NBA players.
With the 2021 NBA Draft coming up — even though it's about a month later than it would be under normal circumstances — I find myself being excited for the group of incoming players while reflecting on my own experience. For me personally, I wasn't really one of the top guys coming out in my year — I was selected 18th by the Denver Nuggets — but I remember the months and weeks leading up to the draft.
I remember hearing things here and there about me being projected as a mid-first round pick and about guys like Shawn Marion, Ron Artest and Wally Szczerbiak being better than me, etc.
I remember my attitude was basically like, "Let them prove it!"
So any time I heard one of those guys' names or about workouts where they would be, I wanted to be there. I thought I was better than them, and if a team was going to pick them over me, I at least wanted to have the opportunity to compete directly against them so I could understand why.
That's what I enjoyed most about the process: the opportunity to compete with my draftmates.
At the end of the day, I pretty much landed where we thought I would: mid-first round. But I still appreciated the process and the fact that other people got to watch me and meet me, because I think it makes a difference. You can watch film, but meeting with a player is the best way to get a good feel for him and what he may bring to the table. And that's what was missing for the guys who came out last year. Most of the opinions formulated about them were from watching film and talking over Zoom. There weren't the face-to-face interactions that we've traditionally had during the pre-draft process. As a result, in many ways, they didn't have the same opportunity to help themselves and their stock.
It wasn't something I took for granted back when it was my time, and since I've gotten into coaching, I've developed a newfound appreciation for being able to watch games in-person. How guys communicate with their teammates, their body language and their ability to read plays and defenses are more difficult to scout when you're not seeing the game from the player's perspective.
I'd like to think that those little details are what ultimately led Denver to draft me, because the truth of the matter is that I didn't really know exactly how things were going to pan out for me back in '99.
Like most kids coming out, I was holding out hope that one team in particular would draft me. For me, it was my hometown Cavs.
Eventually — thanks to LeBron James and Kyrie Irving — I was a part of bringing Cleveland its first-ever NBA Championship in 2016 (as an assistant coach). But about 20 years earlier, I'd dreamed of doing it as a player. It obviously didn't turn out that way, though. Cleveland predictably picked Andre Miller at No. 8, and everyone saw that coming because they needed a point guard. But then, at No. 11...
"With the 11th pick in the 1999 NBA Draft, the Cleveland Cavaliers select Trajan Langdon!"
Nobody expected them to do that. No hard feelings, obviously, but that's not something I'll forget, especially because of the brief conversation I had with my mom right afterward.
Once Langdon was picked, I was a little disappointed. So was my mom, who was clearly getting concerned when all these other kids' names were being called before mine.
"What's going on?" I specifically remember her asking me that when Cleveland passed on me for the second time. I just shrugged it off. I wasn't tripping.
"Ma, listen, we weren't banking on this, anyway," I said. "We'll be alright, regardless. I got my degree, and I'll just get a job. We were never banking on this, anyway, so it won't be a huge letdown. We'll figure it out, I'll figure it out, and we might as well enjoy this, anyway."
I was really prepared to not get drafted at all. But fortunately, seven picks later, my name was called.
"With the 18th pick in the 1999 NBA Draft, the Denver Nuggets select James Posey!"
I was relieved and excited, but I was truly at peace with whatever the outcome would've been. It's probably because I'd heard so many stories about highly-touted guys who didn't make it. I never assumed that my name was going to be called. With only 29 selections in the first round, there are simply no guarantees for anybody.
More than 20 years later, I'm so proud of what I've been able to accomplish in the game of basketball and I can't help but to think of the night when it all began. Between then and now, I played with some great players, made some big shots and helped my teams win at the highest level.
Now, even better than that, through coaching, I've been blessed to have some opportunities to help instill my values and share my experiences with future generations.
Especially since my playing days ended, I've been enjoying the late spring and early summer months a lot. Between March Madness, the NBA Playoffs and the NBA Draft, we get to witness the coming of age of collegiate players and get to see many of them — like Kyle Lowry, Kyle Kuzma and Jrue Holiday, for example — become champions.
It all starts somewhere, though. For most of us, it happens to be with some sweaty palms, short breaths and us eagerly waiting to hear our name called by the Commissioner.
For me, it also started with a hand-me-down, olive-green suit that I was fortunate enough to get my hands on.
It was a night I'll never forget, and I'm happy for the 2021 draftees who will get their own once-in-a-lifetime experience.