Coming into an NBA season as the favorite to win it all isn't easy. Not only is there a target on your back, there's a ton of pressure on the team to live up to the championship-or-bust expectations.
When I got to the Boston Celtics in 2007, all eyes were on us. Every night. Off the rip, once all those moves were made and the Big Three was assembled, we knew we had a great chance at a title. There was that little window for KG, Ray Allen and Paul Pierce — it was their time to do it. You felt it. The time was now. We knew what we were in for that season.
We all heard the talk. People were picking us to win it all and labeling us the favorite.
Behind the scenes, everybody was trying to get a story. Big-time media, local media, people that you've never seen in the building before — they're all trying to get something. They're waiting for somebody to say the wrong thing, so they can blow it out of proportion. You have to keep that in mind and be careful what you say, especially if you're a young player or someone who hasn't done many interviews.
As a team, you can't let the headlines and manufactured drama distract from the ultimate goal, and that's where having great leaders is really important.
That year, the expectations were just... different. Everyone wanted to know how we were gonna go out and perform. We started the season 8-0 and by early January, we were 29-3. We were dominating on the floor. The Big Three was the main attraction across the league. They were discussing our team on TV, on the radio and in the newspapers. We were under the microscope. I wasn't getting interviewed a lot, but every day, KG, Paul and Ray would get annoyed by the media. They'd be like, "Yo man, is that the best question you could come up with? You're wasting our time. I could be at home already."
Remember, we were doing this in Boston, which only added to the craziness. There's a lot of pressure to win in that city because of the tradition of the Celtics, Patriots, Bruins and Red Sox. They're just used to championships. The Pats won the Super Bowl in 2001, 2003 and 2004, and the Red Sox won the World Series in 2004 and 2007. I remember thinking, "Damn! We really gotta win now. We can't be the only ones who aren't winning." At home games, the fans did their part and gave us an extra advantage.
Because we were the frontrunner to win it all, we had a target on our back all year. Teams came in and badly wanted to beat us. It was extra meaningful; for some teams, that game was their championship.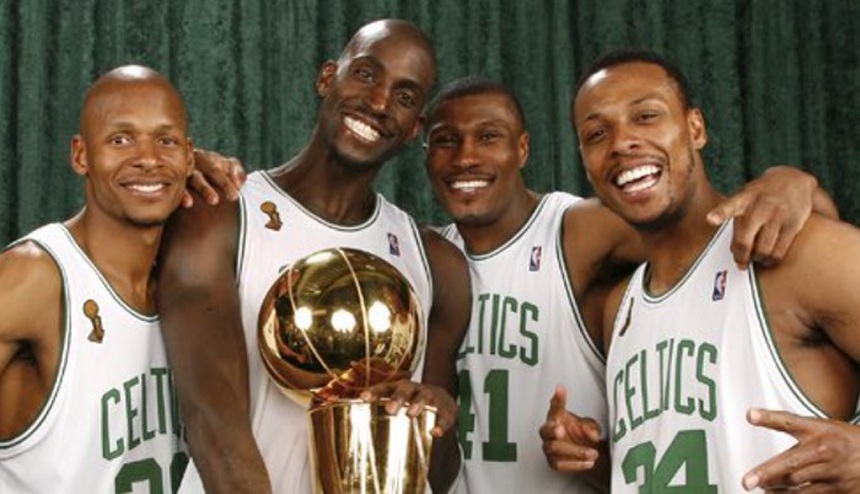 But we had great leadership on that team. Doc Rivers had a message for us: "If we want to go all the way, you can't get bored or tired of the process." At the time, I was the only one who had won a 'chip, so I echoed that message, too. We had to worry about our own business and control what we could control. And Paul, Ray and KG, they were all ears. Since that message was delivered, they stepped up and led the way as far as how we prepared. The practices were different. The competition level was different. They just raised the level for our whole team. Our eyes were on the big picture. There were certain points of the season where I said, "Man, we really do have a chance to do this."
One of those points was our road trip through Texas, when swept the Dallas Mavericks, Houston Rockets and San Antonio Spurs. When that happened, I felt like we had a damn good chance to win it all. We just had that focus, that leadership.
And once we made it to the 2008 NBA Finals, now we had to win. We knew we couldn't come up short. Fortunately, we managed to beat the Los Angeles Lakers in six games, bringing the Larry O'Brien trophy back to Boston. When we won, it was almost a sigh of relief.
Boston Celtics: Banner 17!
James Posey: Second ring!