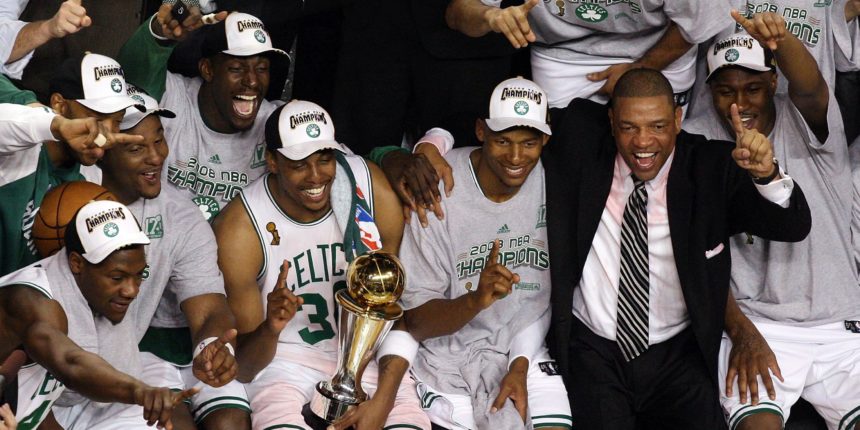 How NBA teams deal with championship expectations
Coming into an NBA season as the favorite to win it all isn't easy. Not only is there a target on your back, there's a ton of pressure on the team to live up to the championship-or-bust hype.
Everybody's trying to get a story. Big-time media, local media, people that you've never seen in the building before -- they're all trying to get something. They're waiting for somebody to say the wrong thing so they can blow it out of proportion. You have to keep that in mind and be careful what you say -- especially if you're a young player or someone who hasn't done many interviews.
As a team, you can't let the headlines and manufactured drama distract from the ultimate goal. That's where having great leaders is really important.
When I got to the Boston Celtics in 2007, all eyes were on us. Every night. Off the rip in preseason, once all those moves were made and the Big Three was assembled, we knew we had a great chance at a title. There was that little window for KG, Ray Allen and Paul Pierce -- it was their time to do it. You felt it. It was now. We knew what we were in for.
We all heard the talk. People were picking us to win it all and labeling us the favorite.
The expectations were just...different. Everyone wanted to know how we were gonna go out and perform. We started the season 8-0 and by early January, we were 29-3. We were dominating on the floor. The Big Three was the main attraction across the league. They were discussing our team on TV, on the radio and in the newspapers. We were under the microscope. I wasn't getting interviewed a lot, but every day, KG, Paul and Ray would get annoyed by the media. They'd be like, "Yo man, is that the best question you could come up with? You're wasting our time. I could be at home already."
Remember, we were doing this in Boston, which only added to the craziness. There's a lot of pressure to win in that city because of the tradition of the Celtics, Patriots, Bruins and Red Sox. They're just used to championships. The Pats won the Super Bowl in 2001, 2003 and 2004, and the Red Sox won the World Series in 2004 and 2007. I remember thinking, "Damn! We really gotta win now. We can't be the only ones who aren't winning." At home, the Celtics fan base did their part and gave us an extra advantage.
Because we were the frontrunner to win it all, we had a target on our back all year. Teams came in and badly wanted to beat us. It was extra meaningful; for some teams, that game was their championship.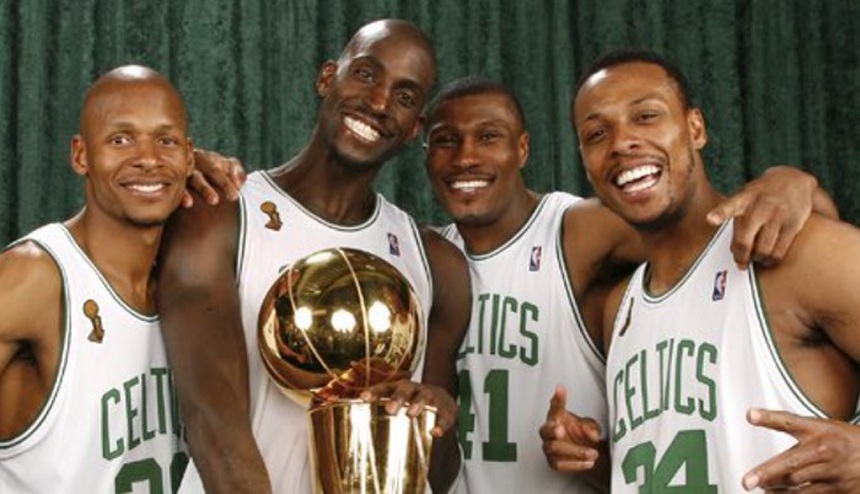 But we had great leadership on that team. Doc Rivers had a message for us: If we want to go all the way, you can't get bored or tired of the process. At the time, I was the only one who had won a 'chip, so I echoed that message, too. We had to worry about our own business and control what we could control. And Paul, Ray and KG, they were all ears. Since that message was delivered, they stepped up and led the way as far as how we prepared. The practices were different. The competition level was different. They just raised the level for our whole team. Our eyes were on the big picture. There were certain points of the season where I said, "Man, we really do have a chance."
One of those points was our road trip through Texas, when swept the Dallas Mavericks, Houston Rockets and San Antonio Spurs. When that happened, I felt like we had a damn good chance to win it all. We just had that focus, that leadership. And once we were able to get to the Finals, now we had to win, and then they wouldn't be able to talk bad about us in the city. It was a sigh of relief when we won it. Boston Celtics: Banner 17. James Posey: second ring!
It was a different story with the Cleveland Cavaliers. LeBron James came back to the city in 2014, and it was my first year as an assistant coach with the Cavs (after working with their G League affiliate). In 2014-15, we had a Euroleague champion in David Blatt coming in from overseas as a first-time NBA head coach. We all had to get on the same page fast. He did a good job, but we came up short that first year.
In 2015-16, our team had to win. Even with a winning record, Blatt was let go that winter and T-Lue got the head coaching job. But this was on 'Bron's shoulders. When you have the best player in the league, every station you turn to on TV, he's gonna be on there and his team's gonna be on there. It's a circus, but it's a good circus. Wherever 'Bron goes, he wins. Wherever he goes, the media follows. They wanna be able to say they covered the team, even before the wins start coming, just to say they did it. 'Bron expects to contend every year, which creates those championship expectations.
T-Lue did a great job with our team. Being a former player, he'd been there and done that. He was a champion, and as a coach, he kept everybody engaged. He led us the right way. He knew the process. It was only a matter of keeping guys who had never won from getting distracted. He did it by instilling confidence in Kyrie and K-Love. If you look at those two and what they had done in their careers, the spotlight was on them 'cause they were in a better situation to win now. They'd have a good game, then they'd have a bad game -- now the media's on them.
Lucky for us, 'Bron didn't let any of that negativity affect him or the team. He took all that attention and accepted it. He and T-Lue really stayed calm and took everything on. Shit, I remember when we were down and going back to Golden State, down 3-1 in the NBA Finals. We were like, "We okay. We just gotta do what we need to do to win one game. One game at a time." Game 7. We never wavered. We had great games from 'Bron, Kyrie and K-Love, and T-Lue was doing his thing. To come back and do it the way we did it just shows that we did it together. Game 7, we had the Block, the Shot and K-Love's defense on Steph Curry down the stretch...that's what made it even more special for us. And 'Bron showed his maturity and made sure everything stayed intact as that mega-superstar. Him being the great power that he is, he was able to get it done in Cleveland because of all of that. The Cleveland Cavaliers' first championship, and James Posey's third championship (and first as a coach)!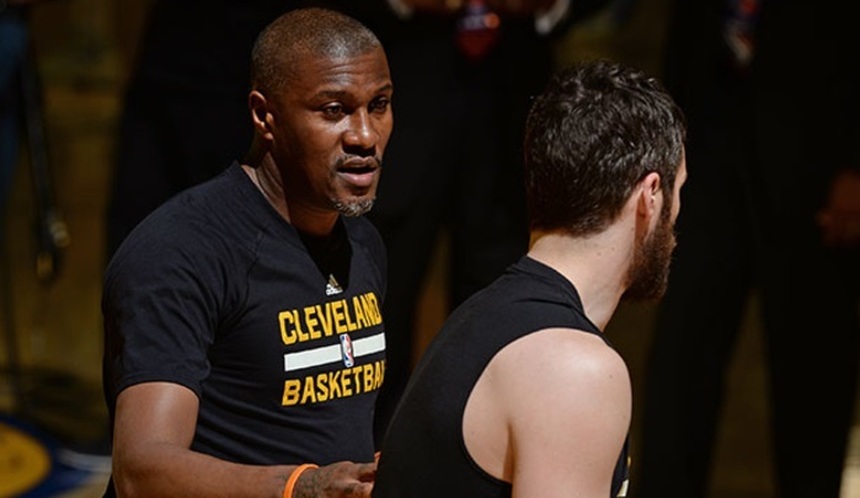 Whatever team you're on, when you're on that NBA Finals run, you're the main attraction.
The first time I won a championship with the Miami Heat, we didn't even have high outside expectations, but we had Pat Riley and Shaquille O'Neal. You listen extra hard to proven guys like them. You don't want to mess things up.
And there were a lot of moving pieces that year, so we had to accept our own roles and jell in order to play well together. We were a little shaky and had a losing streak. Then, Stan Van Gundy got fired and Pat came down to be head coach, so that turned up the heat a lot. It was my first rodeo. The talent was there, but I just wasn't sure if we could win the title because we weren't clicking.
The outside perception was, "Okay, well they're an old team anyway." Nobody was really talking about us winning at all except for Pat and Shaq because they had experience with it. Even when Riles came down, we were down 0-2 in the Finals against the Mavericks and people were talking about a possible sweep. But with Shaq and Riles' leadership, we leaned on them for that confidence and to know we just had to win the next game. We ended up winning four-straight. The Miami Heat's first championship, and James Posey's first championship!
Riles has that strong image as an individual, and he did a good job of managing us at the time, preparing us for the distractions. It's the little things that put doubt in your head; you gotta put your headphones on and not pay attention to any of the noise.
There's more distractions today than there were when I was playing. You had the paper and ESPN, and you could turn that off and not watch or entertain it if you chose. Today, social media can be brutal. You can see everybody now. When you're not with your team, you're at the crib. So now what are you doing? Probably on that phone.
If you're not mentally strong enough and you fall into the praises or disses, that can be tough. You don't wanna get too high or too low. You gotta find that medium where you can push forward, keep your eye on the prize and not let it bog you down. It really takes a mindset of knowing when it's too much and when to stay away from it for a little bit.
'Bron calls it Zero Dark Thirty-23. Once you get to the playoffs, you black everything out and lock in. His dedication to doing that shows how important the championship world is when you've been there and done that. That was his sacrifice and commitment to that championship run in Cleveland. Not everybody has that mindset though, and they'll stay on social media and get distracted when they shouldn't be on there at all.
Somebody asked me what advice I'd give to teams with championship expectations. There are three teams in that spot
The Los Angeles Lakers are the defending champs. They made some changes during the offseason, so now it's a matter of seeing how those new guys handle the pressure. You're there to win a 'chip. You're playing with the best player in the world in LeBron James. Shit, okay, you might be antsy already. You don't know what it takes to win yet, but you know the expectations. 'Bron and those guys will do a good job of lifting up those players who haven't been in that situation and make sure they relish the season, though.
My guy T-Lue is the new head coach of the Los Angeles Clippers. He's championship-experienced, and Kawhi Leonard is as well. System-wise with the small changes, I'm wondering how they're gonna play this year. I'm sure it's gonna be different than what we saw with Doc. The quicker they can jell together and string along some W's, they'll put themselves in a good situation.
The Brooklyn Nets -- that's a mystery right there. KD and Kyrie are coming off the injuries. Steve Nash is a first-time head coach. Roster-wise, we don't know what's gonna happen. It's almost like we're just waiting to see what they have because we don't know how they're gonna play. Maybe KD comes back and shows off his leadership skills in addition to those he has as a player; he's been in that position before. It could help the guys that haven't. It's a great opportunity for him to step up.
We don't know what product they're gonna put out there and how consistent they'll be over the course of a season to get themselves to the Finals. But they know that's what is expected of this group.
As for my advice, you gotta have a strong group (and strong leaders) to weather that storm and endure that fever. Finding a good balance is the key to staying focused. Experience helps you learn that along the way.