It's funny.
When you meet someone new or make a new friend, you simply never know where or how your paths may cross in the future.
"Can I rebound for you?"
That was the first thing I ever remember saying to Tina Thompson. Never did I imagine that I'd one day have the privilege of serving as an assistant coach on her staff. This past summer, I was blessed to be offered the opportunity to take my talents to the University of Virginia, where I'll be working with Tina and the Cavaliers.
The seeds were planted almost 20 years ago.
Way back in 1999, I was drafted by the Denver Nuggets. I spent three years there, and during my time with them, I grew close to John Lucas, who was an assistant coach on the team's staff. Over the summers, Antonio McDyess and Nick Van Exel — two of my veteran teammates — would join Luc in Houston to work out, and I wanted to stay near those guys. Luc and I grew really close, and before I knew it, I made Houston my second home, even while I was playing in Denver.
So it was a crazy coincidence that, of all teams, Denver traded me to the Rockets in 2002. I obviously wasn't complaining.
By the time the trade happened, I was already pretty comfortable in the city, and for anyone who's followed women's basketball or the WNBA in particular, you know about the league's original Big Three — Cynthia Cooper, Sheryl Swoopes and Tina Thompson.
The WNBA began play in 1997, when I was a sophomore at Xavier. With Lisa Leslie, Dawn Staley, Rebecca Lobo and Swoopes, the league had quite a bit of star power; and I, like most of the other players I knew, watched the league regularly. Since I was spending my summers in Houston, believe it or not, I actually became a season ticket holder for the Houston Comets. With Cooper, Swoopes and Tina, the Comets won the WNBA's first four championships from 1997-2000.
By the time I got there in 2002, they were already legendary, so I couldn't help but to be a little starstruck.
Back in those days, the Comets and the Rockets used the same practice facility — the Westside Tennis Club. Sometimes, I'd go to get shots up or arrive early or stay late and run into Comets players. Tina was one of them.
One day in particular, I just happened to make my way into the gym when she was getting some shots up. She was alone, and instead of sitting and watching, I figured that I should offer to rebound for her, so I did.
She thought I was joking at first, but when she realized I was serious, she gladly accepted. That moment began a friendship that is now going on 20 years. And now, after all that time, it's led to a professional relationship that I'm so excited about.
Every single day I go to work, I get to sit next to a G.O.A.T., and as I've interviewed for different jobs since my time in Cleveland came to an end, that's not really an opportunity I'd imagined having.
I joke with Tina all the time about how she was a bona fide bucket. She retired from the WNBA after 17 years as a nine-time All-Star, eight-time All-WNBA team member and the league's all-time leading scorer. She was named one of the WNBA's Top 15 players of all-time in 2011 and got inducted into the Basketball Hall of Fame in 2018. She was the truth.
Now, as a coach, Tina is doing exactly what it is I wanted to do, and I'm thankful that I will get to take this next step in my career alongside her. I've already learned so much about the differences between coaching collegiate players and pros, and I welcome the new challenges that await.
When I went to Virginia to interview for the job back in June, I had to quarantine for a week before I was able to do in-person interviews with Tina and her staff. That was a long week, but I knew that a good opportunity awaited on the other side and that I wanted it. Fortunately, it all worked out.
Since the news of my hiring was made public, a few people that I know asked me a similar question that came up during the interview — whether I was self-conscious about becoming a college coach, and especially a women's coach at that. I can honestly say that the answer is no.
At the end of the day, being a coach is a calling. It's something that's in you. Your desire is to teach the game and compete at the highest levels. It's taken a long time for the masses to realize something that I've always known — women are just as talented and just as skilled at the game as men. It's an honor and a privilege to be on the sidelines next to Tina Thompson at the University of Virginia and to have the opportunity to help our players develop into champions.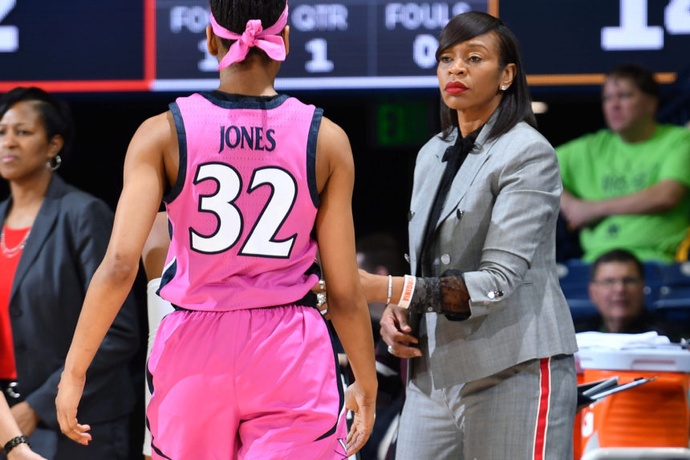 Thanks to some of the other trailblazers — Becky Hammon, Teresa Weatherspoon and Candace Parker, to name a few — we're starting to simply see everyone as basketball players and basketball coaches, not as "men" or "women" or "male" or "female" players and coaches. When you respect and appreciate the game in its purest essence, you quickly realize that gender identities don't really play any role in what happens on a basketball court.
For whatever reason, I guess everyone hasn't adopted that same mindset. I'm obviously on the other side of that fence.
Over the years, I've coached everywhere from invitational tournaments to the NBA Finals. I've approached every situation as an opportunity to teach the game while learning and improving as a coach. This, for me, is no different at all.
When Tina and I had our first informal conversation about the opening on her staff, she didn't seem to think that I was serious about joining her. She probably thought I had too much pride, or may have wondered if I felt like the opportunity was beneath me or something like that. I can't blame her for thinking that way, but a part of the reason why Tina and I have remained such good friends over the years is because we have some similarities in personality.
Tina retired from the WNBA as one of a few players with a legit argument as being the G.O.A.T. She herself could have felt like anything less than a head coaching job somewhere was beneath her, especially with her pedigree and legacy. But no… She took an assistant coaching job at the University of Texas before landing her current job at UVA. She saw an opportunity and embraced it.
In Charlottesville, I hope we're able to build something special. I'm proud to say that I've been a winner my entire career, and I plan on helping Tina apply the lessons I've learned along the way to the rest of her staff and her players. It's a new journey for me, and I hit the ground running.
It all started in Houston nearly 20 years ago. Two pros rubbing shoulders in the practice facility. A few chance encounters led to a friendly gesture that was accepted.
Tina and I have both come a long way since I was grabbing her rebounds at the Westside Tennis Club.
Now together, under her leadership, I hope we can go much further.