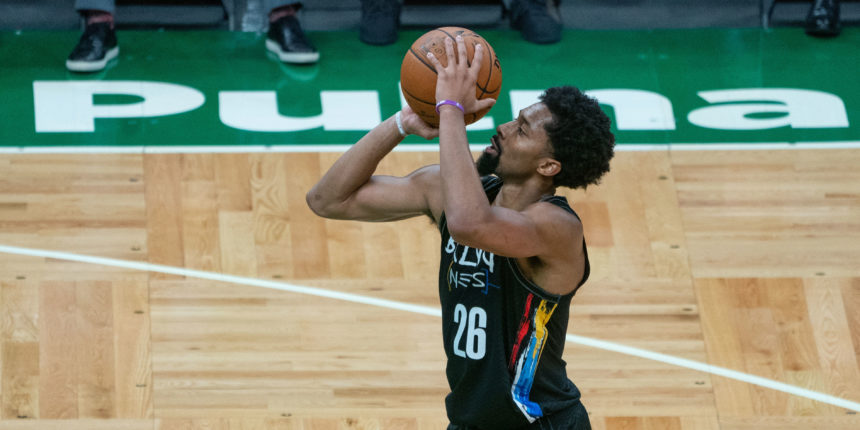 Knicks free-agent targets: 12 names that could fit in New York
The New York Knicks enter the 2021 NBA offseason with more potential cap space than any other team in the league, as New York can clear out up to $50 million in space if they choose to renounce all of their own free agents. Their primary objective is using that cap space to acquire a superstar. However, the only true max-level player in this year's free-agent class is Kawhi Leonard, who is dealing with a partially torn ACL that may sideline him for the entirety of the 2021-22 season. The potential second-best player in the class is a 36-year-old point guard with a $44 million player option, so there's no guarantee he'll ever hit the open market.
Another avenue to acquiring a superstar is utilizing your available cap space to trade for a disgruntled stud. I have explained, in detail, why I think the Knicks should pursue Damian Lillard if he wants out of Portland. There are also rumblings that Wizards All-Star Bradley Beal may demand a trade.
Yet, despite all the juicy gossip, the most likely scenario in each case is Kawhi re-signing with the Clippers, CP3 staying in Phoenix and Lillard and Beal starting next season in Portland and Washington, respectively.
So, where would that leave New York? How would team president Leon Rose choose to utilize his cap space?
First and foremost, it's important to note that the Knicks can choose to keep most of their powder dry. New York is considered a team on the rise not just because they exceeded expectations last season, but also because they have shrewdly managed their cap, avoiding the temptation to overpay big-name veterans on the downslope of their career.
Nonetheless, if the Knicks begin the free agency frenzy with $50 million, they'll need to spend a healthy chunk of that just to reach the league's minimum salary floor (per the collective bargaining agreement, every NBA team has to spend at least 90% of the salary cap on player salaries.)
Here are some players the Knicks may target when teams can start negotiating with free agents on August 2 at 6:00 p.m. ET.
Devonte' Graham - Restricted
Graham enjoyed a true breakout season in 2019-20, averaging a whopping 18.2 points, 7.5 assists and 3.5 made three-pointers per game. He took a bit of a step back this past season, but still poured in 14.8 points and dished out 5.4 assists (vs. 1.5 turnovers) in 30 minutes a night. It's also worth noting that he posted the best net rating on the team in 2020-21. The Hornets outscored their opponents by 98 points with Graham on the floor last season and were outscored by 237 points with Graham on the bench. He also became one of just four players in league history to average at least nine three-point attempts per game while shooting above 37% from downtown. The other three are Steph Curry, Dame Lillard and Buddy Hield. Many pundits assume the Hornets will match any reasonable offer Graham receives this summer, but ESPN's Brian Windhorst reported Tuesday that the Hornets "are believed to be interested in extending Terry Rozier and Miles Bridges, plus need to sign a starting center, all of which could squeeze their finances." At 26, Graham is entering the heart of his prime. It would be fascinating to see what kind of offer would scare off the Hornets, who obviously view LaMelo Ball as a cornerstone of the franchise.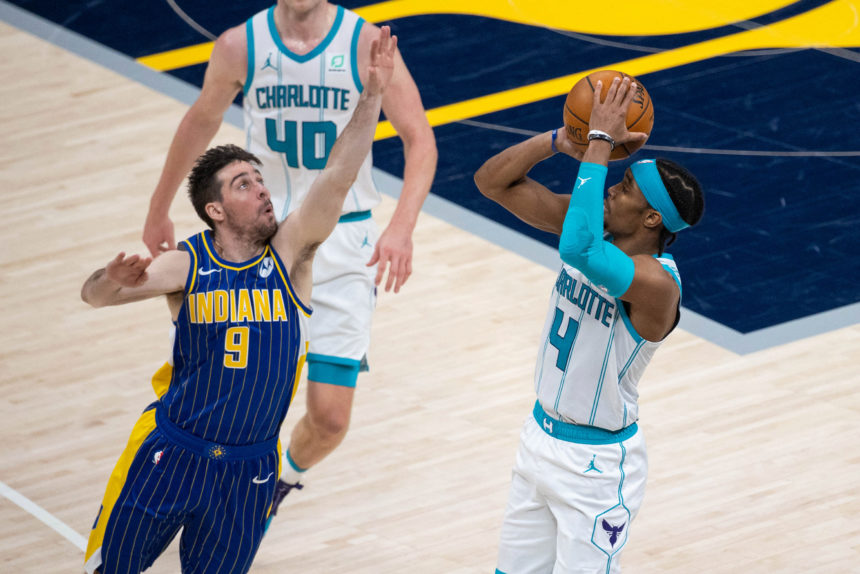 Victor Oladipo - Unrestricted
Here's a startling reminder of just how dramatically an NBA player's value can fluctuate over a single season. Less than 10 months ago, in October 2020, Mark Berman of the New York Post reported that, with respect to an Oladipo trade, "One NBA personnel man said Dallas' two first-round picks (2021, 2023), Julius Randle and Dennis Smith Jr. or Frank Ntilikina could whet the Pacers' appetite." It's remarkable to think how much Randle's stock has improved since then. On the other hand, the career of Oladipo — who was named an All-Star in both 2018 and 2019 — has been derailed by injuries. Oladipo will not be ready for the start of the 2021-22 season as he recovers from surgery to repair a partially torn tendon in his right quad and could reportedly be sidelined until "mid-December at the earliest." Does Dipo prefer to sign a one-year "make good" contract to rebuild his value? Or will he look to ink a multi-year deal in order to rehab correctly, rather than potentially being pressured to rush back to the court? Either way, New York should have some interest.
Duncan Robinson - Restricted
The Knicks' remarkable improvement from downtown was a crucial factor in their surprising success this past season. After finishing dead last in three-point makes in 2019-20 (New York was the only team in the league to average fewer than 10 made treys per game), the Knicks converted 39.2% of their long-distance attempts in 2020-21, which tied for the second-best mark in the NBA. However, two of the team's best shooters (Alec Burks and Reggie Bullock) are free agents. And is it safe to assume that Julius Randle, who shot 27.7% from deep in 2019-20, will again shoot above 41% from behind the arc as he did last season? Should the Knicks decide not to bring Burks and/or Bullock back, they will desperately need to add some marksmen. Robinson is one of only three players in NBA history to average more than eight three-point attempts per game while shooting above 40% in multiple seasons. The other two players in this elite club are Steph Curry and Klay Thompson. He's also durable, having appeared in 147 consecutive games dating back to 2019. Since he is restricted, the Heat will have the opportunity to match any offer he receives.
Serge Ibaka - Player Option
Ibaka struggled through an injury-plagued 2020-21 season with the Clippers, but last year at this time, he was a highly-valued big man. In 2019-20 — his 11th season in the league — Ibaka averaged a career-high 15.4 points to go along with 8.2 rebounds and 1.3 made three-pointers. In the 27 games he started for the Toronto Raptors, he averaged 18.3 points and 9.2 rebounds while shooting over 55% from the floor and 43.7% from downtown. A consistent two-way performer his entire career, Ibaka is the only player in NBA history to make more than 500 three-pointers and block more than 1,500 shots. Someone is going to get a great value contract if Ibaka can stay healthy. That, of course, assumes that he opts out, which seems likely considering the potential payday that could await this offseason.
Lauri Markkanen - Restricted
Markkanen is a very difficult player to gauge. On the negative side of the ledger, his production has dipped dramatically in each of the past two years, and he's been unable to avoid assorted injuries, having played fewer than 55 games in three consecutive seasons. Nonetheless, this is a talented seven-footer who can stretch the floor, is still just 24 years of age, and averaged 18.7 points and nine rebounds during his age-21 season. It will be interesting to see what kind of offers he receives, and what the Bulls will be willing to match.
T.J. McConnell - Unrestricted
Make no mistake, point guard is, by far, the Knicks' most glaring need. Elfrid Payton, last year's starter, won't be back, Derrick Rose is a free agent, and Immanuel Quickley frequently played off the ball as a rookie. If New York is unable (or unwilling) to pony for a big-name point guard, might they go in a different direction? In many respects, McConnell brings many of the attributes to the table coach Tom Thibodeau desires, namely defensive intensity. A gritty, pesky defender, McConnell led the entire league in steal percentage last season at 3.4% (Jimmy Butler was the only other player in the NBA to post a steal rate north of 3%). Although he's limited offensively, McConnell was efficient last season, shooting 55.9% from the floor. He's also an unselfish facilitator who takes care of the ball and is content to set up his teammates. In 2020-21, McConnell was one of just eight players to record an assist rate above 34% and a true shooting percentage above 58%. The other seven members of this elite club were Dame Lillard, Chris Paul, Jimmy Butler, LeBron James, Luka Doncic, Trae Young and Nikola Jokic.
Kyle Lowry - Unrestricted
Lowry is a proven winner, a terrific defender, and a reliable, efficient scorer; essentially, he's everything the Knicks have been missing at the point guard position for the better part of two decades. However, according to Keith Pompey of the Philadelphia Inquirer, Lowry's free-agency "asking price" is $90 million over three seasons. That's a hefty price to pay for a player already on the wrong side of 35, especially for a Knicks team that is not simply one piece away from title contention.
Spencer Dinwiddie - Player Option
Dinwiddie has bantered back-and-forth with Knicks fans on social media the last few years, but there is no denying his impact on the court. In 2019-20, he averaged 20.6 points, 6.8 assists and 3.5 rebounds. It's been more than 40 years since a Knicks point guard averaged more than 20/6/3 over an entire season. Yet, like Lowry, Dinwiddie may price himself out of the Knicks' target range. Dinwiddie, who played only three games last season due to a partially torn ACL, is reportedly seeking $25 million per year.
Goran Dragic - Team Option
Miami holds a team option on Dragic for next season worth $19.4 million. If the Heat decide to go in another direction, Dragic would be an enticing option for New York, assuming he'd be willing to sign a short-term deal. Although he would provide the club with an immediate upgrade at a position of need, it is important to note that he is 35 years old and has been primarily coming off the bench over his last two seasons. Entering the 2021-22 campaign with Dragic and Derrick Rose as your two point guards could be courting trouble.
Lonzo Ball - Restricted
Reading the tea leaves, it seems less and less likely the Pelicans are willing to make a lucrative long-term commitment to Ball. Brian Windhorst of ESPN wrote this week that New Orleans is targeting Lowry and has an interest in Dinwiddie, adding that "league executives believe the Pelicans are willing to let Ball go if he gets an aggressive offer sheet or they find a different option." Shams Charania of The Athletic reported earlier this month the Pels are unlikely to match a significant offer. Ian Begley of SNY has said the same. Many Knicks fans seem to be enamored with Ball, but it should be considered a major red flag that the Pels seems unwilling to bring him back. Ball, who is just 23, received the endorsement of the face of the franchise, Zion Williamson. That there still seems to be some trepidation on New Orleans' part is interesting, to say the least. Ball's upside is tantalizing, but I'd pass if his price tag approaches the $100 million mark.
Cameron Payne - Unrestricted
Payne earned himself a massive pay raise over the past couple of months by establishing himself as a legit NBA rotation player in the crucible of the playoffs. However, before arriving in Phoenix, Payne shot below 40% from the floor and 33% from behind the arc over his first three years in the league. He turns 27 next month. Is it possible he plays significantly better than he did this past season? Some team will offer Payne a lucrative long-term deal, but I let another team roll the dice if I'm Leon Rose.
Malik Monk - Restricted
Monk (who was drafted with the 11th overall pick in the 2017 draft — ahead of Donovan Mitchell and Bam Adebayo) has failed to live up to expectations. Monk has made just one career start and has averaged 9.1 points, two rebounds and 1.8 assists in 233 appearances while shooting 40.3% and 33.9% from downtown. No, thanks.
DeMar DeRozan - Unrestricted
While maybe not as appealing as several other younger players on the open market, DeRozan remains criminally underrated by #BasketballTwitter, in my opinion. Yeah, I know he's 32, is not a great defender, doesn't shoot threes, etc. We know what he doesn't do well, but consider this: Over the past two seasons, only four players have averaged at least 20 points and five assists per game while shooting over 50% from the floor: LeBron James, Nikola Jokic, Giannis Antetokounmpo, and DeRozan. While not a perfect fit on the Knicks roster, New York had trouble finding offense late in games last season. DeRozan immediately addresses that need. If he's willing to sign at a discount, some team will get a significant value contract.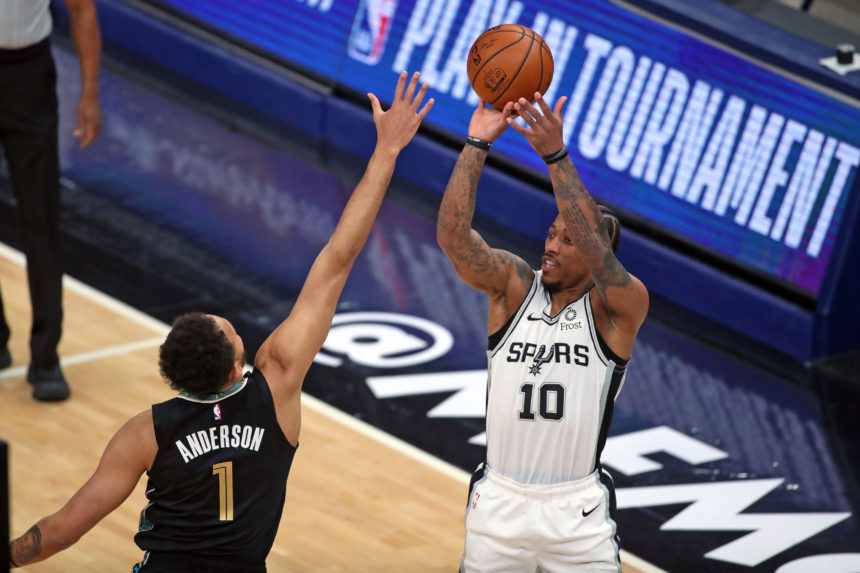 ---
While some of the names appearing on this list might not be the most glamorous, there is definitely value to be found here if you're the New York Knicks. That's especially true if the team clears out the as much salary cap space as it possibly can this offseason.