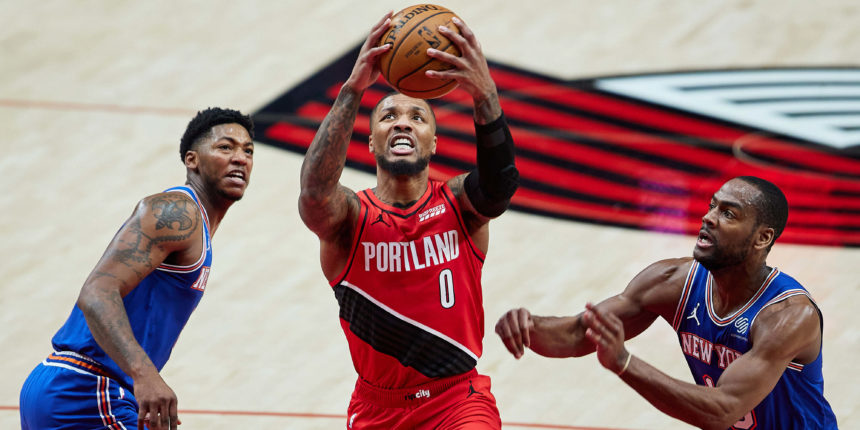 The Knicks should prepare to go all-in for Damian Lillard
Let's start here: The NBA is a superstar league.
If history has taught us anything, it's that an NBA franchise needs a superstar if they want to have a legitimate chance to capture a championship.
While the New York Knicks' 2020-21 season was undeniably encouraging, and their future is bright, they don't currently have a player capable of pushing them over the top.
Which is why, if the opportunity presents itself, New York should push all their chips into the middle of the table and go all-out to obtain Damian Lillard.
As you have undoubtedly heard, Lillard may be running out of patience in Portland. After being eliminated by the Denver Nuggets earlier this month, Dame quoted lyrics from rapper Nipsey Hussle in an Instagram post: "How long should I stay dedicated? How long til opportunity meets preparation?"
Make no mistake, Lillard is a bonafide superstar — a rare, precious commodity in today's NBA. And, despite the fact that he will celebrate his 31st birthday next month, he is still squarely in the heart of his prime and clearly playing at an elite level.
In this year's first-round playoff series against Denver, Lillard averaged 34.3 points (on a 66% True Shooting percentage), 10.2 assists and 4.3 rebounds. He knocked down 35 three-pointers in the six-game series, the most threes in any playoff series in NBA history.
During the 2019-20 regular season, Lillard averaged a career-high 30.0 points to go along with 8.0 assists, 4.3 boards and 4.1 made three-pointers. The only other players in league history to average at least 30/8/4 over an entire season are Oscar Roberston, James Harden, Russell Westbrook and Michael Jordan.
During a five-game stretch last February, Dame averaged 48.4 points, 8.2 rebounds, 9.8 assists, and 8.0 made three-pointers, while shooting 54% from the floor, 56.3% from downtown and 91% from the free-throw stripe. In the bubble last August, Portland needed to win its final three games to qualify for the playoffs; Dame averaged 51.3 points and 9.0 dimes over those three contests. And, yes, Portland won all three.
His recent success certainly isn't a fluke. Lillard has been named either First- or Second-Team All-NBA in each of the past four seasons (and in six of the past eight). Lillard is one of only two players in NBA history to record at least 1,500 points and 400 assists in each of their first nine seasons; Oscar Robertson is the other.
It's also important to note that these aren't empty-calorie stats Lillard is compiling. They have resulted directly in team success. The Blazers have advanced to the playoffs in each of the past eight seasons. That's the longest active streak in the NBA.
Lillard has single-handedly carried his team to victory by knocking down big shot after big shot throughout his career. And this past season was no different. Lillard led the NBA in clutch scoring, pouring in 162 points while shooting 51.1% from the field, 39.1% from deep and 94.7% from the free-throw line in clutch situations.
Over the course of his career, Lillard has made 35 go-ahead buckets in the final minute of a game, including the playoffs. That's the most in the NBA since the start of the 2012-13 season.
Some pundits knock Lillard for his inability to carry Portland to a championship. However, as noted above, his production in the postseason has been top-notch. His supporting cast, on the other hand, has often failed to carry their weight. Pinning defeats on Lillard is misguided, at best. Consider Game 5 vs. Denver earlier this month, which the Blazers lost despite Lillard scoring 55 points. Dame scored 20 of the Blazers' final 22 points in that contest. Over the last 10 minutes, he shot 7-of-9. His teammates combined to score two points on 1-of-14 shooting.
It's also imperative to point out that the Blazers have run into some elite teams in the playoffs. In 2014, Portland lost to the San Antonio Spurs in the second round, and the Spurs would go on to win the championship. Portland was eliminated by the dynastic Golden State Warriors in 2016 and 2017 and, most recently, in the 2019 Western Conference Finals. Last year, Portland lost to the Los Angeles Lakers team that took home the title.
Imagine @Dame_Lillard balling at the Mecca 👀 pic.twitter.com/VKsA6K9KUX

— DraftKings (@DraftKings) June 28, 2021
Surprisingly, many Knicks fans have voiced strong opposition to pulling the trigger on a trade for Lillard. Some argue that Lillard is too old. Or that he's not worth the hefty price New York would have to pay to pry him from Portland.
Let's address the age issue first. As highlighted above, Lillard has shown no signs of wearing down. In fact, he's only gotten better and more efficient over the past few years. Furthermore, Lillard has never been overly dependent on his quickness or athleticism. His skillset is perfectly suited to excel in today's NBA, which places an astonishingly high premium on long-range marksmanship. It's not hyperbole to assert that Lillard is one of the best shooters the sport has ever seen.
So, this isn't Allen Iverson breaking down on the wrong side of 30. Dame's game is more akin to Stephen Curry. And, if you noticed, Curry, who celebrated his 33rd birthday this year, is still able to dominate defenses. In 2020-21, Curry averaged career-highs in scoring (32.0), rebounds (5.5), three-pointers (5.3) and free-throws (5.7). Lillard won't turn 33 until the summer after the 2022-23 season.
In addition, Lillard has proven to be exceptionally durable. Over the first three-plus seasons of his career, he played in 275 consecutive contests. Over the past three seasons, he's played in 213 of a possible 223 games (95.5%).
The reluctance among Knicks fans to part with precious assets is understandable. Fans fall in love with homegrown talent and teams that exceed expectations. However, successful executives don't let emotions get in the way of savvy business decisions. The Knicks shocked the basketball world with their success in 2020-21. While the franchise is appropriately positioned to continue its push toward consistent contention, there's no guarantee that New York won't stumble and take a step back next season.
To enter the league's upper-echelon, the Knicks need to import a superstar.
To acquire a player on Lillard's level, New York will need to pony up. Ideally, the Knicks could acquire Lillard without having to give up RJ Barrett. Suppose Dame demanded a trade and made it clear he wanted to play in New York, thus limiting the Blazers' leverage. In that case, New York could conceivably snag Lillard in exchange for a bevy of future first-round picks and a combination of Immanuel Quickley, Mitchell Robinson, Kevin Knox and Obi Toppin.
However, if push comes to shove, and refusing to include Barrett would be a deal-breaker, the Knicks would be wise to pull the trigger. When trading for a future Hall of Famer in his prime, no player on the current Knicks roster should be considered off-limits.
Knicks fans on Twitter are quick to claim a trade for Lillard would gut the roster, leaving New York incapable of putting a quality, well-balanced team on the floor. This is not the case.
Remember, New York will enter this offseason with more cap space than any team in the league. If the Knicks are forced to trade away Barrett and include Knox in the deal, New York would be sending out more than $14 million in salary between just those two players. Thus, even after they take back Lillard's $39.3 million pact, New York would still have plenty of cap space.
Speaking of Lillard's contract, next season is the first year of the four-year extension he signed in 2019. That means Dame is under contract through at least 2023-24, with a $48.8 million player option for 2024-25. So, it's not as if New York would be trading for a stud and hoping they'd be able to convince him to stay.
The Knicks have rightly received plenty of praise for protecting their assets, including their future first-round picks. (New York owns seven first-rounders over the next five years; the Oklahoma City Thunder and Houston Rockets are the only teams with more.) However, if we are to believe the Knicks have turned the corner, the importance of those picks is diminished. Selections in the late teens and early 20s don't have nearly the same value as lottery picks.
Regarding Barrett specifically, I have detailed how impressive he was as a sophomore in 2021. But the odds of him developing into one of the 10-best players in the NBA, as Lillard is right now, are slim. And it could be argued that New York might be selling high on RJ if they traded him away since he's coming off his stellar season. Think back to this past November, when James Harden told the Rockets that his three preferred destinations were Brooklyn, Miami and Philly. The Sixers reportedly refused to part with Ben Simmons in a potential deal, and the Heat were rumored to be unwilling to include Tyler Herro in a swap. Think about how far the value of those two players plummeted in the six months that followed.
If they don't trade for Lillard, how will the Knicks add the franchise-defining superstar they've coveted since Patrick Ewing left town? Teams carve out cap space in the hopes of signing a stud in free agency, but that's always a crapshoot. Knicks fans were hoping LeBron James would relocate to NYC in 2010; we know how that panned out. Kevin Durant was the apple of the city's eye in 2019, and he ended up across the river.
The other avenue to top-tier status is utilizing hard-earned cap space and draft picks to facilitate a trade for a disgruntled superstar.
As far as what a post-trade Knicks lineup might look like, the two cornerstones would be Lillard and Julius Randle. Both players made the All-NBA Second Team in 2020-21, which would give the Knicks one of the more dynamic duos in the league. Over the last decade, the only squads to boast two First- or Second-Team All-NBA players in the same season are the Lakers (LeBron James and Anthony Davis, who carried L.A. to a title in 2020) and the Warriors (Stephen Curry and Kevin Durant, who won two rings together).
For all his regular-season success last year, Randle fizzled out in the playoffs. Even at his peak, Randle is best suited to be the second-banana on a good team. Randle would be arguably the best teammate Lillard has played with in his career. If the Knicks could also keep Barrett, a trio of Dame, Randle and RJ would be a dream scenario for New Yorkers.
Regarding the rest of the roster, if New York was able to enter free agency with north of $30 million in cap room, and Lillard and Randle as the two foundational pieces, plenty of talented players would likely be enticed by the prospect of joining a talented, New York-based team capable of making a deep playoff run.
Kawhi Leonard is the gem of the summer's free-agent class. It was rumored that there was mutual interest between the Knicks and Kawhi when he last hit the open market in 2019. Even if they weren't able to land Leonard, there are plenty of players to pursue.
For instance, DeMar DeRozan is the second-best wing on the market. At 31 and an assassin in the mid-range, he'd fit in very nicely alongside Lillard and Randle. Other free-agent options include Lonzo Ball (restricted), Norman Powell, Duncan Robinson (restricted), Evan Fournier, Lauri Markkanen (restricted), Montrezl Harrell, Gary Trent Jr. (restricted), Otto Porter, Spencer Dinwiddie, Victor Oladipo, Josh Hart and Justise Winslow, to name a few.
It's also entirely possible Portland would be willing to include center Jusuf Nurkic in a potential Dame deal. Earlier this week, Nurk said he would bolt from the Blazers if Lillard leaves. "If [Lillard] goes, then I leave Portland as well," Nurkic declared.
Fleshing out the roster with quality veterans would be far easier with Dame as a drawing card. Year after year, we've seen vets willing to accept minimum contracts to play for a contender. It's safe to assume Carmelo Anthony would relish a role off the bench in New York to cap off his career. Players such as Serge Ibaka, JJ Redick, Patty Mills, Blake Griffin, PJ Tucker, Nicolas Batum, Paul Millsap, and Andre Iguodala are respected, free-agent vets who would potentially be willing to prioritize the right situation over the highest offer.
Players who excelled last season in New York, such as Reggie Bullock, Alec Burks and Nerlens Noel, would also be welcomed back to the Big Apple at the right price. And playing behind Lillard would be ideal for Derrick Rose at this stage of his career.
Ultimately, it all comes down to Dame. If he doesn't demand a trade, he won't be traded. If he does, he'll let the Portland front office know which team(s) he wants to go to. If New York is one of his desired landing spots, the Knicks should absolutely go all in.