The NBA's 2021 free-agency period begins in less than a month, as teams will be able to start negotiating with free agents on August 2 at 6 p.m. EST. (There will be a moratorium period until August 6, at which point teams can officially sign free agents.)
Here are the 10 players expected to top most team's wishlists:
1. Kawhi Leonard, Los Angeles Clippers -- Player Option
STATS: 24.8 PPG, 6.5 RPG, 5.2 APG, 1.6 SPG, 51.2% FG
Leonard can exercise his $36 million player option for the 2021-22 season or become an unrestricted free agent this summer. If his preference is remaining in Los Angeles, Kawhi could opt-in and immediately sign a four-year extension worth approximately $181.5 million. Leonard might also consider inking a two-year, $80.6 million contract with a player option for the second year. This would allow Kawhi to decline the option next summer and, according to ESPN's Bobby Marks, sign the largest contract in NBA history: $235 million over five years.
Leonard's future is clouded a bit by the torn ACL he suffered in the playoffs; however, Kawhi is one of the very few players in the league who could demand (and receive) max money even as he is recovering from a serious knee issue. As a reminder, Leonard is one of only three players in NBA history with a Defensive Player of the Year award, Finals MVP award and All-Star Game MVP award on his resume. The others are Michael Jordan and Giannis Antetokounmpo (who just joined the exclusive club this month).
2. Chris Paul, Phoenix Suns -- Player Option
STATS: 16.4 PPG, 8.9 APG, 4.5 RPG, 1.4 SPG, 39.5% 3P

Six months ago, it was considered a foregone conclusion that CP3, at age 36, would opt-in to the final year of his contract, which is worth a whopping $44.4 million. Last year, Houson Rockets owner Tilman Fertitta reportedly characterized Paul's contract as "the worst that he'd ever seen in business or sports."
Fast-forward to today, and Paul — after a phenomenal regular season and an even more impressive playoff run — had the Phoenix Suns within two wins of a championship. As a result, it has been rumored that CP3 intends to sign a new multi-year deal worth north of $100 million.
3. Kyle Lowry, Toronto Raptors -- Unrestricted
STATS: 17.2 PPG, 7.3 APG, 5.4 RPG, 1.0 SPG, 39.6% 3P
Despite having celebrated his 35th birthday in March, Lowry is still playing at a very high level, having averaged 17.2 points, 7.3 assists and 5.4 rebounds on 43.6/39.6/85.7 shooting splits in 2020-21. When asked about his future plans after the season ended, Lowry seemed to hint his days in Toronto may have come to an end.
"Money talks, and years talk, and all that stuff," Lowry said. "Let's be real. I play this game for the love of the game, but at the end of the day, I want to make sure my family is still taken care of for generations and the time to come. Even though they are now, I wanna continue to be able to do that for my family, and when I pass away, [their families]."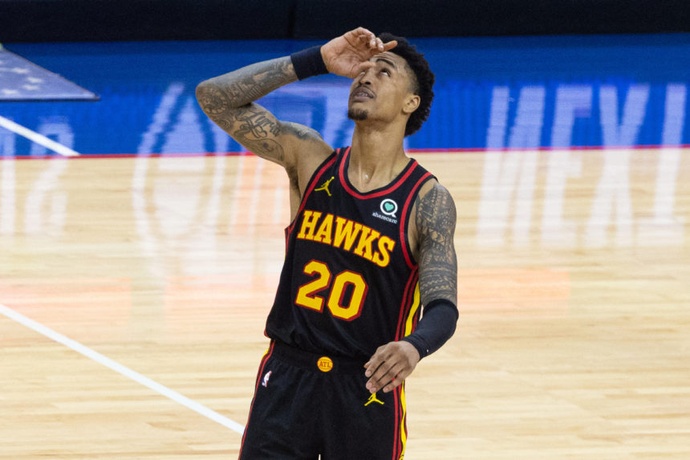 4. John Collins, Atlanta Hawks -- Restricted
STATS: 17.6 PPG, 7.4 RPG, 1.0 BPG, 55.6% FG, 39.9% 3P

After averaging over 21 points and 10 rebounds in 2019-20, Collins' numbers dipped a bit this past season, as he averaged 17.6 points, 7.4 rebounds and 1.3 made threes in 29.3 minutes per contest during the regular season. In the playoffs, Collins averaged 13.9 points and 8.7 boards in 32.0 minutes a night.
He'll have plenty of suitors in free agency, but the Hawks can match any offer he receives. Expect them to do just that, as Collins (at just 23 years of age) was a vital part of a team that advanced all the way to Game 6 of the Eastern Conference Finals. Collins has said he hopes to re-sign with Atlanta this summer.
5. Mike Conley Jr., Utah Jazz -- Unrestricted
STATS: 16.2 PPG, 6.0 APG, 1.4 SPG, 44.4% FG, 41.2% 3P

Conley is coming off a fantastic season in Utah in which he earned his first All-Star berth while averaging 16.2 points, 6.0 assists (versus just 1.9 turnovers), 3.5 rebounds and career-high 2.7 three-pointers, while shooting over 44% from the floor, 41% from downtown and 85% from the free-throw stripe. On the flip side of the coin, Conley will turn 34 before the start of next season and has a problematic injury history. Conley missed 25 games due to injury this past season, and hasn't played in more than 70 games in a single season since 2013-14. Nonetheless, according to Tony Jones of The Athletic, the Jazz "will make every attempt" to bring Conley back to Utah.
6. DeMar DeRozan, San Antonio Spurs -- Unrestricted
STATS: 21.6 PPG, 6.9 APG, 4.2 RPG, 49.5% FG, 88.0% FT

DeRozan, a mid-range assassin who will turn 32 next month, continues to get buckets efficiently. Over the last two seasons, he's averaged 21.9 points per game while converting 51.4% of his field goal attempts and 86.2% of his free throws. In addition, DeRozan has been durable throughout his career and has increased his worth by improving as a passer. In 2020-21, DeRozan averaged a career-high 6.9 assists per game.