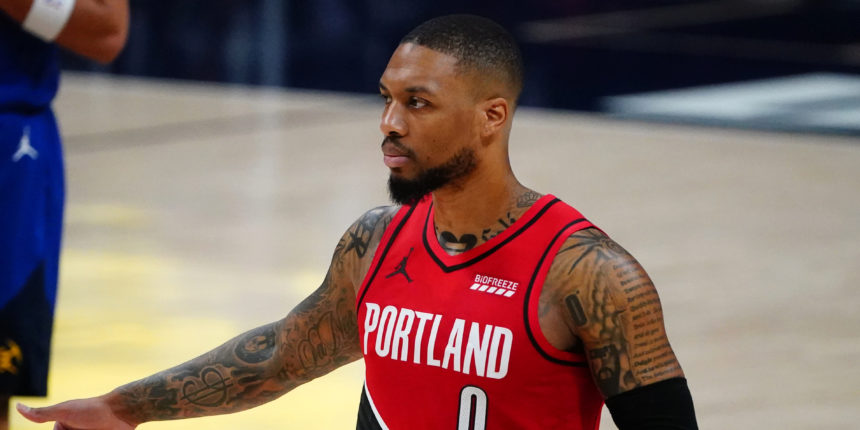 It's time we let Damian Lillard live his best life... in Portland
Never afraid to share the rock, Chris Paul tossed the ball ahead into the frontcourt. Jae Crowder received it and executed a familiar dribble handoff to Devin Booker — the two have done this familiar curl set all season long.
But the Milwaukee Bucks were ready for it; Khris Middleton and Brook Lopez suddenly stood between Booker and the basket. Improvising, Booker crossed over to his left and beat Middleton off the dribble before vertically splitting the two defenders just beneath the free throw line.
Majestically, the 24-year-old rose up and nailed an off-balance 11-footer over the two. Sure, the basket was only worth two points, but for the Suns — and especially Booker — the first bucket of Game 1 of the 2021 NBA Finals counted for so much more.
Loudly and resoundingly, the 24-year-old announced to the Bucks, as he announced it to the world.
I'm here.
Fortunately for Devin Booker, he never listened to us. Like Damian Lillard, he never demanded a trade.
Lesson learned.
"We've been the laughingstock of the league for the five years I've been here… I wouldn't want the journey to be any other way." @DevinBook on his experience playing in his first #NBAFinals pic.twitter.com/URRKksawwN

— NBA TV (@NBATV) July 7, 2021
From the time Damian Lillard was selected with the sixth overall pick in the 2012 NBA Draft, he's been giving us stuff to talk about. Whether it was how impressive he was as a rookie, his clutch gene or his ability to morph into a franchise player after the departure of LaMarcus Aldridge — he's long been a story.
Perhaps unfortunately for him now, everyone seems to have his name in their mouth.
The public has decided it's time for Lillard to leave Portland, while the superstar himself has stopped short of making any such declaration.
And it begs the consideration: perhaps slowly but surely, the tide is beginning to turn.
Perhaps Lillard has come to understand some of the lessons learned by others who decided to travel the easy road to a championship.
There's a difference between winning and winning on one's own terms. He's obviously pursuing the latter.
A two-time NBA champion and two-time NBA Finals MVP, Kevin Durant isn't given the respect that one would've assumed he would've gotten after accomplishing such things. And for reasons easy enough to understand, of LeBron James' four championships, the one in Cleveland seems to be the most meaningful — both to him and to us.
Carmelo Anthony wanted out of Denver, Paul George bolted from Indiana and James Harden asked out of Houston — each left their team wanting to try something new, and in each case, their legacy hasn't materially benefitted from their decision.
So, Lillard might be looking at his situation and wondering whether forcing a trade — his four-year, $196 supermax contract (with a player option in the final season) kicks in starting this year, mind you — is actually the answer for him. Especially since he's made a home in Portland.
What many people fail to understand about the modern NBA player is that, in most instances, the decision to develop one's talents to the extent necessary to make it as a pro is a decision that's made early. At 10 years old, many players are already participating at competitive camps and local leagues. As teenagers, players travel around the country playing AAU ball. Some attend multiple high schools and junior colleges all before even sniffing the NCAA.
The end game, in many instances, is to not only make it in the NBA, but to find stability. To find a home.
So when a player like Lillard lands in Portland, in some instances, his personal and professional growth causes him to become interwoven with the franchise, those fans and that city. That's why, more often than the general public knows, grown men shed tears when trades happen.
Could Lillard have more success in Boston playing alongside Jayson Tatum? He probably could, and if the Celtics were willing to build a package around Jaylen Brown, Romeo Langford and/or Robert Williams… maybe a conversation would be had.
Or perhaps the Philadelphia 76ers would be willing to build a package featuring Ben Simmons along with Shake Milton and/or Matisse Thybulle. Surely, Lillard would believe that he could win it all with Joel Embiid, right?
The Chicago Bulls, New York Knicks, Miami Heat and Dallas Mavericks all have chips they could offer in a theoretical deal for Lillard, but it seems that the superstar point guard subscribes to the same school of thought as Giannis Antetokounmpo: Yes, I want to win. But I want to win here.
At 31 years old, Lillard is no spring chicken. At some point, he might make the difficult decision to ask out. But according to recent reports, that day hasn't come yet.
Someone needs to speak up and let it be known: there's something admirable about traversing the more rugged path.
Damian Lillard on trade speculation:

"It's a lot of things being said, sometimes words being put in my mouth when I haven't said anything. It's been a lot of talk. I don't really have nothing to say to you guys about it." pic.twitter.com/WAaU6j7bKo

— Knicks Videos (@sny_knicks) July 8, 2021
One of the best things about the 2021 NBA Finals is that, from a human standpoint, it's impossible to not feel good for whichever team wins.
When Giannis had the world at his fingertips, he chose to double-down on his commitment to Milwaukee. And Chris Paul saw daylight breaking in Phoenix before the rest of us, believing he could help pull out the team's championship potential.
Rings culture and the pursuit of the Larry O'Brien trophy has poisoned the mind of an entire generation of basketball fans. Many of us have reached the point to where we only value the destination and not the journey that it took to get there.
Had Paul Pierce given up on the Celtics or Dirk Nowitzki on the Mavericks, neither would've won a championship (or Finals MVP) with the only franchise they'd known to that point.
Had Devin Booker listened to the outside noise and pouted until he got a trade to a surefire contender, he would've never known the joy, fulfillment or feeling of completion that comes with watching an organization go from seeds in the dirt to a thriving garden.
And let's take a lesson from the experiences of Booker, Pierce and Nowitzki — in the NBA, as long as you have hope and building blocks, the addition of the right player or two can turn the tides in a tremendous way. You need many things to win a championship, including good fortune. And you simply never know when, like Chris Paul, it'll be your time to shine in the Sun.
Indeed, like Anthony Davis and James Harden, Damian Lillard may one day decide that he's given all that he can to Portland. But only he knows how much gas is left in his tank and how much tread is left on his tires.
In a world where we've seen far too many opt for the get-rich-quick scheme, Lillard has decided that he doesn't want that to be his legacy. Nobody could ever charge him with taking any shortcuts.
Through it all, he remains dedicated. It's a great example to set for younger players, and a positive for both the NBA and the Portland Trail Blazers.
Without taking it himself, Lillard has learned an important lesson about taking the easy road in the NBA. There are some things more meaningful than taking the path of least resistance.