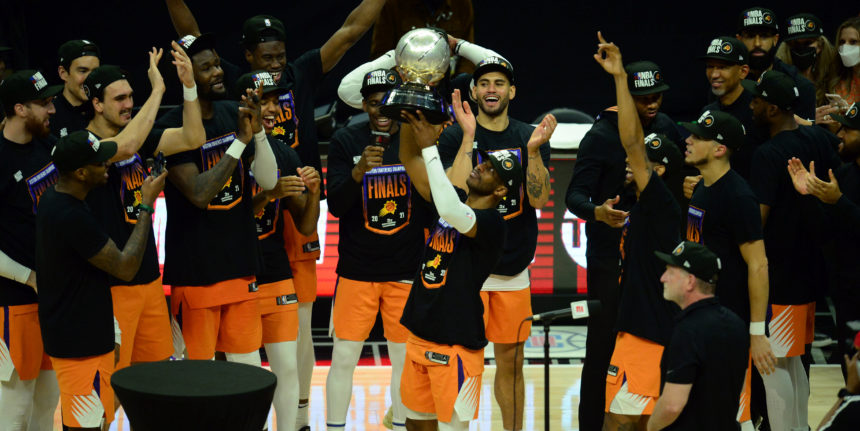 Regardless of 2021 NBA Finals outcome, Chris Paul is already a winner
There's a difference between winning and being a winner.
And even before Game 1 of the 2021 NBA Finals tips off Tuesday night, we can say for certain: Chris Paul is a winner.
The "Point God," he's called. For 16 long years, he's maximized the talent behind him, plied his trade and seen plays happen before they did. That's the hallmark of a true floor general — on the basketball court, while he's barking directives and trying to determine where to send the ball, he needs to be able to see the future.
Perhaps ironically, as the sun sets on his career, it rises in Phoenix. Paul saw dawn before everyone else.
After leading the upstart Oklahoma City Thunder to an improbable playoff berth in 2020, general manager Sam Presti made good the same way he did with Paul George. Presti, it has long been understood, did his best to take care of those who gave him their all. It's obvious that Paul did.
So when the time came for the Thunder to move on and fully embrace their youth movement, Paul was asked an important question: Where did he want to play next?
Over seven months after answering it, as he celebrated his first trip to the NBA Finals, he remembered.
"A big thanks to Sam Presti for even allowing all of this to happen," Paul said in reflection.
He could've asked for a ticket to Los Angeles, asking OKC to accept cents on the dollar so that he could join a super-team with his good friend LeBron James. He could've demanded a trade to Milwaukee to join the then-reigning back-to-back Most Valuable Player in Giannis Antetokounmpo. While his large contract certainly limited his trade options, he also could have negotiated a buyout and signed with any contender around the league. If Paul had become an unrestricted free agent, he would've received interest from nearly every team (especially if he was willing to accept a bargain deal). However, as president of the Players' Association, Paul didn't want to set that precedent and leave money on the table.
Instead, Paul looked at the upstart Suns — he saw Devin Booker, Deandre Ayton, Mikal Bridges, Cam Johnson and Cameron Payne — and said to himself: Give me those guys.
Winning with the deck stacked in one's favor isn't the same as winning against all odds. Self doubt showed up at the front door of Paul's condo in Oklahoma City. He answered and chuckled in its face.
To Phoenix we go.
"I just love to hoop," Paul would often say in the Thunder pressers.
When asked about his future, he'd respond dismissively: "I'm not thinking about that right now."
As one of the game's biggest stars and leader of the NBPA, he couldn't help but to always find a camera staring at him or a recorder in his face. The league, including his constituents, was dealing with COVID-19, the Bubble and a historic protest in the wake of the murder of George Floyd.
From afar, though, despite Phoenix failing to qualify for the playoffs, Paul saw daylight breaking in the desert. Bravely, in the twilight of his career, he went all-in on what could have been the final hand of his career and doubled-up.
He ended up bringing Phoenix where he couldn't bring the Los Angeles Clippers; he got the Suns to a place he couldn't quite get the Houston Rockets.
When it came down to it, with Paul having one last chance to win the championship that long eluded him, he opted to take his talents to a place in which he saw himself as the straw that would stir the drink, not just another ice cube in an already cold cocktail.
At the end of the day, Paul wanted to compete, and in an NBA where stars conspire to stack the deck in their favor — in an NBA where the path of least resistance is all-too-often chosen — Paul decided to do something different. And we're all better off for it.
When the next young superstar (or two) decides to move on to the next chapter -- be it Donovan Mitchell, Luka Doncic, Ja Morant or whoever -- they'll learn something important from the example Paul set: the harder the journey, the sweeter the victory.
Yes, Anthony Davis, Jamal Murray and Kawhi Leonard didn't have the opportunity to thwart Paul's Suns, but injuries have always been a part of the game. Kevin Durant and Klay Thompson each suffered catastrophic injuries in the 2019 NBA Finals. Draymond Green's suspension and Andrew Bogut's significant injury certainly played a role in 2016.
If you look hard enough, you can always find a way to discredit these accomplishments. Haters are gonna hate.
Suddenly, it seems so long ago that Paul was thought to have one of the worst contracts in the NBA — four years, $160 million is what he signed for in Houston after the Rockets came within one game of winning the Western Conference in 2018.
Shortly thereafter, Rockets owner Tilman Fertitta reportedly believed it was "the worst contract" he'd ever seen, "in business or sports."
Run out of town by James Harden and Fertitta, Paul took his aspirations to Oklahoma City, restored his value and then decided to take the road less traveled when Presti asked him to chart his own course.
Apropos to his opting for Phoenix, instead of throwing a tantrum and holding out to become the next superstar in a legacy of super-team building, Paul believed he could be the center to his own universe.
I can win in Phoenix, he thought.
When no one else did, Chris Paul believed. The Suns are rising, and he saw it before us all.