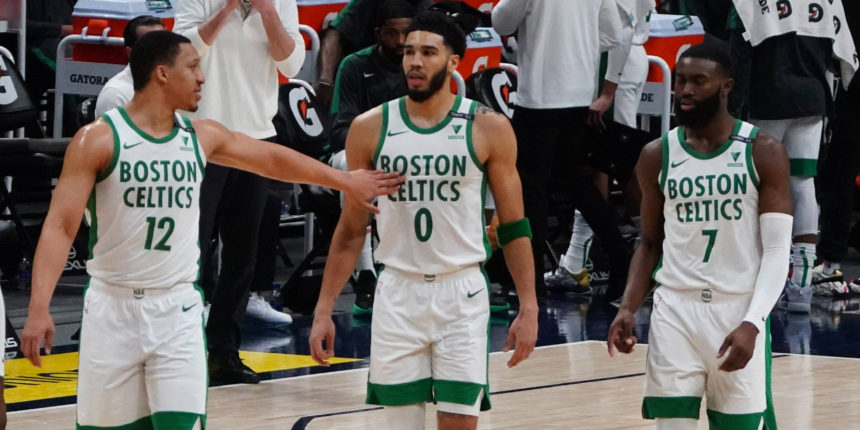 In a cursed year, Celtics fans shouldn't place any blame on the players
Jaylen Brown's season-ending wrist surgery feels like that final weight-bearing Jenga piece being pulled from Boston Celtics fans' tense tower of sanity.
This season felt cursed. The Celtics have underperformed as much as any team in the NBA, sitting 35-33 in the home stretch of the regular season. They just lost a critical seeding game to the Miami Heat, 130-124, that really wasn't even a contest until the final quarter -- and have to play them again Tuesday.
The notoriously loud Boston sports landscape has unabashedly complained about a lack of energy, continuity and consistency this season. They're all valid observations.
Even with the postseason on the horizon, the 2020-21 campaign feels like a lost cause. Fans should feel frustrated. Blame should fly in every direction -- except towards the players.
Brown's loss hurts, but based on this season's trajectory, it's not a surprise. The Celtics have lost 15 different players to injuries or COVID absences this season -- tied for fourth-most in the NBA behind only the Brooklyn Nets (17), Orlando Magic (16) and Houston Rockets (16). Look at this list compiled by NBC Sports' Chris Forsberg:
🚑 2020-21 Celtics in a snapshot ⤵️

183 games missed. Add 4 more for Jaylen Brown. Maybe more for Rob.

And now it's guaranteed: Zero games played with their top 7 available the entire season. pic.twitter.com/fbC5NgsV92

— Chris Forsberg (@ChrisForsberg_) May 11, 2021
That is staggering for the fifth-youngest team in basketball. How can you expect a roster with an average age of 24.7 to mesh cleanly on the court when they never get to see each other at the same time?
Even more egregious is the short and long-term impact of COVID-19. According to data tallied by Fansure, Celtics players have spent a whopping 167 days in the league's health and safety protocols this season -- 49 more days than the second-leading Dallas Mavericks. Jayson Tatum was still using an inhaler as of mid-April to combat lasting effects from COVID-19 that he had experienced three months earlier.
Evan Fournier detailed his own experiences of contracting COVID-19 just after arriving in Boston via trade from Orlando. When he spoke to the media on May 3, Fournier described the concussion-like symptoms and depth perception issues he was still feeling.
To recap: the face of the Celtics franchise, as well as its biggest trade deadline acquisition in a decade, has battled serious long-term COVID ramifications despite clearing protocols.
Fans should be irate at Commissioner Adam Silver and the NBA for jeopardizing the health and safety of its players. The shortened offseason, jam-packed schedule and unflappable resolve to play games in January now has major consequences on this team in May, and potentially, beyond.
But it's not just Silver on the hot seat here. General manager Danny Ainge sure loved to put the blame "on my players' shoulders" when they struggled. But how did Ainge help? He did finally make a small splash at the deadline by nabbing Fournier. However, based on the swirling rumors surrounding Nikola Vucevic, Harrison Barnes and Aaron Gordon, March still feels like a missed opportunity with that $28.5 million trade exception at his disposal.
Tragically, that wasn't Ainge's only move. He also traded Daniel Theis and Javonte Green, two well-liked players, to Washington in a three-team deal for Moe Wagner and Luke Kornet. Wagner is now in Orlando and Kornet has been a healthy scratch in half of his last six games.
The Celtics currently roster three players over age-26 and zero over 30. Yet Ainge would pop into Boston sports radio shows with win-now expectations.
Brad Stevens isn't exempt, either. In fairness, he's been dealt a tough hand by Ainge and the league with the aforementioned young team, short offseason and harrowing absences. But while fans loved to clamor at the players for a lack of energy, that ultimately falls on a coaching staff.
Inconsistency has plagued the Celtics since trading for Kyrie Irving way back in 2017. This year, it's come to a head, with the usual stalwarts plummeting to the 19th-ranked defensive rating in the league.
But Boston also has a minus-0.4 net rating in first halves this season, which ranks 18th in the NBA. In the second half, that improves to a plus-3.2, good for the sixth-best mark in the league.
Over the last 15 games, however, the discrepancy is much more noticeable, as the Celtics have been a net minus-6.7 in the first half (ranked 24th) and a plus-7.6 in the second half (eighth).
There is a noticeable difference in energy and engagement. It's on Stevens and the coaching staff to motivate the players to be consistent, or change the first-half game plan, or do something different in general -- because the players are doing everything they can.
According to Spotrac, Brown has withstood six different injuries and illnesses this season, not even including time spent in league protocols. Finished at the hands of wrist surgery, there's no doubt that he still put together his best season by far as a pro.
Kemba Walker has missed 20 games with injuries and illness, yet is putting consistent games together. In spite of his uniquely dangerous COVID-related circumstances, Tatum still tied the franchise record for points in a single game.
☘️ Career high and @celtics franchise record-tying 60 points
☘️ 31 PTS in 4th quarter & OT
☘️ Led @celtics 32-point comeback W
☘️ Career high 80.1 fantasy points

Jayson Tatum WENT OFF last night. pic.twitter.com/epNrPHlEw9

— NBA Fantasy (@NBAFantasy) May 1, 2021
Fournier has battled the virus, too, and the jarring experience that comes with being dealt at the deadline (which is even tougher during this condensed season with limited practice time). Robert Williams III has broken out as a potential starting center of the future -- all while missing 16 games (to date) with four different injuries and illnesses. Marcus Smart, the heart of the franchise, missed 20 games with a calf injury, thumb injury and illness. Aaron Nesmith and Payton Pritchard proved themselves in one of the most unusual rookie seasons they could imagine.
Do not blame the players for appearing unmotivated during a miserable season. They've cobbled together a winning record despite their inexperience, both in the Association and with each other. The Celtics are still in the growth phase, although most will tell you that time should pass.
Regardless of what happens in the playoffs, Celtics fans should appreciate the players for making do with an unstable and hopeless situation.