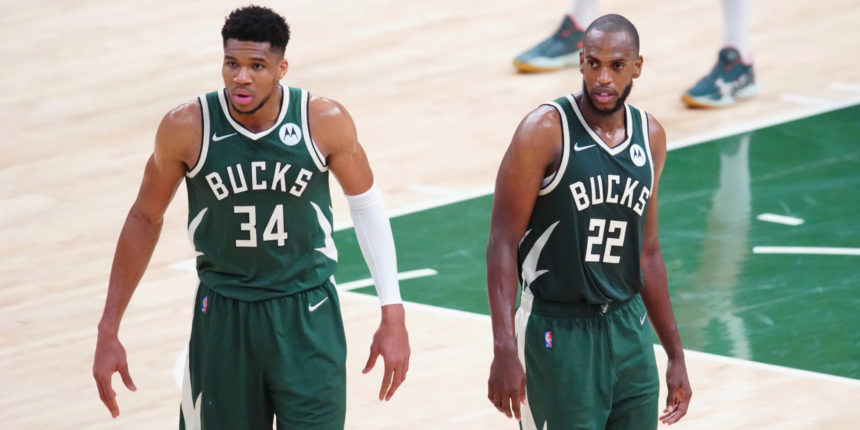 Giannis, Middleton and oft-resilient Bucks top Suns in Finals Game 4
With the 2021 NBA Finals underway, BasketballNews.com will have you covered every step up the way with the top storylines, breakdowns, player quotes and more. Here are Spencer Davies' observations from the Milwaukee Bucks' perspective after their 109-103 win in Game 4:
Giannis Antetokounmpo knew that he'd have a tough task ahead of him after back-to-back star-studded showings in the NBA Finals. The Phoenix Suns were poised to bring the pressure and make the likes of Khris Middleton, Jrue Holiday and his Milwaukee Bucks teammates beat them instead. It turns out that it took a combined effort, with Giannis' incredible late-game defense and Middleton's clutch shot-making sending the Bucks to a series-tying 109-103 win.
Defensively, Giannis was outstanding throughout the night, but was exceptional in the fourth quarter. In case you haven't seen it by now, he had the block heard around the world.
It was a tremendously difficult play when you look at it from start to finish. He started the possession out on Deandre Ayton at the top of the perimeter, switched onto a turning-the-corner Devin Booker off a dribble handoff, read that a lob was on its way to the freed-up Ayton and proceeded to get from the nail to the baseline in a matter of seconds as the ball was floating through the air. Giannis couldn't have timed it more perfectly, and met Ayton at the top for a rejection that's a lock to go down in the history books with the greats.
📸 EVERY ANGLE of @Giannis_An34's CLUTCH BLOCK! 📸#ThatsGame #NBAFinals

Game 5: 9:00pm/et Saturday on ABC pic.twitter.com/PKsPkSYnIs

— NBA (@NBA) July 15, 2021
"Just a hustle play. I thought I was going to get dunked on, to be honest with you," Giannis said. "...I was late. Usually a play like that, if I was on the opposite side, it's a dunk. I didn't jump to block the ball. I jumped toward the rim. I feel like that's what kind of helped put me in position to get the block. The rim was right here (motions with his hands) so I jumped right here (motions with his hands). So he could shoot the ball. If he shot the ball to the backboard, it's probably a goaltending. He tried to dunk it, and I was right there earlier than him...
"...I saw the play coming. I saw that [Devin] was going to throw the lob and I was just going to jump vertical toward the rim. Hopefully I can be there in time, and I was there in time and was able to get a good block... But you know, going down the stretch, just do whatever it takes to win the game. Just put yourself in a position that can win the game."
It's a highlight that summoned all kinds of memorable quotes. Pat Connaughton challenged that it was "in my opinion, the best block of all time," and he made the case that it edges out the all-timer LeBron James had against Andre Iguodala in Game 7 the 2016 NBA Finals. Khris Middleton called it "one of those, 'Oh-sh**' moments." Jrue Holiday sternly stated, "That's elite." Bucks head coach Mike Budenholzer referred to it as "spectacular."
As amazing as that play was, Giannis put his imprint all over the final period, including when the Bucks needed it most when they were in a 7-point hole. He had an inbounds deflection for a dunk the other way when Milwaukee was trailing by five, and intercepted an errant Chris Paul pass with the Bucks down three, a play that Giannis scored on after a trail rebound. And the possession after the ridiculous swat on Ayton, the Greek Freak walled off Paul into an unwise crossover and a Holiday steal that led to an easy two on the fastbreak. Without those efforts, Phoenix might be one game away from an NBA championship.
"How bad do you want it? How bad do you really want it," Giannis said of what he thought with the team down. "And just leave-the-game-swinging kind of mentality. Try to be aggressive. Try to get stops. Try to set screens. Do everything physically possible to put yourself in a position to win this game."
Giannis got picked up a little higher in the half-court, but did not appear to be flustered as we've seen in the past, using his athleticism to secure rebounds on both ends and staying in attack mode. The attention he drew allowed him to kick out from the short roll and drives as well. Giannis finished with 26 points, 14 rebounds, 8 assists, 3 steals and 2 blocks.
Unlike Game 3, Ayton was able to stay out of foul trouble and on the court in Game 4, and he was a rebounding machine as he has been all series long, so Milwaukee had to get creative to take those boards away from him in meaningful moments. Pat Connaughton, PJ Tucker and Bobby Portis did their damndest to make it tougher on the Bahamian big man in critical moments, and showed that they wanted it just a little more than Phoenix.
Connaughton and Portis brought the energy, and Tucker brought his toughness despite being in foul trouble for most of the night. The trio's gang rebounding sparked life into Milwaukee as it trailed for the first portion of the fourth quarter.
"[It] just gives us a chance. When we go small, that's one of the biggest emphasis that we talk about in our timeouts and our huddle is we have to find a way to block out, put bodies on their guys crashing, especially Ayton, he's a beast down there," Middleton said. "He finds a way to get tips on balls to tip them out to teammates and to grab them and give them extra possessions, extra threes. With guys, Pat, Tuck... when everybody comes in and puts a body on him and helps rebound, it just allows us to play faster."
Middleton had a stellar night, pouring in 40 points with an aggressive mindset all night, trading bucket for bucket with Booker. He kept his head up as the lead ball-handler and executed his jumpers at a solid pace, and erupted in the fourth quarter with answer after answer. Middleton went on his own personal 10-0 run from the 2:07 mark to when there was 13.7 seconds left in the game.
Khris Middleton up to 36 in the game and 20 in the 2nd half.. Fiserv Forum is HYPED!

Bucks up 4 with 20 seconds remaining on ABC. #NBAFinals pic.twitter.com/uJMHvdYZg4

— NBA (@NBA) July 15, 2021
"There's so many things [that make him an All-Star]," Budenholzer said. "Khris, to be playing at the level he is and delivering for his teammates, it's a long laundry list. But I think the character, the care factor, is off the charts. He wants to win. He's obviously a great shooter, great passer, playmaker. I think he makes winning plays on the defensive end. He's an all-around good player."
"I think it's always a Khris Middleton kind of night," Connaughton added. "I mean, at the end of the day, he makes the right plays. [Wednesday], it called for him to be more aggressive with a jump shot, but he's always going to be aggressive. He finds the right guys, he finds the open man, if they double him or try to blitz him, he's the guy that we want to have the ball at the end of the game. And we have great leadership, Khris, Giannis, Jrue, no matter what's happening during the game, we all trust their leadership and their ability to make the right play and whether that's shooting, passing, play-making, defending, whatever it might be.
"You know, tonight was one of those nights that Khris took over and it's great and we're happy to have him on our side as opposed to anything else. I'm just thrilled that he's been able to kind of show the world it because we see it every single day."
Middleton took a career-high 33 field goal attempts.
"I don't count shots," he said. "I just try to let the game come to me, the shots that I have to take no matter what, no matter how many times I shoot in a minute, no matter how many times I miss, that's just the way I play the game. I don't realize any stats or shots or points really until the end of the game."
"Khris has no fear and he never has," Holiday said. "Being one of the guys who has guarded him in my career, knowing what he's done, hitting big shots, making big plays, he's never been afraid of the moment. So putting him in this situation is kind of perfect."
Though he didn't have the prettiest performance, Holiday continued to pester Paul out of his rhythm, to the point where he and Jeff Teague were picking Paul up 94 feet. Holiday didn't hide the fact that he was tired, and hoped that Paul felt the same physical toll. It reared its head late, as Paul made some mental errors and costly mistakes in key moments.
As the story has gone in the series, Holiday had a rough go with layups, point-blankers and even his pull-ups. However, he was able to compensate for those with that aforementioned crucial defense, and kept Milwaukee alive with hustle on the glass late.
"I know my game is more than just scoring. It's part of the reason that they brought me here. I can get into the paint and facilitate, make plays that way, and then I can make plays on the defensive end," Holiday said. "So I just feel like my game is not just one-sided, but I've always stayed locked in. Even if my shot's not falling, I always try to be aggressive offensively. But in particular defensively where we know that Chris Paul can go off at any time. So really just staying on high alert when he gets the ball."
"I thought Jrue made several winning plays late -- the steal, I thought he came up with a big defensive rebound in traffic and I thought he came up with a big offensive rebound. So I think for him just to stick with it, the mental toughness, that's how he's built. He's a winner, and he made a lot of winning plays [in] those last three or four minutes."
The pace was fast, and arguably in favor of the bolting Bucks.
They recognized that this game had to be won. With Booker nailing every contested shot in their eyes and in a groove, the chances were slim. But going back to Phoenix and being forced to win three in a row wouldn't have been ideal, so Milwaukee buckled down and dug deep in its own house. It took a championship-level kind of grit to rally and pull that off, and now, because of a resilient display of mental toughness, it's all square.
"It's a grind. A lot of playoff games, especially when it comes late in the fourth quarter, it's a grind," Middleton said. "Just got to find a way to get it, get loose balls, get rebounds, figure out a way to get stops against great players.
"It wasn't a pretty game. But we were just able to keep composure, keep calm," Giannis said. "We had wide-open shots that we missed that we usually make. But going down the stretch, we kept believing in ourselves. We kept executing, setting screens. We kept running, we kept rebounding the ball, we kept blocking shots. We wanted this bad, and the team showed it tonight. But we've got to keep getting better. Got to keep getting better. We have to keep taking steps forward and keep playing good basketball."
Game 5 is set for Saturday at 9 p.m. in Phoenix.
For Game 1 observations from the Bucks' perspective, click here.
For Game 2 observations from the Bucks' perspective, click here.
For Game 3 observations from the Bucks' perspective, click here.