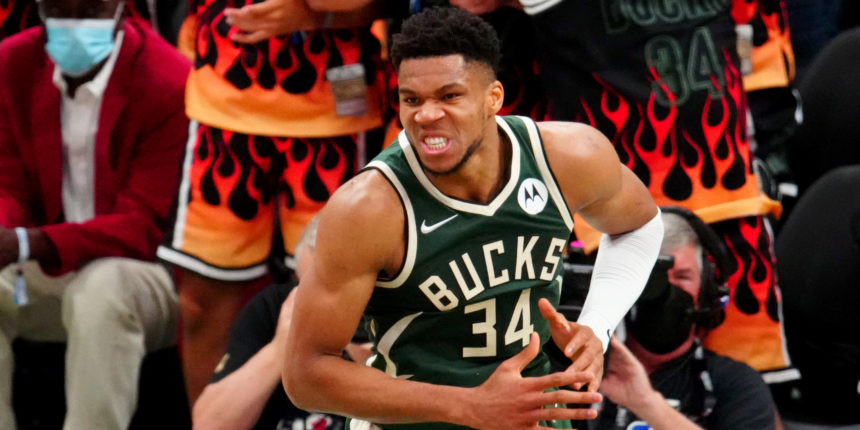 Bucks, Giannis out-hustle, out-muscle Suns in Game 3 of NBA Finals
With the 2021 NBA Finals underway, BasketballNews.com will have you covered every step up the way with the top storylines, breakdowns, player quotes and more. Here are Spencer Davies' observations from the Milwaukee Bucks' perspective after their 120-100 win in Game 3:
There really is no place like home. In a back-against-the-wall scenario down 2-0 in yet another series, the Milwaukee Bucks turned on the jets and the tempo, and used size to their advantage in a critical NBA Finals Game 3 win over the Phoenix Suns, 120-100.
Giannis Antetokounmpo was a straight-up brute for the second-consecutive contest, pummeling the Suns on the interior with strength and length while out-working (and muscling past) whoever was guarding him, just wanting the ball more than anybody else. The Greek Freak posted 41 points, 13 rebounds and 6 assists in 37 minutes, becoming just the third player in Finals history to record a 40/10 line in back-to-back games (joining Shaquille O'Neal in 2000 and LeBron James in 2016). Giannis was doing it all in the paint to create point-blank chances for himself, nabbing offensive rebounds, dishing out to his teammates and getting to the free-throw-line to make 13-of-17 tries.
"When I take each possession at a time, when I have a possession in front of me, I try to get myself in a position to be successful," Giannis said after his monster night. "Sometimes, it's driving the ball. Sometimes, it's sealing down in the lane. Sometimes, it's setting a screen. I just try to read each possession at a time, and each possession is different. I might say, 'Okay, I'll attack this guy this time, but for some reason, that's not working.' So, I'm not trying to have a game-plan or strategy in my head. I just want to enjoy the game. I just want to be out there, have fun and compete at a high level and read each possession at a time, which every possession is different…
"Sometimes, I'm going to be aggressive for two minutes straight. Sometimes, I'm not -- because the ball is not in my hands because Khris is being aggressive at that time or Jrue. So, that's why I'm trying to explain that each possession, each time of the game, it's different. I'm not planning what I do."
You can't ever have too many angles of a Giannis dunk, right? pic.twitter.com/h5CjTa0iWc

— Milwaukee Bucks (@Bucks) July 12, 2021
"Obviously Giannis can go out there and score 40 points all the time, but when everyone else is involved, it kind of unlocks him a lot more and kind of create mismatches and one-on-one a lot more and guys can't really dig in and be over the top and X-out back side and do things like that," said Bobby Portis, who provided 11 points and 8 rebounds for the Bucks off the bench. "When guys make shots, it just makes it tough on the opposing team because now he's really just playing one-on-one, and good luck with that. For real, for real (laughs). Greek Freak."
Like Game 2, Jrue Holiday and Khris Middleton came out aggressively, except in front of their home fans at Fiserv Forum, they were able to get into a flow within the offense. They were using their vision to open up better opportunities for themselves and Giannis, who also was utilizing the attention he received as a way to find his teammates. The Bucks altogether were able to swing the ball around, get into multiple offensive actions and rack up the assists (28).
Although most of his damage was done in the first half and his 18-point, 7-rebound, 6-assist stat line isn't the sexiest, Middleton was superb as a facilitator and lead ball-handler. He worked well in the pick-and-roll, swung the ball on the perimeter, spotted cutters and found success in isolation.
"They are jumping up on my pick-and-rolls a little bit, then bringing extra bodies to Giannis' roll, so I can't hit him. So from there, we did our job," Middleton said. "We attracted a crowd, and I just find an open man, and allow and trust those other guys to make plays and make shots."
Holiday got going in the third quarter with 12 of his 21 points on multiple threes, mostly off the dribble. He and Giannis paved the way for a 16-0 run to end the third quarter after Phoenix narrowed the Bucks' lead to six.
"He's a great player. We need him to keep playing like this," Giannis said of Holiday. "We trust him. He's our leader. He's our point guard. He's one of our scorers. He's one of our defenders. He's a great basketball player, and he's going to keep figuring out ways to be successful."
"I think just taking what the defense presented to us," Holiday said of how Milwaukee was able to close the third. "They kind of went to that zone and sometimes in a zone, you get a lot of wide-open threes and we took those chances or we took those shots and made them. But it was definitely a team effort -- believing in ourselves, making the right plays, the easy early pass, and being able to go out there and have fun and play our game.
"It's just about being consistent. Believing in yourself and what you work on. I work on those [shots] every day. So I think to be able to step into those and have a rhythm, dribble and shoot them, fairly easy. They leave me open, too, so I have to continue to shoot them."
The Bucks nabbed 13 offensive rebounds in the game, and took advantage even more so when Deandre Ayton was in foul trouble. Perhaps as crucial as ever were the 50-50 balls and extra opportunities that PJ Tucker and Pat Connaughton provided. They were crucial on both ends of the floor, and the defensive job that the latter did against a Devin Booker-Cam Payne transition opportunity resulted in a stop and a Tucker three in Milwaukee's favor. That five-point swing sparked a 30-9 run to close the second quarter and take a 15-point lead going into halftime.
"You're just trying to keep them guessing a little bit. Obviously, ironically three-on-two, two-on-one was a drill I did a ton growing up back home in Arlington [Mass.]," Connaughton said. "It was something that it's a little bit different when it's Devin Booker and Cam Payne coming at you than my buddies back home, but the principles still apply. You want to stop the ball. You want to make sure the ball is taken care of first, try to make sure they make the extra pass, and then for me personally it's just using my athleticism.
"Sometimes for some reason there's a little bit of questionability around my athleticism, but I still have confidence in it myself. So try to use that and make sure that I'm in the right position, and then it's just about jumping, staying vertical, trying to make sure you stay within the rules to try to make them make a tough shot and not bail them out by fouling them or putting the ref in a position to make a call. And our team does a great job of getting back, so if you're able to force them into a tough shot or miss the first shot, usually we have our cavalry on the way back."
"I think it's really big [for the momentum of the game]," Holiday said. "Those hustle plays, we missed some of those the first couple games where we might get block or a nice box-out and it bounces to their hands, and we weren't there for the 50/50 balls. But I think to be able to get those opportunities is obviously to our advantage.
"But it's definitely a team effort the way that Pat and Tuck go for those offensive rebounds and give us another chance at scoring. It's intangible and even just in fighting, they might not get it, but to be able to get in there and tap it out, it's huge for us because that gives us another opportunity."
Portis, the local favorite to put it lightly, was a huge part of that offensive onslaught as well, knocking down a corner three and moving without the ball in his hands on the baseline. His presence on the glass and energy were essential, and it juiced the whole building (as we saw in the Eastern Conference Finals).
"I think it's just vital that I just give it my all and just put forth everything I have out there," Portis said. "With potentially only four games left, there's nothing to hold back. Just give it all I have and just bring some energy to the game. I'm a guy that is an energy guy. That's one thing I can help a team with. Making shots or not, I still play as hard as I can. So I think that's just gone well tonight."
By the time the fourth quarter began, Milwaukee had already crushed Phoenix's spirit. Benches were emptied, and the buzzer sounded. The Bucks are a win away from a 2-2 split.
Considering the dominance of Giannis -- and Holiday and Middleton providing the kickstarts needed to supplement that -- the Bucks might've found something. With the Suns' ailing at the backup big position, there is a real size discrepancy that could be a critical weakness of a Phoenix team that doesn't have many vulnerabilities.
Give an inch, take a mile. But for now, it's one game at a time for Milwaukee.
"All I care about right now, it's getting one more, that's all," Giannis said. "Just take care of business, doing our job."
Game 4 is set for 9 p.m. ET on Wednesday night at Fiserv Forum in Milwaukee.
For Game 1 observations from the Bucks' perspective, click here.
For Game 2 observations from the Bucks' perspective, click here.