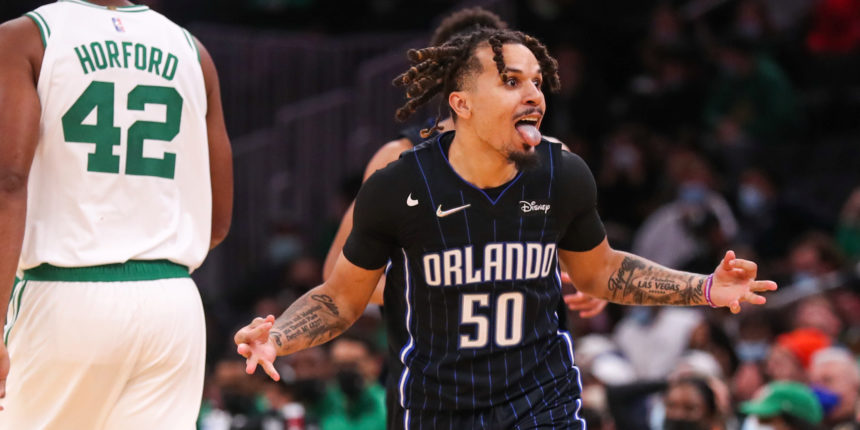 Fantasy basketball steals: 10 players exceeding expectations
Nearly one month into the 2021-22 NBA season, fantasy managers are already looking back at their drafts — celebrating certain steals and kicking themselves over their biggest busts.
It's always fun to track which players are overachieving from a fantasy standpoint. This list features a wide variety of surprise breakouts — from rising stars who have made a significant leap forward, to prospects who are making the most of an increased role, to veterans who find themselves in the right place at the right time following a change of scenery.
Without further ado, let's break down the NBA players who have exceeded expectations out of the gate and helped fantasy managers get off to a strong start. (This article uses fantasy scoring from Yahoo's points leagues and all stats are up-to-date to reflect games played through Nov. 11).
Dejounte Murray, San Antonio Spurs | 46.18 FPPG, 9th in NBA
Entering this season, Dejounte Murray was a popular breakout candidate among fantasy analysts and managers, which is why he was being drafted in the third or fourth round of most fantasy drafts. However, nobody saw this kind of leap coming, as he's been a top-10 fantasy option through 11 games. The 25-year-old has become the focal point of the Spurs' attack, averaging 18.4 points, 8.2 assists, 7.9 rebounds, 2.2 steals, 1.4 threes, 0.5 blocks and just 2.1 turnovers in 34.3 minutes. Murray is filling the stat sheet on a nightly basis, like when he posted a monster 21-point, 15-assist, 12-rebound, 2-steal, 2-block performance against the Los Angeles Lakers on Oct. 26. San Antonio has shifted its focus to rebuilding and developing their young talent, so Murray's role isn't changing anytime soon.
Ja Morant, Memphis Grizzlies | 46.29 FPPG, 8th in NBA
Like Murray, Ja Morant was being selected as a third- or fourth-rounder in fantasy drafts, but he has dominated out of the gate, and his 46.29 fantasy points per game rank eighth-best among all NBA players. Morant is averaging a career-high 26.5 points (up from 19.1 PPG last year) to go along with 7.3 assists, 5.7 rebounds, 1.7 threes and 1.7 steals. Also, this has been his most efficient campaign, as he's shooting 48.5% from the field, 34.5% from three-point range and 77.9% from the free-throw line (all of which are career-highs). He needs to limit his turnovers, as he's averaging 4.4 per game (which is eighth-most in the league). But otherwise, he's been an absolute steal for managers who bet on the high-upside guard.
Jonas Valanciunas, New Orleans Pelicans | 43.65 FPPG, 13th in NBA
Jonas Valanciunas has been a solid fantasy option in recent years, totaling the 30th-most fantasy points in the league last season with the Memphis Grizzlies. However, after changing teams over the offseason, the fantasy community wasn't sure what to expect from the 29-year-old. Fantasy Pros' preseason Expert Consensus Rankings (ECR) had Valanciunas projected as the 69th-best player, and his Average Draft Position (ADP) was 74.09. Well, through 12 games, he's been a top-15 fantasy weapon, averaging a career-high in points (20.0), rebounds (14.0), assists (2.7), threes (1.0) and steals (0.8). With Zion Williamson recovering from offseason foot surgery and Brandon Ingram sidelined due to a hip contusion, Valanciunas has taken on a much bigger role than initially anticipated, and he's made the most of the opportunity in New Orleans. He'll likely come back down to earth at some point, but he absolutely deserves praise for his impressive start.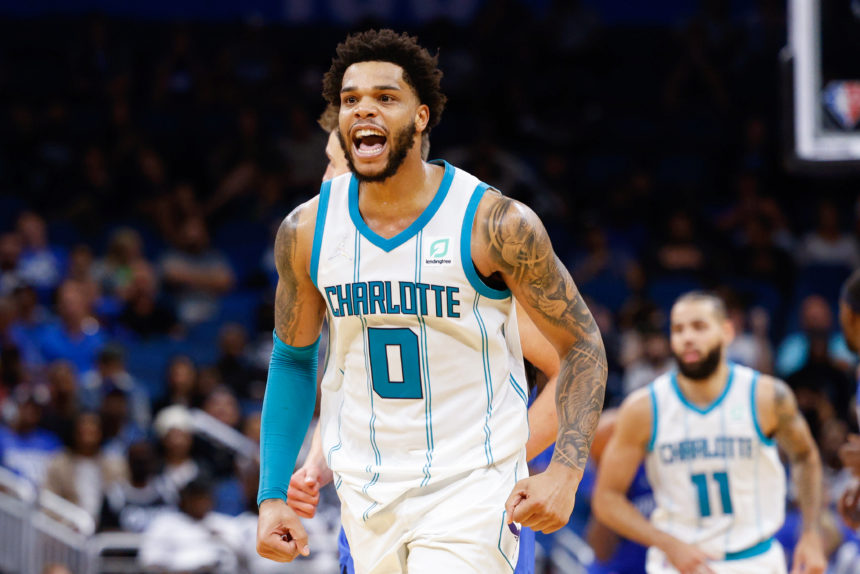 Miles Bridges, Charlotte Hornets | 41.35 FPPG, 23rd in NBA
One week before the season tipped off, Miles Bridges had an ADP of 103.70. That means he was typically being picked in the same range as Klay Thompson (who remains sidelined) and Delon Wright (who's averaging 9.18 FPPG). Now, the 23-year-old is suddenly a top-25 option, averaging 21.3 points, 7.5 rebounds, 3.5 assists, 2.5 threes, 1.8 steals, 0.8 blocks and just 2.5 turnovers in 36.2 minutes per game. Bridges is one of the biggest surprises of this fantasy season because nobody outside of Miles' family could've seen this kind of breakout campaign coming. With Morant and Murray, there was plenty of talk about how this could be their year, but Bridges wasn't receiving that kind of hype. The high-flyer has always been a ton of fun to watch, and it's been a pleasure seeing him round out his game and realize his full potential. Bridges has been incredibly consistent so far this season, finishing with 36.0 or more fantasy points in 10 of 12 games.
Al Horford, Boston Celtics | 37.23 FPPG, 42nd in NBA
It's easy to see why fantasy analysts and managers didn't feel like they could trust Al Horford entering this season. While a reunion with the Celtics was nice, he turned 35 years old in June and played in just 28 games last season for the tanking Oklahoma City Thunder (who were trying to showcase him and increase his trade value). Horford understandably slipped to the 11th or 12th round in drafts (and even went undrafted in some leagues), but he's been outstanding for Boston. Through nine games, he's averaging 13.1 points, 9.0 rebounds, 3.1 assists, 2.4 blocks, 0.9 steals, 1.1 threes and just 1.1 turnovers in 28.9 minutes per game. Prior to this season, Horford had never averaged over 1.5 blocks per game, so his 2.4 rejections have been a surprise. And the last time he averaged this many rebounds was back in 2012-13, when he was on the Atlanta Hawks. Horford has turned back the clock, and it'll be interesting to see just how much of this production is sustainable going forward.
Cole Anthony, Orlando Magic | 37.29 FPPG, 41st in NBA
As of Oct. 17, Cole Anthony's ADP was 146.68, which means he went undrafted in some leagues and some lucky managers landed a stud off of waivers. This season, Anthony has emerged as Orlando's leading scorer, averaging 19.3 points, 7.2 rebounds, 4.9 assists, 3.0 threes, 1.3 steals and 2.8 turnovers in 33.9 minutes per game, while shooting 44.0% from the field, 39.1% from three and 85.0% from the free-throw line. The 21-year-old has become a fan favorite thanks to his aggressiveness, swagger and amazing interviews. The Magic have assembled an impressive young core that is a lot of fun to watch.
Mo Bamba, Orlando Magic | 32.56 FPPG, 59th in NBA
Speaking of Orlando's young core, Mo Bamba also deserves a mention on this list. His ADP was even lower than Anthony's at 151.47, but he's been playing at a high level on both ends. Shortly after he became the sixth pick in the 2018 NBA Draft, his trainer Drew Hanlen told me that he was a very raw project; it would likely take three-to-five years before he could become a real low-post threat on offense since he needed to bulk up, improve his lower-body strength and learn to make the right reads. Bamba put in work behind the scenes, following the same developmental plan that Joel Embiid used under Hanlen earlier in his career. Well, here we are four years later, and Bamba looks like the real deal. The 23-year-old is averaging 11.7 points, 8.8 rebounds, 2.2 blocks, 1.8 assists, 1.6 threes and 0.9 steals on 49.5/40.4/70.8 shooting splits, and it's clear his best basketball is still ahead of him.
Harrison Barnes, Sacramento Kings | 37.52 FPPG, 40th in NBA
Barnes has been a serviceable role player for fantasy teams throughout his 10 years in the NBA, but he's been much more impactful this season now that he's playing the best basketball of his career. Barnes, who had an ADP of 99.1, is averaging the 40th-most fantasy points in the league (37.52) thanks to his 21.4 points, 8.6 rebounds, 2.6 assists, 2.6 threes, 1.2 steals and 2.0 turnovers (plus his efficient 49.0/42.5/86.7 shooting splits). While he has certainly helped many managers in point leagues, he has been even better in category leagues (where he's a top-15 option).
Ricky Rubio, Cleveland Cavaliers | 30.41 FPPG, 73rd in NBA
Following a terrific Olympic showing with the Spanish national team — during which he averaged 25.5 points, 6.0 assists, 3.5 rebounds and 2.8 threes on 47.8% shooting from deep — Ricky Rubio has picked up right where he left off. The 31-year-old is putting up a career-high 14.3 points as well as 6.7 assists, 3.8 rebounds, 2.1 threes, 1.3 steals and 3.0 turnovers while shooting a personal-best 41.0% from three-point range. Now, with Collin Sexton sidelined indefinitely due to a torn meniscus, Rubio will take on a larger role and workload, and become an even bigger steal. Though Isaac Okoro appears to be the team's new starting guard, in the four games that Rubio's played over 30 minutes for Cleveland this season, he's averaged 19.5 points, 7.3 assists, 4.5 rebounds, 3.5 threes and 1.5 steals on insane 50.0/50.0/100.0 shooting splits.
Tyrese Maxey, Philadelphia 76ers | 30.21 FPPG, 74th in NBA
Once it became clear that Ben Simmons wouldn't be suiting up for the start of the season, Tyrese Maxey became an interesting sleeper to keep an eye on at the end of drafts. But instead of emerging as a quality role player, the sophomore guard has looked like a rising star for the 76ers. Two nights ago, Maxey had 31 points, 5 rebounds, 4 assists, 1 steal, 1 block and 0 turnovers against the Milwaukee Bucks, and then he followed that up with a 33-point, 5-assist, 4-rebound, 2-block, 1-steal, 2-turnover performance against the Toronto Raptors. The 21-year-old doesn't lack confidence. On the season, he's now averaging 17.1 points, 4.7 assists, 3.8 rebounds, 1.2 threes, 0.9 steals, 0.7 blocks and 1.5 turnovers in 35.8 minutes, while shooting 50.6% from the field, 38.1% from three and 87.2% from the free-throw line.
Honorable Mention: The 2021 Rookie Class
Fantasy managers who put their faith in the 2021 NBA Draft class have largely been rewarded, especially if they bet on Scottie Barnes (33.70 FPPG, 56th-ranked), Evan Mobley (33.33, 57th) or Josh Giddey (30.44, 72nd) — all of whom are averaging at least 30.0 FPPG and currently top-75 options.
Franz Wagner (25.86, 106th) and Chris Duarte (25.01, 114th) have been the biggest surprises among rookies, as they each got off to a hot start after stepping up amidst injuries. (The Orlando Magic started the season without Jonathan Isaac, Markelle Fultz and Chuma Okeke, while the Indiana Pacers have dealt with injuries to Caris LeVert, T.J. Warren, Malcolm Brogdon and Jeremy Lamb).
Other rookies such as Cade Cunningham (23.48, 134th), Jalen Green (23.31, 135th), Alperen Sengun (21.98, 153rd), Jalen Suggs (21.06, 160th) and Davion Mitchell (20.74, 164th) have shown flashes early on as well.