Nearly one month into the 2021-22 NBA season, fantasy managers are already looking back at their drafts — celebrating certain steals and kicking themselves over their biggest busts.
It's always fun to track which players are overachieving from a fantasy standpoint. This list features a wide variety of surprise breakouts — from rising stars who have made a significant leap forward, to prospects who are making the most of an increased role, to veterans who find themselves in the right place at the right time following a change of scenery.
Without further ado, let's break down the NBA players who have exceeded expectations out of the gate and helped fantasy managers get off to a strong start. (This article uses fantasy scoring from Yahoo's points leagues and all stats are up-to-date to reflect games played through Nov. 11).
Dejounte Murray, San Antonio Spurs | 46.18 FPPG, 9th in NBA
Entering this season, Dejounte Murray was a popular breakout candidate among fantasy analysts and managers, which is why he was being drafted in the third or fourth round of most fantasy drafts. However, nobody saw this kind of leap coming, as he's been a top-10 fantasy option through 11 games. The 25-year-old has become the focal point of the Spurs' attack, averaging 18.4 points, 8.2 assists, 7.9 rebounds, 2.2 steals, 1.4 threes, 0.5 blocks and just 2.1 turnovers in 34.3 minutes. Murray is filling the stat sheet on a nightly basis, like when he posted a monster 21-point, 15-assist, 12-rebound, 2-steal, 2-block performance against the Los Angeles Lakers on Oct. 26. San Antonio has shifted its focus to rebuilding and developing their young talent, so Murray's role isn't changing anytime soon.
Ja Morant, Memphis Grizzlies | 46.29 FPPG, 8th in NBA
Like Murray, Ja Morant was being selected as a third- or fourth-rounder in fantasy drafts, but he has dominated out of the gate, and his 46.29 fantasy points per game rank eighth-best among all NBA players. Morant is averaging a career-high 26.5 points (up from 19.1 PPG last year) to go along with 7.3 assists, 5.7 rebounds, 1.7 threes and 1.7 steals. Also, this has been his most efficient campaign, as he's shooting 48.5% from the field, 34.5% from three-point range and 77.9% from the free-throw line (all of which are career-highs). He needs to limit his turnovers, as he's averaging 4.4 per game (which is eighth-most in the league). But otherwise, he's been an absolute steal for managers who bet on the high-upside guard.
Jonas Valanciunas, New Orleans Pelicans | 43.65 FPPG, 13th in NBA
Jonas Valanciunas has been a solid fantasy option in recent years, totaling the 30th-most fantasy points in the league last season with the Memphis Grizzlies. However, after changing teams over the offseason, the fantasy community wasn't sure what to expect from the 29-year-old. Fantasy Pros' preseason Expert Consensus Rankings (ECR) had Valanciunas projected as the 69th-best player, and his Average Draft Position (ADP) was 74.09. Well, through 12 games, he's been a top-15 fantasy weapon, averaging a career-high in points (20.0), rebounds (14.0), assists (2.7), threes (1.0) and steals (0.8). With Zion Williamson recovering from offseason foot surgery and Brandon Ingram sidelined due to a hip contusion, Valanciunas has taken on a much bigger role than initially anticipated, and he's made the most of the opportunity in New Orleans. He'll likely come back down to earth at some point, but he absolutely deserves praise for his impressive start.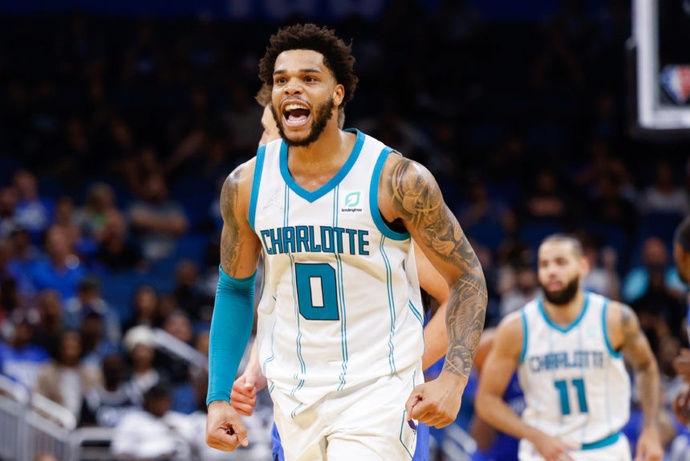 Miles Bridges, Charlotte Hornets | 41.35 FPPG, 23rd in NBA
One week before the season tipped off, Miles Bridges had an ADP of 103.70. That means he was typically being picked in the same range as Klay Thompson (who remains sidelined) and Delon Wright (who's averaging 9.18 FPPG). Now, the 23-year-old is suddenly a top-25 option, averaging 21.3 points, 7.5 rebounds, 3.5 assists, 2.5 threes, 1.8 steals, 0.8 blocks and just 2.5 turnovers in 36.2 minutes per game. Bridges is one of the biggest surprises of this fantasy season because nobody outside of Miles' family could've seen this kind of breakout campaign coming. With Morant and Murray, there was plenty of talk about how this could be their year, but Bridges wasn't receiving that kind of hype. The high-flyer has always been a ton of fun to watch, and it's been a pleasure seeing him round out his game and realize his full potential. Bridges has been incredibly consistent so far this season, finishing with 36.0 or more fantasy points in 10 of 12 games.
Al Horford, Boston Celtics | 37.23 FPPG, 42nd in NBA
It's easy to see why fantasy analysts and managers didn't feel like they could trust Al Horford entering this season. While a reunion with the Celtics was nice, he turned 35 years old in June and played in just 28 games last season for the tanking Oklahoma City Thunder (who were trying to showcase him and increase his trade value). Horford understandably slipped to the 11th or 12th round in drafts (and even went undrafted in some leagues), but he's been outstanding for Boston. Through nine games, he's averaging 13.1 points, 9.0 rebounds, 3.1 assists, 2.4 blocks, 0.9 steals, 1.1 threes and just 1.1 turnovers in 28.9 minutes per game. Prior to this season, Horford had never averaged over 1.5 blocks per game, so his 2.4 rejections have been a surprise. And the last time he averaged this many rebounds was back in 2012-13, when he was on the Atlanta Hawks. Horford has turned back the clock, and it'll be interesting to see just how much of this production is sustainable going forward.