Sometimes JustÄ— JocytÄ— needs to slow down her warp-speed world.
The Lithuanian channels Drake and "chill music" through her headphones, and takes a walk to find a space for herself. In her preparation process, JocytÄ— makes it a point to clear her head of stress.
"Literally, it's almost like meditating," JocytÄ— told BasketballNews.com in an exclusive interview via Zoom. "You just stop thinking. Just take a deep breath, clear your head out and really just stop overthinking everything. I think that helps; when you're thinking a lot before a game, that's not good for you."
JocytÄ— speaks with the calm poise of a veteran professional because she is one, in her third season at the highest levels of European basketball with Lyon ASVEL Féminin in France. But the 6-foot-2 lefty guard is also considered one of the top prospects on Earth, and, at just 15 years old, is accomplishing more than most young hoopers do in their lifetimes.
San Antonio Spurs great Tony Parker recruited her at at age-13, and she debuted with the Lithuanian senior national team that same year. At 14, JocytÄ— became the youngest player to debut in modern EuroLeague history. Today, she regularly competes against WNBA players and European stars, and even holds a small sponsorship deal from Nike.
JocytÄ— carries the faith of an NBA legend, the hopes of an entire country and the potential of a future global star on her teenage shoulders. But she holds the burden with a placid purpose, knowing that as long as she works, her pathway will reveal itself.
"I mean, the dream is obviously to get to the WNBA — but I don't really know if it's gonna be my style of game, it's kind of different from Europe — but obviously playing there, and just living my best life," she said.
"I love basketball — that's what I'm planning to do for a living — and [I] just take pleasure every day in every practice," she added. "And I think, yeah, that's most important: just to be happy."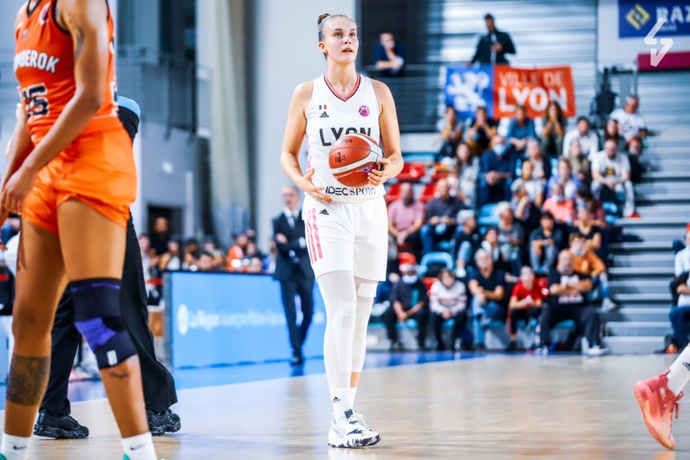 "Every day, we live with basketball."
According to JocytÄ—'s father, Alvydas Jocys, the house TV is almost always tuned to hoops: NBA, WNBA, men's and women's EuroLeague and EuroCup, Lithuanian competition, you name it. Basketball is the country's most popular sport. It is woven into the fabric of JocytÄ—'s family.
"It's just our life, you know?" Alvydas told BasketballNews.com over the phone.
Alvydas played college basketball through the end of the 1990s for Mid-Plains Community College, and then Bellevue University, in Nebraska. His brother, Evaldas, logged professional and collegiate careers, including stints with Lithuanian club Olimpas Plungé and Division I East Carolina University. JocytÄ—'s older brother, 17-year-old Rokas, competes in Lithuania after having spent time on Stellazzurra Rome's U18 team in Italy.
JocytÄ— was even born in Washington D.C. before the family moved back to Lithuania when she was an infant. She has played above her age bracket since she could first dribble a basketball. First, it was in the backyard against Rokas. Then, at 6 years old — when she began to take a serious interest in the sport — Alvydas and his wife, Aurelija Jociene, noticed their daughter was unusually talented.
"We noticed that she had the ability to play with the ball, and play and dribble and shoot. She was different at that kind of age from other girls," Alvydas said.
JocytÄ— entered a program in her hometown of Palanga on the Baltic Coast of the country. Then, she outplayed her competition, and the family signed her up for training in KlaipÄ—da, a nearby city. JocytÄ— was hopping from bus-to-bus at 9 years old, attending practices and games with kids three years her senior.
"Year after year, we saw that she was developing into a pretty good basketball player," Alvydas said. "As a family, all our job was just to get her physically and emotionally ready for the journey she has right now."
The Jr. NBA came at age-12. But in 2019, JocytÄ—'s star truly shined. She led Lithuania to its first-ever U16 FIBA European Championship as a 13-year-old, then three months later, made her debut with the country's senior national team in the EuroBasket Qualifiers.
SHE IS 13 😱 ! Juste Jocyte's 20PTS & 15REB led @Musukrepsinis 🇱🇹 to a first EVER #FIBAU16Europe Final 🔥 ! pic.twitter.com/gAjWbsLocB

— FIBA (@FIBA) August 30, 2019
Europe took note — including one Tony Parker. The four-time NBA champion co-owned the men's and women's LDLC ASVEL clubs, and was starting his Tony Parker Adéquat Academy in Lyon for students desiring advanced opportunities in a number of different professions. He invited JocytÄ— and her family to an individual workout in Oct. 2019.
"It was kind of tough, you know? You don't really know what to say because you're... scared," JocytÄ— said. "But I mean, he was really pretty normal as a person, so he was easy to talk to."
At that same workout, JocytÄ— also met her idol: former New York Liberty guard, and future teammate, Marine Johannès.
"She was there to pass me the ball. That was cool," JocytÄ— said with a laugh.
Parker saw JocytÄ— as a headlining addition and made his pitch to Alvydas and the family. JocytÄ— would join the academy and become a member of Lyon ASVEL Féminin, with a three-year agreement centered on her development in Lyon. If the family ever had a question or concern about her well-being or development, Parker was a phone call away.
"It was, for myself and my wife, ver,y very surprising [to hear] the kinds of superstars as Tony Parker — we just saw them on TV prior [to when] we came to France," Alvydas said. "But when you talk to them after one minute, you already know that they're so simple and they know what they're doing. They know what kind of business they're in."
On Nov. 7, 2019, the academy announced the signing.
"I am very happy for the Tony Parker Adéquat Academy because it's the first big signature," Parker said in the official press release in French. "JustÄ— is the most special player of her generation. It's one of the reasons that I opened the Academy: to welcome the best prospects of their generation, evolve with young enthusiasts of all fields, and enrich each other."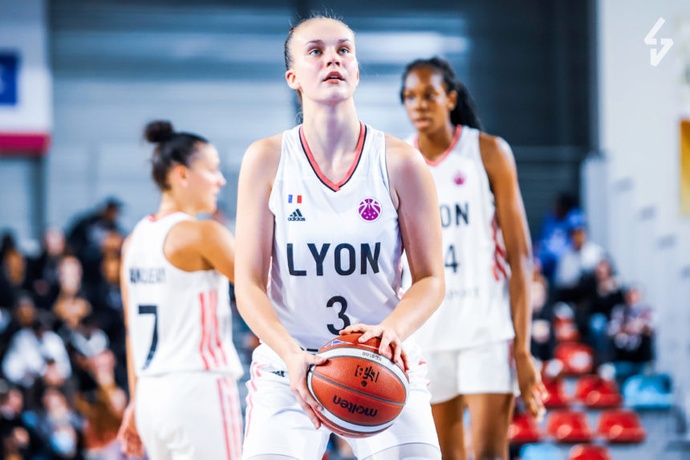 "She's definitely one of the most gifted European players to come up in a long time."
Mark Williams is a Global Scout for Premier Basketball (the same service that compiles ESPN's HoopGurlz recruiting rankings). He has watched JocytÄ— rise through the youth ranks since 2018, and says the smooth shooting guard is one of the most advanced players he has seen in recent years. Her cool confidence, surgical vision and sweet perimeter shot all set her apart.
"She's gifted with the ball in her hands [and] can score at all three levels," Williams told BasketballNews.com over the phone. "One of the things that she's really done well over the last year is develop the ability to get everybody else shots... I mean, she's really gifted. She can play multiple positions. She can play on the ball. She's a better defender than people give her credit for. And she can score anytime she wants."
JocytÄ— carved up the competition at the 2021 FIBA U18 Women's European Challengers tournament. She averaged 20.6 points, 10.0 rebounds and 6.2 assists per game in effortless fashion, patrolling the court while exuding serenity and swagger.
JocytÄ— can spot up, step back and hesi her way to any shot on the floor. She glides with an effortless grace, and shrugs contact off of her. She also operates the offense like a surgeon, rifling pinpoint cross-court passes with either hand. Williams said that if he ranked the entire 2023 recruiting class with both U.S. and international players, the Lithuanian phenom would rest on top.
"For her, it's just kind of come together really, really early. And it's fun to watch, for sure," Williams said.
British FIBA writer Paul Nilsen has watched the international youth game for over a decade. From the first moments he scouted an age-12 JocytÄ—, Nilsen was floored by her clutch gene.
"You could just tell straight away she's got it," Nilsen told BasketballNews.com over the phone. "The clutch, the ice through her veins, the smarts, the I.Q., on top of, obviously, the skill factor of being able to do what you want, when you want.
"I think that maturity so young is quite a rare and special thing."
Both Williams and Nilsen lauded JocytÄ—'s trajectory as that of a high WNBA draft pick and a potential No. 1 overall selection. But they also cautioned against the familiar trap of locking prospects in as surefire generational superstars.
"It's one thing, I think in any sport, being a wunderkind, where often you find other players catch up," Nilsen said. "Sometimes you're the best out of that age at 12-13, and you're phenomenal because you've got so much natural talent. And you have to try and maintain large gap, which can sometimes be hard.
"It all boils down to whether she keeps working hard and she keeps learning," he added. "Nothing else [matters] apart from her. It's got to come from her."
For JocytÄ— to be challenging herself on a professional team, Nilsen says, is a testament to her dedication.
"One of the things I'm very, very committed to is this concept of: the hardest decision is always for the most talented players... even though you've got lots of choices, it's very very, very difficult," he said.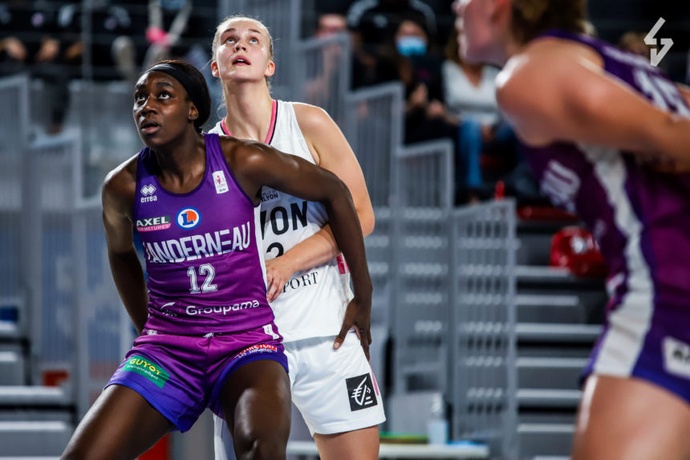 "Playing against them every day is just a dream come true. I mean, that's the best practice you can get."
In Dec. 2019, 14-year-old JustÄ— JocytÄ— subbed in for the the first time with Lyon ASVEL Féminin, and became the youngest woman to debut in the modern EuroLeague, perhaps the highest level in the world outside of the WNBA. Fast-forward two years, and she has now locked down a role in the regular rotation before her 16th birthday.
Lyon competes this season in the EuroCup; it's one league lower than the EuroLeague, but still arguably the third-best league worldwide. The EuroCup is littered with WNBA talent this season, including Indiana Fever guard Kelsey Mitchell, Atlanta Dream guard Aari McDonald, Phoenix Mercury forward Brianna Turner and Minnesota Lynx forward Natasha Mack among many others.
But that's only half of the battle. In LFB (Ligue Féminine de Basketball) competition, the team squares off against players like Phoenix Mercury guard Sophie Cunningham, Chicago Sky guard Lexie Brown and Los Angeles Sparks forward Nia Coffey. For Lyon, Johannès and Julie Allemand both have WNBA experience.
On non-game days, JocytÄ—'s schedule typically includes distance schooling, plus two grueling practices per day with some of the best basketball players on the planet. It's a grind she embraces.
"This is the pro life," she said. "Get used to it, because they will not change for you."
JocytÄ— generally stayed on the bench in her first two years with Lyon; she logged just 31 total minutes across both seasons. However, that doesn't mean she was stuck; behind the scenes, JocytÄ— was adapting to the speed and physicality of pro ball with the help of her teammates and coaches.
"I really appreciate the the work that they put in. Nobody sees the work, but they're helping me a lot," she said.
This season, the young phenom has begun to emerge. JocytÄ— is averaging 11.8 minutes per game in LFB play and 15.0 minutes per game in the EuroCup. She's dished out 17 assists against just six turnovers, and is shooting 75% from the field across both leagues. The performances aren't coming on some experimental squad, either — Lyon sits 3-1 in the EuroCup and 4-2 in the LFB.
Even more impressive is hearing the 15-year-old critically reflect on her role with the methodical understanding of a grizzled vet:
"The physical part is tough, so you obviously had to find other ways. I think mine is just reading the game, really, because obviously you will not be faster [or] stronger," JocytÄ— said. "Coach puts you in [and] you have to just bring the energy; he doesn't expect you to, like, score 20 points in the game. So as a young player, you just have to stay humble, stay calm and just read."
Breanna Stewart and Nikola Jokic, as well as fellow lefty D'Angelo Russell, are film favorites for the Lithuanian. She had the last laugh this fall as one of the few members of Lyon cheering for the Chicago Sky in the WNBA Finals. And even after two years playing next to Johannès, JocytÄ— still marvels every day at the star guard's talent.
"It's kind of weird because before, yeah, she was my role model, and now that it's my third year playing with her, it's kind of... she's like my friend," JocytÄ— said of Johannès.
Though JocytÄ— is still technically the youngest player on the roster, she's no longer the only teenager. Dominique Malonga — a 6-foot-6, 15-year-old center loaded with athleticism and potential — joined ASVEL Féminin for the 2021-22 campaign. Malonga is also a Tony Parker Academy student, and Parker even labeled her "the feminine Victor Wembanyama."
"She's my roommate, so we kind of get along pretty easily," JocytÄ— said of Malonga. "This goes better than last year, when you're, like, really young with all these — I'm not gonna say old (laughs) — but older ladies. So it's kind of cool to have [someone] your age."
JocytÄ— is still a kid, after all — a kid playing on the other side of the continent, away from her family. Alvydas and Aurelija check-in nearly ever day with their daughter via WhatsApp. When JocytÄ— comes home, she'll get back on the court and battle with her brother and father, and everyone in Palanga knows her name. She says she's "not that sensitive of a person," but that doesn't mean leaving Lithuania is easy.
"I really miss home, and it's kind of hard without your family and friends. So it's always a good feeling when you come back home. It doesn't matter if it's, like, two days or something. It's really good to be there," she said.
"It was hard to let her go the first time because, you know, the '14-year-old girl on her own in the big city 2000 kilometers away' — kind of scary," Alvydas added. "[But] we know that she is in good hands [and] she gets taken care of."