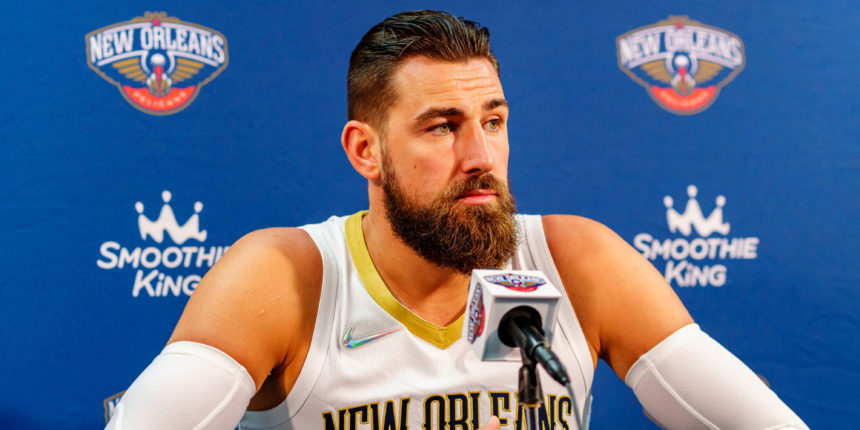 Pelicans made right decision to extend Jonas Valanciunas
The New Orleans Pelicans believe that Jonas Valanciunas will play a crucial role for their team going forward, as he can help unlock Zion Williamson's game by making an impact inside (as a rebounder and shot-blocker) and out (as a three-point shooter who provides spacing). That's why the Pelicans agreed to lock up Valanciunas for two additional years via a $30.1 million extension earlier this week, ensuring that the 29-year-old will remain with New Orleans throughout his prime.
It isn't easy to find a center who can do everything the Pelicans are asking. After all, Valanciunas was the only player in the NBA to average at least 12.0 rebounds per game while shooting 35.0% from three-point range last year, which is why the Pelicans went out and traded for him this offseason.
New Orleans acquired the 29-year-old from the Memphis Grizzlies as part of a three-team deal where the Pels traded away Steven Adams and Eric Bledsoe.
Valanciunas was dealt after a career-year in which he averaged 17.1 points, 12.5 rebounds, 1.8 assists and 0.9 blocks, while shooting 59.2% from the field, 36.8% from three and 77.3% from the free-throw line. His 12.5 rebounds ranked third-best in the NBA, and his average of 4.1 offensive rebounds per game was second-best in the league. He posted a career-high 49 double-doubles, and he grabbed his 5,000th career rebound on Dec. 30.
Now, the Pelicans are hoping he can provide the same kind of versatility and production over the next three years.
"He can do a little bit of everything — post up, early entry, set great screens, great roller, he can shoot the ball," Kira Lewis Jr. said of Valanciunas. "He really doesn't have any holes as far as a big man, so he's a big piece to our team's success, and I'm looking forward to how he keeps playing down the season."
The big man won over head coach Willie Green with his effort and competitiveness during the preseason when he refused to take any plays off. He even got thrown out of the Pelicans' exhibition against the Orlando Magic after picking up a pair of technicals.
"He's a competitor," Coach Green said. "Jonas, he gets in there and mixes it up. Look, he got two technicals in preseason! He got kicked out! I haven't seen that before. I'm not paying his fine, but I don't mind the fact that he's trying to set the tone."
Green is excited to have Valanciunas for the next three years, and he pointed out that JV can also provide veteran leadership (which is something New Orleans lacked last season). The 10-year vet made a similar impact last season in Memphis, where he helped the young Grizzlies win 38 games and make the playoffs.
"Jonas brings a veteran presence to our team," Green said. "He can post, he can shoot the ball from outside. More than that, he's a great guy to have around. He's done it for a number of years now and we need his know-how."
The Pelicans have a number of new faces including Valanciunas, Devonte' Graham, Trey Murphy III, Tomas Satoransky and Garrett Temple among others. The team will need to develop chemistry as the year goes on — and Zion is currently out for a bit after undergoing surgery to repair a fractured fifth metatarsal in his right foot — but there's no question that the Pelicans have a high ceiling once they get to full strength.
"There's a lot of new guys, [and] we all are trying to learn each other," Naji Marshall said. "Just like Coach Green is trying to learn us, we're trying to learn him, so it's a chemistry thing. As the season goes on, we'll get better... It's all great vibes on and off the court. We just have to learn each other — how we like the ball, how we move and stuff, just some small chemistry things, easy fixes that come with time and reps."
New Orleans is hoping to end its three-year postseason drought and become a perennial playoff team, with Valanciunas playing a huge role on and off the court.