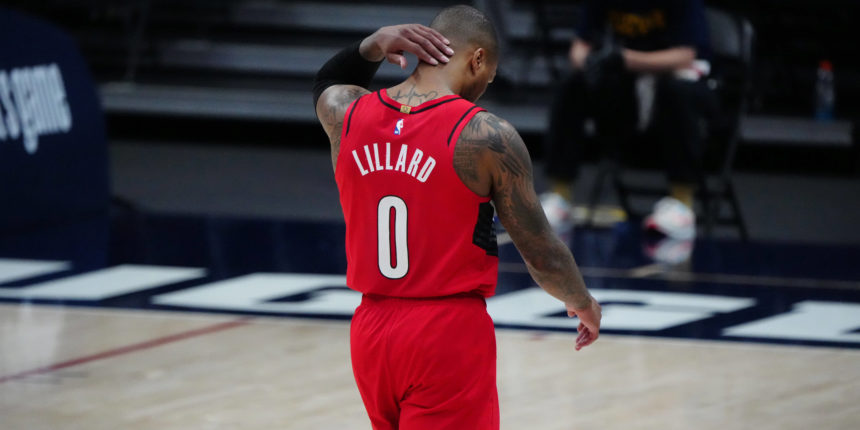 Examining potential trade destinations for Damian LIllard
Let's start here: We don't know if Damian Lillard wants out of Portland.
There have been recent reports, notably from Henry Abbott of the True Hoop network, that Lillard is on the verge of asking out. The Blazers' stretch of good-but-not-good-enough productivity has begun to weigh on Lillard; a first-round loss to the injury-riddled Denver Nuggets may very well have been the final nail in the coffin.
Lillard has denied wanting to leave, for the most part. Following a recent Team USA practice, Lillard denounced the wanting-out rumors. What he didn't do, however, was give the Blazers a strong vote of confidence.
"The best way to put it is be more urgent about our next step and how we move forward," Lillard told reporters.
"We made [the] playoffs a lot of years in a row. We're not a bad team. We're a winning team. We got a great environment, great city, great fans. But we've reached that point where it's not enough. Do we actually want to win it all? Is that what we're shooting for? We have to do things to show that. We got to put action behind that desire to win at that level."
Lillard has been steadfast in his desire to stay in Portland throughout his career, but it does seem that the wall the Blazers hit this past postseason is weighing on him. If the Blazers aren't able to follow through with a strong summer, they risk falling (further) behind in the Western Conference hierarchy. Any slip may be enough for Lillard to push his way out.
In the event that Lillard does ask out, you'd be hard-pressed to find many teams that wouldn't check in on his availability. We're talking about one of the most dynamic pull-up threats the NBA has ever seen, a strong finisher and a proactive passer with the vision necessary to make scrambling defenses pay.
Shot creation reigns supreme in today's NBA, particularly in a playoff setting. Adding a guy like Lillard, an offense in and of itself, could boost quite a few teams into legitimate contention.
Beyond that basic premise, The Ringer's Kevin O'Connor reported that five teams in particular -- the Miami Heat, Philadelphia 76ers, New York Knicks, Houston Rockets (I would assume they're more likely to be a third team than a landing spot, but who knows?) and Sacramento Kings -- have been the most aggressive in their pursuit of Lillard.
None of this guarantees that the Blazers will make a move, but there's enough smoke to examine what a potential Lillard deal would look like. Here are a few teams that are -- or at least should be -- in the mix for the six-time All-Star.
PHILADELPHIA 76ERS
We can dub this, "the Ben Simmons section." Simmons-to-Portand has been a popular rumor for a while now; the quibbling is over which backcourt mate he'd be moved for.
If it's for Lillard, more than Simmons would be required. One of Tyrese Maxey or Matisse Thybulle. One of Seth Curry or George Hill. Multiple firsts. It'd take a haul, but it'd be difficult to think of many better duos than Liillard and Joel Embiid.
The half-court scoring prowess of Lillard, Embiid and Tobias Harris could go toe-to-toe with just about anyone in the Eastern Conference. Replacing what Simmons brings defensively would be tough; honestly, it's been a bit undersold when brought up on the interwebs. Retaining Thybulle would help. Bringing back Danny Green, slip as he may, would also help. Scouring the free-agent market for wings and bigs would become a priority.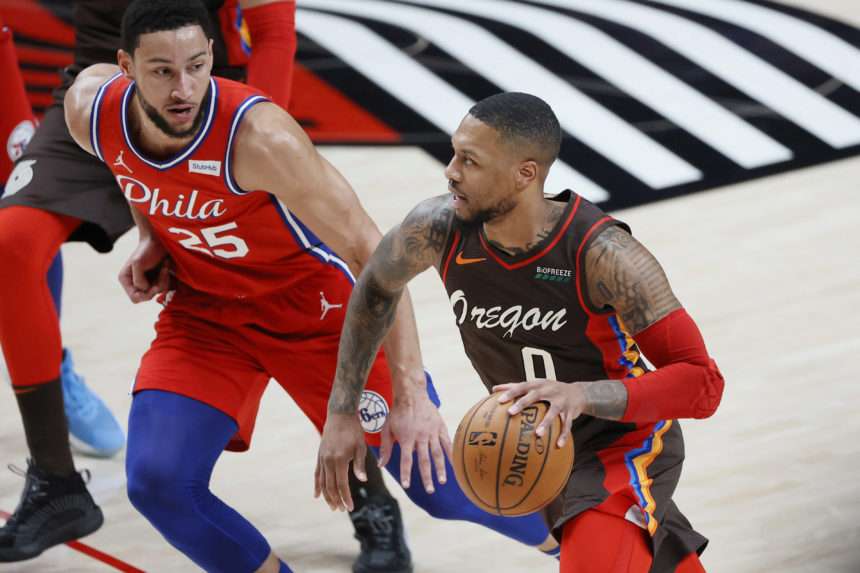 For the Blazers, you'd get a strong building block in Simmons. That's slightly different than being a centerpiece; Simmons may not be as bad as his showing in the Atlanta series, but his half-court limitations are real. Still, he remains a transition demon, a strong finisher, one of the best passers in the sport and an elite multi-positional defender.
The Sixers could replicate the James Harden/Brooklyn Nets package in terms of draft picks and swaps with the Blazers. In Maxey or Thybulle, you're either getting a speedy guard with budding pull-up and point-of-attack chops, or one of the most absurd off-ball defenders to hit the league in quite some time. Curry could replace a portion of Lillard's pull-up/movement shooting equity, while Hill could provide a steadying presence on both ends.
NEW YORK KNICKS
The Knicks have all of their picks, plus an extra first from the Mavericks (2023 top-10 protected, extends thorugh 2025 before turning into two second-rounders). They have interesting prospects, headlined by burly wing RJ Barrett.
If they want to go all in, they very well could: picks and swaps through 2027, Barrett, Immanuel Quickley, Obi Toppin. Kevin Knox if the Blazers want him. A literal all-in move could make fans and the front office alike a bit queasy, but that can be alleviated by the cap space the Knicks would still have this summer.
A Randle-led team gritted its way to a first-round appearance, then sputtered when forced to play more half-court basketball. Adding Lillard would change the math in a very real way. With those two in tow, I find it hard to believe that the Knicks would struggle to attach vets to fill things out.
Barrett began to pop this season, improving as a rim threat while making incredible strides as a spot-up shooter. Being able to force close-outs will only complement the rim pressure he already provides; that added rim volume will open more windows to showcase his underrated passing chops. The Blazers can work with that.
Beyond that, Quickley has already flashed #FloaterGawd potential, and a quick-trigger from deep if defenders don't track him closely enough over screens. I'm intrigued by Toppin playing one, with more pull-up shooters, and two, playing the 4 -- his best position. His upside is a bit lower to me because of where he is defensively, but there's a productive NBA player in there with a better roster construction around him.
OTHER LANDING SPOTS
MIAMI HEAT
The Heat are always sniffing around these kind of rumors, even when they don't have the assets on the surface.
If Portland wants to blow things up, the Heat will be at a massive disadvantage in terms of pick capital. They could get creative and work out a side deal with the Oklahoma City Thunder to try to free up some of their future picks.
Beyond that, the Heat are a bit stuck. Tyler Herro is intriguing, but falls a bit short of "blue chip" status. Precious Achiuwa had an uneven rookie season, though some of his Olympic exhibition flashes should raise some eyebrows.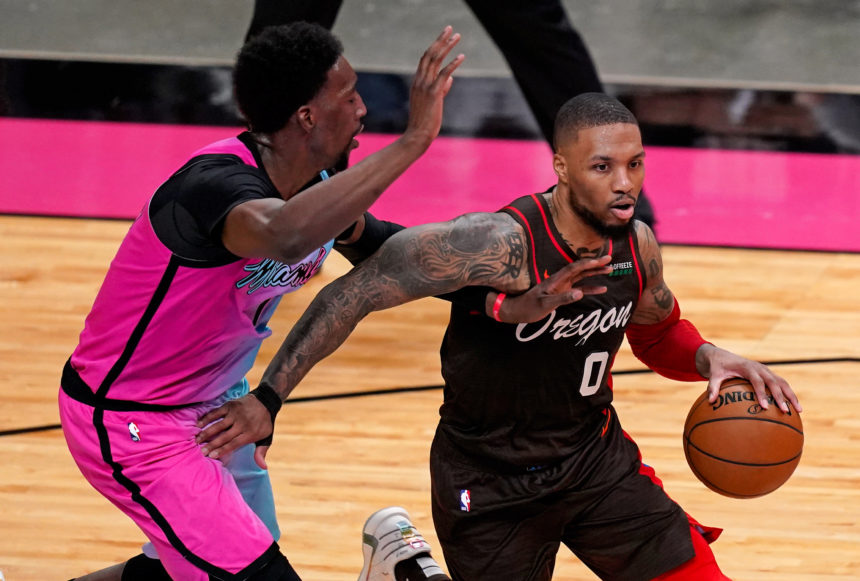 What makes the Heat intriguing in the Lillard sweepstakes is that they have the true trump card. They may be stuck if their goal is to create a Big Three with Lillard, Jimmy Butler and Bam Adebayo.
If the Heat prioritize maximizing Butler's window, however, then the option of using Adebayo as a centerpiece becomes available. And if that big red button is pressed, it's hard to imagine there being a better centerpiece on the table.
DENVER NUGGETS
The Nuggets are likely content with their core. They have the MVP in Nikola Jokic, an All-Star caliber guard with high-level playoff flashes under his belt in Jamal Murray and a bona fide shot-creator in Michael Porter Jr. that can't really be defended when he has it going.
They're mentioned here because Lillard is flat-out better than Murray, and you'd need a 99th percentile outcome from Porter Jr. to reach Lillard status. With Murray coming off an ACL injury and Porter Jr. having questions about his back -- and quietly approaching his pay day -- this would be a unique opportunity for the Nuggets to cash in those chips for a legitimate All-NBAer.
Of course, those health (and money) concerns could turn off the Blazers.
Also, hey, the Nuggets just beat the Blazers and potentially pushed the Lillard situation to the brink to begin with. It's probably nothing; I'm just intrigued by this possibility.
TORONTO RAPTORS
It's worth the call if you're the Raptors. They have their picks moving forward, including the No. 4 pick in this year's draft. The fourth pick, two of Pascal Siakam, Fred VanVleet or OG Anunoby and swaps is a (starter) package that could be eclipsed by... how many teams, exactly?
BOSTON CELTICS
The Celtics don't have the pick bounty they had a couple of years ago. They do, however, own their picks from 2022 onward. They also have Jaylen Brown, one of the best wings in the NBA on a contract that would classify as a steal at this point.
Portland would ask for more -- I'd guess one of Marcus Smart or Robert Williams plus Payton Pritchard at least -- but the Celtics have enough to make talks interesting.