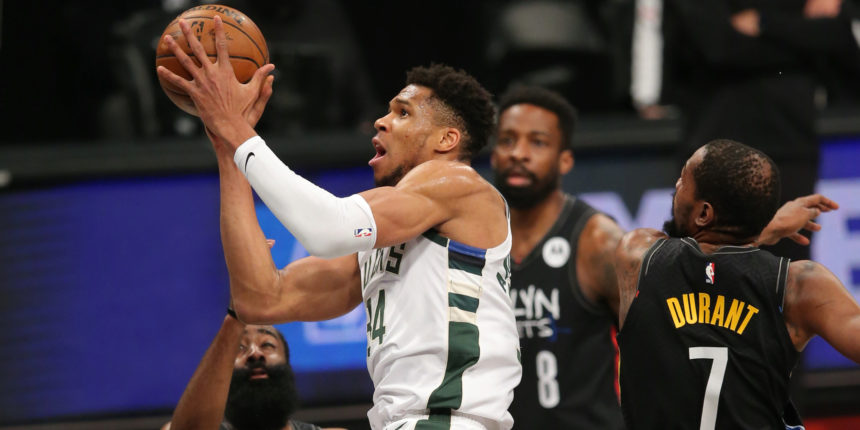 Everything you need to know ahead of Nets-Bucks Game 6
On Tuesday night, Kevin Durant produced one of the best playoff performances in recent memory and helped the Brooklyn Nets take a 3-2 lead over the Milwaukee Bucks in the Eastern Conference semifinals, though that was a game that could have easily gone in the opposite direction. As things stand now, the Nets are just 48 minutes away from reaching the East Finals, but have a tough task in front of them since Game 6 will be played at Fiserv Forum, a venue where the Bucks have been perfect during their current postseason run.
Will the Nets be able to close things out despite not having Kyrie Irving, and considering James Harden is banged up and not recovered from a hamstring injury? Or will the Bucks force a decisive Game 7 by making better choices and executing better down the stretch, something they failed to do in Game 5? Let's take a look at who has the edge in Game 6 and find out the NBA best bets for this playoff matchup.
Game Preview
Brooklyn Nets at Milwaukee Bucks (MIL: -5.5, O/U 220)
Durant delivered one of the best individual playoff performances in recent memory and carried the Nets to victory in Game 5, pulling Brooklyn back from a double-digit deficit to earn the victory at Barclays Center -- he played the entire game and finished with a triple-double of 49 points, 17 rebounds and 10 assists, as he took on a bigger scoring responsibility with Harden limited (5 points, 1-10 FG) and Irving sidelined with an ankle injury. Durant has been the engine that has kept the Nets going for a reason, and he's averaging 33.6 points, 11.0 rebounds and 5.8 assists per game in the series, and averaging 33.1 points, 9.1 rebounds, 4.4 assists, 1.7 steals and 1.8 blocks over the last 10 games for Brooklyn. The Nets have also scored 106.6 points per game during the current series, but that number drops to a meager 89.5 points per game when playing at Fiserv Forum in this current series.
Durant will face another former MVP in Giannis Antetokounmpo. While the Greek Freak notched an impressive double-double with 34 points and 12 rebounds, he also made quite a few questionable decisions down the stretch and failed to guard Durant in crunch time, something that was heavily criticized by both media and experts alike once the game ended. Antetokounmpo can't do everything on his own, though, and while he's had support from Khris Middleton and Jrue Holiday, the whole team needs to do a better job when it comes to executing plays, setting up screens and cutting to the basket. If there's one thing to criticize about the Bucks in Game 5, it's the fact that they relied too much on isolation plays when they were leading the game. Oddly, they decided to walk away from what was working well when it mattered the most. It remains to be seen if they'll make the necessary adjustments to force a decisive Game 7, as they already responded to two losses at Barclays Center with two wins in Milwaukee.
If we analyze what happened during the course of the regular season, then the Bucks have a clear advantage considering how well they played at home (26-10), while the Nets were far from their best when playing on the road (20-16). This has been noticeable when it comes to the home/away splits in the current postseason as well, with the Bucks going 4-0 at Fiserv Forum and the Nets mustering a 1-3 record away from Barclays Center.
This series is expected to go down to the wire, and while neither team will play as poorly as the Bucks did in Game 2 or as the Nets did in Game 3, it's likely that this could all be decided in a pivotal Game 7. Milwaukee had control of the game for prolonged stretches in Game 5, and let it slip away due to the team's own mistakes and Durant's impressive performance; neither of those two things are expected to happen again in Game 6 -- particularly with the Bucks playing at home.
Expect the Bucks to come out on top in this contested affair between two evenly-matched Eastern Conference powerhouses.
Pick: Bucks -5.5
What Do The Numbers Say?
If we take a look at what both teams have done during the playoffs, we can see the stats don't lie -- Brooklyn has the edge on offense, but Milwaukee has the edge on defense. These are each team's average numbers throughout the playoffs, though it's worth noting Brooklyn has played one more game than Milwaukee.
Bucks: 107.6 points, 52.3 rebounds, 22.1 assists, 6.1 steals and 4.2 blocks per game while shooting 45.3% from the field. Their opponents have averaged 102.8 points on 42.8% shooting.
Nets: 115.0 points, 42.6 rebounds, 23.4 assists, 7.0 steals and 5.4 blocks per game while shooting 47.5% from the field. Their opponents have averaged 105.5 points on 43.7% shooting.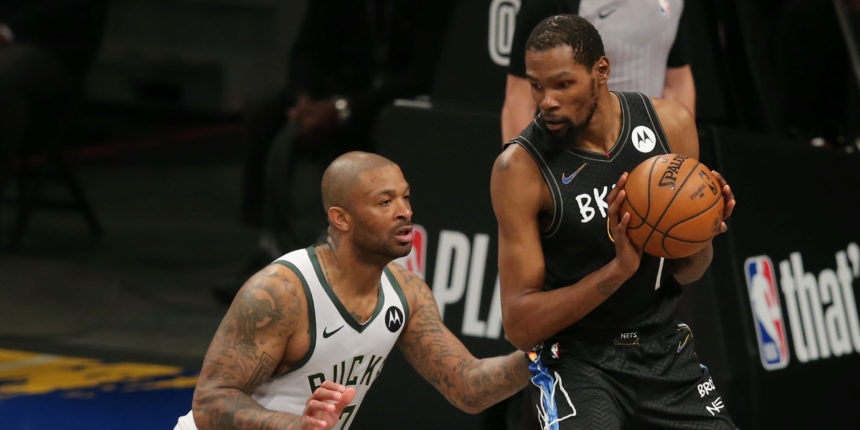 BetQL Model Predictions & Picks
BetQL's NBA model has run 10,000 simulations of this game to provide insight on how the game will pan out, and after all those simulations, the model leans the Nets +5.5, rating that as a four-star pick. Currently, the point spread of this game sits at +/- 5.5 with Milwaukee as home favorites. BetQL's model would have placed the line at Nets +1.5, meaning there is some betting value on Milwaukee in this game at -5.5. Keep reading below to get picks from the experts at BetQL.
Against the Spread Pick
The model is leaning towards the Nets with a five-star rating on the game and projects the final score to be Milwaukee 113, Brooklyn 112. This goes in line with recent movements, and according to the sharp bettors' moves, the model seems to be leaning in the right direction. Either way, be sure to check back with BetQL to see the most updated odds, lines and spreads for this game before tip-off.
Over/Under Pick
The over/under for this game is set to 220 points. The BetQL model recommends taking Over 220.5 for this game, as the model has the projected total set at 225 points. There's no question the Bucks will come out with a more aggressive approach than they've done in past games since they have their backs against the wall, and the Nets are not known for being a stout defensive team. For those reasons, it makes sense to back the pick and take the over.
As a Basketball News reader you can get access to BetQL for 30% when you use the code BBN30, check out BetQL and win the rest of your bets for the playoffs.