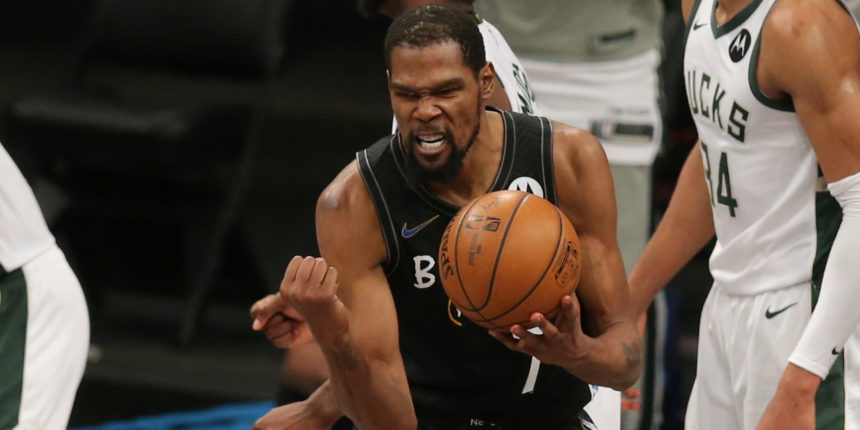 Kevin Durant spectacular in Nets' comeback Game 5 win over Bucks
BROOKLYN -- On a couple of occasions during the second half of an epic night, Kevin Durant was asked by Brooklyn Nets head coach Steve Nash if he needed a rest.
His answer: "If you don't need me to, I'm good."
It is highly uncommon in this day and age for any NBA player to play an entire 48-minute game, but Durant played every second and scored more than a point per minute on Tuesday night as the Nets came back from a 17-point deficit and defeated the Milwaukee Bucks 114-108 to go ahead 3-2 in their second-round series.
"I remember having it," Durant said of the two or three times he was asked if he needed a blow. "And whatever they needed me to do, I was cool with. I'm glad they kept me in."
Somewhere in basketball heaven, Wilt Chamberlain is looking down and asking, "What's the big deal?" Chamberlain once averaged 48.5 minutes per game over the course of a season, which is an NBA record that will never fall (and that is about the only basketball fact we can be sure of these days).
James Harden was ruled out and then, all of a sudden, he is playing… And not only did he play, he logged 46 minutes. However, he shot 1-of-10 from the field (and 0-8 from three-point range). Joe Harris is the best catch-and-shoot player in the entire NBA this postseason, but it was Jeff Green who knocked down his first seven three-point attempts.
The Barclays Center resembled a morgue after the Nets appeared dead in the first quarter and were lucky to only be down 16 at the break.
But they play all four quarters for a reason, and any basketball fan that shut this one off because of what happened in the first 24 minutes is not really a basketball fan. We have waited all season long for epics like the ones we are seeing on a nightly basis, and on Tuesday, the only game being played was Brooklyn vs. Milwaukee.
With the lights shining brightest, Durant reminded us all of what we have been missing since a torn Achilles tendon ended his stay in Golden State and a full season of rehab with the team he chose in free agency dulled our collective memories of just how good this guy is.
It wasn't just the 49 points, it was also the 17 rebounds, 10 assists, three steals and two blocks (while shooting 69.6/44.4/81.3). It was the uncommon poise he showed in taking over the bulk of the playmaking chores from Harden, who was clearly on a bum leg and was not at all as effective as we've become accustomed to seeing since he was dealt to Brooklyn back in January.
"Kevin is one of the all-time greats," Nash said. "Now is the time to take a few risks."
There is still a long way to go, but if the Nets end up winning their first NBA title, it will be the second half of this particular night that may be their defining moment. Watching this team over the course of the regular season, it was clear they could flip a switch when they needed to… but that was at full strength against different competition every night.
The playoffs are different. Nobody is going through the motions, and the arenas are alive again. This game night even featured the Nets presenting TNT broadcaster Marv Albert with a retired jersey, with a microphone placed where a number would usually be on a jersey.
New York remains a Knicks town, but the Brooklyn fans totally came to life as Durant, Green and practically nobody else clawed their way back in the third and fourth quarters. Madison Square Garden has been quiet for quite a while since Trae Young took his bow. This night brought the city back to life from a basketball standpoint, because the Nets looked like they were on life support after blowing a 2-0 lead in a trip to Milwaukee and then starting this one stone cold.
"Jeff Green kept us in the game during long stretches when it could have gotten away from us," Nash said of the reserve forward, who began his NBA career with the Seattle SuperSonics in 2007 alongside Durant.
"Big-time players show up at big-time moments. That's what he does. I've known Kevin a long time, and that's the Kevin I know," Green said.
Should we be all that surprised that Durant rose to the occasion like this?
Durant scored 40 or more points three times during the regular season, and all of his 12 previous triple-doubles came with other teams.
The guy is still only 32 years old, but it is an old 32 after the Achilles injury, a hamstring injury and a whole lot of wear and tear in the playoffs with Oklahoma City (six-straight seasons) and Golden State (three-straight seasons.) While it is not unusual to see Durant excel in June, this year is different for a couple of reasons: It is only the middle of the second round, and we are nowhere near the Finals (as we would usually be under normal circumstances).
Everyday tests us in so many ways, and this particular night tested our perception of Durant, which usually begins with "great scorer." But he did so much else, and so effortlessly.
"The perception of me is that I can score, but every team I've been on, I've been asked to do everything -- including screen, rebound, defend, score, shoot threes. So, I practice and when the game comes around, I am able to do anything. And this was one of those nights," Durant said, adding that he will reflect on it when the time is right.
Durant has been around enough to know you never get too high on a Game 5. This is a long road, and he and Green saved the Nets from steering all the way off it. This is one for the memory banks, but the test will come in seeing whether it carries over to Milwaukee on Thursday night. And whether Kyrie Irving returns.
These two teams have been unpredictable from game to game in this series. So, is it time for someone from Milwaukee to step up and send this thing back to Brooklyn for a Game 7 on Saturday night?
That is why they play the games, and it may take another Herculean, Wilt-esque 48-minute night from Durant to put this Bucks team behind them and move one step closer to what every star on this Brooklyn team came to Kings County to do: Win this franchise its first championship since Dr. J was dribbling a red, white and blue ball.