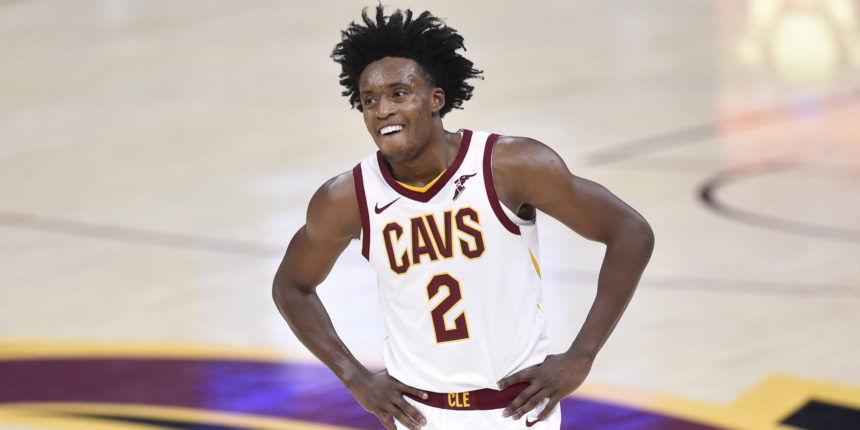 Amid trade and extension talks, Cavs shouldn't rush things with Collin Sexton
With the NBA Draft Lottery behind us, four teams remaining in the hunt for a championship and the 2021 NBA Draft approaching in a little over a month, rumor season is heating up. We've seen coaching changes, hires and fires in front offices and even a rare trade in the middle of the playoffs.
The latest rumblings over the last couple of days involve Cleveland Cavaliers guard Collin Sexton. Multiple reporters, including SI's Jeremy Woo and our own Matt Babcock, say that Sexton's name has surfaced in trade talks.
It's not all that surprising to hear that the Cavs are open to moving the feisty, improving 22-year-old, as he is eligible for a maximum rookie-scale contract extension this offseason worth five years and $168 million, per SpotRac. Woo wrote that Cleveland's front office would rather trade Sexton than give him a lucrative deal that would limit their flexibility going forward.
On lottery night, the Cavs had a little bit of luck on their side, as they bumped up from fifth to the No. 3 overall pick by the end of the drawing. At that third slot, most mock drafts have Cleveland selecting Jalen Green, Evan Mobley or Jalen Suggs; Scottie Barnes has been another popular name. (BasketballNews.com's latest mock draft has the Cavs selecting Green). Cleveland general manager Koby Altman even said in his post-lottery press conference that the team didn't expect to select as high as third, so it makes sense that a wide net has been cast.
If the Cavs end up going with one of Green or Suggs, it's easy to see the "too-many-cooks-in-the-kitchen" scenario playing out. Green is a guard or wing, and Suggs is definitely a guard, so that would leave an odd man out. That presumably would be Sexton or Isaac Okoro, depending on the rotations J.B. Bickerstaff would construct. (After last season's injury-filled debacle, Bickerstaff showed how well he can adapt with what was available, and he wasn't afraid to get creative, so keep that in mind).
Say that is the case and Cleveland goes with one of the Jalens -- should Sexton, who is one of the best scorers in this league and coming off a career season of over 24 points per game with improved efficiency and playmaking, be rushed out of town just because a rookie might reduce his role a little bit? Do we even know if that will be the case? And if that is how things wind up, does Altman have to act swiftly when handling this?
The answer is, "No." The Cavs do not have to make a decision on this right away. The first day that either side can agree to the aforementioned extension (or one similar to it) is Aug. 3., which officially marks day one of the 2021-22 NBA year. They can negotiate up until the day before the regular season begins; if Sexton and Cleveland don't come to an agreement, the fourth-year guard would become a restricted free agent in the 2022 offseason.
(For a reference to that working in real time, see Jarrett Allen's current situation, which Sexton could be in next summer if the sides don't work it out).
Speaking strictly from opinion, sending out a player that a team source described as a "cultural backbone" before he even begins to approach his prime would be foolish. Lest we forget that Sexton -- the human piñata who's taken hit after hit after hit, whether it's been unnamed teammates questioning his knowledge, the public attempting to drive a wedge in between he and his backcourt partner Darius Garland and any other nonsense that he's been unfairly targeted for -- has kept his head down and has kept pushing on. This is a player who has in three years gone through four different head coaches and had a grand total of 52 different teammates (12 of whom he has played in at least 50 games with).
And despite that fact, Sexton was selected to the Rising Stars in his sophomore year after being left out his rookie season. He was a legitimate candidate for the All-Star game in Year 3. When you look at the surrounding circumstances and stroke of terrible injury luck the team went through, it's quite remarkable.
Sexton's not a perfect player by any stretch of the imagination. He has his moments of tunnel vision. He could stand to take more threes (the team wants him and Garland taking up to eight a night). Defensively, the effort is there, but the execution and awareness away from the ball are lacking; it's not the best formula when you're undersized. He needs to be better with the ball in his hands, and particularly, more patient in pick-and-roll situations to let plays develop.
Once again, though, we're looking at labels being slapped onto him after just three years of his career, as if he hasn't made progress and should be a finished product. There is a middleground here that seemingly nobody wants to find, particularly in our new-age infatuation of extremism.
If there's anything we've learned from watching the likes of Ja Morant, Donovan Mitchell, Jamal Murray, Devin Booker, Trae Young and these other young guards bursting onto the scene, it's to see things through. The mid-range game and floaters have been the key to many of their successes, and it's something both Sexton and Garland have implemented in their game. Every franchise is different, and moves must be made to surround Cleveland's core with veterans and supplementary talent.
But could you imagine Sexton with the same spotlight and opportunity? This is a player who nearly led Alabama to victory in a 3-on-5 setting as a freshman on national television. Look up how he's historically performed against Young and his hometown Atlanta Hawks, who are now in the driver's seat in the Eastern Conference Finals.
If you want a more recent example, why not go back to January against the Brooklyn Nets? Young Bull nailed a game-tying three over Kyrie Irving in overtime, and followed it up by scoring 15 of Cleveland's 20 points in double overtime to spoil the debut game of Steve Nash's Big Three. Sexton had 42 points and sent the Cavs to a 7-7 record at the time.
"He's not scared of the moment, and he feels like he belongs," a Cavs team source told BasketballNews.com a couple of weeks ago. "No question [Sexton is built for that stage]."
A trade may not even be an indictment of Sexton and more about the timing, and that's understandable. At some point, the wins have to come along, especially for a team entering its third or third-and-a-half season of a rebuild, realistically; the 2018-19 season was an unmitigated disaster with championship leftovers forced to play with Sexton and guys on 10-day contracts trying to stick in the NBA.
Again, there should be no reason to hurry this hypothetical move. Barring an unforeseen circumstance, it's not like Sexton's trade value would magically evaporate over the course of 100 days. And if you keep him around without an extension, that just gives him the motivation to prove his worth going into a contract year. Being a restricted free agent, the Cavs can match any offer sheet he would receive; the only way he could go elsewhere is if Cleveland allowed it. You don't have to choose one or the other just yet in terms of Sexton or Garland; you may not have to at all.
We're seeing more and more three-guard sets as the NBA trends smaller, and a trio of Garland, Sexton and Green would be the same size essentially as what Cleveland went with last season in Garland, Sexton and Okoro. If Bickerstaff would elect to go the defensive route, the three could look like Garland, Green and Okoro, with Sexton packing one of the most powerful punches off the bench. For years, league officials have believed that is Sexton's ideal role (a la Jordan Clarkson or Lou Williams); that sells his capabilities short, and benching the team's top scoring presence for a rookie could inhibit things, but it could turn out that way if Sexton sticks around. We don't know. Time will tell.
Remember, a lot of this is banking on what the Houston Rockets decide to do with the No. 2 overall pick as well.
What happens if the Cavs want Green, but the Rockets draft him and you've already dealt Sexton away? Now you're really in trouble, and have to bank on an unproven rookie to fill that spot.
Here's an instance that hasn't really been brought up, too: What if the Cavs want Mobley and he falls to them? Say that happens, and Cleveland selects the USC big man brimming with potential. While Mobley's playstyle and body type indicate that he'll be a 4 instead of a 5, would that compromise a potential contract extension with Allen, a restricted free agent?
If that were to happen, there would certainly be no reason to move Sexton, and then Allen's future with the team could be in question, as he'd be due around $15-20 million annually over four or five years depending on negotiations. Paying Allen that kind of money and drafting another seven-footer, with Kevin Love still around, probably wouldn't be the best choice. Particularly because the team is still lacking a primary initiator and ball-handler with size.
There are many decisions that have to be made this summer for the Cavs, including Allen, the draft and free agency, on an immediate basis.
With Sexton, they can, and should, take their time.