In the G League Ignite's inaugural season last year, the program produced several notable NBA Draft picks: Jalen Green (No. 3 overall, Houston Rockets), Jonathan Kuminga (No. 7 overall, Golden State Warriors) and Isaiah Todd (No. 31 overall, Washington Wizards). Former five-star recruit and UCLA commit Daishen Nix didn't hear his name called, but was signed to a two-way contract shortly after the draft. Despite the complications and challenges the Ignite faced with the pandemic last season, I'd say it was a success overall.
This past weekend, I traveled to Des Moines, Iowa to see the new-look Ignite take on the Iowa Wolves (the Minnesota Timberwolves affiliate) in their 2021-22 season opener.
The young Ignite struggled mightily early on versus a talented Wolves team, having trailed 65-34 at halftime. However, with things looking bleak, newly-appointed head coach Jason Hart impressively kept the energy level high. His team subsequently chipped away at the deficit, closing the gap to make it a competitive game in the second half despite ultimately falling, 98-87.
Although the young prospects started off their pro careers with that common "deer in the headlights" look, I found the game to be very fruitful from a scouting perspective, nonetheless. Shareef Abdur-Rahim and Rod Strickland have done a terrific job of carrying over the momentum they created last season, and it's great to see that they have put together another very talented group of young NBA prospects.
Prior to attending the game in Iowa, I had previously crossed paths with the American prospects — Jaden Hardy, Michael Foster and MarJon Beauchamp — multiple times. I have also watched an extended amount of film on Australian prospect Dyson Daniels, who our very own Spencer Davies interviewed this summer too. So I didn't go into that game starting my evaluations from scratch, and had a decent level of familiarity with these young men. That said, this was the first time I was able to see them in their new professional setting — naturally, the next step in my evaluation process.
Here are my thoughts on each of the Ignite's top prospects:
Jaden Hardy
| | |
| --- | --- |
| Height: 6-4 | Position: Guard |
| Weight: 198 | Draft Day Age: 20.1 |
| Wingspan: 6-9 | Nationality: USA |
Jaden Hardy is already well-known as a dynamic scorer. I might even go as far as to call him a potentially-elite scorer. However, in this specific game, he was not. Hardy's game generally starts from the outside. He is a terrific outside shooter with limitless range, which subsequently opens things up for him and allows him to use his explosiveness and finishing abilities at the rim. He clearly wasn't feeling it in Iowa, as his outside shots weren't falling, which seemed to put some additional pressure on him to create more off the dribble and get to the hole. Despite only shooting 1-of-8 from three-point range, Hardy still ended up with 12 points and 6 assists. To be clear, I'm not concerned with one off shooting night at all. I have no doubt that the kid can fill it up.
I'm intrigued to watch Hardy more and get a better feel as to whether he can play some point guard, or if he will be limited to strictly playing as a shooting guard primarily as a scorer. If he is limited to only playing off the ball, I don't think it's necessarily a huge knock on his evaluation; it just changes the outlook as to what his long-term role will be.
I'm also going to be keeping an eye on his defensive fundamentals and discipline. I can't say that I was overly alarmed, but he has a lot of room for growth on that end of the floor. At the same time, similar things were said about Anthony Edwards, LaMelo Ball and Jalen Green at the same stage in their development — and they're all just fine.
We currently have Jaden Hardy at No. 3 on our 2022 NBA Draft Big Board, and I am comfortable with him in that spot for now. At this point, I believe that, in some type of order, Chet Holmgren, Paolo Banchero and Hardy are the "Big Three" of the 2022 draft class.
Dyson Daniels
| | |
| --- | --- |
| Height: 6-6 | Position: Guard/Forward |
| Weight: 198 | Draft Day Age: 19.3 |
| Wingspan: 6-7 | Nationality: Australia |
As opposed to most NBA prospects who I track for years and see in live action before they step into their pre-draft season, this was the first time I had seen Dyson Daniels in person. As mentioned before, I had spent time watching film on him, but I find it hard to get a great grip without seeing a prospect with my own two eyes.
At first glance, Daniels more than passes the eye test. At 6-foot-6 and 199 pounds, he looks like an NBA player. Interestingly, Daniels started at point guard as Scoot Henderson — who will be eligible for the 2023 NBA Draft — was out with a minor injury. Although Daniels looks like he'd be an athletic and slashing wing, his greatest strength is his ability to get to his spots off the bounce. My early impression is that, regardless of what position he plays, his ability to create is what appeals the most.
Daniels showed flashes of major upside as a versatile guard with terrific positional size, but was unassertive, which seemingly led to a lack of production. It was only his first game with the Ignite, so I'm not going to overreact here, but I would like to see him break out of his shell a bit moving forward.
We will be tracking Daniels very closely moving forward, as he has a lot of talent. He is currently ranked 21st on our Big Board.
Michael Foster
| | |
| --- | --- |
| Height: 6-8 | Position: Forward |
| Weight: 250 | Draft Day Age: 19.4 |
| Wingspan: 6-11 | Nationality: USA |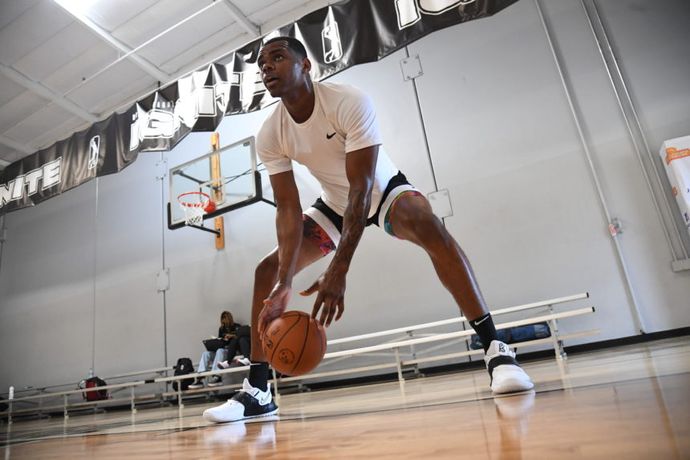 I have seen Michael Foster play in-person many times. There's a lot to like about him — his physical profile, tools and raw skill set are undeniable. He played hard and was terrific on the boards in the game vs. the Wolves, but offensively he left me wanting more, as he has done before. Actually, his lack of self-awareness on the offensive end has made me increasingly frustrated.
When evaluating Foster, I can't help but think about a scene from an old Vince Vaughn movie named, "Swingers." In the scene, Vaughn's character said something along the lines of:
You're a big bear with big claws and fangs, and there's like this little bunny just cowering in the corner. You're looking at these claws, and you're thinking to yourself, 'I don't know how to kill the bunny.'
Although I'll admit the analogy is a bit off the wall, I think it fits. Foster has the physical tools and skills to be such a physical force, but regularly chooses to be a finesse player.
If I were coaching Foster, I would set him on a two-dribble limit and only give him the green light to shoot jumpers off the catch; my hope would be that it would force him to simplify his game. I'd like to see Foster turn himself into a rebounding machine who is constantly looking to tear the rim down, while also being able to hit an open shot from the perimeter. He's certainly capable of doing these things, but he needs to choose to play that way.
I'm not giving up on Foster as a prospect, but I think he needs to make the next steps in his development in order to even come close to maximizing his talent.
MarJon Beauchamp
| | |
| --- | --- |
| Height: 6-6 | Position: Guard/Forward |
| Weight: 199 | Draft Day Age: 20.8 |
| Wingspan: 7-0 | Nationality: USA |
MarJon Beauchamp (@Marjon32) putting his explosion & athleticism on full display with a couple monster dunks, including this one that fired up the Ignite bench. pic.twitter.com/SiZf3d0IBn

— Derek Murray (@DMurrayHoops) October 30, 2021
A couple of years ago, I had the opportunity to spend some time with MarJon Beauchamp and watch him work out after he joined trainer Frank "Hell's Trainer" Matrisciano's Chameleon BX (now Stealth X Athletics). It seems as if the pandemic really threw a wrench in the program's plans, as MarJon has not gotten much exposure since I first saw him. However, as soon as he took the court in Des Moines, it was instantly noticeable that he had transformed his body. Once a skinny kid, Beauchamp now looks like a grown man physically. And you know what? He played like one too.
Tallying 18 points and 8 rebounds, Beauchamp utilized his athleticism to execute various slashing moves, throw down some impressive dunks and contribute on the boards. If he's able to prove to be reliable enough as an outside shooter, I think he'll find a place for himself in the NBA.
Following my trip to Des Moines, I'm not sure any player helped himself more than Beauchamp did. As a result, we have moved him up our Big Board. He is currently ranked No. 48.