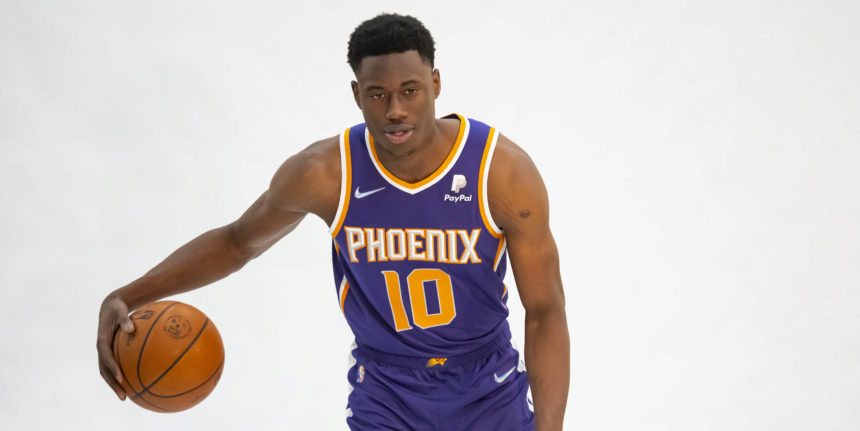 Suns admit drafting Jalen Smith was mistake, decline third-year option
The Phoenix Suns surprised the NBA when they drafted former Maryland big man Jalen Smith with the No. 10 overall pick in the 2020 NBA Draft. Less than a year later (348 days to be exact), Phoenix is already pulling the plug on further developing potentially their last lottery pick for the extended future.
Coming to the conclusion that they swung-and-missed on Smith, Phoenix is already committed to wiping their hands of the mistake as soon as possible. The team declined to pick up Smith's third-year option, which means he'll be an unrestricted free agent after this season.
In 2019, the Suns uncovered a gem when they traded back from No. 6 overall (which became Jarrett Culver) to nab Dario Saric and North Carolina sharpshooter Cam Johnson's rights from the Minnesota Timberwolves. However, the following year, Suns GM James Jones over-calculated and tried to be the smartest one in the room in terms of his evaluation of Smith. The big man was projected as a mid-to-late first-round pick by most credible draft experts, which is why jaws dropped when the Suns reached for Smith with a top-10 selection.
Smith's season in the Valley was somewhat tumultuous. He was outside of Phoenix's rotation, so he saw some time in the G-League with the Agua Caliente Clippers and didn't stand out. That was the first real sign of concern. Then, in his first-ever Summer League action, Smith continued to be just a guy rather than showing some real promise against many players on the NBA bubble.
Smith was soon involved in trade rumors, with the Suns reportedly trying to package him for a win-now veteran piece to bolster their second unit. Nobody bit on a former lottery pick less than a year after he donned a Suns hat on draft night. Thaddeus Young was the Suns' top target, and now you have to wonder if those talks will intensify with Smith's option declined and Young barely logging minutes in San Antonio.
Once news leaked from The Athletic's Shams Charania on Monday morning, Suns head coach Monty Williams spoke of Smith's situation after practice. In short, Williams summarized that Phoenix's plans for Smith changed after Chris Paul and Jae Crowder arrived that same offseason. If that's the case, yikes. What a waste of a potential long-term asset and investment.
"He hasn't been dealt the best hand, as far as just not being a rookie but being a rookie [and] all of a sudden everything changed when we got Chris and Jae. All of a sudden, our trajectory changed," Williams said. "So, instead of being a young guy who could just come out and play with Mikal (Bridges) and all the young guys we had, he got COVID. Got drafted, two weeks later he's in training camp. He's had a whirlwind, so it's hard to grade him because he hasn't had the chance to play. And I feel somewhat responsible for that, but it's just been the cards we've been dealt."
Smith was short and to the point when asked about it on Monday.
"You just control what you can control," Smith said. "Just come here and hoop. That's my job, just coming in here and hooping. All that outside stuff handles itself."
As you can tell, Smith didn't really dive into his thoughts on the situation. But from a historical perspective, Smith joins Earl Clark (2009) and Kendall Marshall (2013) as the Suns' only lottery picks in recent memory to have their third-year options declined. It's a damning indictment when you realize that Suns busts from 2016, Dragan Bender and Marquese Chriss, didn't suffer the same fate.
Smith was supposed to develop for a few years behind Saric (and now JaVale McGee), then assume the long-term role of unique two-way connector for the Suns' second unit (backing up Deandre Ayton). Less than a year later, the Suns are ready to completely move on. If this was just about limited opportunities for playing time on a win-now contender, it seems unlikely that Phoenix would decline his third-year option. It seems that the Suns' decision-makers haven't been impressed by Smith behind the scenes.
Imagine the possibilities for Phoenix's long-term future if they would've hit on their last lottery pick for potentially the rest of the 2020s. They passed on all of the following prospects for Smith: Tyrese Haliburton, Devin Vassell, Saddiq Bey, Tyrese Maxey and Desmond Bane among others. After losing Torrey Craig in free agency, Vassell, Bey or Bane would've been ideal replacements. Haliburton or Maxey being tutored by Paul before eventually taking the reins at point guard would've been incredible for all involved (although Haliburton seemd intent on landing in Sacramento).
Now, the Suns will let Smith enter unrestricted free agency after his second NBA season. Look for Phoenix to soon try to package Smith with salary filler in an effort to make a move that improves their 2021-22 title chances. It's a sudden fall from grace for Smith, but one that's necessary with player and organization being on opposite ends of the spectrum with prioritized development.
"If he just plays with energy, defends and rebounds, he could find himself a box. It's just hard to get him on the floor where we really can see what he can do, because when you're playing two, three, four minutes, it's hard to get a rhythm," Williams said. "That's the part where you just feel bad for him, because he just works his tail off. He's in the gym every single day. He doesn't miss days. He just hasn't had the chance to carry it over to the floor... When he's out there, we saw it the other day, like the blocked shot he had. Not many guys can do that on the move."
Smith's days in Phoenix are numbered, and it'll be interesting to see whether the 21-year-old is able to realize his full potential elsewhere in the Association.