The Little Guy From Bendigo doesn't quite roll off the tongue like Just A Kid From Akron, but like LeBron James, G League Ignite guard Dyson Daniels is trying to make his hometown famous.
It's apropos that Daniels is channeling his childhood hero, though his country neighborhood in Victoria, Australia is more rural and smaller than that of LeBron's well-known abode in Northeast Ohio. It's also located on another continent in another hemisphere, a place that many people in the United States have never heard about.
From news articles to funding to general support, Daniels has felt the love from his local community. So what better way to return the favor than to make it to the NBA?
"I try not to take it as pressure, but I'm trying to do everything to get Bendigo and Australia on the map," Daniels told BasketballNews.com in a Zoom video interview. "Just be the best version of me I can and do my best."
He's chosen to do that with the Ignite in America, as opposed to committing to college or signing with the popular National Basketball League Next Stars program close to home, a route he was extremely close to picking.
"I was almost certain on it before I got offered to go play on the G League Ignite squad. I was almost certain on going to the NBL," Daniels said. "That's obviously a very good pathway as well. We've seen it with [Josh] Giddey and a few other players.
"But I think just the overruling factor was talking, having a few Zoom calls with [former Ignite] head coach Brian [Shaw] and [G League president] Shareef [Abdur-Rahim], and them telling us about the development you're gonna get on and off the court. You're gonna be busy all day doing basketball things and helping to get better life skills and stuff like that. But yeah, I think I made the right decision and I'm ready to get started."
Just over a week ago, Daniels made the trek to America to begin a new chapter of his basketball journey in California. He'll be one of the standout prospects joining the likes of Michael Foster, Jaden Hardy, Scoot Henderson, MarJeau Beauchamp and Fanbo Zeng as a part of a highly-regarded Ignite squad.
In one of his first workouts following his arrival, Daniels got to exchange pleasantries with Jason Hart, the team's new head coach following Shaw's departure to the Los Angeles Clippers.
"It was good to catch up with him," Daniels said. "That's the first time I've ever seen him in person, but he believes in me. You've gotta earn your playing time, so when training [camp] starts, I'm gonna put in [the work] and I'm gonna make sure I earn it."
Fans and even front office decision-makers may be unfamiliar with Daniels and his skill set, as there's little film and box-score research that can be done on the 18-year-old. For some, that unknown factor might be cause for hesitation. Daniels, however, sees that as a golden opportunity to show what he's made of.
"I try not to get in my head [and be] too involved in the mock drafts and things like that, but I guess being there, people haven't really seen me as much as some of the other guys," Daniels said. "That's good for me, and I'm just here to show 'em that I'm gonna put in the work and try to get my name up top once they see me more. But yeah, ultimate goal is to go No. 1."
Daniels describes his game as "unlike anyone else's." He doesn't model it after anybody, instead taking bits and pieces from multiple pros. Using his favorite NBA player, Russell Westbrook, as a blueprint, Daniels emulates a similar mentality. He likes to interrupt passing lanes and intercept the ball to get out into transition as his fellow Aussies, Ben Simmons and Matisse Thybulle, often do.
Defense leading to transition chances, he relays, is a signature tool in his arsenal.
"That's how I generate a lot of my offense. I like to think of myself as just 'smart' defensively, being able to get steals, being able to guard 1-through-4, some 5," Daniels said. "Get steals, play smart, rotate and generate offense then. But I'm a playmaker, I'm a big point guard, 6-foot-6, so I like to make plays off the dribble for my teammates and myself. Get into lanes and use my floaters is one of my keys."
Basketball News Lead NBA Draft Analyst Matt Babcock provided his own scouting report on Daniels:
Dyson Daniels has positional size, can create with the ball in his hands and is a terrific slasher and capable outside shooter. He has a lot of upside and is a high priority on our watch list for this upcoming season.
Once Daniels acclimates to the Ignite environment in Walnut Creek by getting to know his teammates and running through a few practices, he'll set more short-term objectives for himself. For now, he's been in the gym with trainer Jordan Lawley in L.A. to address some areas of his game that can be refined.
"Just become a more consistent shooter, just tweaking a few things in my shot preparation that I need to do better," Daniels said. "But I'm sure that's gonna come. It's come along nicely already. But that, and then tightening up my handle. I'm a bit taller [of a] point guard... some of those little guards can get in underneath you, so I'm sure that's what's gonna happen this year in the G League. Just tightening up my handle and being ready for anything are some things I'm trying to improve on."
While he may have solid size and length now, it wasn't always that way for Daniels. Now at 6-foot-6, he argues that having to pick up skills when he was little helped him become the player he is now.
Daniels remembers being a small six-year-old kid playing point guard for a Division III team in a U-10 league, erratically sprinting on the floor and turning the ball over frequently. But from the day he touched a basketball, Daniels knew he was "made for it." He would watch the NBA, NBL and any other hoop programming that would hit his television screen.
His father, Ricky, played two years at NC State and starred for the Bendigo Braves when he was younger. While his mom, Brikitta, has gotten Dyson right in terms of manners and keeping him in line, Ricky has helped Dyson from a young age in the backyard.
"Both my parents have helped me a lot just to become the person I am," Daniels said. "It's really good to have them and I get pointers off them... My biggest support system is my family, my close friends, close coaches and things that I have like that."
Daniels never stopped progressing, though, and began to make Division I teams in his pre-teens. Once that started happening, it caught the eyes of coaches near and far.
When he was 15, Daniels followed in his dad's footsteps by joining the Braves for a season at home in 2019. It was his first taste of semi-professional basketball, and matching up with bigger bodies was advantageous. But Daniels' stock began to soar as soon as he moved to Canberra with the NBA Global Academy later that year.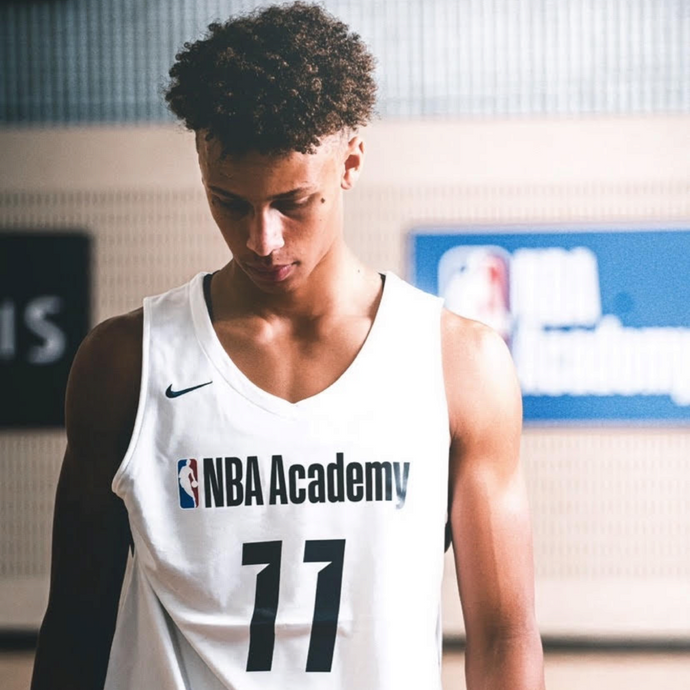 He's thankful for the entire staff, from NBA international director of basketball operations Chris Ebersole and content/program development lead Marie-Laurence Archambault in New York, to the coaches, trainers and everybody involved for the chance to be a part of the program. Competing in tournaments in Europe and America was paramount to his development, and he learned crucial off-the-court lessons in addition.
"I've changed so much — the person I am, the confidence I have now, the coaching that I was able to get there was phenomenal. We had the [Centre of Excellence] coaches as well. Going in there as well [at 6-foot-2], I was a little scrawny kid. Coming out, I've got a much bigger body... I had a huge growth spurt, 6-6. That helped me 'cause I was a point guard and already had those skills; it helped me, being 6-6, to still being a point guard.
"So just building my body, building my life skills, building my basketball. They've helped me be able to see the floor better. I think IQ's something I've always had, but they've helped me to use it more and use it to my strengths. I've just learned so much from them.
Daniels is poised to become the second player in NBA Academy history to be drafted. The first was fellow Aussie Josh Giddey, whom he's been tight with since the duo's U-12 days playing for Victoria. They keep in touch and congratulate one another on their successes, so Daniels was thrilled when the Oklahoma City Thunder selected Giddey at No. 6 in the 2021 NBA Draft.
"It was huge, man. I've known Josh for a while and seeing him put in the work when I was with him in the NBA Academy and then, get the opportunity to play in the NBL with the [Adelaide] 36ers and he excelled there, and he deserves every bit of it. It was really good seeing him [get drafted] and it was really good being able to play alongside him as well. That's my boy and I'm happy for him."
The progression for Daniels at the Academy paid off this past February, as the Australian senior national team brought him in to be a part of the FIBA Asia Cup Qualifiers. In his only game, Daniels led the team over New Zealand with 23 points, 6 steals, 4 assists and 3 rebounds.
🇦🇺 17-year-old @DysonDaniels put on a show for the Boomers in their win over New Zealand #FIBAAsiaCup

📊 23 PTS | 4 AST | 3 REB | 6 STL pic.twitter.com/5iuKo09tK7

— NBA Australia (@NBA_AU) February 20, 2021
"That was really big for me as well. Being able to play for the Boomers in the Asia Cup Qualifiers at such a young age, some people don't get that opportunity," Daniels said. So obviously to be able to play, but to be able to have a really good game, that got me world looks and it helped me get to [be noticed]. [I'm] grateful for the opportunity from Adam Caporn to be able to play for the Boomers."
His momentum didn't stop there, either. He was a critical contributor for the Boomers' U-19 squad in FIBA Basketball World Cup play, averaging 14.0 points, 5.3 rebounds, 4.6 assists and 2.3 steals over seven games.
Spending time with the Boomers, Daniels has developed a relationship with former NBA veteran Matthew Dellavedova. It's ironic because he remembers being eight years old attending a Peak event where both ended up doing basketball drills together. Fast-forward to today, and they're teammates representing Australia, and Daniels gets advice from the champion guard when he asks for it.
The Little Guy From Bendigo hasn't done too bad for himself, and the fun part has just begun. Daniels is preparing for his first season at the professional level, which is step one toward Daniels finding himself in NBA threads come this time next year.
"I always want to be in the gym. I always want to be the best I can. I'm sure some people have them about 'em as well, but I don't want anyone to outwork me. I want to be the hardest worker there is," Daniels said.
"It's a great feeling. I think in terms of feeling ahead of people, I wouldn't say I do. There's options for everyone that they can choose, like what they want to do with their careers and that. But choosing a professional career for me, I think was the right choice, and I'm ready for it. So yeah, I'm ready to get started and I'm very excited for it."