It's not often that an aspiring professional basketball player makes their debut on the big screen and the NBA hardwood simultaneously, but Michael Foster is right on track.
Projected as a first-rounder in the 2022 NBA Draft, the burly 18-year-old power forward is set to appear in Adam Sandler's upcoming Netflix film, "Hustle," in a small role. There's no concrete release date, so it's conceivable that Foster will kick off his NBA and acting careers in the same year.
"That opportunity really came out of nowhere," Foster told BasketballNews.com in a phone interview. "I was at a tournament when my guy Avery [Smith] had told Chianti [Clay Sr.] about it, and then Chianti told me that I had to do a little audition. I'm like, 'I gotta do an audition?'
"It seemed so simple. I had to just dunk the ball, turn around, say a couple lines. But it's tough once you've got two phones recording you, flashlight on. It's like, 'Aw, you've got to say it like you really mean it.' It's tough, but I got through it and they liked it and now I'm there."
Before either happens, however, Foster has the task of spending the next season preparing in Walnut Creek, California with the G League Ignite. Though it won't technically be on the top stage, this will still be his introduction to the pro level. He'll be competing in games against former NBA players scattered throughout the G League, as well as practicing against former pros and other top prospects on the Ignite (including Jaden Hardy, Scoot Henderson, Dyson Daniels, MarJon Beauchamp and Fanbo Zeng).
Foster already got a taste of what that will be like. While he was in Los Angeles in early August, he participated in scrimmages with players from the Sacramento Kings and Detroit Pistons for a few days prior to NBA Summer League. He played with a number of guys who were a part of the 2021 draft class as well, so he got a little bit of a head start before the Ignite start camp for the upcoming campaign.
"It's pretty fun [knowing I'm getting ready for my first pro season]. It motivated me a lot to get up every morning, go extra hard in the gym, push myself," Foster said. "Of course I've never played an NBA game, but I've been hooping with a couple professional basketball players... I'm an open book for anything. I know the game's gonna be different — the speed of the game, the physicality, all things like that — so it's just a mental state I've gotta keep myself in."
It always helps to have an NBA-ready body before you get there. At 6-foot-10 with an imposing 220-pound muscular frame, Foster has that part taken care of — and he might not be done.
"I'm growing by the month actually," he said with a laugh.
May 10, 2021
Foster believes that his strength separates him from the pack, but he knows that this alone won't get him very far.
"I know everybody be like, 'He got a pro body already,' but people don't understand that one of the major things on the next level is being able to control your body, be able to guard bigger, better players, faster," Foster said. "You go in there — and it's no offense to the skinnier and little guys — but at some point, you're gonna have to hit that weight room... unless you leap like Kevin Durant, and it ain't that many people like that."
When asked if he feels he'll be able to beat up players at the next level, Foster doesn't hesitate.
"Ain't no question. Playing against a couple pros, everybody be like, 'Oh my God, his strength is on another level.' But I'm still learning to control my strength and my body control and things like that..." he said, before adding that he wants to be a multi-dimensional player.
"I probably look at the game differently... Once you're bigger — 6-foot-8, 6-foot-10, 6-foot-9 — everybody wants to be that forward that can do it all, [like] Kevin Durant or LeBron James. I'm pretty sure everybody's mimicking their game after them too."
Foster believes his best attributes are "my strength, my speed, the way I move [despite being] this big of a guy." He is extremely confident in his scoring, rebounding and shot-blocking abilities. He additionally insists that he's a good defender who can guard 1-through-5 and play positionless basketball. As for aspects he needs to improve on, Foster points to his outside stroke and decision-making with the ball in his hands.
"My shot selection. Like, take the first one instead of taking the hard one, turning to a stepback, doing fades when I don't got to," Foster said when asked of what he's got to get better at. "And overthinking sometimes, for sure."
BasketballNews.com's Lead NBA Draft Analyst Matt Babcock is a big believer in what Foster brings to the table, especially after watching Foster work out a few weeks ago.
Michael Foster's physical profile and athleticism are intriguing as he is 6-foot-9 and possesses extreme power and explosiveness. He also has a solid skill set, including an ability to shoot the ball from outside. This year while he is with the G League Ignite, I'd like to see him simplify his game. If Foster limits how much he tries to do off of the dribble, improves his shot-selection, and uses his physical tools more effectively, I think he will elevate his game and draft stock exponentially.
It was great to see Michael Foster before he heads out to join the G League Ignite.

Foster possesses big-time physical tools and major upside. I'll certainly be tracking him closely this season in preparation for the 2022 NBA Draft. pic.twitter.com/w381xbDtNO

— Matt Babcock (@MattBabcock11) August 18, 2021
The Ignite's roster features plenty of future NBA talent for Foster to develop alongside. Aside from the highly-talented Jaden Hardy (whom he's gone head-to-head with in high school), Foster doesn't have previous relationships with his new teammates. He keeps in touch with Hardy and Scoot Henderson over texts here and there, and they've all been getting to know one another while taking a financial literacy class together via Zoom.
In late July, it was announced that Jason Hart would be taking the Ignite's head-coaching reins from Brian Shaw, who took an assistant coaching job under Tyronn Lue with the Los Angeles Clippers. During the the team's mini-camp last month, Foster said that Shaw informed the group of his plans to pursue an NBA coaching opportunity that he'd been chasing. The message? That this is a business and when chances like that come along, you've got to do what's best for your family.
Foster said that he's had some brief conversations with Hart, whom he met in Los Angeles while working with NBA shooting specialist Chris Matthews, known as "Lethal Shooter" on social media.
"He's a cool guy," Foster said of Hart. "He understands that the game is evolving. He understands he's got young guys going against older, stronger guys. He told us that they're gonna want to play on their [own] level. They're gonna try to slow the game down, this and that. But he said we've got to do our best to speed 'em up and keep our composure."
As we saw in this most recent NBA Draft, the Ignite program helped elevate its inaugural prospects into top-tier picks. Foster relays that seeing Jalen Green go No. 2 to Houston and Jonathan Kuminga go No. 7 to Golden State on draft night only solidifies his trust in the Ignite and what they can do for him.
Foster is quite familiar with both of those guys, as well as Isaiah Todd (No. 31 to the Washington Wizards). He and Green were on the same Team USA junior squad, and the two shared Co-MVP of the 2019 Chick-Fil-A Classic. And before Kuminga reclassified, he and Foster were in the same class.
"We was debatable; they had me I think like fifth [overall] and he was No. 1, but we was always the two cats... [Like], 'Okay, them pros. It ain't too many people like that in our class of 2021,'" Foster said of Kuminga. "He went there [to the Warriors]. He boosted my confidence by that. The G League did a great job making him who he is today. That right there just made me like, 'Okay, they're really over there wanting better for the kids.'
"We always had that competitive edge, being debated as the two best in the class. Of course we're going at each other every time we'd see each other. So [I'm] pretty sure that he knows about me; we for sure know about each other."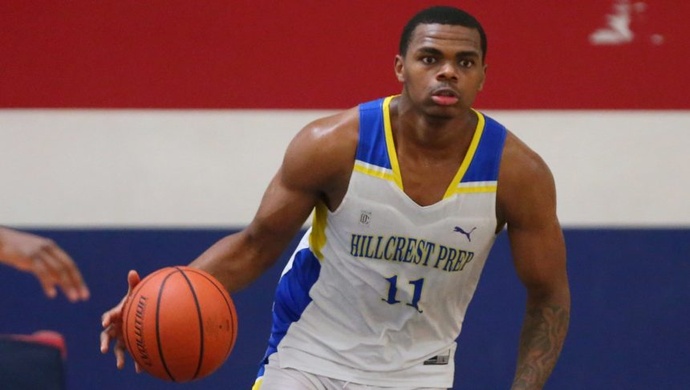 As he's embarked on this journey from his hometown of Milwaukee to Hillcrest Prep in Phoenix to the West Coast, Foster has leaned on his strong support system. Chianti Clay Sr. (his coach and mentor) and Chianti Clay Jr. (his coach's son and former teammate, who's a great prospect in his own right) have been by Foster's side since his middle-school days. Avery Smith and Josh Williams are "his guys" who work out with him and help motivate him. Foster's mother, sister, brother and father support and pull for him too.
"In my inner circle, I've got them wanting me to be the greatest I can be. And that's also my mindset. My mindset is the main thing," Foster said.
Clay Sr. told Foster that he's different from any of the other players he's taken under his wing.
"He had plenty of guys that could've made it out of Milwaukee, but they decided to do anything that got theirself put in a different situation. But me, see, I'm just different. I'm more low-key of a guy," Foster said. "I've got one goal in life, and that's to become an NBA player and take care of my family. Ain't nothing gonna stop me from getting there. God forbid I get injured or anything like that, but I feel like I can bounce back from anything if I really put my mind to it."
At Hillcrest Prep, Foster averaged 32.2 points and 18.4 rebounds per game during his senior season. He was an All-American who tore up the high-school scene as the No. 7 prospect in the 2021 class before becoming the Ignite's first commit for the 2021-22 season. The school hadn't seen that kind of dominance from a big man since Deandre Ayton.
In an interview last winter with The Arizona Republic, Foster sternly spoke about being associated with the Phoenix Suns star: "I want to be better than him."
That sentiment has not changed, and now a year away from achieving his NBA dream, his objectives extend beyond himself.
"Being the best I can be, that's one goal," Foster said. "I don't know what the [Ignite] record was last year, but the team goal is to have a better record [than 8-7]. Go for the championship for the G League or being a better playoff seed than the previous year.
"Of course, I want to get my numbers up, but you know, you've got to do what you've got to do first. To get your numbers up, you've gotta play team ball, you've got to play more games. So that's the goal, be a better team than last year."