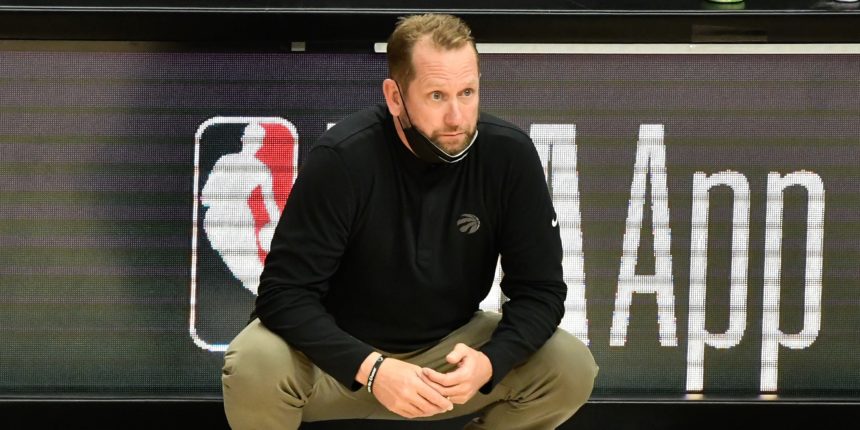 A timeline of the Raptors' coaching losses under Nick Nurse
It's no secret that the Toronto Raptors have cultivated quite the culture of improvement and development over the last half-decade. What may not be common knowledge is how this commitment to development and steady growth has extended beyond project players and a highly-touted G League system to their coaching staff, too.
Nick Nurse himself embodies this transformation.
The three-year head coach began with five years of assistant coaching duties under former leader Dwane Casey. Nurse's unusual journey to the big leagues — from working the international circuit and through multiple G League associations, to serving as shooting coach for the Raptors while he was working toward a doctorate in sports leadership and philosophy — has shown us the upward trajectory the coach has been on over the years.
Chris Finch's brief stint on the team during their 2020-2021 Tampa Bay relocation ended mid-season when the Minnesota Timberwolves offered him a head coaching position. The offensive guru has had a similar evolution as Nurse, with both their careers mirroring one another and featuring multiple run-ins in the British Basketball League. Known for his ability to maximize big men with his history alongside players like Nikola Jokic and DeMarcus Cousins, Toronto fans were excited to see how Finch would aid Pascal Siakam in his new role as lead offensive creator for the team.
The Timberwolves acquiring Finch for a young Karl-Anthony Towns on the cusp of his prime was a simple decision, but it's reasonable to assume that even a half-season alongside a championship head coach such as Nurse — one who is constantly praised for his innovation within the modern NBA — would pique interest across the league as teams looked to revamp their approaches. Nurse has embraced the "mad scientist" stereotype time and time again. Unafraid to fail and unafraid to see what sticks, we've seen the influence his schemes have had on coaching styles across the league's other 29 teams. The resurgence of zone defenses within the last couple of years and the usage of the box-and-1 are just a couple of examples of ideas he's helped normalize and popularize in the modern game. Offensively, normalizing double-point guard backcourts and matchup-dependent, double-center frontcourts are features in two-way play that no longer confuse viewers today.
Another recent beneficiary of Nurse's tutelage is former Raptors assistant Nate Bjorkgren. Hired by the Indiana Pacers after the firing of Nate McMillan, Bjorkgren's rapid ascent (and descent) over the course of a single, volatile season as head honcho is an example of how close proximity to Nurse may guarantee access, but not success. The optics were only worsened by McMillian's awe-inspiring run with the Atlanta Hawks and their Eastern Conference Finals appearance. In a single-year, head coach McMillan reinvigorated a young squad led by a boyish Trae Young who has established himself as a major player in the conference after a host of iconic postseason performances this year. Indiana, on the other hand, has dealt with numerous disruptions due to trades, injuries and a lack of chemistry. It all culminated into leaked stories of workplace unhappiness, accusations of micromanagement and his eventual firing. None of the characteristics that made Bjorgren a staple of Toronto's front bench had a chance to peek through — traits like an emphasis on transitional defense, three-point attempts and inventive out-of-bound plays.
This all leads up to the Warriors' landing Jama Mahlalela in addition to Kenny Atkinson on July 8, just a couple of weeks ago. Mahlalela has been a figure of the Raptors' "We the North" years, personifying the very culture the organization has become known for. SB Nation's Raptors Rapture contributor and Locked On host Sean Woodley wrote the following of Mahlalela's departure: "[T]his assistant loss does sting a little more than usual, though. Mahlalela got his start with the Raptors in the mid-aughts in the team's community development department, and worked his way up the ladder to become an assistant coach in 2013-14."
According to sources, Mahlalela has already gone to work in San Francisco. Both Atkinson and Mahlalela have deep roots in culture-building and player growth (think of those fun Nets teams Atkinson helped cultivate), so their integration into a Golden State team looking to unlock a high potential talent like James Wiseman makes plenty of sense.
Although the losses likely do sting for the Raptors' staff and fans alike, Nurse and the team's front office must relish their ability to nurture skill and get players and other team employees their deserved pay and promotion. The willingness to take a chance on those who haven't gone through traditional avenues en route to their entry into the NBA signals a confidence in their program few teams exhibit.
It'll be exciting to see who the next undrafted wonder or international coaching savant is next on the docket for Masai Ujiri, Bobby Webster and company.