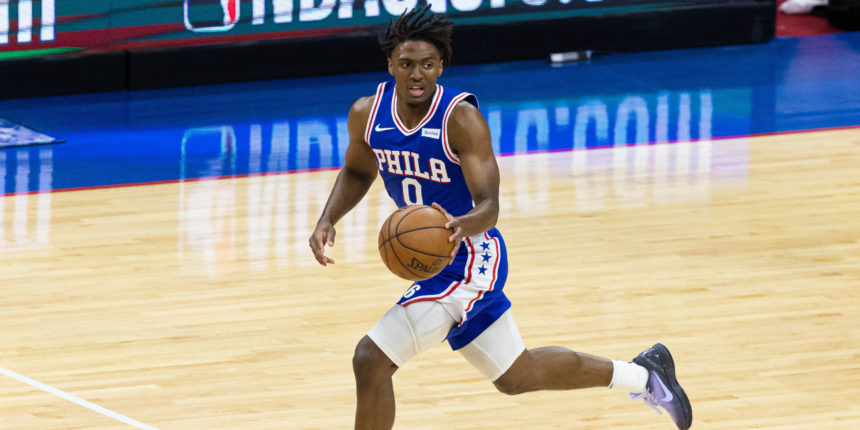 5 NBA players poised for breakout sophomore campaigns
Last season, the knock on the 2020 NBA Draft class was that it lacked star power. The narrative was that the class didn't have a can't-miss prospect and that it was weaker than other drafts in recent memory. However, the 2020 class ended up exceeding expectations, with LaMelo Ball, Anthony Edwards, Tyrese Haliburton and Co. shining as rookies.
After making the leap to the NBA in the midst of a worldwide pandemic, these players didn't have a Summer League or typical offseason as they got acclimated to the league. With that said, a steep adjustment curve should've been expected for the 2020 rookie class.
Looking ahead to the 2021-22 season, there are many sophomores poised to break out as they take on more responsibilities and continue their development. So, which prospects are ready to take the Year 2 leap? Here are five second-year players who are taking on increased roles and should have an opportunity to shine on their respective teams.
PATRICK WILLIAMS, CHICAGO BULLS
The Chicago Bulls stunned the draft community when they selected Florida State wing Patrick Williams with the No. 4 overall pick last November. Coming off the bench for the Seminoles, Williams' stats didn't jump off the page, but he continuously displayed an intriguing array of skills that were moldable to today's NBA. Also, as one of the youngest prospects in the class, Williams' upside was immense compared to other wings who may contribute more right away.
After Williams' rookie season, it's fair to say that he emphatically passed the eye test with Chicago. Williams started all 71 games he appeared in, averaging 9.2 points, 4.6 rebounds, 1.4 assists, 0.9 steals and 0.6 blocks while shooting an eye-opening 39.1% on three-pointers. Williams fits the modern 3-and-D archetype that every organization covets, but he's much more than that.
During this year's NBA Summer League, Williams had the ultimate green light, and he asserted his dominance early and often for the Bulls. Projected as the starting power forward alongside a loaded lineup of Lonzo Ball, Zach LaVine, DeMar DeRozan and Nikola Vucevic, Williams is the true X-factor for a win-now Bulls team. He'll serve as the versatile, low-usage glue that holds it all together.
However, if we continue to see the aggressive version of Williams during the regular season, he'll force the Bulls to run some sets for him. After already showcasing an extremely high floor as a multi-positional defender and floor-spacer, Williams should continue his ascent into becoming one of the most polished products from the 2020 draft class.
ISAAC OKORO, CLEVELAND CAVALIERS
Cleveland's young core added another piece to their puzzle recently, trading for Lauri Markkanen to add more frontcourt depth alongside No. 3 overall pick Evan Mobley and $100 million man Jarrett Allen. Darius Garland and Collin Sexton make up a score-first backcourt with immense upside, but Okoro, like Williams, figures to be a two-way threat who holds everything together. Okoro also flashed improvements during his stint in Las Vegas, showing off his improved playmaking and scoring abilities.
If Okoro ever adds a reliable jumper to his arsenal, he's going to make the Cavaliers' core even more appealing from the outside looking in. Okoro's aggressive nature already allows him to make an impact on both ends of the court, but certain elements are still missing on a consistent basis. You need to watch Okoro to appreciate his contributions outside the box score. Now, with more offensive artillery surrounding him, plus Mobley and Allen in the frontcourt, Okoro will help form the backbone of a team that could quickly become one of the more frightening defensive teams in the NBA.
JAMES WISEMAN, GOLDEN STATE WARRIORS
Dealing with injuries and a playing style too advanced for his raw skillset, Wiseman struggled big-time throughout his rookie campaign. Some Warriors fans were even calling for GM Bob Myers to offload the No. 2 overall pick for a win-now player who could help the team contend for another championship.
The Warriors decided to be patient with Wiseman, giving him more time to develop and believing in his long-term talent. Before Wiseman went down late in the season, he was gaining a rhythm with Stephen Curry as Golden State began to run more pick-and-roll actions to best suit his game.
With a full year within an NBA organization, Wiseman should see a significant jump during his sophomore season, especially with the long-awaited return of Klay Thompson. Playing alongside Curry, Thompson and Draymond Green, Wiseman will fill a simple role for the Warriors: rim-run and hustle as a defender who can help anchor around the basket.
Wiseman's efficiency should increase as Golden State continues to run more pick-and-roll concepts, plus the added gravity of the Splash Brothers backcourt will make life so much easier for him inside.
Wiseman is Golden State's revved-up version of Andrew Bogut, JaVale McGee and Kevon Looney. If the Warriors decide to prioritize Wiseman's development moving forward, his game should grow by leaps and bounds at a rapid rate.
AARON NESMITH, BOSTON CELTICS
Nesmith was an absolute flame-thrower for the Boston Celtics during Summer League, averaging 17.4 points and 6.2 rebounds on 50% shooting. Coming out of Vanderbilt, Nesmith was known as a sharpshooter wing who could quickly translate to the NBA. However, in a loaded Celtics rotation last season, Nesmith had a hard time carving out a consistent role.
With the losses of Kemba Walker and Evan Fournier, more opportunities should open up for the promising second-year wing, who can become a key reserve off Boston's bench and provide a scoring boost. Nesmith's versatility also allows him to play real minutes alongside the Celtics' dynamic under-25 duo of Jayson Tatum and Jaylen Brown. Imagine the damage a wing lineup featuring Tatum, Brown and Nesmith could do against smaller-sized rotations.
Nesmith only played 14.5 minutes per game in 2020-21, so he should see a 10-plus minute bump for 2021-22. A youth movement is underway for the Celtics, while the team also maintains their playoff aspirations. If the Celtics want to overachieve next season in an improved Eastern Conference, not only will Tatum have to be a borderline MVP candidate, they'll also need Nesmith to be an important contributor on a nightly basis.
TYRESE MAXEY, PHILADELPHIA 76ERS
I'm all-in on the potential of Maxey. During the Philadelphia 76ers' disappointing playoff run, Maxey seemingly usurped Ben Simmons, who is on a max contract, for their primary point guard duties moving forward. If Simmons ends up being traded, which both sides seem to want at this stage, Maxey's immediate value rises exponentially.
Maxey is a score-first guard who can play on or off the ball, a perfect complement to the paint gravity Joel Embiid provides for shooters. The former Kentucky Wildcat also offers scrappy defense and an aggressive scoring style that allows him to hit shots from all three levels.
After only playing 15.3 minutes per game last season, Maxey's role should double moving forward. He's flashed way too much potential not to break out in a massive manner for Philadelphia in 2021-22.
If Simmons is gone, Maxey could realistically be in a 25-to-30-minute-per-game role for the Sixers as a combo guard who can play alongside any of the Sixers' sharpshooting guards.
In two Summer League games, Maxey looked like the best player on the court, averaging 26.0 points, 4.5 assists and 2.0 steals. Bested by only Brooklyn Nets rookie Cam Thomas in the scoring department, those two joined Damian Lillard and Donovan Mitchell as the only players in Summer League history to average at least 26.0 points per game. That's amazing company to be alongside.
Buy up all the Maxey stock while you can, because the 20-year-old seems poised for a huge boost.