Every season, a few teams undershoot expectations. Whether due to injuries, poor planning or an influx of talent in their division or conference, it's always inevitable.
This season will be no different.
Team building is hard work. After countless hours of scouting, reviewing film, practice and deal-making, health and circumstance play just as much of a role as anything — and have negatively impacted all three teams of the teams cited below.
In some cases, the 2021-22 season will be a minor hiccup. But for others, it could mark the end of an era, and could derail an otherwise successful rebuilding "process" (wink, wink). Considering that these situations usually blindside us, let's try to get out ahead of them this season. With that in mind, let's identity three teams who I think will regress from 2020-21.
Los Angeles Clippers (47-25)

Previous Season: Pacific Division, 2nd; Western Conference, 4th; Eliminated in the Western Conference Finals
Of all three teams mentioned here, the Clippers are the most obvious. Why? Because Kawhi Leonard suffered a partially torn ACL last postseason. He had surgery on July 12, and he'll miss a good portion of the 2021-22 season, if not all of it. Leonard, who is always in contention for MVP (when healthy), averaged 24.8 points, 6.5 rebounds and 5.2 assists per game last year. That's a lot of production to make up for... and frankly, the Clippers are unlikely to make up for all of it.
The Clippers' offseason didn't really help matters either. Signing Justise Winslow was a low-risk, high-reward move, but he won't come close to replacing Leonard's output. They brought in Eric Bledsoe via trade. The deal cost them Patrick Beverley, Rajon Rondo and Daniel Oturu. In total, that transaction was about cutting costs, not adding talent. And yes, the Clippers cut down their luxury tax payment and secured an $8 million trade exception, but they're still looking down the barrel of the luxury tax this season, and next. So how much did they really accomplish?
More importantly, Beverly and Leonard were instrumental it terms of establishing an identity. But maybe this is more strategic than is seems. The Clippers may have just punted on 2021-22 in hopes of a better season in 2022-23. But regardless as to what their desires are, the Clippers will not be overly successful this season, at least relative to recent outcomes.
2021-22 Prediction: Pacific Division, 4th; Western Conference, 8th; First-round elimination.
Philadelphia 76ers (49-23)
Previous Season: Atlantic Division, 1st; Eastern Conference, 1st; eliminated in the Eastern Conference Semifinals
The Ben Simmons saga will hurt Philadelphia. And it will hurt badly. Simmons was easily the 76ers' second-most important player. He was a DPOY candidate last season who averaged 14.3 points, 7.2 rebound and 6.9 assists per game. He might not be an ideal fit alongside Joel Embiid, but he's an uber-talented player who's been receiving seriously unfair treatment since the 2021 postseason.
But partially as a result of comments from head coach Doc Rivers and Embiid following their Game 7 loss to the Atlanta Hawks in the Eastern Conference semifinals, Simmons refuses to take part in any activities with the 76ers moving forward. And given the drama surrounding Simmons and the team, Philadelphia is unlikely to receive fair value in return; rumors have already begun to circulate about Minnesota's desire to wait out the Sixers on their trade demands, which currently include four future first-round picks and an All-Star.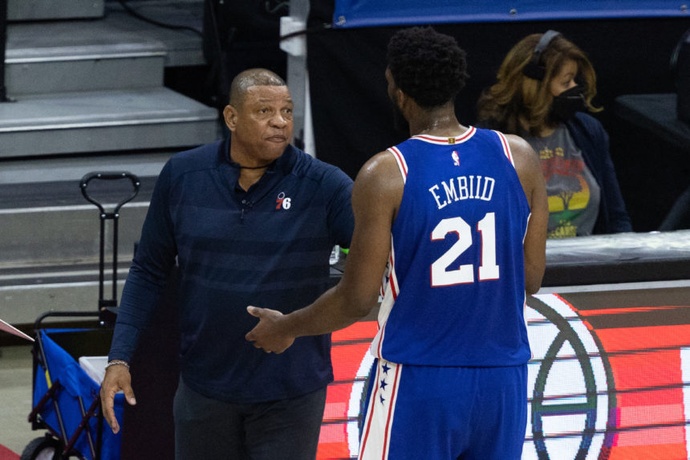 So, Philadelphia will have only one of its stars to start the season, and it's a bad season to be down a star. The Milwaukee Bucks are the defending champions, the Brooklyn Nets will be healthier than they were last season, the Miami Heat will be significantly better than they were last season and the Atlanta Hawks, Boston Celtics, Charlotte Hornets, Indiana Pacers and New York Knicks are all still formidable.
To summarize, the Eastern Conference hasn't been this good in some time. Despite all the talented teams around them, this season could have been among the Sixers' best seasons ever. Now, they're far more likely to struggle to separate themselves from the pack and incredibly unlikely to remain among the East's elites.
2021-22 Prediction: Atlantic Division, 3rd; Eastern Conference, 5th; First-round elimination.
New York Knicks (41-31)

Previous Season: Atlantic Division, 3rd; Eastern Conference, 4th; Eliminated in the first-round of the Eastern Conference Playoffs
The Knicks exceeded expectations in 2020-21. Actually, they crushed expectations. And after a slow start in free agency, the Knicks ended up improving. The thing is, the Eastern Conference is going to be brutal for teams in the middle. As mentioned above, there is considerably more talent out East than there was last year, and the Knicks didn't keep pace.
The Knicks won 57% of their games last season. They'll bring a more talented roster into the 2021-22 season, and they'll win a lesser percentage of games. So is this pure regression? No. But it's going to look a lot like it.
But the thing about 2021-22 is that it was never the end game for New York. The Knicks were always taking on a longer rebuild. They re-signed Julius Randle, Alec Burks, Nerlens Noel and Derrick Rose, in addition to signing Evan Fournier and Kemba Walker. And that's all supporting a young core of RJ Barrett, Immanuel Quickley, Mitchell Robinson and Obi Toppin. It's actually shocking that we're having this discussion about the Knicks this soon.
Big picture: New York is still well-positioned to strike if a star becomes disenchanted with his current situation, but the team is also fairly well-equipped to make a go of it with its current roster. This year could be good, but next season could be even better. And while fans might get a little impatient, the front office understands the long-term vision. So, while the Knicks are likely to falter this season, that's okay.
2021-22 Prediction: Atlantic Division, 4th; Eastern Conference, 8th; First-round elimination.
Regardless as to where teams are in their development, no one likes regression. All clubs will put a positive spin on their respective struggles, but only some of the narratives will be accurate.
But if you really want to know what teams think of their futures, look closely at how they respond to their respective challenges instead of the words they say in public.