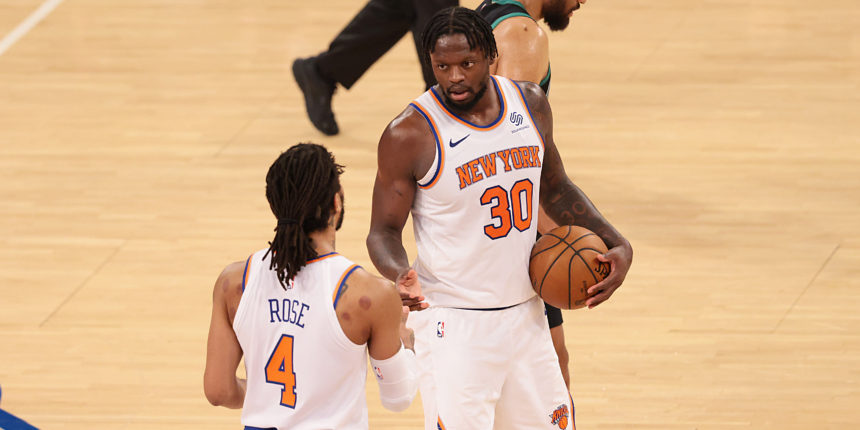 For a change, a successful free-agency period propels Knicks forward
If we were to compare free agency to a regulation NBA game, most Knicks fans were discouraged by New York's first-quarter performance, believing their favorite team stumbled out of the gate.
On Monday, the first day that front offices were able to start negotiating with players available on the open market, Knicks fans learned that the team had inked Evan Fournier to a four-year deal worth as much as $78 million and re-signed Derrick Rose (to a three-year, $43 million contract), Alec Burks (to a three-year, $30 million contract) and Nerlens Noel (to a three-year, $32 million contract).
SNY initially reported that Burks' three-year deal was fully guaranteed. When no additional contract details were reported, Knicks fans feared the worst: that all of the pacts were fully guaranteed. Many New York supporters went to bed feeling distressed and pessimistic on Monday night.
The Knicks entered this summer's free-agency frenzy with north of $50 million in cap space, which was more than any other team in the league. Fans were hoping the team would make a significant splash with all that cash. Committing $183 million in guaranteed salaries to Fournier, Rose, Burks and Noel was not what they had in mind.
However, on Tuesday morning, reports began to trickle out that the new contracts included team-friendly terms. Eventually, multiple outlets confirmed that all four pacts had a team option for the final season. That made each of the deals far more palatable, as it means each contract is far easier to trade and that New York has more cap flexibility moving forward. The fanbase was starting to come around. However, the franchise had burned through most of their cap space and still didn't have a clear-cut starting point guard on the roster.
But New York woke up to some wonderful news on Wednesday morning. Kemba Walker, who was born and raised in the Bronx, was coming home to NYC. After being traded to the Oklahoma City Thunder by the Boston Celtics, Walker agreed to a buyout with the Thunder and would be joining the Knicks. He would be paid approximately $9 million per year — a relative bargain for a starting point guard of his caliber. Knicks fans rejoiced.
The following morning, Knicks fans once again were greeted with excellent news. The team's best player, Julius Randle, had agreed to a four-year extension. Like Walker, Randle decided to forgo a more profitable payday for the opportunity to play in Madison Square Garden.
On Friday, team president Leon Rose, capologist Brock Aller, and general manager Scott Perry put a bow on a banner week by announcing the team had signed guard Miles "Deuce" McBride — the 36th overall pick of the 2021 NBA Draft — to a contract. The announcement's timing is important because it means the Knicks likely used their available cap space to sign McBride. Consequently, his contract can run up to four years, including team options, instead of just two.
Let's take a quick look at the significance of each new signing.
Evan Fournier
Fournier will provide much-needed three-point marksmanship and shot creation to an offense that was often stagnant for long stretches last season. Despite suffering through a debilitating bout of COVID-19 and its lingering side effects (Fournier compared its impact to a concussion), he finished the 2020-21 campaign shooting a scorching 46.3% from downtown.
Over the past two seasons combined, Fournier is one of only eight players in the league to average more than 6.5 three-point attempts per game while shooting over 40% from downtown. The other seven players in the club are Steph Curry, Duncan Robinson, Bogdan Bogdanović, Davis Bertans, Bojan Bogdanović, Paul George and Kyrie Irving.
Having Fournier replace Reggie Bullock in the starting lineup will hurt New York on the defensive end of the floor, but the Knicks finished last season ranked inside the top-five in defensive efficiency, while they ranked 22nd overall in offensive efficiency.
Kemba Walker
Is Kemba Walker's left knee a concern? Absolutely. But if Kemba is even 80% healthy, he would immediately rank as the best point guard to wear a Knicks uniform since George W. Bush was in the White House. Over the past six seasons combined, dating back to the start of 2015-16, Walker has averaged 22.2 points, 5.4 assists, 3.9 rebounds and 2.9 made three-pointers. Only three players have matched or exceeded those per-game averages: Steph Curry, James Harden and Damian Lillard.
Even in a down season last year, Walker averaged 19.3 points, 4.9 dimes and 3.0 made treys a night. In the 75-year history of the Knicks franchise, no point guard has ever averaged at least 19.0 points, 4.0 assists and 3.0 triples in any single season.
It's been more than 30 years since a Knicks point guard played in an All-Star game (Mark Jackson in 1989). Walker has been named an All-Star in four of the past five seasons.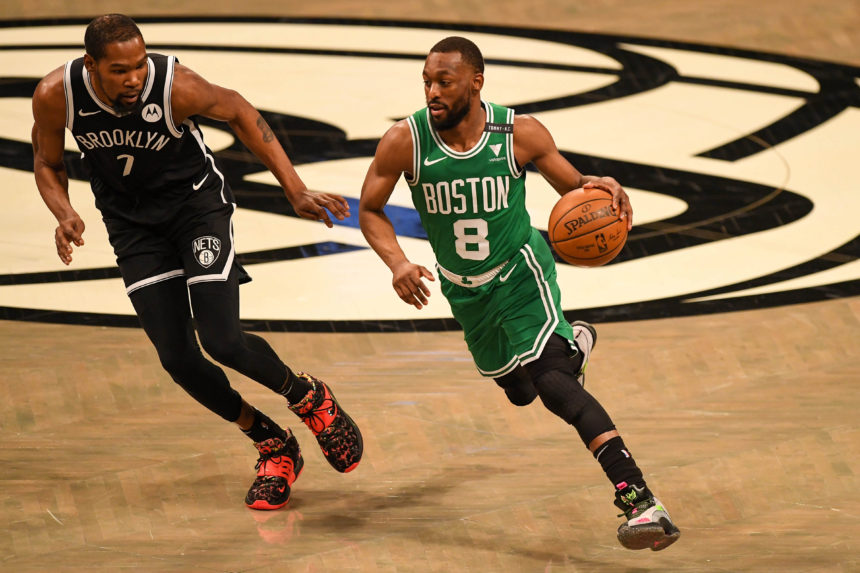 Elfrid Payton logged a total of 1,484 minutes last season, the second-most among all guards on the team. Having a combination of Walker and Rose inherit all those minutes in 2021-22 represents a massive upgrade for a team that finished 10 games over .500 last year.
The Knicks faced zone defenses more than any team in the league last season. With Kemba and Fournier now in the starting lineup, opposing defenses will hesitate to switch to zone. And having Kemba run pick-and-rolls should significantly enhance the vertical spacing threat a healthy Mitchell Robinson brings to the table. Walker's ability to penetrate into the paint will also produce substantial dividends, as he draws fouls on opposing bigs and racks up points at the charity stripe. Over his two seasons in New York (108 total games), Payton made 122 free throws. In just 43 games last season for the Celtics, Walker made 143 free throws.
If New York had to pay market value for a point guard with Walker's skillset and resume, it would have been worth the cost. The fact that the Knicks will pay him less than $10 million makes the signing a steal.
Julius Randle
Did Julius Randle struggle mightily in the playoffs? Absolutely. Would the Knicks have advanced to the postseason and secured home-court advantage for just the second time this century if Randle hadn't carried the team on his back all year? Absolutely not.
Randle put together one of the most impressive all-around campaigns in franchise history, averaging 24.1 points, 10.2 rebounds and 6.0 assists per game. To help put his 2020-21 regular season stats in context, consider this. Randle:
grabbed more boards than Giannis Antetokounmpo and Joel Embiid;
dished out more assists than LeBron James and Stephen Curry;
scored more points than Jayson Tatum and Trae Young;
shot a higher three-point percentage than Damian Lillard and Duncan Robinson;
posted a higher effective field goal percentage than Anthony Davis and Paul George;
accumulated more win shares than Luka Doncic and James Harden;
recorded a higher player efficiency rating than Devin Booker and Kyle Lowry;
posted a higher box plus/minus than Jrue Holiday and Donovan Mitchell;
registered a higher value over replacement player than Rudy Gobert and Chris Paul.
Coming off an All-NBA-Second-Team campaign, Randle had the opportunity to play out the upcoming season and hit the open market as an unrestricted free agent next summer. At that point, he would have been eligible for a max contract worth north of $200 million. Instead, he inked a four-year, $107 million extension that can increase to $117 million if specific incentives are met. Randle is only 26 years old and just now entering the heart of his prime.
To put Randle's contract in perspective, compare it to some of the other lucrative deals signed this month. DeMar DeRozan, already 32 years old, will earn an average of $28.3 million over the next three seasons. Jimmy Butler will earn $51.6 million in the final year of his contract (2025-26), at which point he will be 36 years old. That same season, Randle will be 30 and in the final year of his contract and will earn $29.4 million. Randle is younger than Duncan Robinson and Norm Powell, both of whom inked $90 million deals. Randle is the same age as Devonte' Graham and Kendrick Nunn. Randle is three years younger than Tim Hardaway Jr.
Last season, Randle told reporters that he hoped to be a Knick "for the rest of my career, that's really what I want." Players say such things all the time, yet when they have an opportunity to cash in, they (understandably) hold out for the highest offer. Randle, however, quite literally put his money where his mouth is.
***
When you consider where the Knicks were just 10 months ago, the progress the franchise has made is remarkable. First, they vastly exceeded expectations on the court and then continued to build on that success thus far this offseason.
For years, various New York front-office executives have failed to persuade stars to sign on the dotted line. This past week, not only did New York add an All-Star-caliber point guard, but that point guard could have joined pretty much any team in the league and he opted for the Knicks.
Then the team's best player, fresh off a season in which he finished inside the top-10 in MVP voting, re-upped with New York for significantly less than market value. It's certainly a sign of progress for the franchise and a validation of what the organization is hoping to create.
When pundits talk about teams incrementally "developing a culture," this is what they mean.
After another step in the right direction this week, fans can feel confident that the Knicks will continue building momentum going forward.