Several marquee players who were expected to hit the open market in 2022 have signed extensions, so next summer's free-agent crop isn't nearly as star-studded as other classes.
However, there are still plenty of quality players who may be up for grabs. In this three-part series, we'll examine the best players who will potentially enter free agency next July.
After previously ranking the best guards and forwards set to hit free agency next July, let's examine the top free-agent centers ready to enter the open market in 2022.
1. Deandre Ayton - Phoenix Suns - Restricted
Ayton is coming off a phenomenal 2020-21 campaign, in which he was one of just six players in the NBA to rank in the top-20 in rebounds per game, blocks per game and field goal percentage. He was a significant force on both ends of the floor for a Suns team that exceeded all expectations en route to posting the league's second-best record (51-21) during the regular season. Ayton was even more impressive in the playoffs, as Phoenix advanced all the way to Game 6 of the NBA Finals. He averaged 15.8 points and 11.8 boards while shooting a scorching 65.8% from the floor, which is the highest field goal percentage in a single postseason (min. 100 FGM) in NBA-playoff history. Ayton, still just 23, is eligible to sign a max extension this offseason worth nearly $173 million over five years, and it's a bit surprising the Suns haven't yet offered him that deal.
2. Jaren Jackson Jr. - Memphis Grizzlies - Restricted
When JJJ has been on the floor, he's shown flashes of his unique, all-around skill set and immense potential. (Jackson is one of two players in the league averaging at least 1.5 blocks and 1.5 three-pointers per game for his career). The issue has been staying on the floor, as knee injuries have limited him to 126 games since being drafted in 2018, including only 11 last season. Still, the Grizzlies view Jackson as a franchise cornerstone. Back in August, Memphis general manager Zach Kleiman said, "I think we're going to be our best selves over time with Jaren. Spacing the floor, attacking, creating, defensively taking advantage of the versatility he brings to the table." JJJ and the Grizz have until the start of the 2021-22 season to agree to a contract extension, or he'll become a restricted free agent next summer.
3. Jonas Valanciunas - New Orleans Pelicans - Unrestricted
Not only is Valanciunas an elite rebounder (he ranked fourth in offensive rebounding percentage and third in defensive rebounding percentage in 2020-21), he has also expanded his game. Last season, Valanciunas became just the third player in NBA history to average more than 12 rebounds per game and shoot above 36% from three-point territory (min. 50 triples attempted). The other two players in this unique club are Karl-Anthony Towns and Kevin Love. Now in New Orleans, JV will play alongside Zion Williamson until he hits the open market next offseason.
4. Jusuf Nurkic - Portland Trail Blazers - Unrestricted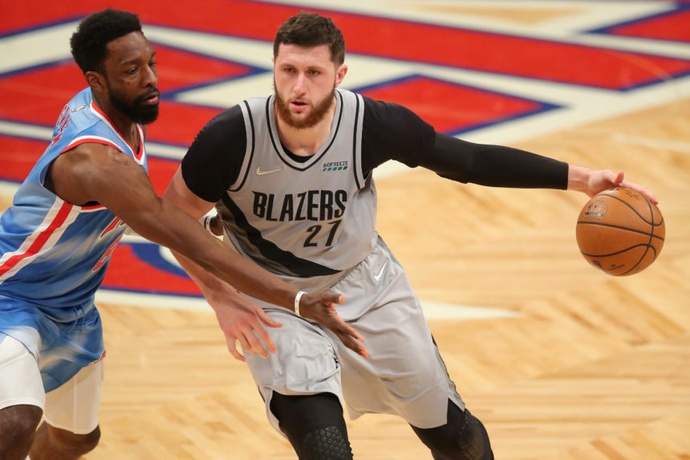 Nurkic is entering the final season of a four-year, $48 million contract he signed back in 2018. He's had trouble avoiding injuries, having appeared in just 45 out of a possible 144 games over the past two years combined, but looked good over the final month of last season. He averaged over 14 points and 10 rebounds per game. Nurkic just turned 27 last month, so he's entering the heart of his prime. If he can prove he's capable of staying healthy in 2021-22, he'll have plenty of interested suitors next summer.
5. Mitchell Robinson - New York Knicks - Unrestricted
After his first two seasons in the league, it appeared Robinson was establishing himself as one of the best young bigs in the league. In 2018-19, he led all rookies in blocks (2.4) and field goal percentage (69.4%). His 2.4 swats per game ranked second in the NBA — the highest average by a rookie since Shaquille O'Neal in the 1992-93 season. As a sophomore in 2019-20, Robinson made 74.2% of all field goals he attempted, setting the all-time NBA record for the highest single-season field goal percentage ever, passing Wilt Chamberlain. However, Mitch Rob took a significant step backward in 2020-21. Not only did he suffer two significant injuries (breaking both his right hand and right foot), but his on-court production dipped as a result and he shot below 50% from the free-throw line. Assuming he and the Knicks don't agree to an extension over the next month, Robinson's earning power will be dramatically impacted by his play in 2021-22.
6. Thomas Bryant - Washington Wizards - Unrestricted
Bryant tore his ACL in early January but has reportedly made solid progress in his rehab over the summer. His agent Todd Ramasar said last month that the big man is "probably going to make a return towards the end of this [calendar 2021] year, or let's say, the beginning of the regular season." Bryant was averaging an impressive 14.3 points, 6.1 rebounds and 1.5 assists per game last season before the injury.
7. Wendell Carter Jr. - Orlando Magic - Restricted
Carter was a centerpiece in the deal the Magic made with Chicago, which sent Nikola Vucevic to the Windy City. WCJ played well for Magic after arriving in Orlando, averaging 12.3 points and 8.7 rebounds in 26.8 minutes per contest over his first 20 appearances. Despite three years of experience, he won't celebrate his 23rd birthday until next April. Last month, Matt Moore of The Action Network reported that "Orlando is set to lock up Wendell Carter Jr. on a large long-term deal. Rival executives believe it will top $70 million."
8. Chris Boucher - Toronto Raptors - Unrestricted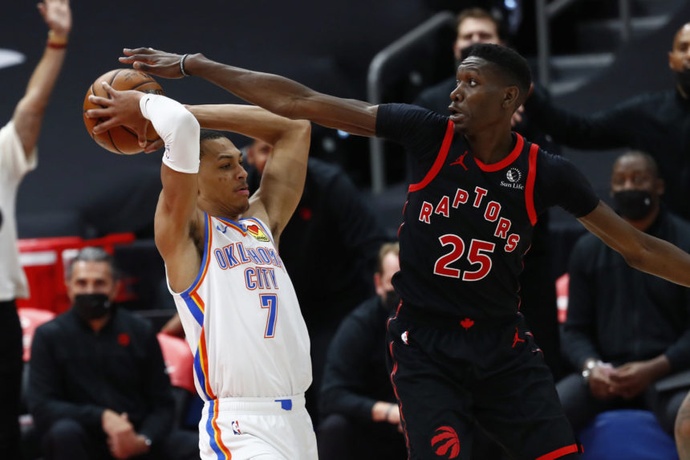 After years of flashing glimpses of his tantalizing upside, Boucher broke out in 2020-21. He posted career-highs across the board, averaging 13.6 points (on 51.4% shooting), 6.7 rebounds, 1.1 assists, 1.5 three-pointers, 0.6 steals and 1.9 blocks despite logging just 24.2 minutes a night. He finished the year sixth in Most Improved Player voting and eighth in Sixth Man of the Year voting. And now, with ​​Aron Baynes (who started 31 games at center last season) no longer in Toronto, Boucher will very likely be installed as the team's permanent starting center. We'll see if he can maintain his production with increased playing time.
9. Montrezl Harrell - Washington Wizards - Unrestricted
Harrell averaged 18.6 points, 7.1 rebounds and 1.1 blocked shots in 27.8 minutes per game for the Los Angeles Clippers in 2019-20, which earned him the NBA's Sixth Man of the Year award. However, after inking a two-year, $19 million contract with the Lakers in 2020, he took a bit of a step back last season, as his production and playing time decreased. After being traded to the Wizards last month, Harrell will look to re-establish his value in D.C.
10. Serge Ibaka - Los Angeles Clippers - Unrestricted
Last offseason, Ibaka was coming off one of the best all-around seasons of his career. With Marc Gasol sidelined for much of 2019-20, Ibaka stepped in and stepped up for Toronto, averaging a career-high 15.4 points to go along with 8.2 rebounds and 1.3 made three-pointers. Yet, injuries limited him to just 41 games last season and impacted his production when he did suit up. Now 32 years of age, Ibaka will look to show he still has tread left on the tires.
Best Of The Rest
Mo Bamba (restricted), Andre Drummond, Ivica Zubac (team option), Dwight Howard, Hassan Whiteside, Bobby Portis (player option), Derrick Favors (player option), Tristan Thompson, Kevon Looney, JaMychal Green, Marc Gasol