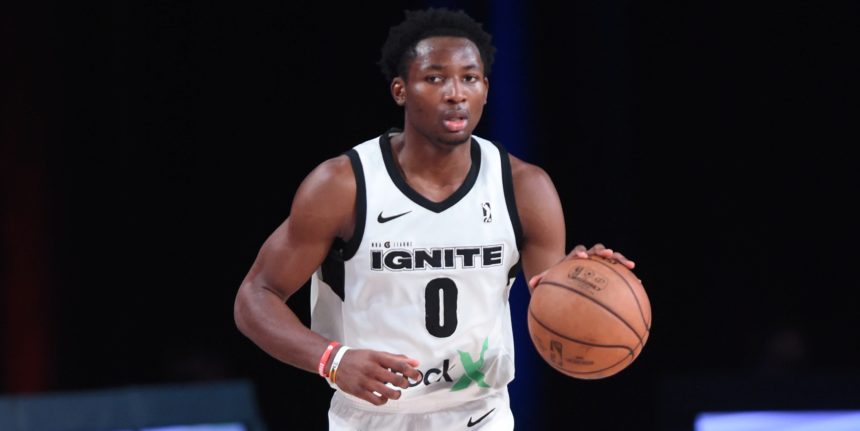 2021 NBA Draft: Top small forwards in this class
With the 2021 NBA Draft just days away, BasketballNews.com's Lead NBA Draft Analyst Matt Babcock has put together a list of the top available prospects by position. He recently listed the draft's top point guards, shooting guards, power forwards and centers.
Here are the best small forwards in this year's class:
Jonathan Kuminga, G League Ignite
While he will need to polish his overall game to maximize his potential, Jonathan Kuminga's impressive physique, athleticism, and offensive potential are undeniable. Kuminga's performance this past season for the G League Ignite have given promise that he could become a versatile and effective scoring forward in the NBA. (Check out our behind-the-scenes look at Kuminga's pre-draft training).
At 6-foot-9, Scottie Barnes is an effective defender, facilitator, and finisher at the rim, giving him extremely unique versatility on both ends of the court. Although his footwork and outside shooting are certainly swing skills at this point, Barnes has a ton of upside nonetheless. Don't expect him to remain on the board very long come draft night.
An intelligent player who has been playing high-level basketball for years, Franz Wagner, a 6-foot-9 wing, was one of the best defenders in all of college basketball this season while also doing a little bit of everything. That includes initiating Michigan's offense. If he is able to become a more reliable shooter from outside, he could become one of the more valuable role players in all of the NBA.
Perhaps the best shooter in the country this past season, Corey Kispert is a more than viable plug-and-play option for NBA teams in this year's draft. Possessing a high IQ, Kispert understands how to space the floor properly while being able to make shots off the move or standstill at a high clip. He should provide good value as a floor spacer and be a seamless fit for just about any team right off the bat.
Having struggled with his consistency at Stanford, Ziaire Williams has become a somewhat polarizing prospect. Overall, his freshman season was underwhelming. Although his slim build and ability to finish at the rim have drawn concerns, his upside is worth noting. A 6-foot-8 wing who is capable of creating space and hitting tough, contested shots, Williams has the potential to be a versatile scoring wing at the next level.
Despite missing the bulk of the 2020-21 season due to injury, Chris Smith's body of work at UCLA should prove to be enough to allow him to be selected somewhere in the second round. In eight games this past season, Smith, a 6-foot-9 forward, averaged 12.6 points and 6.4 rebounds per game while shooting 50% from three-point range.
At 6-foot-6, Joe Wieskamp is one of the best shooters in this draft class. This season, he shot 46.2% from three-point range on 5.1 attempts per game. With shooting at a premium in today's game, Wieskamp is a viable second-round option for teams in need of a scoring punch off the bench.
In his third year for the Spartans, Aaron Henry averaged career-highs in points (15.4), rebounds (5.6), assists (3.6), steals (1.3) and blocks (1.3). With good size and athleticism, he's been largely known for his on-ball defense, but he improved as a scorer this year. He is an inconsistent shooter from deep, but his value on defense may outweigh the lack of scoring punch in the NBA. He is a viable option for a team that's looking for a wing defender this July.
Coming into his own in 2021, Vrenz Bleijenbergh has really improved as both a playmaker and passer. At 6-foot-10, he's comfortable handling the pick-and-roll and has shown tremendous vision as a facilitator. In his 10 Eurocup games, he averaged 9.4 points and hit 37.5% from three. His 52.6% from the free throw line is a concern, but there is a lot to like about his game.
A 6-foot-8 wing with a 7-foot wingspan, Herb Jones did a little bit of everything during his senior year with the Alabama Crimson Tide, averaging 11.2 points, 6.6 rebounds, 3.3 assists, 1.7 steals and 1.1 blocks per game. A versatile player, who has even played some point guard, Jones has a good opportunity to get selected in the 2021 NBA Draft.
To see BasketballNews.com's latest 2021 NBA Mock Draft, click here.