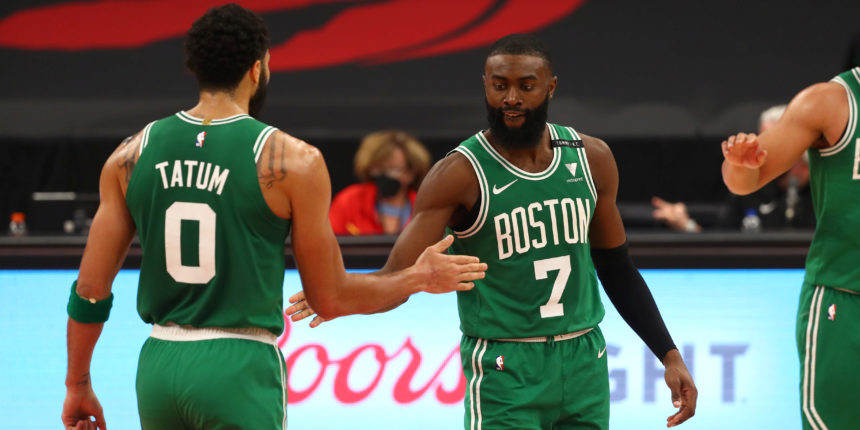 Woulda, Coulda, Shoulda: The Celtics shouldn't be in this position
The Boston Celtics had no business going out so unceremoniously -- a.500 finish to the season and a first-round exit where they were thoroughly outplayed and outclassed.
Not long ago, this team seemed poised to become an East juggernaut after advancing to the Eastern Conference Finals in three of four seasons. Instead, they are left with liberal dashes of shame and what-ifs by the ounce.
After the gentleman's sweep by the Brooklyn Nets, Danny Ainge stepped down as president of basketball operations. Head coach Brad Stevens has been promoted to that role and the team will now look for a new coach, and a new identity.
The shame of it all is that the Celtics could have been so much better. They shouldn't be in this position. While the young nucleus of Jayson Tatum, Jaylen Brown and Robert Williams has promise and potential, this iteration of the Celtics pales in comparison to the team that they could've been, considering the players they had an opportunity to land.
In the midst of the player-empowerment era in which free agency rules, any team that has title aspirations must be able land superstars. For whatever reason, under Ainge, the Celtics have failed to do that in recent years.
Ainge assembled the Big Three of Paul Pierce, Kevin Garnett and Ray Allen that won a championship in 2008, and he deserves credit for that. He drafted Tatum, Brown, Marcus Smart and Co. He also acquired Kyrie Irving, Gordon Hayward, Al Horford and Kemba Walker among others.
However, this doesn't negate the fact that in recent years, the Celtics had prime opportunities to trade for superstars and turn this solid contender into a potential super-team, but they didn't.
Rodger Sherman of The Ringer compiled a list of star players that Ainge "nearly" acquired, and the list includes James Harden, Anthony Davis, Kawhi Leonard, Jimmy Butler, Paul George, Nikola Vucevic, Myles Turner and more. Each time, we'd hear about how they "almost" made the move, but they ultimately passed.
This is why the Celtics are where they are today.
Afraid Of Calculated Risks
The Celtics struck out on James Harden in January and Kawhi Leonard three years ago. Why? Because Ainge let a "scared-money" approach cloud his judgment, and these two superstars slipped through his grasps.
In the case of Harden, Sam Amick of The Athletic reported that the Celtics' "level of interest and involvement" behind the scenes "far surpassed" what Ainge admitted publicly. Ainge says that the Celtics had talks with Houston, but they backed out because they felt the Rockets were asking for too much. For a talent like Harden, the Rockets obviously wanted a "haul" in return for the former MVP, and rightfully so. According to Brian Robb of the Boston Sports Journal, the haul in question was Jaylen Brown, Marcus Smart and picks.
It's understandable that Ainge was apprehensive about parting with Brown and Smart. Brown has the potential to be a great cornerstone for the franchise, and Smart is often described as the heart and soul of the team. However, when you have an opportunity to add a talent like Harden, who's a virtually unguardable weapon that can attack in multiple ways offensively, you find a way to get that deal done.
For Leonard, there was a similar deal on the table in 2019. The Celtics could have traded Brown and Smart to the San Antonio Spurs in exchange for the two-time Finals MVP. According to Sports Illustrated's Chris Mannix, the Spurs actually liked the Celtics' proposed deal.
In hindsight, this deal would have been even better for the Celtics than the Harden deal. Granted, the Celtics would've had to give up the heart of their defense in Smart and a promising player in Brown, but look at what they'd get in return! Leonard is a two-time Defensive Player of the Year and a walking bucket. That's a deal that should have been made without hesitation.
The reluctance to part with Brown and Smart in these circumstances seemed to be less about giving up key pieces and more about possibly losing Harden and Leonard since they would have been rentals.
The Celtics passed on Anthony Davis for the same reason. Rich Paul, Davis' agent, told S.L. Price of Sports Illustrated: "They can trade for him, but it'll be one year. If the Celtics traded for Anthony Davis, we would go there, and we would abide by our contractual obligations, and we would go into free agency in 2020. I've stated that to them."
But despite Harden, Leonard and Davis potentially being a one-year rental, the Celtics should've taken the risk regardless. Boston could've leaned on their winning culture to try to persuade Harden or Leonard or Davis to stay. Best-case scenario, they'd buy into the culture and re-sign. When the Los Angeles Clippers initially acquired Chris Paul, he was viewed as a one-year rental too; instead, he re-signed on a five-year, $107 million deal.
Even in the worst-case scenario, if Harden or Leonard left after one year, it's possible the Celtics could've won a championship in that lone season (as the Toronto Raptors did after landing Leonard or the Los Angeles Lakers did after acquiring Davis).
Focused on the Wrong Priorities
Before Jimmy Butler was dealt to the Minnesota Timberwolves in 2017, the Celtics, as usual, were in the mix to nab him. However, ESPN's Zach Lowe reported that the Celtics had concerns about how Butler would mesh with Gordon Hayward.
Locker-room chemistry is important, but it's not more important than talent. Teammates don't have to like each other; they only have to respect each other and unite for a common goal. That's it. (Three-time champion James Posey wrote a terrific piece outlining this exact same thing recently).
Hayward and Butler are professionals and they could've made it work, uniting to pursue a championship. They would have found a way to co-exist on the floor.
Remember, this is a team that had Kyrie Irving, Gordon Hayward, Al Horford, Marcus Smart, Jayson Tatum, Jaylen Brown, Marcus Morris and so on in 2018. They advanced to the Eastern Conference Finals three times in four seasons (and lost to the Cleveland Cavaliers in Game 7 in 2018). Imagine adding a star like Leonard or Butler to that group; sure, Brown and Smart would've likely been gone, but the team still would've been stacked.
In a comically sad twist of fate, Hayward eventually left for Charlotte in a sign-and-trade. Boston only received a protected 2022 second-rounder and a $28.5 million Traded Player Exception (which was used to add Evan Fournier); but the Celtics also gave up unprotected 2023 and 2024 second-round picks in the deal.
Failure To Follow Through
The Celtics' habit of pursuing stars only to back out of the trade talks became a running joke among fans and media members. However, it started to impact their dealings with rival executives.
According to ESPN's Adrian Wojnarowski, other teams became wary of dealing with the Celtics because of the front office's history of not following through with transactions. Boston developed a reputation for never following through with deals that they discussed.
The narrative of the Celtics not closing deals is out there and, fair or not, it was affecting their trade talks. What's worth examining is why were the Celtics so duplicitous in their dealings? Was it just apprehension because they didn't want to part with Brown and Smart? Did he feel he needed to overwhelmingly "win" every deal?
Regardless of the reasons, teams didn't want to waste their time with the Celtics' indecisiveness. Perhaps this played a role in the team's decision to revamp the front office.
Ainge's Celtics were the undisputed champions of almost doing big things. They almost made blockbuster moves to complement their young core. They almost made the NBA Finals three out of four years. But almost doesn't count. Perhaps a fresh voice in the front office (in Stevens) and soon in the huddle will help the Celtics get back to contending for championships.