Folks in Philadelphia awoke without hope this morning, and who can blame them? Their top-seeded Sixers are done for the summer, and the finger-pointing and self-defense mechanisms kicked in immediately after the game.
What happens next with Simmons remains an open question, and it will be up to head coach Doc Rivers, president of basketball operations Daryl Morey, general manager Elton Brand and ownership group alpha dog Josh Harris to put their heads together and decide if Simmons should stay or go. No word yet on whether Meek Mill will be consulted, but he and Tobias Harris are tight.
Opportunity is not a lengthy visitor, as Morey's Twitter bio says. And the opportunity to win with Simmons at the point has now through its fourth season, and as Shaquille O'Neal said on TNT, the Sixers organization has to be held accountable for Simmons' lack of development as a shooter.
Philadelphia has 81 basketball operations staff members listed on its media guide, and let's just say that the list is not exactly filled with coaching holdovers from Brett Brown's tenure. Those coaches could not get Simmons to develop a reliable jump shot or free throw routine during their three years working with him, and at some point somebody – maybe Simmons himself? -- is going to have to held accountable for the lack of improvement from a 24-year-old who did not take a single fourth-quarter shot in five of the seven games against the Hawks.
That includes what would have been a dunk if Simmons had been looking for one with 3:30 left in the fourth. Instead, he passed to Matisse Thybulle, who was quickly double-teamed on a drive and was fouled and made one of two from the line. The Hawks scored the next five points and played from ahead the rest of the way.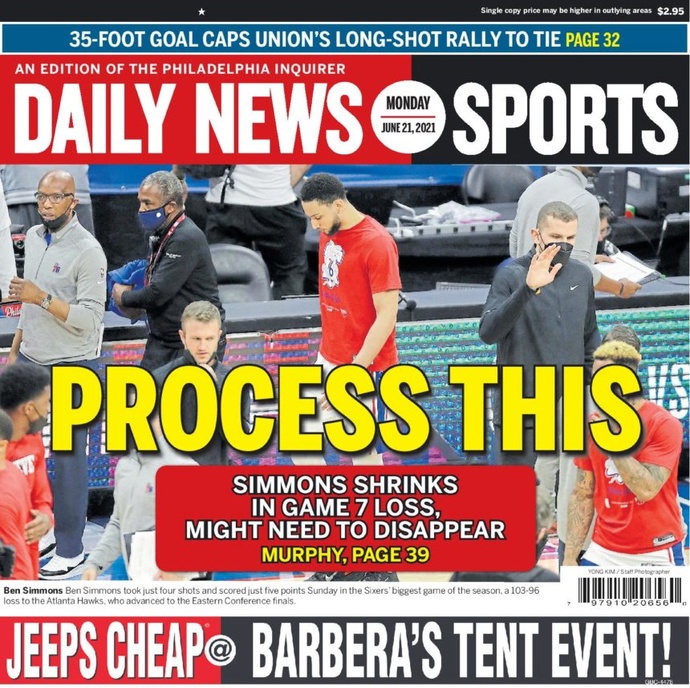 "Process This," read the back page of the Philadelphia Daily News on Monday morning, as Sixers fans tried to wrap their heads around some of Simmons' shortcomings in this series. Simmons scored fewer than 10 points in four out of the seven games and shot 33 percent from the foul line. Simmons is owed $140.4 million over the next four seasons.
"The first thing I'm going to do is clear my mind and get my mental right," Simmons said. "You got to be mentally tough. You can't take games for granted, especially in the playoffs. Every game matters. Every possession matters."
No kidding. Yet, Simmons' team had a 2-1 lead in the series and an 18-point lead in Game 4 and a 26-point lead in Game 5. And they lost. Game 4. Game 5. And the series in 7.
There were not the better team, and now we will find out whether the basketball-viewing public has an appetite for an Atlanta Hawks-Milwaukee Bucks matchup in the Eastern Conference Finals, which should end all talk of the league cooking things up in favor of popular teams from big markets. The Lakers are not the team in Los Angeles that remains standing. The Brooklyn Nets also went out this past weekend despite the Herculean efforts of Kevin Durant pretty much every time down the floor, except the final possession of the season when he airballed a potential game-winning three-point attempt with 0.3 seconds left. Boston is long gone. Same with Dallas and Denver and Miami.
What does Brooklyn do next? And what does Philly do next?
Those are the questions we will parse through, as the NBA Draft Lottery approaches on Tuesday night, and it probably will continue through tip-off of the East Finals in Milwaukee on Wednesday evening. Monday will be the league's first night without a playoff game this postseason.
Sixers fans will start looking around the league to discern whose salary is close to Simmons' $33 million for the upcoming season, pretending they are Morey. The acquisition of Seth Curry from Dallas was a good one, as was the addition of Dwight Howard on a minimum salary and the drafting of Tyrese Maxey.
But midseason acquisition George Hill averaged only one made field goal per game, and Rivers had zero reliable bench options. Does that mean the Sixers will look to move Simmons for players whose salaries total what he will make? Or will Morey try to do what he did when James Harden was available from Houston, making Simmons available for a point guard earning a similar salary? All we know is that Morey will try to turn over every stone he can find, and the guy sort of has a history at being really good at changing on the fly.
Rivers said Simmons is going to have to put in the work in the gym to get past this, and only Simmons and his close associates will know whether he starts doing that anytime soon. He looked frightened Sunday, which is frightening for a three-time All-Star when you think about it.
Mental toughness cannot be quantified with stats. It is something you can discern from a four-year body of work, a deer-in-the-headlights facial expression and a cast of teammates who were not exactly supportive afterward.
That list begins with Joel Embiid, whose bewilderment at many of Simmons' decisions was written all over his face. He clearly had a championship-or-bust mentality throughout the postseason, but one locked-in "superstar" is not enough. Philly needs either a much-improved Simmons, or a replacement.
Today, we can probably all agree that it it more likely to be the latter.