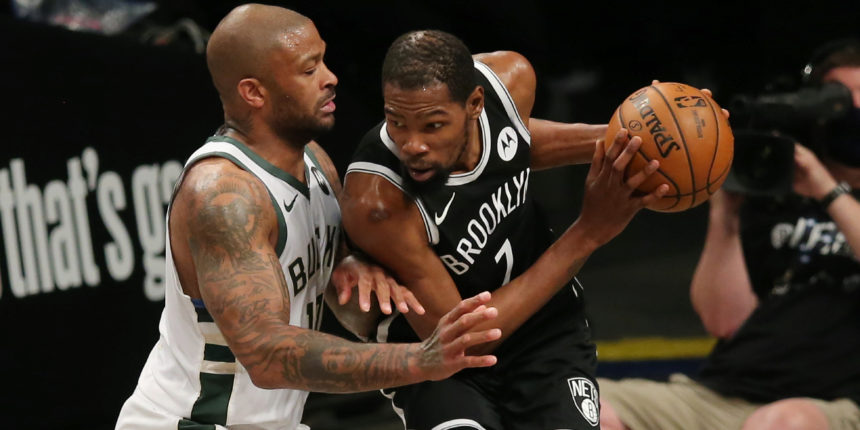 No, Kevin Durant did not 'choke' in the Nets' Game 7 loss
On Saturday night, Kevin Durant delivered one of the greatest NBA-playoff performances in recent memory. With Kyrie Irving out due to an ankle sprain, James Harden playing through a grade-two hamstring strain and Joe Harris struggling to make shots, Durant put the Brooklyn Nets on his back.
He played 53 minutes and finished with 48 points, 9 rebounds, 6 assists, 4 threes, 1 steal and 1 block, breaking the NBA record for the most points in a Game 7. During the final three games of the series, Durant played 142 of 149 minutes, averaging 43.0 points in that span (as noted by our Tommy Beer).
Durant will turn 33 years old in September, and this was his first postseason appearance since tearing his Achilles in the 2019 NBA Finals, yet he looked as dominant as ever.
He did everything he could to lift his team -- even forcing overtime with an incredible game-tying shot at the end of regulation -- but it wasn't enough to defeat the Milwaukee Bucks and advance to the Eastern Conference Finals. Still, Durant deserves a ton of credit for a remarkable outing.
Apparently, many people disagree.
On Sunday, I was surprised to see a lot of social-media posts criticizing KD. There were tweets about how he "choked." People mocked him for running out of gas. Some argued that Durant showed that he isn't an all-time great. Some pointed to the 2006-07 Cleveland Cavaliers team that LeBron James led to the NBA Finals as proof that Durant should've been able to take his squad deeper.
Basically, the narrative was that "KD couldn't even lead a super-team out of the second round!"
Are these people trolling? Are they just ignorant?
Durant rubbed a lot of people the wrong way when he left the Oklahoma City Thunder for the loaded Golden State Warriors. Ever since, it feels like he has a lot of critics who are quick to bash him whenever possible. If you dislike some of his business decisions since 2016, fine. But to allow that preconceived notion to get in the way of actually analyzing his on-court abilities and clutchness is ludicrous.
Remember, we just saw Durant step up in a crucial Game 5 and record 49 points, 17 rebounds, 10 assists, 3 steals and 2 blocks (while shooting 69.6% from the field and 44.4% from three). How do you argue that KD isn't clutch and say he's not an all-time great after two insane games in four days?!
Perhaps this is a byproduct of today's sports-media landscape. Some of the highest-paid and most-visible "analysts" are constantly calling out players and saying ridiculous things just to get a reaction. When hot takes and antagonistic coverage are everywhere, of course some fans will follow suit and respond this way.
Maybe social media is part of the problem, too. People know that they'll get likes, retweets and replies if they criticize someone as polarizing as Durant. Bashing him after a big loss is a way to get guaranteed engagement from fellow KD haters.
Regardless of the reasoning, it blows my mind that anyone could watch last night's Game 7 and come away feeling like Durant was the problem and didn't do enough. All of this criticism and negativity following an amazing performance represent everything that's wrong with sports discourse.