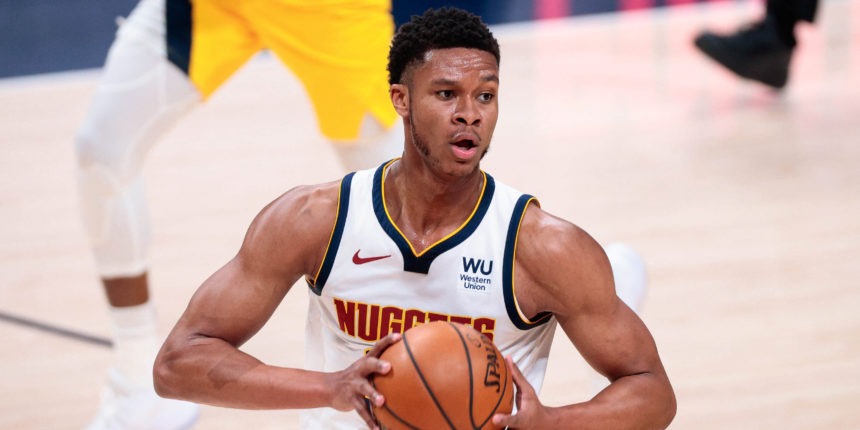 Two-way threat: PJ Dozier reflects on whirlwind path to Nuggets
PJ Dozier loves a good nap.
Who could blame him? Dozier has played for six teams in the NBA and G League across his first three seasons, all while on two-way contracts. During those years, he bounced between the two leagues at a moment's notice. For Dozier, rest is not only a way to take care of his body, but also an important part of his developing routine with the Denver Nuggets.
"Routines are great," Dozier told BasketballNews.com in May. "I feel like the best players have really good routines, whether that's on off days [or] game days. Being a two-way player, it's hard to have a routine because you don't know where you're going to be the next day, or the day before or the day after. It's hard to stick to that same routine night in and night out."
Dozier is the only player in NBA history to have entered three different seasons on a two-way contract with three different franchises. But now the 24-year-old guard is signed to a multi-year deal with the Nuggets, and before an untimely adductor strain ended his season in May, Dozier had emerged as one of the team's most versatile defenders. He wouldn't change a thing about his journey.
"God put me there for a reason," he said. "It was much-needed -- to take those steps, to be ready for the opportunity I have now."
"Every time he's given an opportunity to play and extend his role, he's taken it and run with it," Nuggets coach Mike Malone said before Denver faced the Los Angeles Lakers on May 3. "Nothing's been handed to him. He's earned everything he's done."
Dozier inked his first two-way contract with the Oklahoma City Thunder in 2017 after going undrafted as a rookie from South Carolina. A season later, he signed another with the Boston Celtics. Then came a third two-way opportunity with the Nuggets for 2019-20. Each game, Dozier battled for his squad, no matter the league or opponent.
"That was the biggest thing for me: to try to stay ready, so I won't have to get ready," Dozier said. "And also, just to be where my feet are. If I was in the G League, that's where my focus was at. I wasn't worried about anything else other than taking care of business there. And then when I get the call, now my focus shifts to whatever they need me to do on the other ball club."
Getting the call meant wildly different commutes depending on the team. In OKC, Chesapeake Energy Arena is right down the street from the G League arena where the Blue play. Boston's TD Garden is nearly a two-hour drive from the Red Claws (now Maine Celtics) in Portland, ME. The Nuggets didn't have a G League affiliate last season, so Dozier moved between Denver and the Windy City Bulls in Illinois.
Dozier says the coaches and management did their best to give him notice of a call-up or assignment a day in advance. But sometimes, a game-time decision meant getting the call last-minute and immediately driving (or flying) to the arena to suit up for the team that night.
"My bag was never really unpacked," Dozier said. "I was living out of my suitcase."
G League squads often try to have a similar on-court style as their parent program. But every team is nuanced, and Dozier said it was still an adjustment learning six different systems in three seasons.
The uncertainty didn't faze him. Dozier averaged 17.9 points, 6.4 rebounds and 5.2 assists per game across those three seasons while earning All-G-League-Third-Team honors with the Red Claws. However, it did test his confidence.
"The first year was kind of tough, just not really being with the team but kind of being with the team -- it's like, am I really on the team?" Dozier said, since he played just two games with the Thunder that season. "[But] just staying the course, staying focused. Following the first year, [I signed] the next two-way and seeing the progress that I made... that was big. I was able to see my growth as a player and understand that."
0n June 30, 2020, before the Nuggets left for the NBA Bubble, they converted his two-way deal into a full multi-year NBA contract.
"For me it was like, 'About time I get a full contract!' But it's a blessing, especially to land in a great organization like the Denver Nuggets," Dozier said. "Landing here in this organization, and having the coaching staff, teammates [and] front office have confidence in me that I was going to be ready when my number was called, that was big."
This is, frankly, incredible positional defense by PJ Dozier. pic.twitter.com/ADRkfV8Arz

— Ryan Blackburn (@NBABlackburn) April 10, 2021
Dozier is part of a trend in Denver of talented players with unheralded draft status who have developed into impactful players on a contending team. That's led by former second-round-selection-turned-MVP-winner Nikola Jokic, but it includes most of the roster. Aside from Jamal Murray, Michael Porter Jr. and rookie Zeke Nnaji are the only first-round picks who have been drafted by the team.
"I don't look at guys based on your status [or] what round you're drafted in," Malone said. "[Dozier] was playing for us while he was a two-way player and helping us win games... You love the fact that he's as big and strong as he is, [and] the versatility he has offensively."
"We have a lot of guys that went under the radar that this organization took a chance on, ultimately, and had confidence that these players were good enough to compete against other players that were lottery picks and were drafted very high," Dozier said. "It speaks highly on the organization [and] the way that they sculpt their talent, and go after guys that may not be the prettiest on the board or have all the accolades and things like that, but they know that they're getting guys that want to win."
The 6-foot-6 guard made a serious impression on Malone back in the Bubble, when he defended the likes of Mike Conley and Jordan Clarkson in Denver's series win against the Utah Jazz. Dozier has seen increased minutes per game in every calendar month through April (aside from a one-game February due to injuries), and was on pace for a career-high 27.8 minutes per game in May before his season was cut short.
Part of the uptick was by necessity -- Murray, Monte Morris and Will Barton had been battling injuries. But Dozier also earned the trust of the coaching staff. Malone even gave him an unprompted shout out after a Dozier-led defensive effort held Paul George to 5-of-21 shooting in Denver's 110-104 win over the L.A. Clippers.
"Paul George is an All-League-type player," Malone said after the game. "Not one player guards a guy like that by himself. But to hold Paul George tonight to 5-of-21 from the field -- I thought PJ's defense, being locked in, being disciplined, was a big part of that."
A week earlier, Dozier made his first career start in front of his mom, Theresa, and the home crowd. It was the culmination of a lifetime of work and three years of patience on the fringes of NBA rosters. Dozier scored 23 points in his debut as a starter, and averaged 11.5 points, 3.3 rebounds and 2.2 assists across the six games in the starting lineup before going down with the injury.
"Definitely a dream come true," he said. "I always want to stay focused on the little milestones and achievements, and continue to grow and make higher goals to reach. But that was definitely one that I've always dreamed about: being able to start at this level."
It's easy to look at Denver's second-round exit and see where Dozier could have helped against the Phoenix Suns. Devin Booker and Chris Paul each averaged over 25 points per game for the Suns in their four-game sweep.
In 10 total playoff games, the Nuggets gave up the fifth-most points per game (120.3) while allowing opponents to shoot 49.1% from the field (third-highest) and 41.7% from long range (second-highest). The young guard may not have dramatically turned the tables, but he could have made a difference on defense.
During the 10 games between Jamal Murray's season-ending ACL injury and PJ Dozier's groin injury on Monday, the Nuggets were +16.9 points per 100 possessions with Dozier on the floor and -6.4 with him off.

— Andy Bailey (@AndrewDBailey) May 4, 2021
In Denver, and in Dozier, there's a current of respect for the quiet hustlers in the Association. Dozier still has active group chats with players from every NBA and G League team he was on. He considers it a gift to have met so many unique people in his young career.
"Everyone has their own journey; everyone kind of had their own story, and no one's was really the same," he said. "You had guys that were in the NBA that were trying to get back there. You had guys that had never touched the NBA ever, and so that was still always their goal."
Dozier's story of game-day flights, hastily-packed suitcases and power naps is among them. But he plans on writing quite a few more chapters.
"I got a long way to go and I'm still trucking at it," Dozier said. "I love this -- count my blessings -- but I know that I have a lot in store [and] a long way to go."