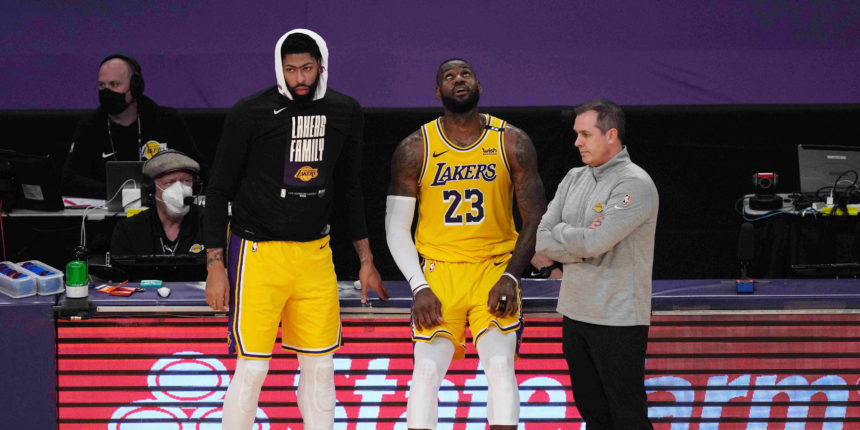 What do the Lakers have to address in the 2021 NBA offseason?
A mere 236 days ago, the Los Angeles Lakers hoisted their 17th NBA title in Orlando. But fast-forward eight months later, and things feel hollow in Hollywood.
The No. 7 seed Lakers lost in six games to the Suns with the final dagger coming last night, and even with LeBron James on the court, yesterday's outcome never seemed in doubt. Phoenix led by as much as 29 points, and never let the margin slim to single digits in the second half.
Anthony Davis left early in the contest after attempting to play through a groin strain. James' impact waxed and waned throughout the night. L.A.'s supporting cast failed to step up. Now, for just the second time in 16 years, a James-led squad will watch the NBA conference semifinals from the couch.
Suddenly, the 2021 offseason looms large for a team hampered by injuries and inconsistency. Los Angeles must take stock of a number of key free agents, and decide whether to keep continuity or start fresh behind its two stars. Here's a quick primer on the Lakers' offseason itinerary:
NBA Draft
The Lakers own the 22nd pick in the NBA Draft. As it stands currently, this would be the franchise's highest draft spot since selecting Lonzo Ball second overall back in 2017. L.A. hasn't made a pick in the first round since picking Moritz Wagner with the No. 25 overall choice in 2018.
Rob Pelinka and the front office will have to decide whether to use the pick on a rotation-ready player, a developmental talent similar to Talen Horton-Tucker or as a trade asset.
Free Agency
With seven players entering unrestricted free agency and one restricted free agent, per Spotrac, the Lakers are in a pivotal year for roster construction. Among the free agents are:
Talen Horton-Tucker (RFA) -- The lone restricted free agent, Horton-Tucker showed flashes of a strong, versatile scorer in his second year. The 20-year-old averaged 9.0 points, 2.8 assists and 2.6 rebounds across 65 contests as a bench piece. His best performance came May 12 against Houston, when Horton-Tucker put up 23 points and 10 rebounds in a victory. He's one of the few true "prospects" on the team, but could be in line for a serious pay raise if another team wants to squeeze the Lakers.
Dennis Schroder (UFA) -- Schroder averaged 15.4 points and 5.8 assists per game as L.A.'s starting point guard in the regular season, but went remarkably cold as the playoffs wore on. The 27-year-old reportedly turned down a 4-year extension worth $84 million back in March. It remains to be seen what Schroder wants as a free agent, and if the Lakers still wish to give him that kind of money in an extension.
Andre Drummond (UFA) -- As a prime buyout acquisition who fell out of L.A.'s rotation in the playoffs, Drummond sits in limbo. He's still one of the league's best rebounders (10.2 per game with the Lakers), but struggled mightily with efficiency and turnovers at the center spot. The team must decide if he's earned at least another offseason to help acclimate with the roster.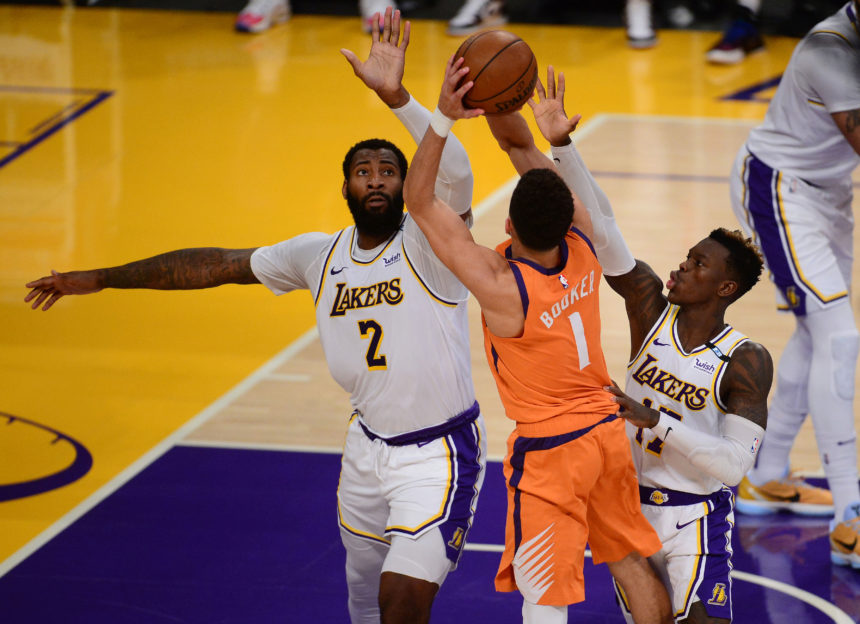 Alex Caruso (UFA) -- The 27-year-old emerged as one of the team's best 3-and-D complements. Caruso played in 61 games, made over 40% of his three-point attempts and was one of the few bright spots during some of L.A.'s rough patches in the spring. He made just $2.75 million this past season, and will assuredly receive more lucrative offers as a free agent.
Wesley Matthews (UFA) -- Matthews helped the Lakers become the league's best defensive team with his chops on the perimeter. But a 51.7% True Shooting Percentage was a career low for the veteran shooting guard, and he made just 10 of 33 playoff field goal attempts. The 33-year-old made $3.6 million in 2020-21 and should be valued by contending teams.
Markieff Morris (UFA) -- In his second year with the purple & gold, Morris dealt with shooting inconsistencies, hitting on just 31.1% of his threes. He averaged 9.5 minutes per game in the playoffs, and made a tad over $1.6 million this past season.
Ben McLemore (UFA) -- The Lakers signed McLemore in April after he was waived by the Houston Rockets, and the former 2013 lottery pick mostly contributed as a bench scoring spark. He played only 36 minutes in the postseason, making two of his nine field goal attempts.
Jared Dudley (UFA) -- At this stage of his career, Dudley's primary value comes from his voice in the locker room. The 35-year-old played just 12 games in the regular season and five total playoff minutes as a reserve.
Salary Cap Outlook
To be frank: the Lakers have no cap space. According to the data at Spotrac, Los Angeles will be shelling out over $116 million next season to LeBron James, Anthony Davis, Kyle Kuzma, Montrezl Harrell (player option), Kentavious Caldwell-Pope, Marc Gasol and Alfonzo McKinnie (non-guaranteed). And the franchise still has to pay Luol Deng $5 million in dead cap money after stretching his deal years ago.
Theoretically, the Lakers could nix McKinnie's non-guaranteed deal worth $1.9 million and hope Harrell declines his $9.7 million player option. That could put the team a hair under the estimated $112 million salary cap -- assuming they also renounce every other free agent mentioned above. The chances of all of those things happening seem pretty low, though.
Essentially, Hollywood cannot spend Hollywood money this year to mix up its roster. The Lakers will have to be cunning on the trade market, pick up veterans on minimum deals and navigate any mid-level exception contracts.
It's been a challenging year for the Lakers, who were faced with the shortest offseason in the NBA before opening 2020-21 as the defending champs.
But with the wound of a first-round loss still fresh, the hard work has only just begun.