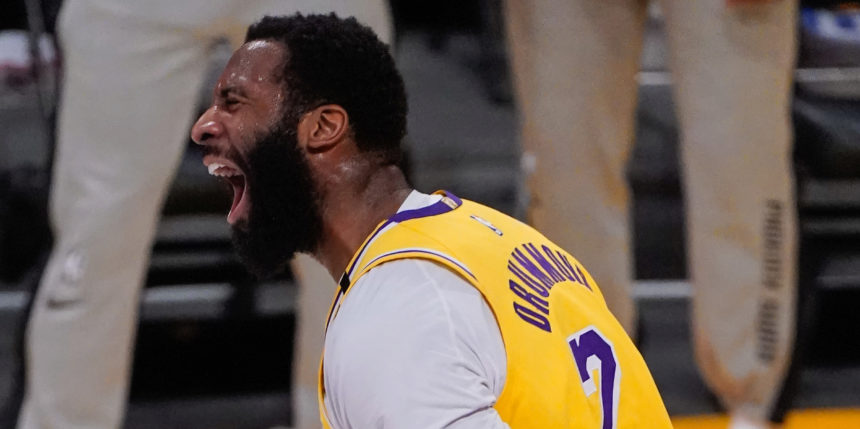 Andre Drummond simplifying his game, producing for Lakers
Andre Drummond is finally giving the Los Angeles Lakers what they asked for.
Since having a rough go in Game 1's road loss to the Phoenix Suns, the bruising 27-year-old has imposed his will by embracing a role that L.A. lacked for the majority of the year.
When the Lakers brought Drummond in off the buyout market, they were hoping he'd be able to fill the Dwight Howard, JaVale McGee-shaped void that was created in the 2020 offseason. The team elected to go with a more offensive-minded approach at the time, signing Marc Gasol and Montrezl Harrell as free agents, while letting go of the two big-bodied, hulking-presence centers who helped them win the title.
Following over a month off of action with the Cleveland Cavaliers, stemming from an amicable split, the Lakers scooped up Drummond in late March. From that point on, he started every game he played in for the purple and gold. The early returns were a mixed bag, as he and the team were dealing with injuries left and right and attempting to establish chemistry with one another, made difficult by the resulting inconsistent rotations.
Much like his time in Cleveland, he was struggling with point-blank shots -- especially off drives -- and sometimes trying to do too much. Contextually, you can say that's because LeBron James and Anthony Davis were out for a large chunk of games. His lack of spacing in certain lineups leaves much to be desired, as well, with players who like to attack the rim in particular. But despite the drawbacks, Drummond absolutely has redeeming qualities on the floor that can affect games positively, and we've seen them over the last two playoff games.
You can tell that Drummond is figuring out his teammates, and, simultaneously, it's led to productive performances. He's doing the dirty work -- crashing the boards, securing offensive rebounds, providing second chances, using his quick hands to force turnovers and taking advantage of his 6-foot-10, 279-pound frame as a presence in the paint defensively. In the series, Drummond is averaging 11.0 points and 10.7 rebounds (5.0 offensive), 1.3 steals and a block per contest.
With 15 points, 12 boards and a pair of steals, Dre made his presence known on both ends of the floor. pic.twitter.com/Iw8ON0bL0W

— Los Angeles Lakers (@Lakers) May 26, 2021
Forget the isolations on the block and the dribble moves. Cut down on the post-ups, hook shots and reverse layups. That wasn't working, in Cleveland or L.A. What is working are the dunks, the tip-ins, the cuts and the finishes. When paired with stars, there's a certain level of sacrifice on the court one has to make to maximize success. Once the player figures that out, there's no telling where it can lead.
Drummond's field goal percentage around the rim this past season was uncharacteristically atrocious… to put it mildly. Some of that likely had to do with how he was going about getting his shots. With the Lakers, he is realizing that his teammates can set him up for easy looks, most of which are uncontested due to the attention they draw. He's making things happen, and he hasn't had to do it with the ball in his hands, so increased efficiency inside has been the outcome.
Drummond is 12-for-19 on shots at the rim, which is 63.2%; though that figure seems relatively average, keep in mind that his restricted-area field goal percentage in Cleveland was 51.9%. And even when he had his moments in the regular season with Los Angeles, he just didn't feel quite comfortable -- probably because he wasn't. No matter what you hear, these things take time, and the work Drummond and the Lakers have put in is showing in this series.
Furthermore, as a defender, an area of his game that has been underrated this year, he's understanding that simply getting in the way can deter the opposition from coming in the paint at all. He's not the quickest on his feet, and he's not quite as versatile as these newer positionless bigs; but by getting in a low, routine defensive stance, he's forcing ball-handlers to, at the very least, get around him -- because they're surely not going to go through him. Putting two hands up as a near-seven-footer does wonders, as well. And having a perennial Defensive Player of the Year candidate in Davis alongside him only makes Drummond's job easier, too.
Sometimes, simplifying the game and buying into a team can be all it takes to unleash the best version of a player on the court. It took a little while for Howard to come to grips with that -- and what dominating All-Star center wouldn't struggle with that? -- yet he capitalized on the most efficient season of his career with the Larry O'Brien trophy at 34 years old. He didn't have to be the best player on the team -- just the most important.
At age 27, Drummond is in his prime and going into the offseason as an unrestricted free agent after this season. Considering the scarcity of franchise-changing talent available this summer, he can still cash in. Focusing on minimizing the miscues and staying within himself while his two MVP-caliber teammates take care of business would be wise, and it looks like he understands how, in this moment, he can utilize his strengths. It's the best thing to do for the team.
If he keeps playing the role Frank Vogel and Co. are asking of him and continues to contribute as a plus-player, Drummond, and the Lakers, will be happy campers… and perhaps, champions.