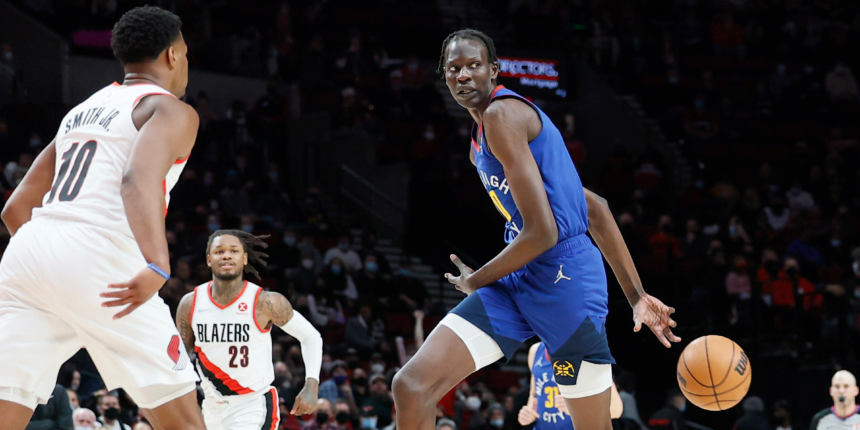 Can we just finally see Bol Bol play basketball, please?
355.
That's the amount of combined regular season and playoff minutes the recently-turned 22-year-old Bol Bol has received since he was selected by the Miami Heat and rerouted to the Denver Nuggets with the 44th pick in the 2019 NBA Draft.
The 7-foot-2, 220-pound talent and enigmatic son of Manute — one of the NBA's great shot-blockers — Bol has spent most of the last three seasons chillin' on the Nuggets bench. And just a few days ago, he was centered in one of our first potentially meaningful NBA trades of the 2021-22 season, going from the Nuggets to the Detroit Pistons in exchange for Rodney McGruder and a future second-round draft pick. (Editor's Note: The Pistons-Nuggets trade with Bol Bol was voided on Jan. 13 due to a failed physical, per The Denver Post's Mike Singer).
You may recall that Bol was one of the country's best high school prospects in a 2018 senior class that famously included Zion Williamson, RJ Barrett and Cam Reddish, the three of which he directly followed in ESPN's Top 100. It isn't full proof — you'll occasionally have a Kaleb Tarczewski — but typically, you'll get an NBA rotation player more often than you don't in that top-four tier.

And in Bol's lone season at the University of Oregon, where he committed to before the 2018-19 college basketball season, the big man averaged 21.0 points, 9.6 rebounds and 2.7 blocks per game while putting up .561/.520/.757 shooting splits. The common player comparison was Kristaps Porziņģis — one he even drew himself as a rookie — and if you watched Bol work, you might've arrived at the same conclusion.
The issue is, even as he produced all of that in just 29.8 minutes per contest, many had questions about the sustainability of his game, largely for health reasons. Bol played nine college games before a season-ending foot injury cut his long year with the Ducks short. He then entered the 2019 draft, where he fell to round two after once being considered a top-five pick.
As a result, we knew Bol would be handled with kid gloves, caution tape and bubble wrap coming into the league, so much that he was signed to a two-way contract after being drafted as opposed to inking a typical rookie-scale deal. For somebody who Nuggets president Tim Connelly claimed to have had in the top-10 of the franchise's internal big board, it was a hell of a way to show it.
We weren't supposed to see Bol in the NBA in his first year (and even in the G League, he only appeared eight times), but it took a pandemic for him to hit the floor in the Orlando Bubble when the 2019-20 season resumed. Bol played in seven regular season games, averaging 5.7 points and 2.7 rebounds in 12.4 minutes per contest with 500/.444/.800 splits; he later added four garbage-time appearances in the Nuggets' blowout playoff losses. But as a rookie who sat for most of the year, we understood it.
After that, coming into his sophomore campaign, he was finally signed to a standard two-year contract worth over $4 million, a deal that expires after this season. For context, Bol is making over $2.1 million this season, which is more than the Miami Heat are paying Max Strus ($1.67 million), Gabe Vincent ($1.67 million), Omer Yurtseven ($1.49 million) and Caleb Martin ($462K), who are winning games for their shorthanded selves.
During the previous two seasons, we've seen Bol for 247 of those 355 total minutes. This year, despite COVID and injuries to the Nuggets, he's only played 81 minutes in total.
And in these last two seasons in which Bol has played 49 games, including three playoff appearances and 14 contests this year, he's averaged around five minutes per game... That's it.
As far as we know — beyond the foot injury at Oregon that lingered into Year 1 — Bol hasn't had any major injury setbacks, and even liked a tweet months ago calling for him to be traded and freed elsewhere.
Reasonably, the Nuggets are wholly justified in essentially redshirting Bol the first season and being careful since. With that said, there are questions that need answers regarding his first two-and-a-half seasons in Denver.
Has he been playing hard in practice? Is he engaged behind the scenes? Have promises been made that the organization never kept? Given his lack of on-court visibility, has he developed or taken a step in ways we can't quantify?
It's even stranger that Denver didn't try him out for extended periods given all the team's injuries, specifically to Jamal Murray, who tore his ACL in April, and Michael Porter Jr., who had... something called lumbar spine surgery just over a month ago. (Jeez, fam.)
Merely on the court, it isn't uncommon for second-round picks — even guys who were previously projected in the lottery — to just not find a fit on the team that drafted them (or, in this case, traded for on draft night). It just usually isn't this way. And in Denver's specific case, people envisioned what 2020-21 NBA MVP Nikola Jokić, in particular, could do in a frontline alongside Bol.
Remember how excited the streets were when Bol started a Bubble scrimmage alongside Jokić, who ran point?
Typically people wouldn't care about a guy riding the bench if he didn't belong, but with Bol, we don't actually know. We have had enough glimpses and warranted excitement to suggest that Bol could play, or just enough of a curiosity and want to see if he can.
This isn't all to say that Bol will definitively be the unicorn in waiting some projected heading into the 2019 NBA Draft. It is to say that still, three years later, we don't know how good he actually is. All we're asking is: Can we finally find out?