Over the last 10 years, the game of basketball has definitely changed, and anyone who's been watching has noticed.
Today, the majority of teams have gone away from specific defensive schemes and are switching everything. During the latter stage of my NBA career, I began to see teams make that transition and, in the years since I stopped playing, have seen the trend continue pretty much across the entire league.
Most teams blindly switch everything today. It's the easy way out when it comes to playing defense, and it's a mistake.
Don't get me wrong, during my 15 years in the league, I played for a bunch of coaches -- some liked to switch and some didn't -- but whether we switched or not was usually based on if it made sense in a specific situation. We never went into a game saying that we were going to switch 100% of the time or fight over screens 100% of the time. We had different strategies for different players and would change the game plan to fit the opponent or scenario.
Take Chris Paul, for example.
Back when CP was on New Orleans, he and David West were one of the most prolific pick-and-roll threats in the league. I was playing in Denver by the time CP became one of the top points in the pick-and-roll and being in Denver, we'd see New Orleans three or four times per season. We had to game plan for CP and West.
Because I had the lateral quickness to actually defend him on the perimeter and not just sag back, we would switch. Most of the time, it was Dahntay Jones and me who would end up defending, and we would usually switch. Tay was smaller than D-West, but he could hold his own down on the block, so if D-West walked Tay down to the block, Tay would fight him enough to make him pass the ball. But we would never switch and put Nene or Marcus Camby on Chris Paul, you know? We would have different schemes to protect those guys if they found themselves in the same situation.
Against other teams, depending on the situation, me and Tay might not switch, and that's what the game of basketball is supposed to be about: reading the situation, reacting and adjusting based on your personnel and circumstances.
When I watch the game today, overall, it seems like there's less game-planning and defensive effort on the part of coaches, who teach bad habits to their players. I understand why the switching is happening, but it's gotten somewhat ridiculous. There are a few teams that actually defend, though, and one I would put in that category is the Toronto Raptors.
What I love most about the Raptors is that even after they lost Kawhi Leonard (who's arguably the most versatile defender in the league), they were still a top defense last season. With them, it was not even about one individual player – Nick Nurse and his coaching staff had principles and they guarded teams differently depending on the circumstances or situation. They switch it up -- they'll give you some zone, some man-to-man, some 1-2-2 zones, some 2-3 zones. That's what you're supposed to do.
Yeah, Toronto has had a bad season; that's just a part of the game, though. Over the past few years, they've consistently been near the top, and it's no accident.
Think back to the 2019 NBA Finals when the Raptors put Steph Curry in a box-and-1 zone. Nobody saw that coming, and that's exactly why it worked.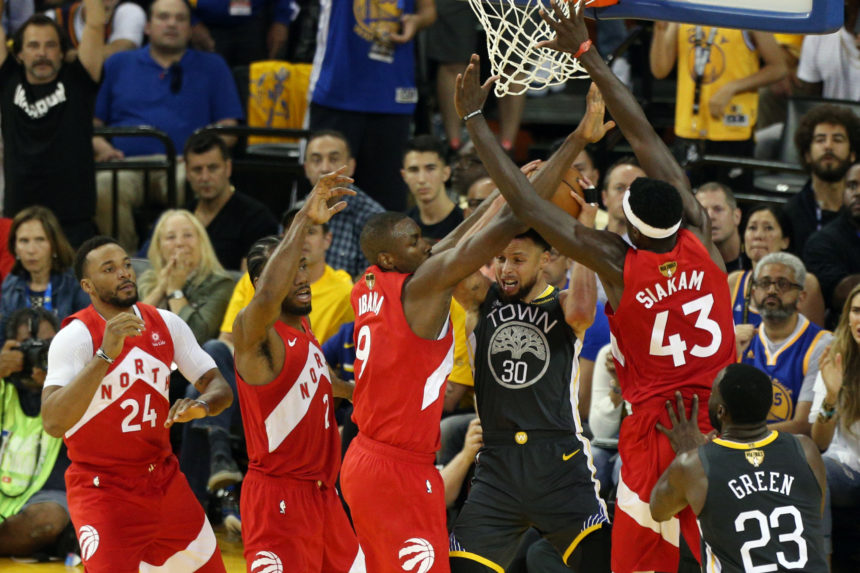 Teams like the Raptors and versatile defenders like Kawhi, Paul George and Klay Thompson are my favorites to watch because if you watch five different games, you'll see them mix up their coverages. Against some opponents, Kawhi fights over screens. Against others, he and PG might switch. That's how I was taught to play. That's the way the game should be approached.
On the other end of the spectrum, take Mike D'Antoni when he coached the Houston Rockets. They were one of the teams most recall seeing run a "switch-everything" defense. Over the years, it just seems to have caught on with most of the league. One day, though, these guys are gonna figure out that blindly switching against every opponent is the wrong move.
On defense, everyone is connected. If one guy gets beat, it can compromise the entire unit, and that's why constantly switching bigs out onto smaller, quicker guards isn't necessarily a recipe for a good defense. Teams get away with it today because teams are so fixated on the three ball. Teams are attacking the basket and shooting midrange shots less, but eventually, some coach is gonna realize that his team doesn't have the shooters to win games from behind the arc. If he has a quick guard that can take advantage of a big who switches onto him, maybe everyone else will see the light.
We're still waiting for that, though.
For a team that's had the best record in basketball for most of the season, the Utah Jazz have been flying under the radar. What's funny about them is that, as great as they are, you can pretty much get any shot you want against them, and again, it's related to scheming.
Rudy Gobert is their defensive anchor, but when he's in a pick-and-roll, he sags more often than not. Oftentimes, he's forced to switch because he's sagging, and it can sometimes result in unfavorable defensive matchups for Utah. Even though they've been successful this season, Rudy ends up being left out on the perimeter, one-on-one, being asked to guard smaller, quicker players.
It's worked for them so far, I get it. But it doesn't necessarily mean it's the best way to defend, and it also may not translate to beating teams like Phoenix (if they see them in the playoffs).
No matter which way you look at it, from a strategic standpoint, it doesn't make sense to have a big like Gobert on an island trying to chase CP or Steph Curry or Dame Lillard. It might not work consistently in a seven-game playoff series.
I played in the league for 15 years, man. And if it's one thing I've learned, it's that the game is all about matchups. That's why I just shake my head when I see team after team letting their opponents get away with switching everything. It's just not something every player is equipped to do, and when it happens, teams need to be taught to take advantage.
Like Toronto, the Milwaukee Bucks and the Los Angeles Lakers mix it up and throw some different defenses at their opponents. The Lakers are obviously depleted right now without Bron and AD, but even with them in the lineup, their defensive schemes weren't easy to predict. I'd even put Miami in that category, too, and it's no surprise that the Lakers and Heat happened to meet in the Finals last year.
At the end of the day, no matter how much we compare this guy to that guy, every player is unique. We always talk about players' individual talent and gifts on the offensive end of the court, but these things should be considered on defense, too. The individual talents and gifts a player has should be considered not only on the offensive side of the court, but on defense, too.
The rest of the league will eventually catch up and get back to actually defending instead of just blindly switching.
The game will change again, and at that point, I'll finally see a switch I like.