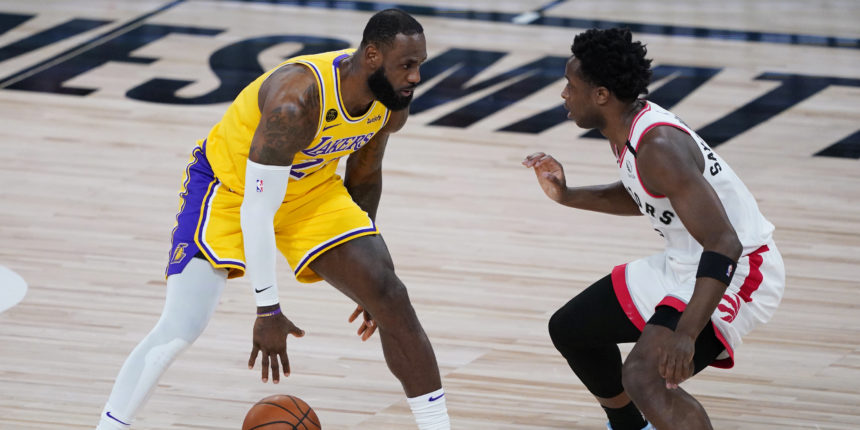 Roaming the Baseline: OG Anunoby, Devonte' Graham, UConn, more
Hi, hello, and welcome to the first edition of Roaming The Baseline! This will be a weekly endeavor where I point out some things that caught my eye: a hot or cold streak from a player, a developmental flash, a well-run play, a funny tweet, who knows? There will be film -- it's me, so of course there will be film -- but this will also be a bit looser. It's an extension of my Twitter feed, if you will.
With that said, let's roam the baseline.
DEVONTE' GRAHAM IS BUZZING
The Charlotte Hornets have been League Pass darlings all season long. Most of that was behind the play of LaMelo Ball, though the enthusiasm of an Eric Collins call is up there on the intrigue list. Seriously, that man is the Kevin Harlan of local broadcasts.
Anyway, Ball is out of commission with a wrist fracture. He's missed the last five games, and the Hornets… are 4-1, with their lone loss coming in overtime against the Phoenix Suns on Sunday.
What stood out in that game -- aside from a blown and-1 against Miles Bridges and Devin Booker cooking the Hornets' early help -- was Devonte' Graham's shotmaking. That dude ran hot.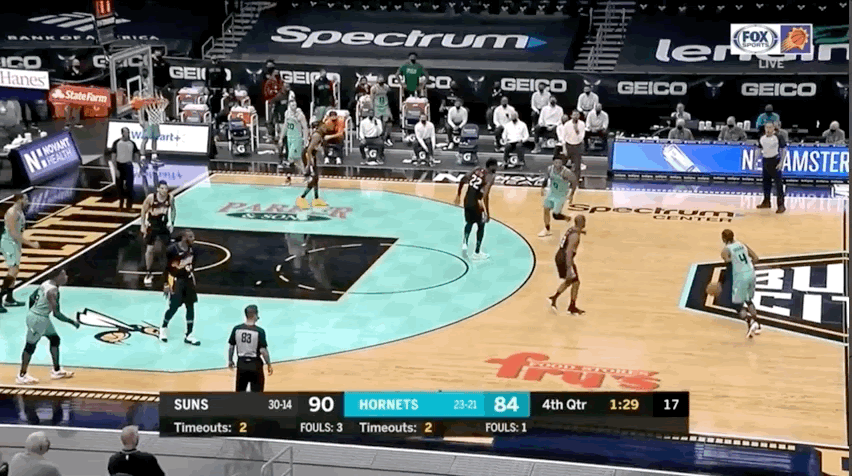 Graham isn't the only player keeping the Hornets afloat; Terry Rozier continues to be a #ClutchGawd, Gordon Hayward is doing his smooth-operator things in the mid-post area, and Miles Bridges is dunking just about everything.
But the bounceback for Graham has been huge. Via InStat tracking, Graham has drained 40% of his pull-up threes during this five-game stretch. It's made him more or less the type of pull-up threat he was during his breakout sophomore campaign.
(Can sophomore campaigns classify as "breakouts" or do we just call that progression? Hello? Bueller?)
Getting back to that level of shotmaking is going to help the Hornets stay afloat. And, on a more personal note, reestablishing himself as that sort of threat is going to help get him paid this summer.
Kudos to that man!
CHRISTYN WILLIAMS CAN BALL, TOO
The Lady Huskies of UConn have made their 13th-straight Final Four appearance. The talk of the town is guard Paige Bueckers, who is one of the best freshmen guards we've seen in a looooong time. She's been great during the tourney, averaging 22.5 points (47/37/91 shooting split), 6.5 rebounds, 4.5 assists, and 2.5 steals.
But UConn is much more than a one-woman show. They've gotten key contributions from a host of players, but I'd like to spotlight Christyn Williams for a bit.
The 5-foot-11 junior has been a two-way force for the Huskies. She's added value as a driver, especially against closeouts. She's also been bombing away from three, drilling 41% of her triples on nearly six attempts per contest. Her shot-making has been key to helping the offense loosen things up against the zones they've faced.
Defensively, she's been a disruptor at the point-of-attack. Her on-ball tenacity played a large part in Iowa sensation Caitlin Clark having her third-least-efficient game of the season -- 0.75 points per play, via the good folks at Her Hoop Stats.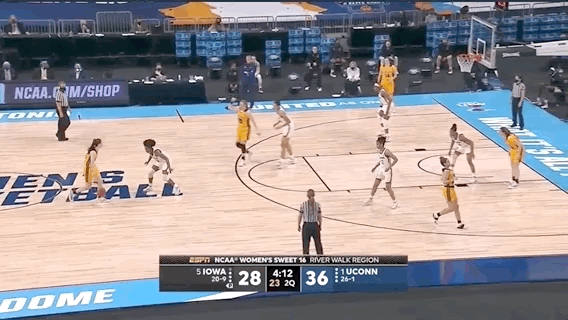 This is more of a feel thing, but the plays that Williams has made throughout the tourney have felt timely. She doesn't just hit threes -- she knocks 'em down to cap a run or to end one from the other team. She doesn't just get to the rim; she breaks up the side-to-side swings and adds some juice to the offense near the end of the shot clock.
Bueckers may be the driving force, but the Huskies wouldn't be in the Final Four without the play of Williams.
OG ANUNOBY CAN GUARD ANYBODY
I mean anybody.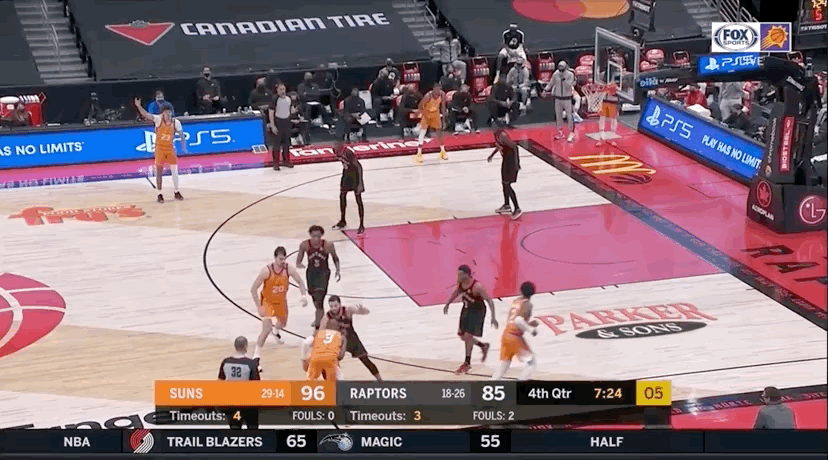 I mean anybody.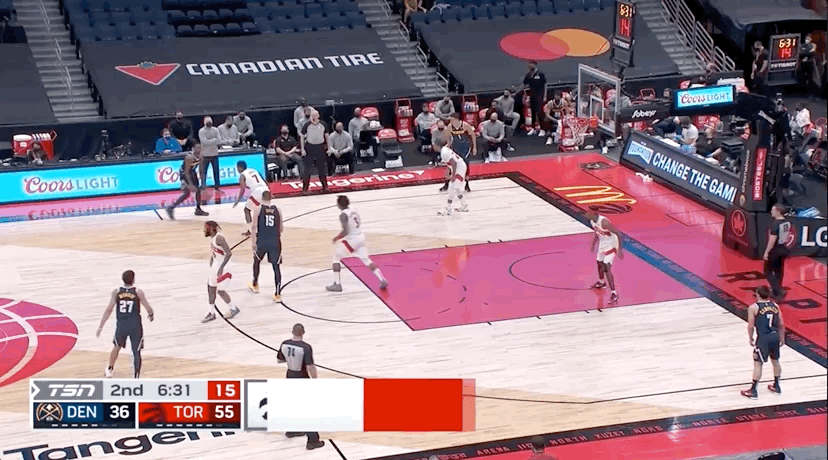 I. Mean. Anybody.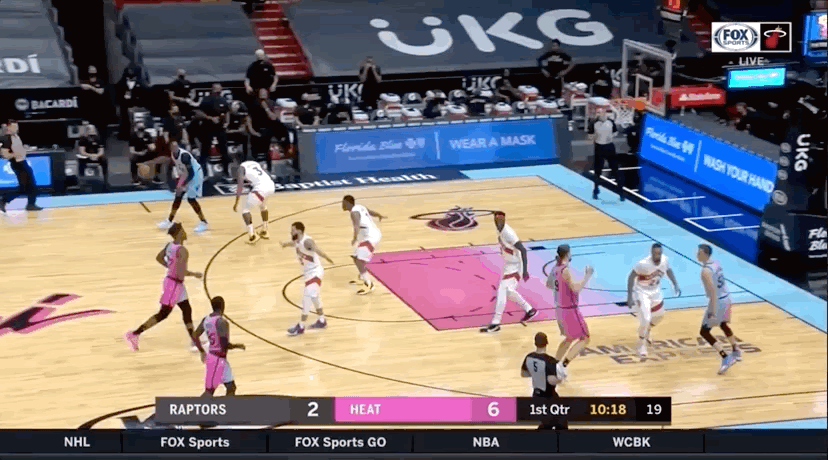 It freaking sucks that OG Anunoby hasn't been able to string together a large swath of games since, like, January. His development was something I was looking forward to this season, and so much has been outside of his control.
Even still, he's averaging a career high in points (14.7), rebounds (5.9), assists (1.8, bleh), steals (1.7), blocks (0.8), and three-point shooting (40.6% on 5.7 attempts). We've seen some fun on-ball flashes from him, and the defense has been worthy of an All-Defensive team selection. Let's hope he stays healthy for the rest of the season.
THINGS THAT MAKE YOU GO "HMMMM"
Aaron Gordon averaged roughly 13 shot attempts per game over his final three-ish seasons in Orlando. He's taken 13 shots total in his first two games in Denver. It's way too early to know if that means anything meaningful, but there seems to be an inherent buy-in on being a glue guy around the Jokic-Murray-Porter triumvirate.

Very quietly, Andrew Wiggins is on a bit of an upswing. In March, he's drilled 54.1% of his threes on north of five attempts per contest. The on-ball defense has largely held all year long. Another thing to keep tabs on: the Curry-Wiggins-Draymond trio without Kelly Oubre on the floor has a plus-15.1 net rating in 221 minutes, per

PBP Stats

.

Going back to the UConn-Iowa matchup in the Sweet 16, I

still

can't believe Iowa went that entire game without trying to attack Paige Bueckers in pick-and-roll. It is unfathomable to run a pick-and-roll heavy offense against a team that was willing to switch 1-through-3, and not attack the player that doubles as the worst on-ball defender in the lineup

and

their most important offensive player. What a blown opportunity.

Nearly a third of the Clippers' shot attempts have come at the rim over the past two weeks. That ranks 11th during the stretch, and the actual number (32.9%) would rank 15th if extrapolated over the course of the season. That isn't an elite mark by any stretch, but "average" is all they need to complement their jump shooting. Also, 15th is a lot better than their actual rank (29th). And they've done this without Rajon Rondo playing. It's almost like…

It took until mid-February, but De'Anthony Melton is a regular part of the Grizzlies' rotation. And it is glorious. He's providing his usual brand of hungry-bulldog defense across both guard spots. More intriguing: since February 19, he's shooting 44% from deep on four attempts per contest. His contract (4/35) was a steal at the time of the signing. If his three-point shot is even close to what it's been this season, his agent may have some 'splainin' to do.
PLAYS I LIKED
Smart Improvisation
Marcus Smart made some, uh, decisions later on in Boston's loss to the Pelicans, but I liked this possession from him. He pushed the ball after a made basket to set up an early clock post-up. Robert Williams then lifts from the free throw line as an outlet before receiving the pass from Smart. From there, Kemba Walker curls around Williams to receive the handoff, then Smart sets an impromptu screen to get Walker downhill.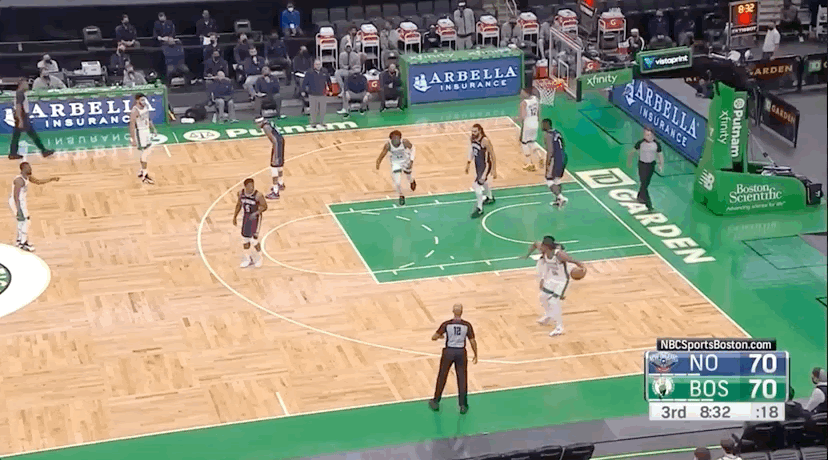 I'm not sure if that's a set piece or some freelance goodness, but it looked pretty. So, here we are.
Mikal Bridges Fakes the Funk
What a freakin' ATO. A simple, but layered beauty.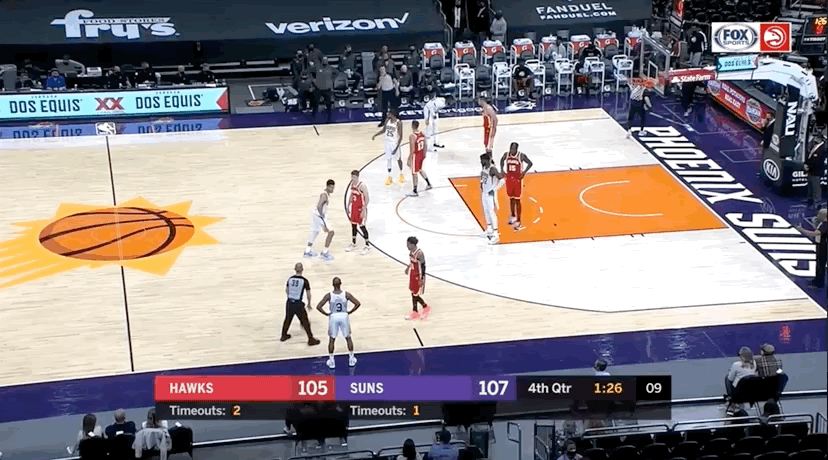 This entire play is about deception. The Suns love running Double Drag almost as much as the Hawks do, so you can see hints of "Aha! We're ready!" as Bogdan Bogdanovic is preparing to switch the first action. He plays it high as Trae Young trails Chris Paul, but the exchange never happens.
Bridges pulls the football from Charlie Brown, darting to the hoop for an easy deuce. The hidden goodness is Devin Booker hauling tail to the left corner before things kick off, essentially turning this into an empty corner affair on the right side of the court. Danilo Gallinari tries to rotate over, but he can't get there.
The Heat have options
Everyone and their mother knows that the Heat want to get Duncan Robinson looks from three. The issue is that 1) he's insanely good at getting open and 2) the Heat do a fantastic job of making you think.
Quick, what does it look like they're setting up here?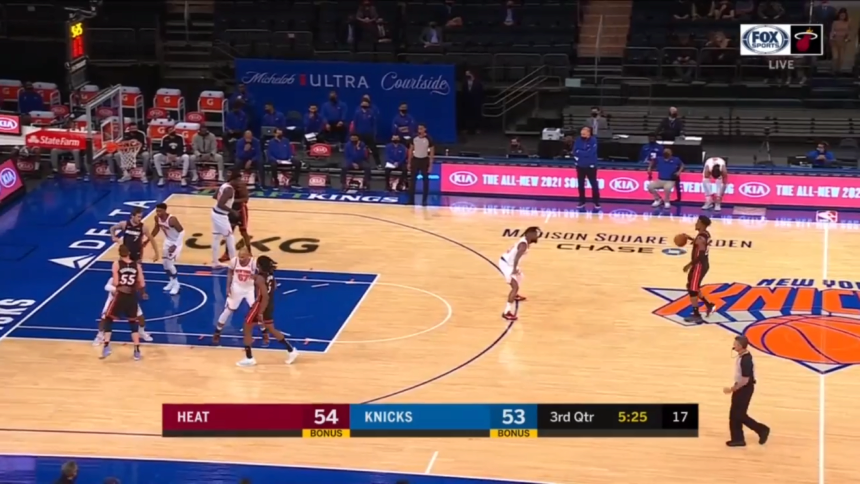 I could argue that Goran Dragic is setting a cross screen for Robinson so he can run off the Trevor Ariza screen on the left side of the floor. I could also argue that the Heat are setting up "Elevator" doors for Dragic to pop out on the left wing. Heck, I could argue Dragic could reverse course and come off of Ariza's screen himself, then flow into a 1-4 PnR to force (and attack) a switch.
This is what actually happened.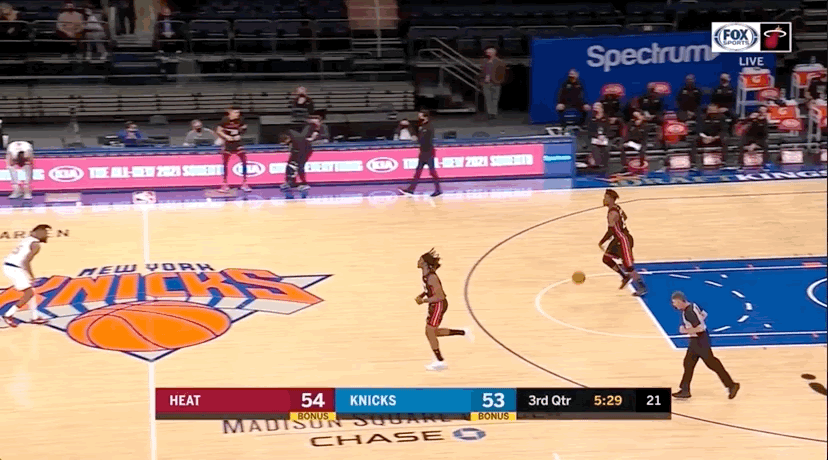 Dragic aborts, then Robinson basically crawls through a mouse door to shake loose for a three from the left wing.
Good luck.
THE READING LIST
I'm still working out the kinks of how I want this thing to flow, but I know this will be a staple. People reach out to me pretty often (humbling, to say the least) asking how to get better at this writing thing. I surely don't have all the answers -- I maintain that I'm not even the best Duncan doing this -- but I do have one simple piece of advice: write a ton, and read more than you write.
There is plenty of high-level basketball content out here if you know where to look. It'll help you become smarter and better at what you do. I wouldn't be where I am as a writer without reading a ton of Zach Lowe or Chris Herring or Caitlin Cooper or Mirin Fader or, well, you get the point.
Anyway, here are some -- not all, but some! -- of the stories I've read this week (since 3/24) that I think you should check out. Their Twitter handles will be linked under their names, so click and follow if you don't already.
Caitlin Cooper on Edmond Sumner's usage, as well as the Sumner-TJ McConnell backcourt at large.
Rohit Naimpally with a fantastic deepdive on a fun Nets-Wizards game.
Chris Herring on the current value of rebounding.
Lauren Williams with a dope feature on Britta Brown, the newly hired senior director of basketball administration for the Detroit Pistons. Never a bad day to highlight a black woman in a position of power in the sports world.
Katie Heindl on the murky business of trades. I'd also recommend checking out her appearance on the latest episode of Spinsters, a basketball-and-more podcast hosted by Haley O'Shaughnessy and Jordan Ligons.