Hi, hello, and welcome to the first edition of Roaming The Baseline! This will be a weekly endeavor where I point out some things that caught my eye: a hot or cold streak from a player, a developmental flash, a well-run play, a funny tweet, who knows? There will be film -- it's me, so of course there will be film -- but this will also be a bit looser. It's an extension of my Twitter feed, if you will.
With that said, let's roam the baseline.
DEVONTE' GRAHAM IS BUZZING
The Charlotte Hornets have been League Pass darlings all season long. Most of that was behind the play of LaMelo Ball, though the enthusiasm of an Eric Collins call is up there on the intrigue list. Seriously, that man is the Kevin Harlan of local broadcasts.
Anyway, Ball is out of commission with a wrist fracture. He's missed the last five games, and the Hornets… are 4-1, with their lone loss coming in overtime against the Phoenix Suns on Sunday.
What stood out in that game -- aside from a blown and-1 against Miles Bridges and Devin Booker cooking the Hornets' early help -- was Devonte' Graham's shotmaking. That dude ran hot.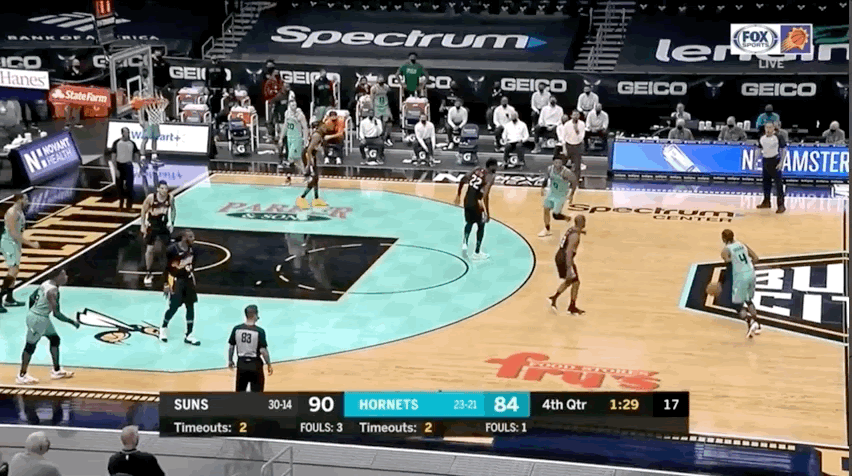 Graham isn't the only player keeping the Hornets afloat; Terry Rozier continues to be a #ClutchGawd, Gordon Hayward is doing his smooth-operator things in the mid-post area, and Miles Bridges is dunking just about everything.
But the bounceback for Graham has been huge. Via InStat tracking, Graham has drained 40% of his pull-up threes during this five-game stretch. It's made him more or less the type of pull-up threat he was during his breakout sophomore campaign.
(Can sophomore campaigns classify as "breakouts" or do we just call that progression? Hello? Bueller?)
Getting back to that level of shotmaking is going to help the Hornets stay afloat. And, on a more personal note, reestablishing himself as that sort of threat is going to help get him paid this summer.
Kudos to that man!