Depending on who you ask, and where their allegiance lies, the primary reason the Milwaukee Bucks won last year's title is... let's say, different.
It could be Giannis Antetokounmpo shedding his half-court demons, adding the necessary counters to become unguardable. That idea has been explored in this space.
Some (okay, many) point to injury luck. The Brooklyn Nets were famously without — or had hampered versions of — Kyrie Irving and James Harden by the end of their second-round bout. The Atlanta Hawks were without — or had hampered versions of — Trae Young, Bogdan Bogdanovic, and De'Andre Hunter.
(This, of course, ignores the Bucks being down a starter who doubled as their second-best perimeter defender and Giannis playing on a knee that wasn't 100%, but whatever.)
I'd offer this reason: the Bucks finally became scheme-versatile enough to last in the latter rounds. They spent the regular season taking a statistical step back in order to experiment. There was a shift to their offensive approach, going from a 5-out look to an alignment that consistently placed a player in the dunker spot. (Subscribe!)
Defensively, they expanded their toolkit. Drop coverage remained their base, but switching became a larger part of their diet. It wasn't always great, but the fruits of that labor came during the postseason.
The Bucks are looking to repeat their result (a title) by repeating their process (scheme-shifting). The big change has come defensively, as they've dialed up their pressure to a ridiculous degree.
BRINGING THE HEAT
We've seen the Bucks go from a "drop, drop, then drop some more" strategy to a drop-and-switch-when-necessary approach. They were the league's best defense when anchored by the former, and the latter saw them land in the back end of the top-10. Well, that and they eventually won a title. Minor detail.
While both tactics serve the same purpose — take away fruitful creases and keep the action in front — they're both conservative by nature. When executed smoothly, the Bucks are able to defend actions 2-on-2 and keep everyone else out of rotation.
That's what makes their next evolution fun. They're purposely sending two to the ball, forcing a third player into the fray and tasking the others to zone up behind them.
The Bucks are showing or blitzing on 15.4 picks per 100 possessions, the second-highest rate in the NBA per Second Spectrum. That figure is more than double the league average this year (roughly seven per 100), and more than triple their rate from last season (roughly 4.5).
Like any schematic shift, you have to have the personnel to successfully execute it. When healthy, the Bucks have the goods.
Jrue Holiday is one of the best on-ball defenders on the planet. Grayson Allen can hold his own on the ball. Khris Middleton is solid on-ball, but has long been a pest in the passing lanes. Giannis is one of the best weak-side helpers the league has ever seen. And starting center Bobby Portis is mobile and active enough to keep ball-handlers from turning the corner.
They can mix in other guys. Donte DiVincenzo (welcome back!) and Pat Connaughton can bother ball-handlers or rotate on time, on target. George Hill and Wes Matthews (also welcome back) can still cover ground. Youngsters like Jordan Nwora are learning the ropes, but the activity level is encouraging.
(There's a fun chicken-or-the-egg thing going on with the Bucks' new scheme. Did they plan on experimenting with this anyway, or did the absence of their drop anchor Brook Lopez [get well soon] force them to find a different solution?)
Add those elements together, and you have a defense that makes life incredibly tough on offenses. They're allowing 0.84 points per possession on trips that feature a blitzed (or hedged) ball-screen, the sixth-best in the NBA. If you account for volume — the five teams ahead in PPP allowed don't even approach half of the Bucks' blitz/show rate — nobody really compares.
The Bucks are able to muck things up against high pick-and-rolls in the middle of the floor. They're somehow even better when teams empty a corner before their attack.
That's generally a difficult setup for defenses to navigate, especially against pull-up artists or versatile big scorers. It takes away a natural safety net of help, unless you're willing to pre-rotate.
Many teams can't pull it off. The Warriors can, headlined by one-man-zone master Draymond Green. The Bucks can do it too. Here's a quick example of what it looks like.
As Scottie Barnes sets the screen, you can see Middleton walking towards the painted area. Fred VanVleet, dealing with pressure from Holiday and Sandro Mamukelashvili, has to execute a jump pass to get out of trouble.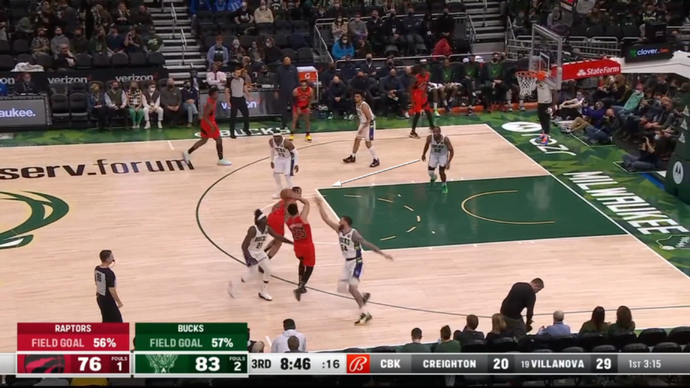 With Middleton roaming over to pick up Barnes, Nwora peels down to the corner. That leaves Matthews to "split the difference" between Gary Trent Jr. and OG Anunoby until Mamu can recover to Barnes, which would then allow Nwora and Middleton to regain their perimeter assignments.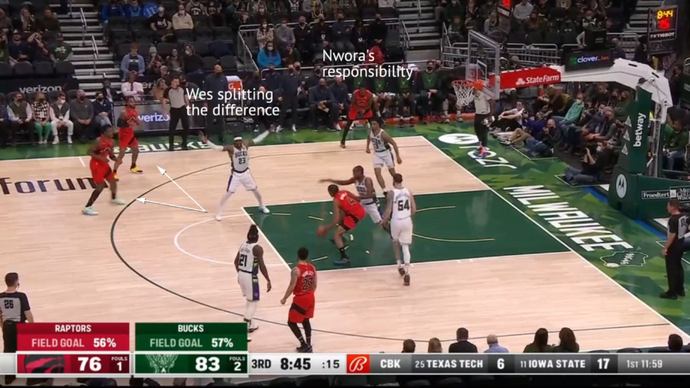 Surprise, surprise: the Bucks are allowing 0.87 PPP on possessions featuring an empty corner ball-screen, the second-stingiest mark in the NBA behind the Warriors (0.82 PPP). And when the Bucks hedge or trap those actions, that number drops to 0.77.
It's controlled chaos, really. Pressure the ball, pick up the immediate outlet and dare the ball-handler to make the skip necessary to beat you. The Bucks are middle-of-the-pack in turnover rate (14.0, 17th), but they've taken a step from where they were last season (12.8, 23rd).
There are still kinks to work out. With such an aggressive scheme, there's room for teams to beat it with good ball movement and slick off-ball counters.
Hit the roll man early enough, and you can get diced up — especially if that player processes the floor well. Flare or hammer screens against the defender tasked with splitting the difference can put the Bucks in a bind. So can random relocations.
But as it stands, the Bucks are still a darn good defense. They're No. 7 in Defensive Rating with a better half-court unit — 92.7 points per 100 plays, per Cleaning The Glass — than they had last season (98.2 per 100). Even if you account for offense being down across the league this year, their half-court defense is about a point better than league average, compared to 1.3 points lower than league average last season.
The Bucks are looking like an even more versatile version of themselves. Provided they stay (some semblance of) healthy, they're primed for another title run.