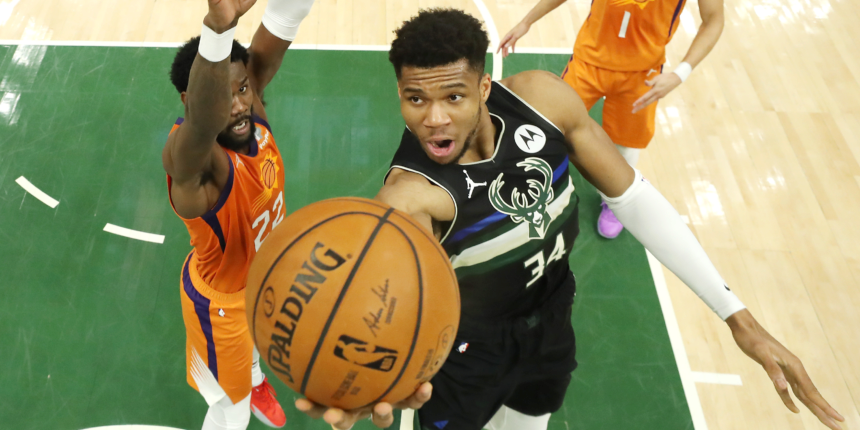 Enough 'no bag' talk: Giannis Antetokounmpo put the NBA on notice
Somewhere along the way, we collectively lost the plot with Giannis Antetokounmpo.
It may have been his postseason outings in 2019 and 2020. He performed well statistically -- 26-12-5 with a 57% True Shooting percentage in 2019, 27-14-6 with an increated TS% (61) in 2020 -- but faltered when things got tight.
The free-throw shooting wasn't where it needed to be. A consistent presence of a wall -- from the Raptors and their plethora of elite defenders, then the Heat with their trio of stoppers -- forced Giannis out of his comfort zone. Counters became necessary, and they simply weren't present enough to bring things home.
It may have been James Harden's infamous comments a year ago that started all of this.
"I wish I could be 7-feet, run and just dunk, like, that takes no skill at all," Harden said in a sit-down with ESPN's Rachel Nichols.
"I gotta actually learn how to play basketball and how to have skill. I'll take that any day."
It snowballed into a larger theme. Suddenly, people, fans and players truly did not respect what Giannis brought to the table as an offensive engine.
The broad strokes of his artistry were known. It's hard to miss his unique mix of size, length, speed, strength, explosiveness and flexibility.
There's also a level of coordination needed to blend those attributes together.
I understand that the "If it's so easy, everyone could do it" point is incredibly basic, but consider that Giannis (6-foot-11, 242 pounds), Justin Patton (6-foot-11, 241 pounds), and Jarrett Allen (6-foot-11, 243 pounds) are all within one pound of each other. The latter two play nothing like Giannis, and couldn't if they wanted to.
Giannis' physical attributes are absurd in their own right; add in a functional handle that allows him to grab-and-go in transition or pull off spins and Eurosteps in the half-court, and you have one of the most dominant rim threats the NBA has ever seen.
To that point: Giannis has converted 70% or more of his shots inside of three feet in each of the past five seasons, per Basketball-Reference. Roughly 56% of those shots were self-created during that span.
We know Giannis is a rim terror, but the subtleties of his attacking have also been a bit undersold. He may have a limited palette, but there's been enough nuance within that palette to make him virtually unguardable inside.
I keep thinking about this possession in Game 6 of the NBA Finals.
My first thought: Why on earth is Deandre Ayton leaving his feet on a Giannis pump fake from three? Even a cursory glance at the scouting report ... ah, well, nevertheless.
But seriously, it's good stuff from Giannis. The pump fake works, not only getting Ayton in the air, but also putting his right foot forward after he lands. Giannis attacks that foot with two hard dribbles.
As Ayton flips his hips to stay in front of the lefty drive, Giannis spins to his right. But he doesn't just spin to his right. Peep the brief pause after the spin before raising and extending for the layup. Ayton leaves his feet to contest the layup, and is back on the ground by the time Giannis actually releases the ball.
With the Eurostep, Giannis will change his stride length. He'll switch up his cadence. The move may be the same, but it'll be different enough to throw defenders off balance.
Even with the I'm-stronger-than-you drives, the difficulty of knocking a large human off his spot while maintaining balance and altering your release angle on the fly seems to be undersold. Like, this ain't easy to do.
Ayton's in a flat stance, and Giannis is still able to gain inside leverage with two dribbles. He dislodges Ayton on the gather, gets Deandre and Mikal Bridges in the air with an up-fake, then uses the rim as a shield with an extended finish with his right. And look at where the defenders are once Giannis puts it on the glass; Ayton is back on the ground, while Bridges is on the way down.
Giannis isn't just a powerful driver. He's a skilled driver with a keen understanding of angles, pace and body positioning. That is his bag, if you will.
What made Giannis terrifying during this postseason run, particularly the Finals, was the number of counters he added to complement the driving.
Attacking Ayton's front foot to set up a spin is cool. He used that same tactic to set up jump hooks, and even had a possession where he went with a half-spin before flowing into a fallaway jumper.
There was newfound comfort operating away from the rim. His volume on shots outside of the restricted area increased; his efficiency on non-rim paint shots in particular saw a sizable boost. Turnarounds, jump hooks and push shots were all showcased throughout the postseason run.
Make no mistake, these are still areas in which Giannis has to improve. He was graded as an "average" isolation scorer during the postseason, per Synergy. He didn't hit off-the-dribble jumpers at a Durantuan clip.
But he showcased enough. He made enough. And once you combine those half-court counters with his transition brilliance, you have a worthy top dog.
Add in the context of his role versatility -- as Zach Lowe and others have noted, Giannis hasn't been used this much as a screener in his basketball life -- and you have ... well, this year's Finals MVP.
The scary part in all of this: Giannis is going to get better. The work ethic -- and the track record of that work ethic -- speaks for itself.
Don't be surprised if this is the beginning of a serious reign of terror.