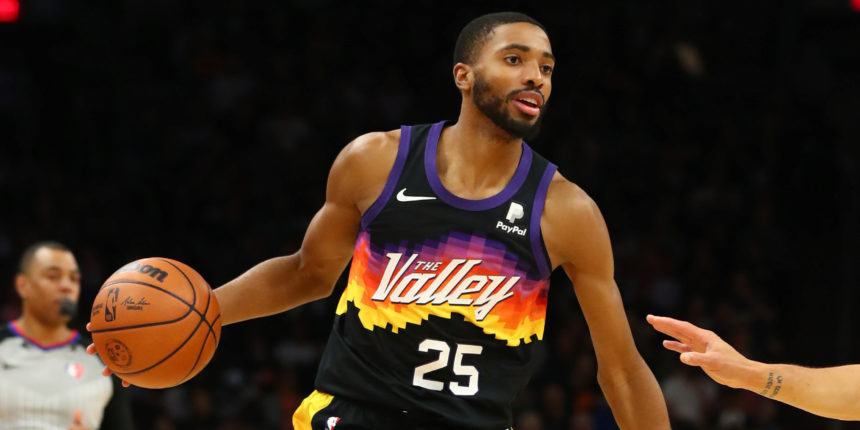 Suns' win over Warriors another crescendo moment in team's turnaround
Tuesday's tilt between the Phoenix Suns and Golden State Warriors at the Footprint Center was being hyped up as the game of the year in the NBA, and for good reason.
The two teams were carrying the best records in the league, and both were riding win streaks of at least seven games (the Warriors at 7, the Suns at 16). In the end, the Suns won 104-96 to extend their streak to 17, but not in a way anyone really expected.
When Devin Booker went down late in the first half with a hamstring injury, many people's expectations for the game shifted. Once Phoenix lost its star shooting guard, my eyes focused on one matchup that would ultimately decide the flow of the game for both sides: Stephen Curry trying to free himself for open-shot opportunities against Mikal Bridges.
Every single second Curry was in the game, Bridges followed. More often than not, Bridges was tailing Curry the entire length of the court until the Warriors ran actions to free a tiny amount of space for the early 2021-22 MVP favorite.
The Suns' game plan was simple: They were more than willing to let Jordan Poole try to beat them single-handedly — and he finished with 28 points on 9-of-12 shooting — but there's no chance Curry was going to have an easy go of it. Curry had one of the worst shooting performances of his illustrious career, shooting 4-of-21 from the field. Of all the games in which Curry has attempted at least 20 shots, this was his most inefficient outing of his career. Bridges put Curry in the torture chamber and made everything difficult in the 36 minutes he was on the floor.
According to NBA.com's matchup data, Curry scored 0 points and was only able to get up three shots when guarded one-on-one by Bridges over 7:21 of action. One image stuck out to me from media row at the Footprint Center and it's been engrained in my head ever since: Curry, with his hands on his knees, trying to catch his breath as Bridges was still right in his hip pocket, not allowing the Warriors star any sort of opening to create for himself on the perimeter. It was a masterclass performance from Bridges, who continues to stamp his case on a national stage for serious consideration for Defensive Player of the Year.
Bridges finished Tuesday's game with 2 points, making no impact on the offensive end. However, it's fair to argue that he was the most impactful player on either side. Bridges' suffocation of Curry was one of the most dominant 2-point performances in the NBA history, and I feel like that's not hyperbole.
Postgame, Bridges deflected from the individual attention he received for shutting down one of the game's most gifted scorers, instead speaking on the Suns' overall team defense.
"It's really just a whole team effort. What I really did was just be aggressive and be attached, but a lot of screens and a lot of reads," Bridges said. "But it's a whole team thing because if one guy messes up on a switch, there's a slip or there's a three for him (Curry), so it's a team effort. I think our coverages and what the coaches put together and our schemes were really good and we executed it pretty well."
Over the Suns' last two games, Bridges has put the clamps on James Harden (2 points on 0-for-2 shooting over seven minutes of one-on-one matchup time) and Curry, arguably two of the best scorers in the modern era of basketball. Looking back on the Suns' four-year, $90 million extension for Bridges on the eve of the regular season, his defense alone is worth that value on top of his improved sharpshooting prowess.
Mikal Bridges rejects Curry at the rim 🚫 pic.twitter.com/KWk4gSbD5u

— NBA on TNT (@NBAonTNT) December 1, 2021
Bridges wasn't the only impressive portion of the Suns' franchise record-tying 17th-straight victory. I've mentioned this before, but Phoenix is a team that made the NBA Finals last season and improved its roster even further for a potential repeat trip. Already possessing one of the NBA's best bench units, Phoenix acquired Landry Shamet via a draft-night trade and signed veteran center JaVale McGee for more size and rim protection down low. Both players showed up last night, and have continued to fit perfectly within the Suns' system.
When Booker was ruled out for the remainder of this early-season showdown in Phoenix — potentially a preview of the Western Conference Finals five months from now — Shamet and Cam Johnson picked up the slack and carried the Suns across the finish line.
Again, it's another shining example of how general manager James Jones has rebuilt the Suns' roster from the foundational levels since replacing Ryan McDonough. Jones brought in the ideal coach to empower a young core in Monty Williams, and he brought aboard passionate veterans who cared about the game (Ricky Rubio, Kelly Oubre Jr., etc.), which ultimately led to his all-in move: trading for Chris Paul.
Now, in three years, the Suns have gone from laughingstock to juggernaut thanks to Jones' championship pedigree and knowledge of how to build a sustainable contender.
On Thursday, the Suns host the Detroit Pistons to potentially clinch a new franchise record for consecutive wins. If it happens, even without Booker (who will be sidelined for a few games for precautionary reasons, according to ESPN's Adrian Wojnarowski), it's a crescendo moment — a culmination of all the hard work that has gone into rebuilding Phoenix Suns basketball after the franchise laid dormant for over a decade.
"Just a lot of work, a lot of mental toughness, staying with it. We knew, when we first got here, that we wanted to turn it around," Bridges said postgame about the Suns' journey from the bottom to the top in short order. "I remember seeing [Deandre Ayton] and actually realizing that we're going to be on the same team. He kind of actually helped me when I got traded from Philly, because I was upset, and I was just with him at the college awards in L.A. That was the first time I met him and we were together for like two days, and got close. Once I realized we were on the same team, you see someone with that. At least I know somebody that is going to be there, and that kind of made me happy.
"It's just a lot of mental toughness, man. We stayed with it and we knew we were coming here to try to turn it around. Plus, we had Monty and everybody that came in. Obviously [Devin] Booker is here, but getting CP (Chris Paul), Jae [Crowder] and everybody who we drafted and picked up — it just turned out to be a really good team. It really feels like a college locker room, because in college you're forced to really like each other because you live together and see each other every single day, you have classes together and study hall together. It feels like a college team, man, and I'm just grateful for this."
The Suns are just getting started, and their championship window is nowhere close to shutting. If anything, last season was the beginning and the window just started to crack open. So far in 2021-22, the Suns are on the verge of shattering that window entirely and re-creating a new golden age in the Valley.