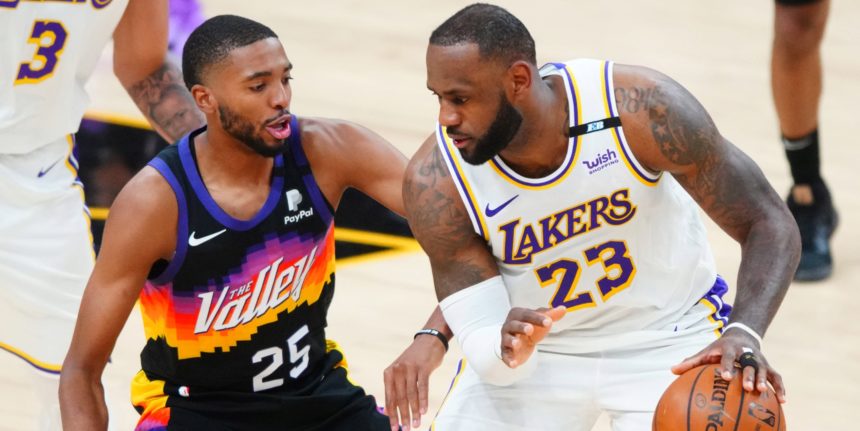 Suns' Mikal Bridges making early case for dark-horse DPOY candidacy
When the Phoenix Suns acquired Mikal Bridges from the Philadelphia 76ers on draft night in 2018, the immediate expectations for the No. 10 overall pick were immense. Alongside their first No. 1 overall pick in franchise history, Deandre Ayton, this duo was expected to help turn around a consistently dysfunctional organization. Devin Booker was the only mainstay who could be considered a primary building block. Now, Ayton and Bridges joined him to form a promising trio.
Three-and-a-half years later, this trio has completely altered the long-term fortunes of a franchise that was in desperate need of change. Booker has become a full-blown superstar. Ayton is still developing into a dominant two-way big, but the flashes of brilliance are jaw-dropping. In Year 4, Bridges is now taking his own leap — one that could further elevate the Suns' long-term ceiling.
Bridges is averaging 14.1 points and 1.6 combined steals and blocks per game. As always, his efficiency is off the charts, registering a 64.4% True Shooting percentage in the Suns' first 15 games. Those numbers won't exactly jump off the page to the casual fan, but, for those who have paid attention to this team over the last four years, it's clear that Bridges' confidence level is currently at an all-time high. The former Villanova Wildcat is embracing a bigger scoring load and it's not hampering his incredible defense in any way, as he continues to lock down players one-on-one and thrive within the team's system.
Against the Dallas Mavericks on Friday, Bridges delivered another brilliant performance, scoring 19 points on 7-of-7 shooting. According to Suns PR, Bridges joined 7-Seconds-or-Less-era staple Leandro Barbosa as the only players in franchise history to shoot 100% in a game on seven or more attempts, including three or more from three-point range. During the two-game home stint against the Luka Doncic-less Mavericks, Bridges put on a two-way clinic and showcased his talents in front of the national audience.
Offensively, Bridges' role is simple, but his unworldly efficiency makes it look effortless. Within the Suns' offense, his job is to find the open cutting lanes and swish three-pointers at an above-average clip.
Defensively, Bridges can do literally anything for Phoenix. Against Dallas, there were possessions where he locked down 6-foot-1 Jalen Brunson, then pivoted over to put the clamps on 7-foot-3 Kristaps Porzingis. It was a master-class showing from Bridges, cementing his status among the NBA's best defenders.
An incredible two-way stat puts into perspective just how dominant Bridges has been on the defensive end so far this season. Only two players are posting a +60% True Shooting percentage while limiting their one-on-one matchups to a sub-40% field goal percentage (min. 30 minutes per game; min. 10+ FGA defended): three-time Defensive Player of the Year Rudy Gobert and Bridges.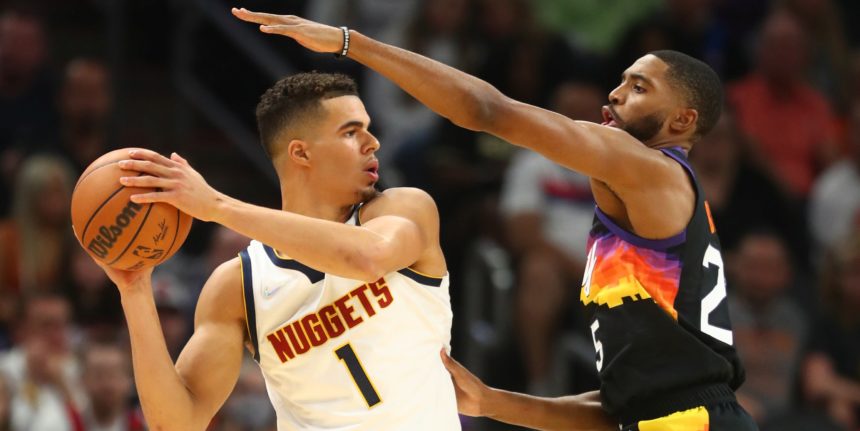 If anyone is making an early-season case to challenge Gobert's DPOY crown, it's the 25-year-old wing in Phoenix.
"I don't care if Mikal plays another game, he better be on that All-Defensive team this year," Chris Paul said after the Suns' 112-104 win over Dallas. "Every night, every night, man, Mikal does everything. Everything."
Quite honestly, Bridges should have been on an All-Defensive team last season, but he was robbed based off of name recognition. Although he put up better all-around numbers on that end of the floor than Kawhi Leonard, he was left off of the list because of the latter's status within the Association. This year, it feels like Bridges is definitely out to make an emphatic statement.
Defensive field goal percentage tracks what opposing players shoot when a defender is within three feet of them. Here is Bridges' defensive field goal percentage year-by-year; notice the difference in 2021-22:
2018-19: 47.9 DFG%
2019-20: 45.8 DFG%
2020-21: 48.4 DFG%
2021-22: 39.2 DFG%
Every game since he's become a pro, Bridges' assignment on defense has been to guard the opposing team's best player. It's a tough role, but one that Bridges enjoys and thrives in.
"I get so excited about it because I know what that's like — for so many years, guarding [the other team's best player]," Paul said. "Chasing around Steph [Curry], guarding James [Harden], guarding Kyrie [Irving], Russ [Westbrook], all that. It's a different type of approach coming into the game. A lot of guys come into the game just having to think about making their shots and getting to their spots. When you have to think about, 'How am I going to make the game tough on this guy?' it's a whole different approach to the game. And he's one of the best, obviously, to do it."
Over the last decade, only three non-centers have won Defensive Player of the Year: Giannis Antetokounmpo (2019-20), Draymond Green (2016-17) and Kawhi Leonard (2014-15, 2015-16). Of those names mentioned, Leonard feels like the only true "wing" to win the award since Antetokounmpo and Green each played more than 20% of their minutes at center in their DPOY seasons. If we narrow down the list of DPOY winners to those who played the same role as Bridges since 2000, Ron Artest (2003-04) and Leonard are the only ones who brought home the illustrious hardware.
If Bridges can maintain this current pace all season long, not only is he a lock to make the All-Defensive First-Team, he's going to challenge a Defensive-Player-of-the-Year mainstay like Gobert at the top of ballots.
Looking back on that draft-night trade, Phoenix acquired Bridges by sending Philadelphia the rights to Zhaire Smith and an unprotected 2021 first-round pick from the Miami Heat (which became Tre Mann). Considering just how good Bridges has become and the fact that Smith is now out of the NBA after appearing in just 13 games, that deal may go down as one of the biggest heists in recent memory.