In last week's piece analyzing the top-three teams in the Eastern Conference, we warned that it may be too early to make such assessments. Schedules progress and teams deal with adversity; but let's be honest, deep down, the cream of the crop in each conference is clear.
As we wind down to the midpoint of the season, things are beginning to shake out and we're seeing a clearer picture of the league emerge. As expected, the L.A. teams have picked up from where they left off with their flow from last season as behemoths of the conference, but the Utah Jazz's dominance is certainly a welcomed surprise worth monitoring.
Utah Jazz
There's something unintentionally political about the Utah Jazz playing high-quality basketball in the age of player movement and team stacking, especially in contrast to both L.A. teams beneath them in the standings. Utah isn't a major market or a free-agency destination, yet the Jazz are sitting at 25-6, humming along and ranking near the top in virtually every advanced stat category. The team's current success is the result of savvy trades, good coaching and an underrated development system that has produced two franchise cornerstones in Donovan Mitchell and Rudy Gobert.
STRENGTHS
With a 9.4 net rating and a top-five ranking in both offensive and defensive rating, the Jazz are a well-oiled machine possessing all the characteristics of a championship-caliber squad. In addition to the favorable advanced stat numbers, Utah also passes the eye test. Watch a game and it is perfectly clear that this is a team with tremendous chemistry and a crystal-clear identity. Jordan Clarkson has been the perfect sixth-man offensive spark plug. However, the greatest development of the season within this franchise may be the resurgence of point guard Mike Conley. Notable increases in assists per game, points per game, field goal percentage and effective field goal percentage have been a godsend for the squad, and they now suddenly have the perfect, versatile point guard -- a coveted get for any team with championship aspirations. It wouldn't be a stretch to say that Conley's improved play has acted as much-needed connective tissue for the Jazz, maximizing their scorer (Mitchell) and lob threat (Gobert). To opponents, the offensive pressure demonstrated by the Jazz has suddenly become overwhelming.
WEAKNESSES
There is one particular weakness concerning the Jazz that I feel almost guilty pointing out because it could be undercutting the progress and success they've already demonstrated. This specific weakness is the defensive capabilities of their roster's small forwards in a league dominated by big-bodied scorers. As the team travels deeper into the postseason, will Royce O'Neale, Bojan Bogdanovic and Joe Ingles be able to withstand the potential onslaught of offense from the likes of Kawhi Leonard, Paul George, LeBron James, Anthony Davis, Kevin Durant, James Harden, Ben Simmons or Giannis Antetokounmpo? They are sure to face some of those players if they want to hoist the Larry O'Brien trophy. In this current era of versatile forwards, teams must be able to combat such player archetypes, and I'm not convinced that the Jazz will be able to as currently constructed. Looking at the few games they've lost, they've been to the likes of the Nets and Clippers, so this seemingly minor deficiency may eventually emerge as their Achilles heel.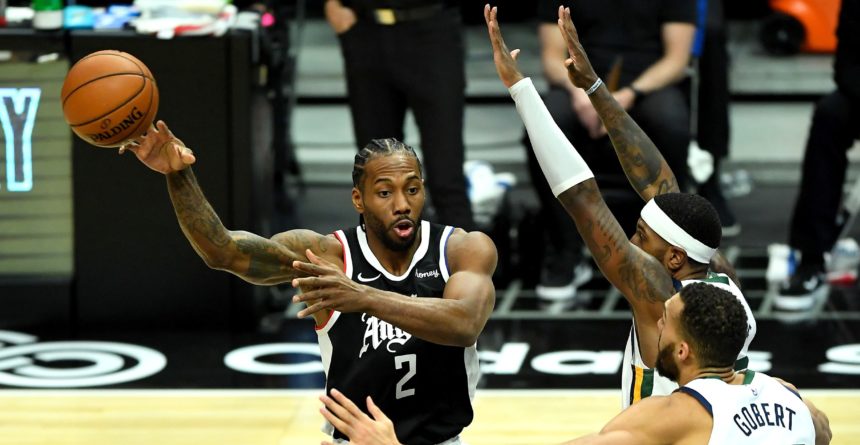 Los Angeles Clippers
Despite the comical and unexpected bubble collapse, it's hard to give up hope on the Clippers. They have a roster constructed with modernity in mind, with ample perimeter scoring, two-way star forwards and now, in Serge Ibaka, a championship veteran center that excels as a pick-and-pop partner and roll man. At their best, they've shown the astral-realm synergy for minutes-long stretches that has become a bit of a marker of basketball perfection -- and, honestly, sometimes a team needs to fall flat on their face as a unit before they experience major success. There's something oddly unifying and polishing about collective failure.
STRENGTHS
Starting with the acquisition of Ibaka, the Clippers reinforced the offensive capabilities of their center position -- opting to build an offensively potent starting lineup. Having Ibaka further stresses opposing defenses; in addition to having to focus defensive attention on both Kawhi Leonard and Paul George, this further destabilizes opponents, allowing the team's scorers to do what they do best: get open and cook. With Leonard's improved playmaking finding Ibaka loose, (coupled with Luke Kennard's playmaking and ball-handling skills) the Clippers have definitely made the fringe changes required to give this team another shot at a deep playoff run.
WEAKNESSES
Thirty-two games into the 2020-21 season and the Clippers' weaknesses have now become more clear to assess. With a defensive rating good for 15th in NBA, the Clippers are winning regular-season games despite the issue of managing the bleeding. That's where the issue of Ibaka's defense comes into play. Although Ibaka provides an undeniable upgrade on the offensive end, perhaps there was a reason he came off the bench for his last two years on the Toronto Raptors. When up against teams utilizing a pick-and-roll that incorporates a big man who can pop to the perimeter (*ahem* Nikola Jokic and Anthony Davis), Ibaka has a documented tendency to struggle to contain quick ball-handlers and big men with perimeter-based capabilities. The fact that he'll likely be involved in defending such plays alongside players like Kennard, Reggie Jackson and Lou Williams doesn't help. Ibaka's advanced numbers are excellent, standing at a 119.0 offensive rating and 109.8 defensive rating, but as we all know, when the playoffs arrive, one should analyze how two good teams matchup against one another. The only other weakness I can see rearing its way to the forefront in the postseason is the Clippers' lack of a floor general. Can they add a point guard who can complete an entry pass to Kawhi, maybe?
Los Angeles Lakers
The Lakers are in a tough spot. Both Anthony Davis and Dennis Schroder are out with injuries, and 36-year-old Finals MVP and current MVP candidate LeBron James just recently logged his fourth game with over 40+ minutes in the month of February. With that said, there's no doubt that some early-season adversity does a high-achieving team some good. The reigning NBA champions entered the current season as favorites -- and it's no surprise they have played well. Even after winning a championship, the Lakers seized the opportunity to further perfect the team by filling in gaps at the point guard and center positions. Considering the Harden move to the Nets, in hindsight, the additions of Schroder, Marc Gasol and Montrezl Harrell couldn't be better timed.
STRENGTHS
The Lakers' strengths are easy enough to illustrate. The tandem that leads this team is a perfect basketball union. LeBron James' remarkable abilities as a playmaker are beautifully complemented by Anthony Davis' plentiful skills as both an on-ball and off-ball scorer. The Lakers have two capable post-scoring threats and a tremendously prolific distributor surrounded by shooters. Davis' slow start to the season is up against a world-destroying playoff run -- one in which he played at the peak of his current abilities -- and there's no reason to doubt that he can produce at that level again. With the presence of Marc Gasol, Davis once again avoids the brunt of the physical blows that come with regular-season play at the center position, which leaves small-ball options lively and fresh for the playoffs.
WEAKNESSES
It's hard to find fault with a championship team that has remained intact through the offseason. If there is anything that can be interpreted as a vulnerability, it would be the team's health and durability. But this is understandable considering the incredibly short offseason the team was able to enjoy. If anything, it just makes their dominant play to open the season even more impressive. The team claims that they'll be approaching Davis' calf strain "conservatively" and the hope is that his absence won't wear out James. The last time the 18-year veteran was asked to carry the Lakers for a prolonged period, the subsequent groin injury he suffered caused him to miss the most time in a single season in the entirety of his career. The Lakers' biggest weakness at the moment is an unavoidable inability to preserve their best player.