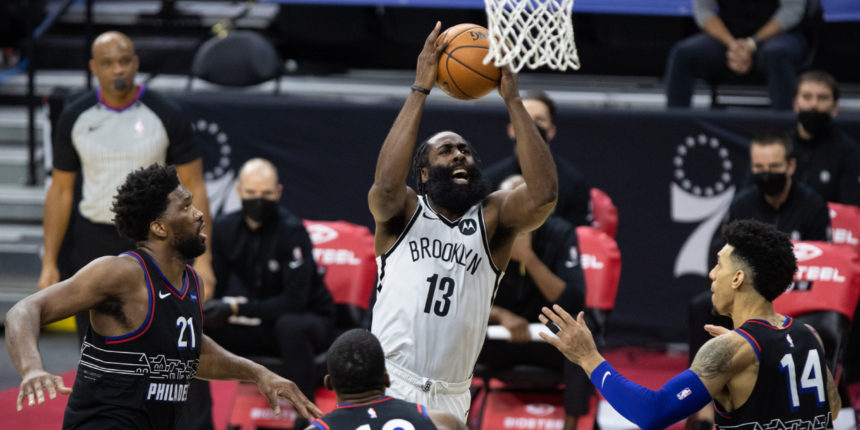 Strengths and weaknesses of the Eastern Conference's top-three teams
It may be early, but three Eastern Conference teams stand atop the conference, stringing together wins and finding some semblance of consistency in an inconsistent season. Of all the teams in the newly (highly) competitive conference, the Philadelphia 76ers, Brooklyn Nets and Milwaukee Bucks have all demonstrated both the high ceiling and cohesiveness many teams in the East have not yet grasped.
That isn't to say that they're perfect, though. As a matter of fact, let's take on the task of assessing all three's biggest strengths and weaknesses, the latter of which is a unique hurdle for each team to overcome.
Philadelphia 76ers
It's hard to find much fault with the Sixers as is. The current season has been a vindication of sorts for Joel Embiid enthusiasts such as myself. The All-Star center has been having a dominant year thus far, made evident by the team's 18-10 record on the season. The typical issues of nagging injuries haven't sidelined the team's stars for prolonged stretches, and neither has the inability to win on the road (no fans, perhaps?). The Sixers, as they stand, are a fine-tuned machine, benefiting from the perks of both a little more spacing for their big man and just enough continuity to foster an environment of sound chemistry and comfort.
STRENGTHS
Strengths? Embiid, of course. An MVP campaign led by your team's best player doesn't hurt. We've heard the Cameroonian big man frequently opine about his dreams of Defensive Player of the Year, All-NBA and MVP accolades, and he's on course to fulfill at least some of these vision board goals. Playing the second-most minutes of his career, Embiid doesn't need much time this season to inflict damage. Approximately 32 minutes per game have been more than enough time for him to average nearly 30/3/9; and as if such offensive dominance wasn't enough, the talented center has been lively and intimidating on the defensive end, looking spry and engaged as he haunts driving lanes from just beneath the rim. An expected and welcomed jump to his free-throw attempts per game (a ridiculous leap from 8.5 to 11.3) has provided some dynamism to the Sixers offense, which should translate well into the postseason as a means to generate points when defenses become privy to the Philadelphia's habitual plays.
WEAKNESSES
Who's to say whether a sixth-ranked defense will be enough to buoy a 13th-ranked offense? But right now, a team with championship aspirations such as the Sixers could stand to confront a couple of minor concerns in order to ensure a deep run in the playoffs. When watching Philly, it's hard not to entertain thoughts about what a perimeter-based point guard could bring to the team alongside Embiid. Maybe such thoughts have no basis, seeing as how the franchise big man seems to be doing fine regardless, but there's no harm in introducing an additional ball-handling guard with playmaking ability as a sixth man; that could bring some offensive variance in the form of some dribble handoff plays and pick-and-rolls. Seth Curry alone might not be enough, and this isn't to say Ben Simmons holds no value to the team -- despite the reduced scoring, Simmons has demonstrated the ability to provide consecutive defensive stops when the team needs them most (without even mentioning his playmaking in transition). But regardless, it's an option worth exploring for the team. Who knows, such a minor tweak to the bench can have a cascading impact on the play of several players for this team.
Brooklyn Nets
The Brooklyn Nets are about as interesting as advertised, a true case study on super teams. A culmination of stereotypes on the quintessential All-Star roster, all within the bubble of COVID-19 restrictions. Scientific, yes, but let's talk basketball. When firing on all cylinders, it's hard not to marvel at the sheer offensive skill present on the court for the Nets; so needless to say, expectations are high and flaws are overzealously debated. Nevermind city alliances, basketball fans everywhere will be fascinated to see how the experiment of uniting three offensive powerhouses onto a single squad will pan out.
STRENGTHS
The Nets' strength is their capacity for basically any and all offensive styles. They have three prolific and capable isolation scorers, with Kyrie Irving and Kevin Durant above the 90th percentile and James Harden in the 83rd (with a resume that speaks for itself). In order to avoid having the game spiral into a mixtape, the team is anchored by Harden's pick-and-roll mastery, Durant's catch-and-shoot willingness, and Irving's underrated cutting ability (a skill I hadn't really caught on to until seeing him so frequently off ball this season, at least in comparison to past years). All in all, once they find some roster stability -- and, in turn, cohesion -- expect Brooklyn to produce some pretty perfect offensive basketball. Considering their headlining talent, that may be an understatement.
WEAKNESSES
You don't need me to tell you that as is, the Nets can't guard a statue. At the moment, it seems that Durant is the best defender on the squad, which isn't a good sign; not because he's an incapable defender, far from it actually. Instead, it's because it doesn't maximize Durant as the versatile defender that he is. Despite the impressive post defense Harden has exhibited, a Harden and Kyrie backcourt can certainly score teams into submission, but the Nets need to supplement the lack of defensive engagement and savvy on the perimeter amongst the starters with some energy. With the abundance of top-end talent, the search should be quick. A couple of defensive wings (Iman Shumpert and Andre Roberson were recently brought in) and a more mobile big man behind DeAndre Jordan should be an easy fix, and it'll supply the team with countless lineup possibilities. No harm in bolstering the defense since no team is immune to the offensive droughts of the postseason, especially so as they'll come to face the league's best defensive squads.
Milwaukee Bucks
I'm also a Giannis Antetokounmpo enthusiast. (If a player is in any way connected to mainland Africa, odds are I'm enthused). Antetokounmpo's production this season has remained pretty consistent across the board in comparison to the previous one. The only difference, of course, has been the frequently-discussed roster moves orchestrated amidst an unexpectedly crazed offseason. The Bucks are back, still the "net rating kings" they've been for the past few years. A dip in regular season wins was expected, seeing as how the team has been introducing Jrue Holiday into the fold -- an undeniable upgrade as the team's lead ball-handler.
STRENGTHS
So, Giannis is pretty great. The sky's the limit, so long as your best player is a driven athletic freak, oftentimes requiring opposing teams to alter the entirety of their defensive philosophy in order to reduce his efficiency ever so slightly. Attempting the fifth-most threes in the NBA (as well as coming at sixth in pace), the Bucks' strengths, in my opinion, lay in the continuity of their system. They rely on the belief of their system, and this sort of familiarity in execution is in short supply within a league of frequent player movement and gimmicky experimentation. In addition to this philosophical confidence, we can't ignore the acquisition of Holiday. The Bucks were able to expand the skill set capabilities at the point guard position without compromising any of their defensive integrity in the process. That's worth celebrating. Holiday is in an environment where he's allowed to do what he does best; provide the Bucks with a versatile defensive wing and handle the rock with poise.
WEAKNESSES
Milwaukee's biggest weakness is actually tied to that aforementioned strength. The continuity, chemistry and familiarity they've fostered in their system is something opposing teams have come to know even more than fans have -- the same system that has seen consecutive eliminations in the postseason, both completed in historic fashion. The questions basketball fans wonder about -- when it comes to the validity of the Bucks philosophy in the vacuum of the playoffs -- are worthy of being asked. Perhaps the failure following ample oppositional threes (and burden of offensive production on a Giannis) is not the result of shooting abnormalities courtesy of Fred VanVleet or Duncan Robinson, but rather the result of a playstyle that doesn't hold up in a seven-game series. Who knows? What I do know is that I don't fault the Bucks' front office for taking another stab at it after replacing Eric Bledsoe (a recurring character in said postseason losses). The team's regular-season dominance is not an apparition, and it's totally within reason to try again.